A soft and thin tissue like dosa/pancake which will just melt in your mouth. The batter is whisked well till it turns all bubbly and frothy and the dosa is made by pouring only the frothy part of the batter onto the pan, resulting in a very lace like, super thin dosa.
Super easy, lacey, thin, spongy soft, melt in your mouth dosa…that's what nora dosa or lace dosa is all about. The batter is made with only 2 ingredients, rice and eggs. The batter should be very thin and loose, and not a thick batter like other dosas. This dosa goes very well with chicken, mutton or fish curry.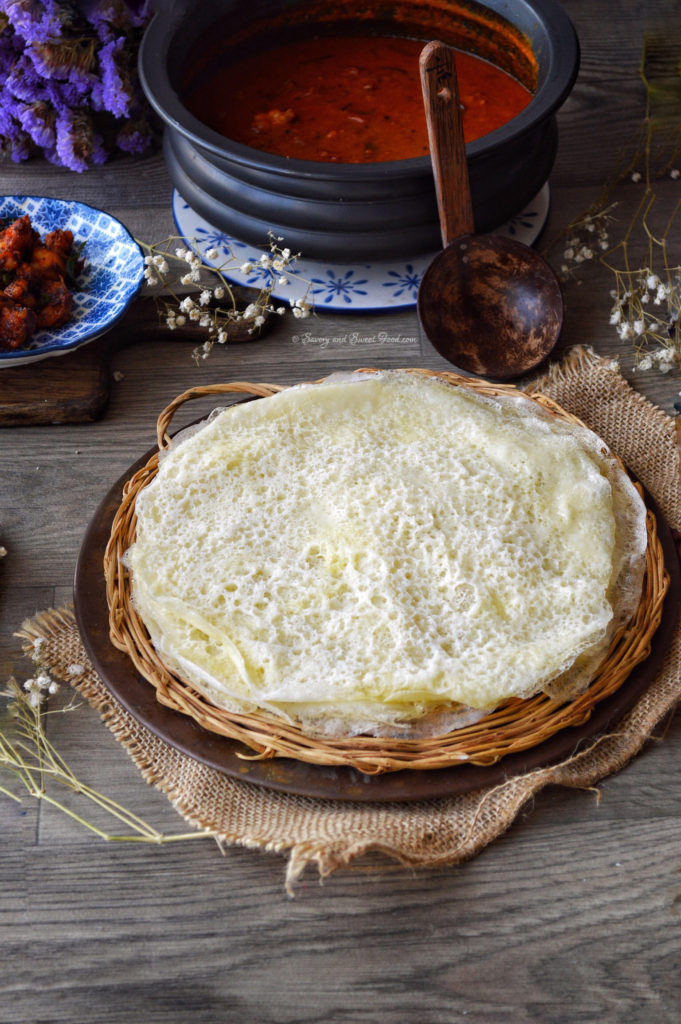 All credits for this recipe goes to one of my favorite person on the earth, my husband's aunty, whom we all call paayi with love. She makes this Nora Dosa with spicy chemeen mulagittath (Kerala style prawns red curry). We all love that combination, the best ever. We will loose count of the number of dosas we feast on.
So here is the recipe of our favorite Nora dosa  Hope you all will like it.
INGREDIENTS:
2 cups ghee rice/ basmati rice
2 eggs
Salt to taste
3 cups water
Ghee
NOTES:
The dosa shouldn't be cooked for a long time. It just needs to be poured in the pan, keep for a minute or less on medium high heat and flip. Right after flipping take it off from the pan.
DIRECTIONS:
Soak the rice in water for 2-3 hours.
In a mixer grinder, add the drained rice, eggs and half a cup of water.
Grind till it turns very smooth and silky.
Pour remaining water, and salt and mix well.
Heat a pan on medium high heat.
Take your electric beater and beat it till it turns frothy.
Take out the foamy bubbly part of the batter and pour it into the pan, swirling the pan till the dosa batter covers the entire pan. (You can pour 2-3 ladles of foamy batter at a time)
Sprinkle ghee all over the dosa.
Just when the dosa comes together and becomes little firm, carefully flip. Take it out after 4-5 seconds. Don't cook for long time or on very high heat as the dosa will become dry and not super moist and soft like how it is supposed to be. The dosa doesn't have to become golden brown in color.
For each dosa, whisk the batter with electric whisk and pour the frothy part only. After a while the batter may become thicker as we are beating. If that happens, pour a bit more water. The batter should be thin.
Store the dosas in a hot flask.