As Eid is around the corner, here is a super easy recipe of Chocolate and Pistachio Bars. It has a buttery biscuit crumbs base, a rich pistachio cheesecake type center and a chocolate topping.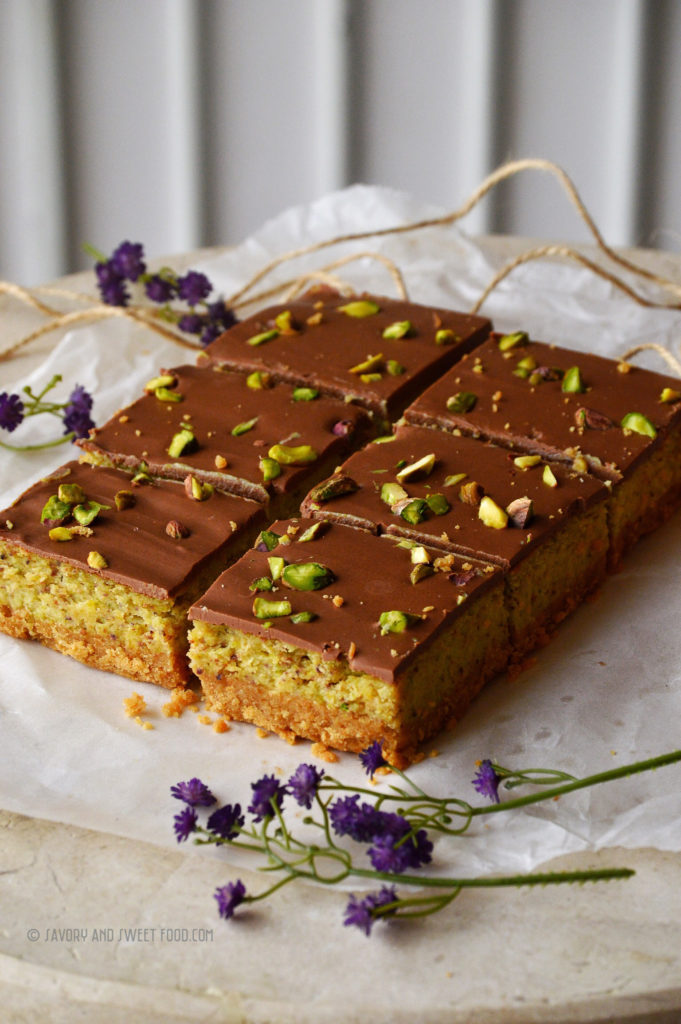 If you are in search for the perfect Eid dessert recipe, then look no further. This simple chocolate pistachio bars recipe couldn't be easier. What I loved about this dessert is the combination of pistachios and chocolate. Pistachios are one of my favorite nuts, as you can tell from the numerous pistachio based recipes in the blog. They are so delicious and perfect in all kinds of recipes. But when they are combined with a buttery biscuit base and chocolate, it tastes A-M-A-Z-I-N-G.\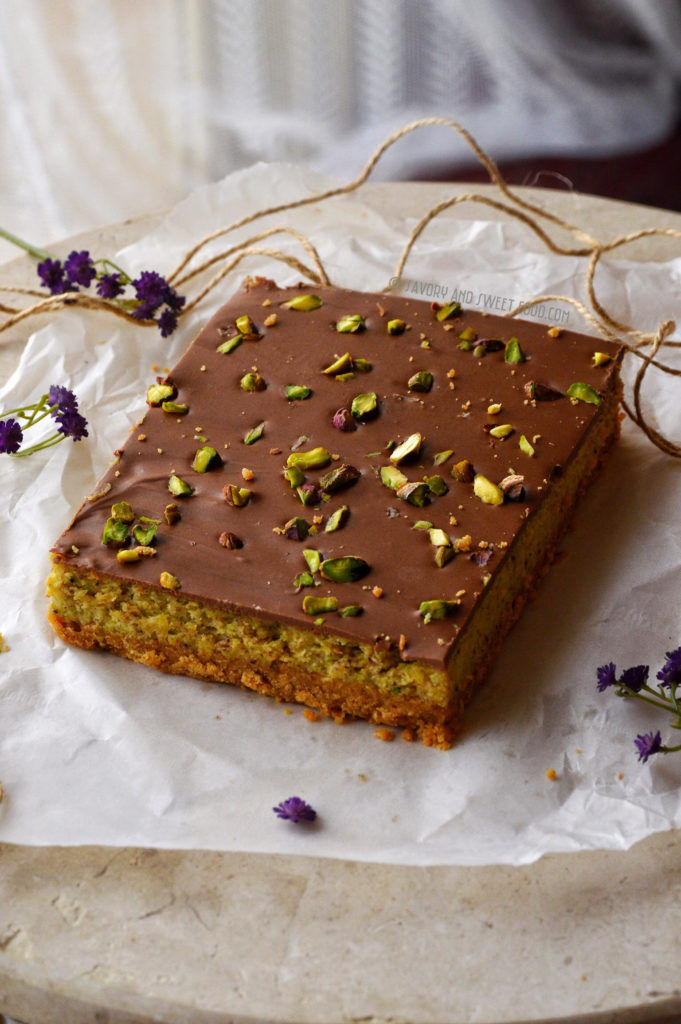 This summer vacation has been crazy busy for me as I have been traveling a lot. That explains why I am not very active in the blog. I will be going to India tomorrow for 3 weeks and here I am trying to post this recipe in the blog at 1:30 am. I wouldn't be posting anything new till September. So everybody grab this fantastic recipe and make it for your kids, friends or family. Young or old, I am sure everyone will like it.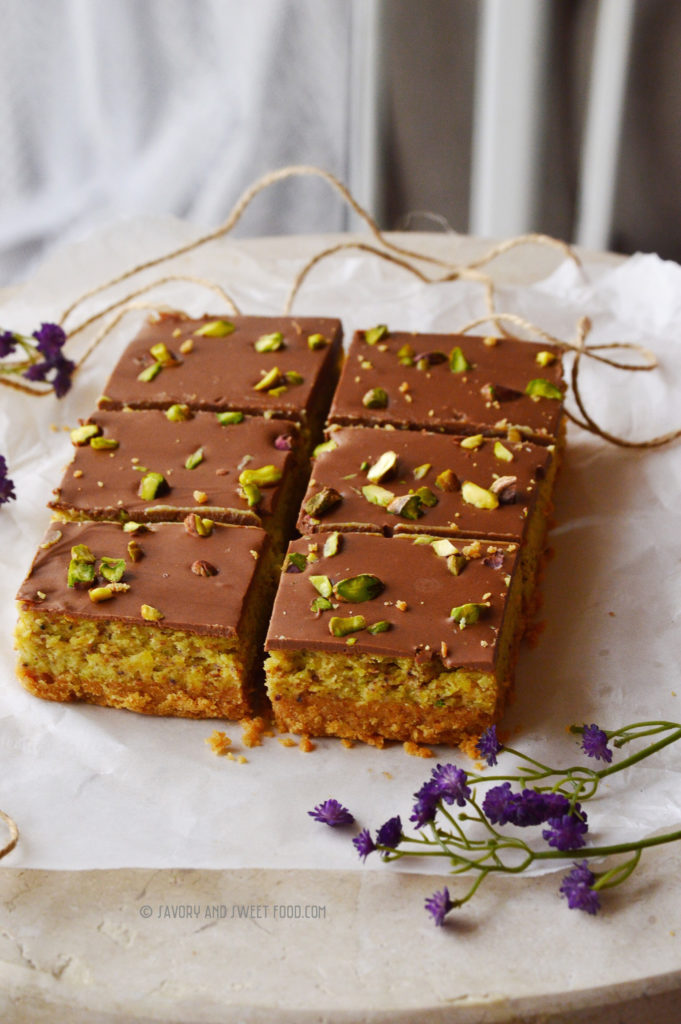 I love fuss free recipes like this. No elaborate cooking or mixing is required. It has simple ingredients and super easy directions. I am sure no one can mess up this recipe, in shaa Allah. So, there you have it friends, the recipe of chocolate and pistachio bars. Hope you all will like it. 🙂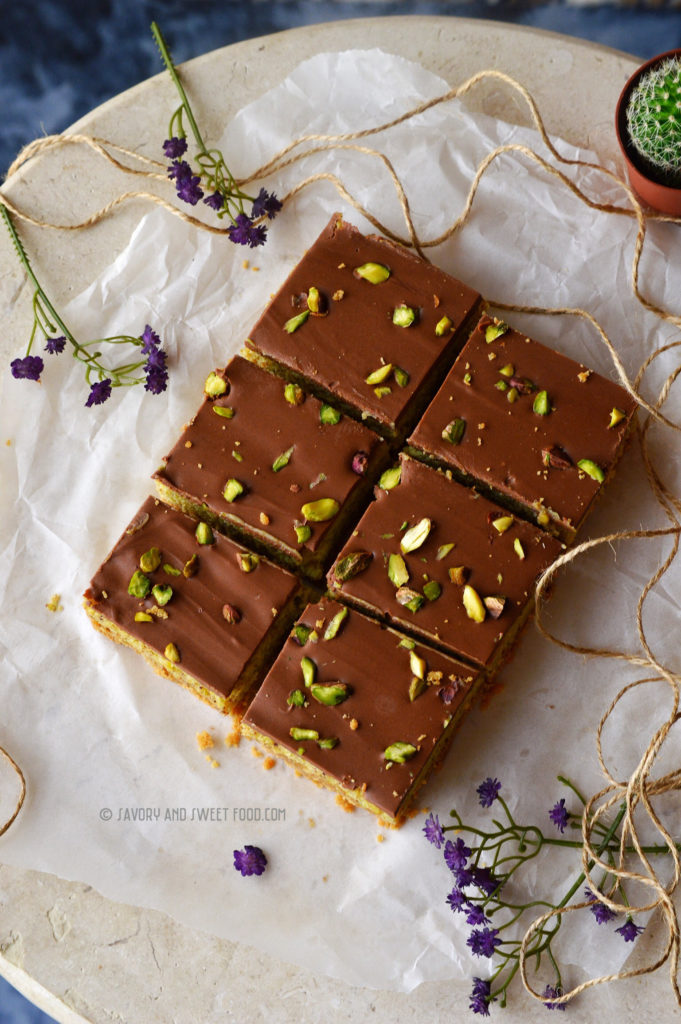 INGREDIENTS:
2 cups powdered digestive biscuits
100g unsalted butter (melted)
10 kiri cheese cubes or 10 tbsp of Philadelphia cream cheese
250ml thick cream
1 cup powdered pistachios
1 tin sweetened condensed milk
160g plain milk chocolate
pistachios for garnish
NOTES:
The chocolate becomes hard when you refrigerate this. So make sure that you keep the dessert out for about an hour before serving. I always prefer heating this in microwave oven for 10 seconds before eating. (read directions number 11)
You can even make chocolate ganache and add on top.
DIRECTIONS:
Preheat oven to 180C. Line an 8 inch square baking pan with a parchment paper making sure that the paper hangs over the sides so that you can lift it later. Grease it.
Mix powdered biscuits with melted butter. Place this on the baking tray and press it well onto the base of the pan.
In a food processor or blender, add kiri cheese cubes, thick cream, condensed milk and powdered pistachios. Blend well till smooth. (You can add orange blossom water or rose water to this if you like)
Pour this over the biscuit base and bake in the preheated oven for 15 minutes till it gets firm.
Take it out of the oven.
Melt the milk chocolate in 10 second bursts in a microwave oven stirring after each 10 minutes till the chocolate gets completely melted.
Pour the melted chocolate over the pistachio cream layer. Spread evenly.
Sprinkle sliced pistachios on top.
You can refrigerate for 1 hour.
Keep it out about 1 hour before serving.
I personally like to heat the dessert in the microwave oven for 10-14 seconds just before eating. After taking it out  of the microwave oven, let the dessert sit for 5 minutes. By then the chocolate would become really soft and when you dig on the dessert with a spoon, the chocolate will be silky and melted. I feel it tastes too good that way.
Enjoy.
Eid Mubarak to all those who are celebrating. <3
Recipe adapted from basbousa_time