Mini chicken sandwiches in homemade fried buns with a saucy, spicy chicken filling. Perfect treat for your children and adults alike.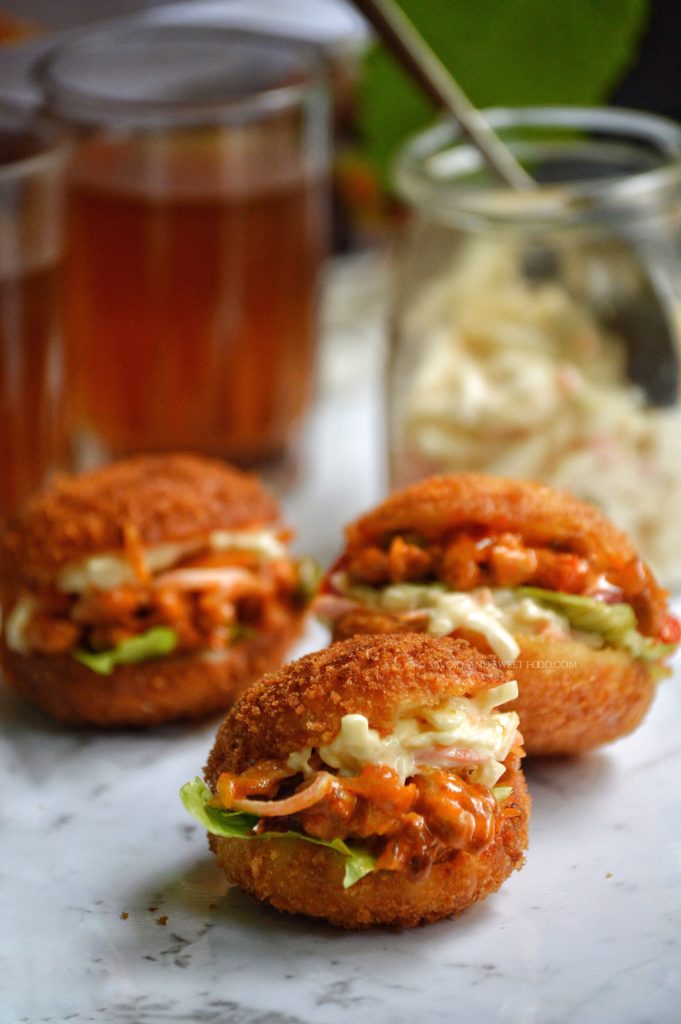 I made this delicious mini sandwiches for my kiddos last week and it turned out great. I wanted to make mini bite sized sandwiches and also wanted something crunchy. So I combined two recipes from my blog. One is all of your favorite, Fried Chicken Buns and the other one is Hot Sauce Chicken Sandwich. I used the bun and the filling recipe from both those recipes and came up with these mini sandwiches.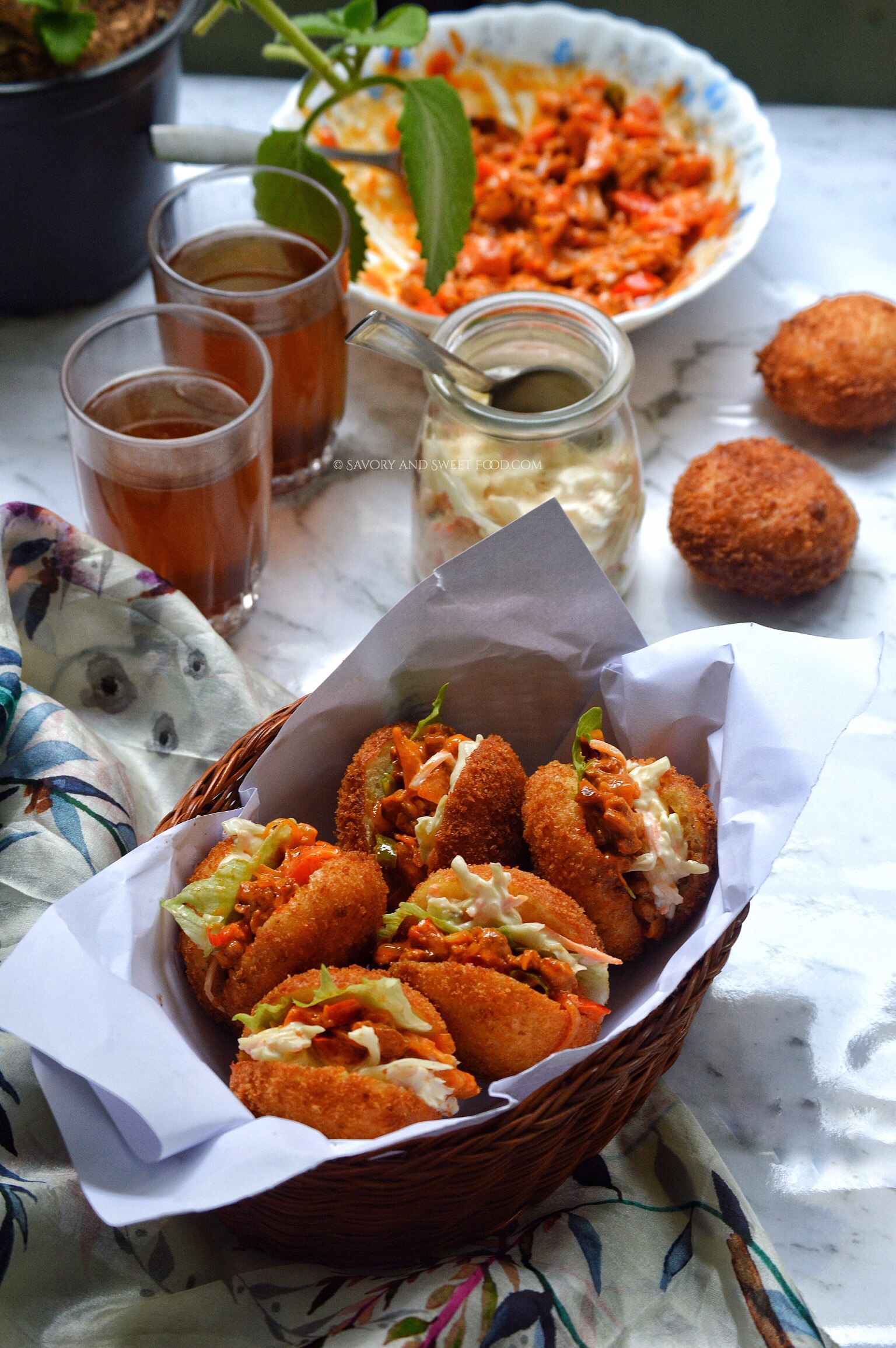 What I love about these sandwiches are the itty bitty crunchy buns. It is so small and you can easily control how small you want it to be. The best part about these sandwiches are that you can have 5-6 of them as they are so tiny. Score!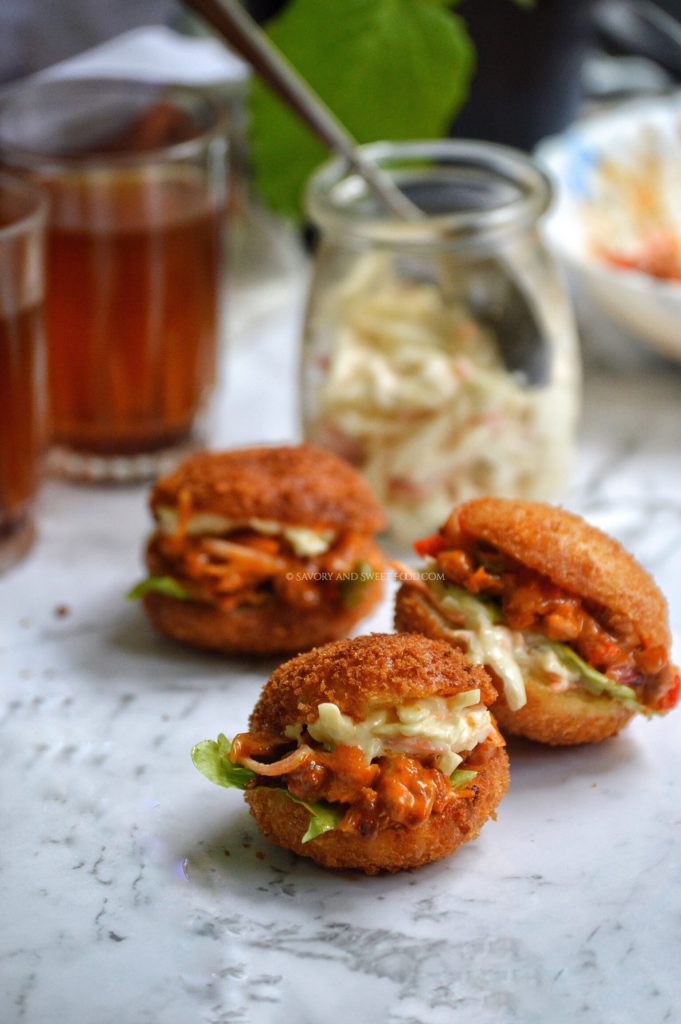 Hope you all will give this a try. If you do, let me know how it turned out for you. I would love to know.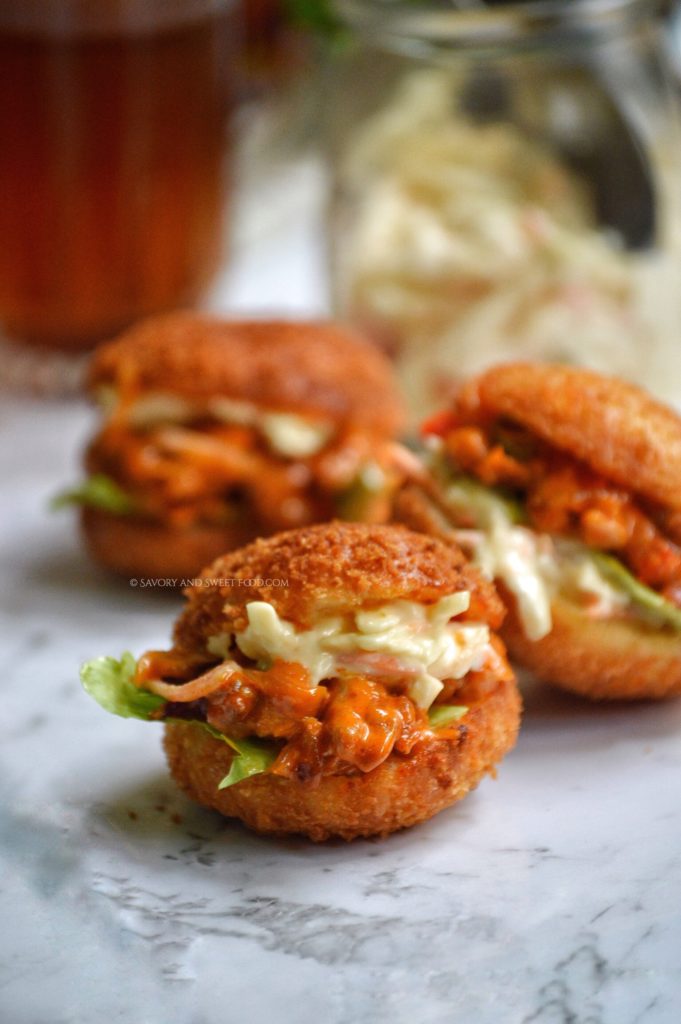 INGREDIENTS:
For the dough:
• 1 1/4 cups all purpose flour
• 3/4 tsp yeast (I used active instant yeast)
• 2 tbsp sugar
• 3/4 tsp salt
• 1 1/2 tbsp oil
• 1/2 cup warm milk
For the filling:
• 400g boneless chicken breasts cut into very small cubes
• 2 tsp paprika powder
• 1/2 tsp garlic powder
• Salt to taste
• 1 medium sized onion chopped
• 2 green chillies chopped
• 1/2 of a capsicum chopped
• 1 tsp ginger garlic paste
• 1/2 cup mayonnaise
• 4 tbsp sriracha hot sauce
• 1 tbsp honey
• Oil
For breading:
• Breadcrumbs
• Milk
Other ingredients:
Coleslaw
Lettuce
NOTES:
You can add any type of filling you like.
DIRECTIONS:
To make the dough:
1. In a bowl add sugar, yeast and a little bit of warm milk. Mix well. Cover and let it proof by leaving it to rest for 5 mins.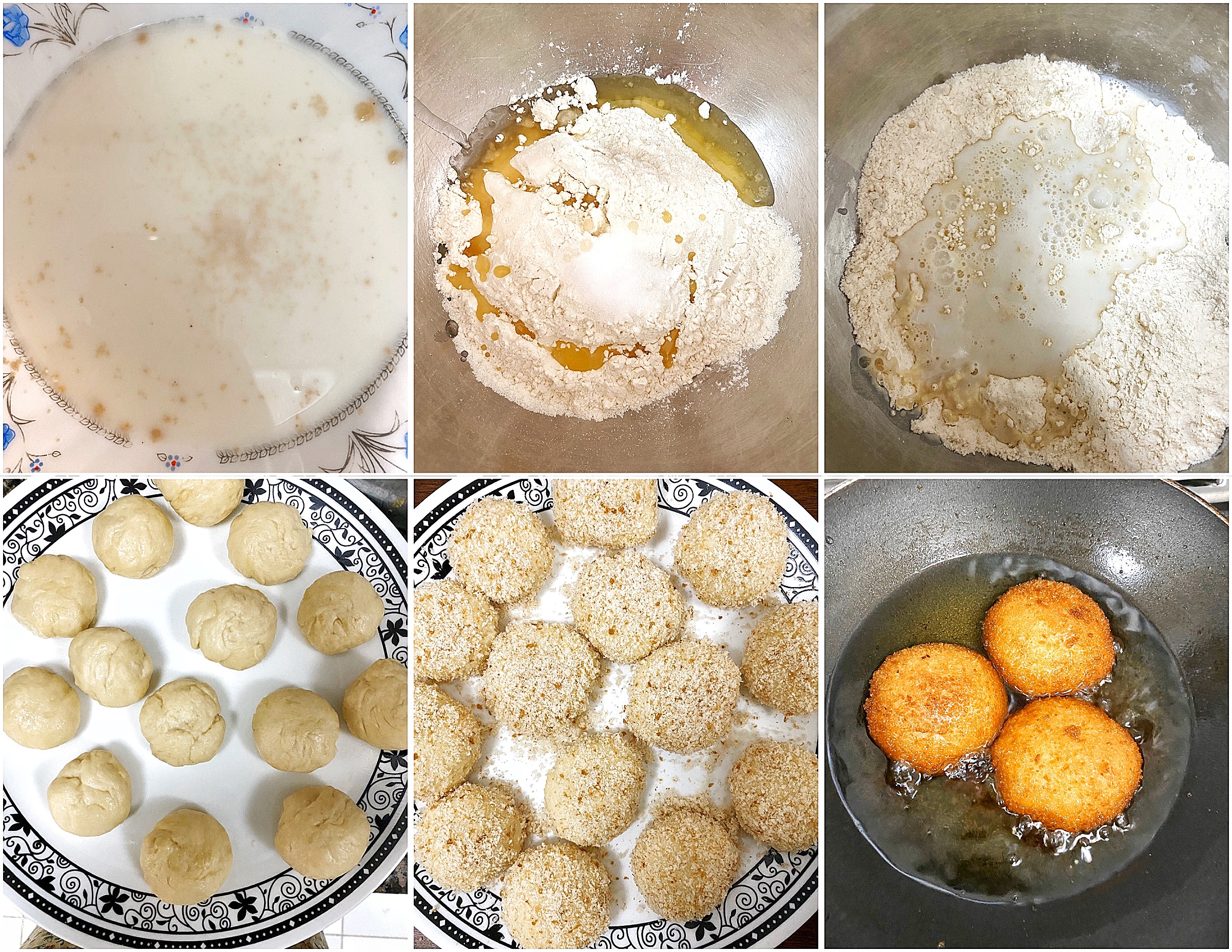 2. In another bowl, add flour, salt and oil and mix well.
3. Add in the activated yeast mixture to the flour along with the rest of the milk.
4. Mix well with a wooden spoon. Add warm water if needed and knead well to a smooth, non sticky dough.
5. Spread oil all over the dough, cover it and let it rise in a warm place for 1-2 hours. It should get doubled in size.
To make the filling:
1. Marinate chicken with paprika powder, garlic powder and salt. Shallow fry it in a little bit of oil till cooked and golden brown on the outside. Keep it aside.
2. In the same pan, add onions, green chillies and sauté till soft. Add the ginger garlic paste and sauté for a minute.
3. Add capsicum and sauté for 5 minutes.
4. Add the fried chicken into this and mix well. Cover and cook on low for 5 minutes. Remove from heat.
5. In a bowl add mayonnaise and sriracha sauce. Mix it.
6. Add chicken into it. Combine.
7. Pour honey and mix well. The filling is ready.
To fry the bun and assemble:
1. Once the dough has risen, punch it down and knead again.
2. Divide into 8-10 very small balls.
3. Flatten each dough ball in your hand. Make it thin or else it will become too thick after frying.
4. Dip it in milk and roll in bread crumbs.
5. Deep fry in medium hot oil until the buns turn crisp and golden brown in color.
6. Drain on an absorbent tissue.
7. Cut the buns on one side to open it.
8. Spoon in the filling along with coleslaw and lettuce.
9. Serve