Pistachio Milk Cake or Tres Leches Cake is a super moist, sponge cake soaked in rich pistachio flavored milk sauce (which is made with three kinds of milk) and topped with lightly sweetened whipped cream. The result is a deliciously light, airy and fluffy cake.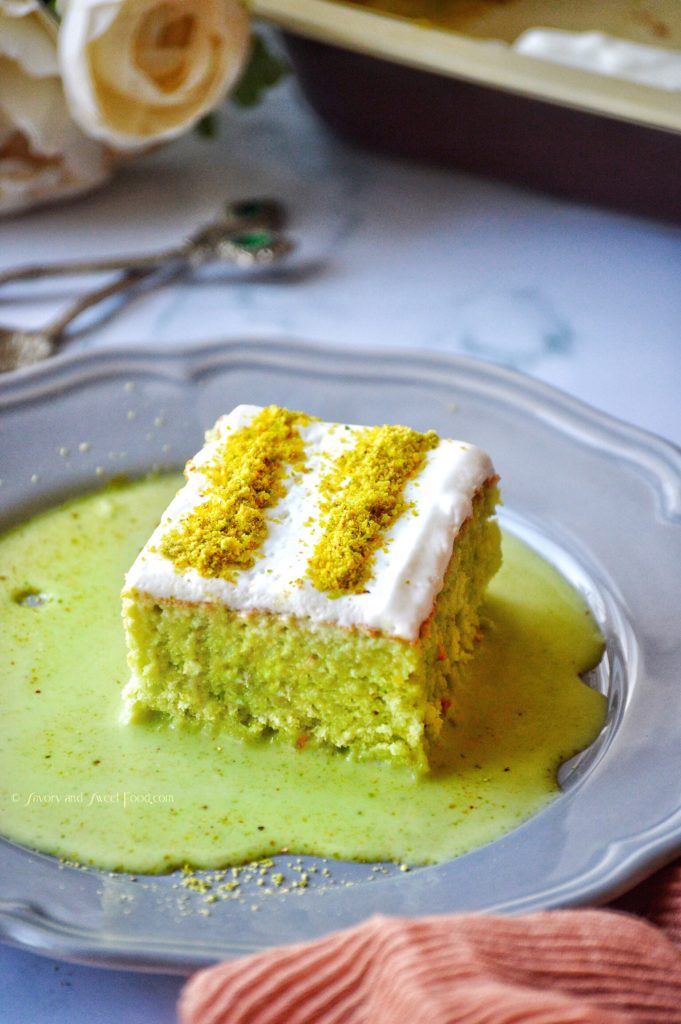 After the massive success of Rose Milk Cake recipe in my blog which I posted 2 years back, lots of you were asking me for Pistachio Milk Cake recipe. I was a little lazy to post this because there are lots of milk cake recipes out there in the internet.
This recipe by my friend Shazia
looks too great. I usually recommend it to many of my readers. But then I thought that I should try making my version of it because pistachio milk cake would be mind-blowing for sure.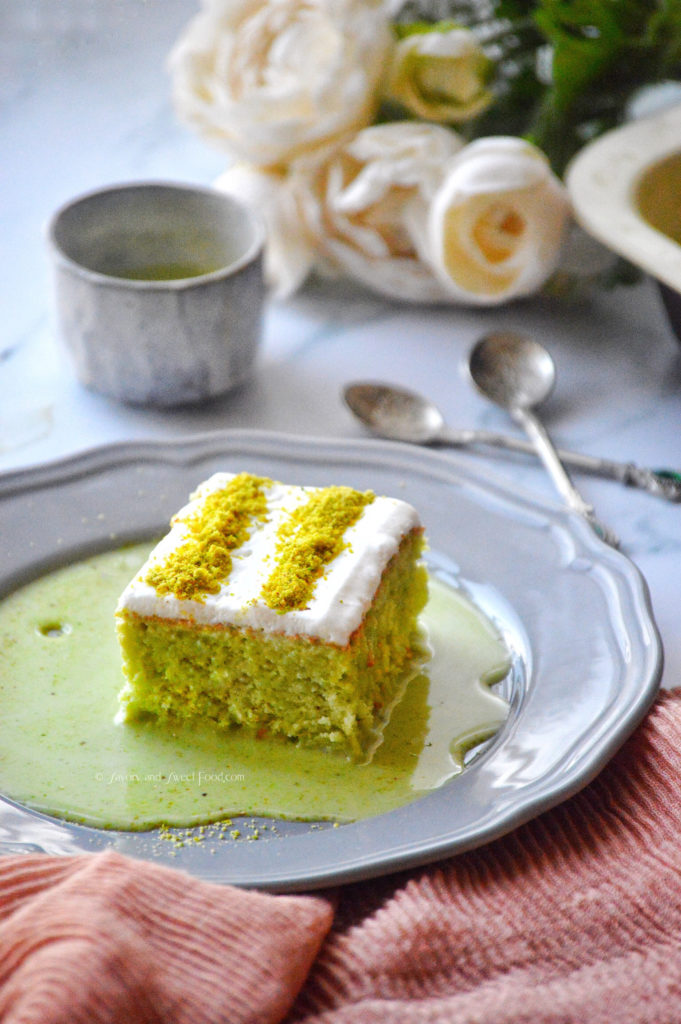 So I made it using my rose milk cake recipe, just by altering the recipe a bit here and there. And it tasted A-M-A-Z-I-N-G! Seriously soo good that I am craving a slice of it so badly right now.  This cake is basically like a cloud, that gets turned into an even softer cloud after the addition of milk sauce and then finally it gets layered with whipped cream, turning the whole cake into a fluffy, airy, super soft thing. It's perhaps the moistest cake I ever had.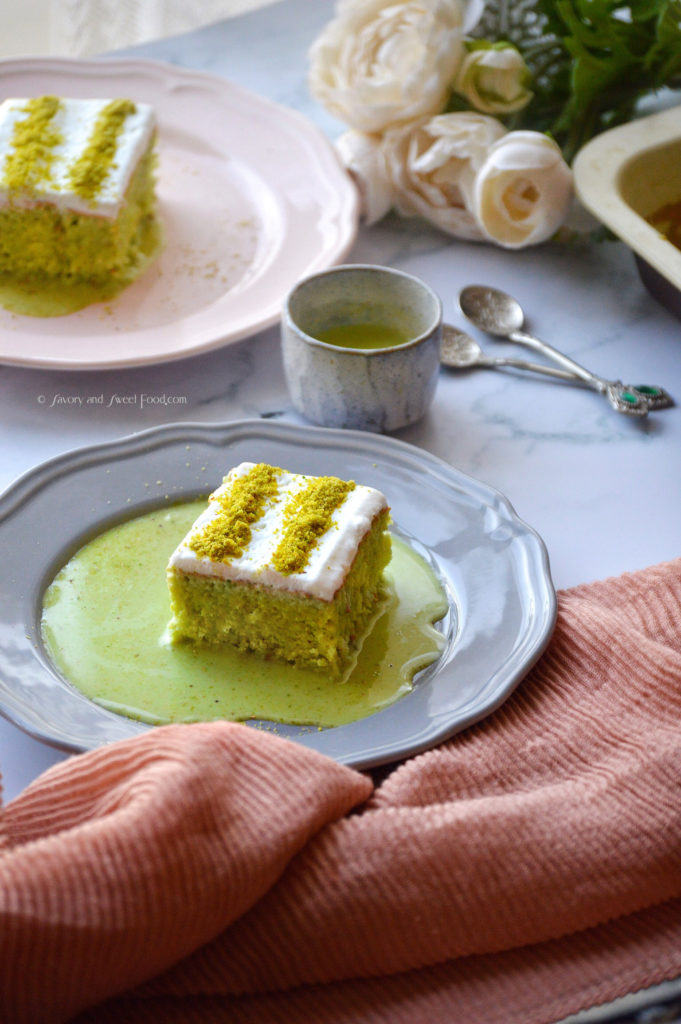 This soft and tender cake ironically doesn't have any oil or butter in it, you just have to poke a million holes and pour this beautiful pistachio milk sauce all over the cake which does the magic. I can say that this is the original Poke Cake. It just melts in your mouth.
INGREDIENTS:
For the Cake:
1 cup all purpose flour
1 1/2 tsp baking powder
1/4 tsp salt
5 large eggs, separated
1 cup sugar
1/3 cup whole milk
1 tsp vanilla
1/4 cup powdered pistachios
few drops of green food color (optional)
For the Sauce:
1 can evaporated milk (340g)
1 can sweetened condensed milk (396g)
1/4 cup whole milk/ heavy cream
1/2 cup pistachios
Few drops of green food color
For the topping:
250ml heavy whipping cream
120 ml thick cream, chilled
2 tbsp icing sugar
DIRECTIONS:
To bake the cake:
Preheat oven to 180 degree C. Lightly grease a 9 by 13 inch pan and dust the inside with flour, tapping off excess flour.
In a bowl combine flour, baking powder, powdered pistachios and salt.
Separate the eggs and place in two bowls. (Make sure that there is no water in the bowl in which you place the egg whites)
In a bowl, add sugar to the egg yolks and beat on high speed until egg yolks turn pale yellow. Add 1/3 cup of milk, green food color and vanilla, stir to combine.
Gradually add the flour mixture into the egg yolk mix. Stir gently until just combined. Do not over mix.
In another clean bowl, beat egg whites on high speed and continue to beat until you get stiff peaks.
Fold the egg whites into the batter gently, making sure that you do not knock off the air.
Pour the batter into the prepared pan. Smooth into an even layer.
Bake for 35-40 minutes or until a toothpick inserted comes out clean.
Remove cake from oven and let it cool completely.
To prepare the sauce:
In a blender or magic bullet jar, add pistachios and condensed milk.
Process till it forms paste.
Combine all the remaining ingredients for sauce in a bowl.
Pour the pistachio sauce to it. Mix well.
Strain the sauce twice to remove the skin of pistachios. Keep aside.
To assemble:
Poke holes with a skewer all over the cooled cake. (more the holes, the better)
Pour the sauce all over the cake making sure to pour it near the edges too. Reserve a little sauce to pour on cake while serving.
Refrigerate the cake for an hour or overnight to allow the cake to soak up all the milk.
In the meantime, whip the heavy cream, sugar and thick cream till you get stiff peaks.
Spread this over the cake.
Refrigerate for an hour and enjoy.
While serving pour the reserved pistachio milk over the cake slice.