A healthy pasta bake with a creamy cauliflower sauce.
As my son is getting older, with more of an opinion on what he will eat and what he doesn't want to eat, I am trying to incorporate veggies into his diet in different ways. One of Hamad's favorite meals is pasta with white sauce. But plain white sauce without anything in it, especially veggies.
I have added this cauliflower pasta bake in our repertoire and it turned out to be a success. Hamad loved it too. This sauce is healthy without any compromise on its taste. I just added a quarter cup of cream, even then the sauce is very creamy. Usually when I have a cream based pasta like alfredo, I feel too full and bloated. But this sauce is much lighter and you'll get all the nutritional benefits of cauliflower. You can make it even more nutritious by adding in spinach, broccoli or any other vegetable you prefer.
Our kitchen has been super busy in the past few days as the entire family is at home 24/7 due to the lockdown that is happening here. What I feel is that even though quarantine will disrupt our daily routine, we can use this opportunity to do things which we never had time to do before. I am doing a lot of baking nowadays because that gives me joy and is a kind of stress buster for me amidst all the negative news that is everywhere regarding the virus. Hoping and praying for a miracle from God and this virus just vanishes forever.
INGREDIENTS:
300 g boneless chicken cut into thin short strips (marinate with 2 tsp paprika powder, salt, 1 tsp garlic powder, 1/2 tsp red chilli powder)
350g cauliflower cored and separated into florets
350g pasta
3 tbsp olive oil
3 cloves garlic
4 cups water
Salt to taste
Black pepper to taste
1/2 tsp red chilli flakes
1/2 tsp paprika powder/red chilli powder
1/4 cup cream
2 tsp chicken stock powder (1 chicken stock cube)
1/2 cup parmesan cheese
Parsley leaves chopped
2 cups bread crumbs
50g butter melted
More parmesan cheese grated for topping
Pickled Jalapeños
Chilli flakes for topping
Mozzarella cheese
NOTES:
You can add spinach, broccoli or any other veggies into the sauce.
DIRECTIONS:
1. Shallow fry marinated chicken in a pan. Keep aside.
2. Cook pasta as per package directions, drain.
To make cauliflower sauce:
1. In a pan, pour oil and sauté the garlic for 2-3 minutes until the aroma gets released.
2. Add cauliflower in the pan along with water, black pepper, paprika, red chilli flakes and salt. Let it come to a boil and cover and cook for 20 minutes.
3. Let it cool down a bit and puree it.
4. Bring it back to the pan and heat it.
5. Pour cream and mix. Add chicken stock powder and mix well.
6. Add parmesan cheese and mix until melted.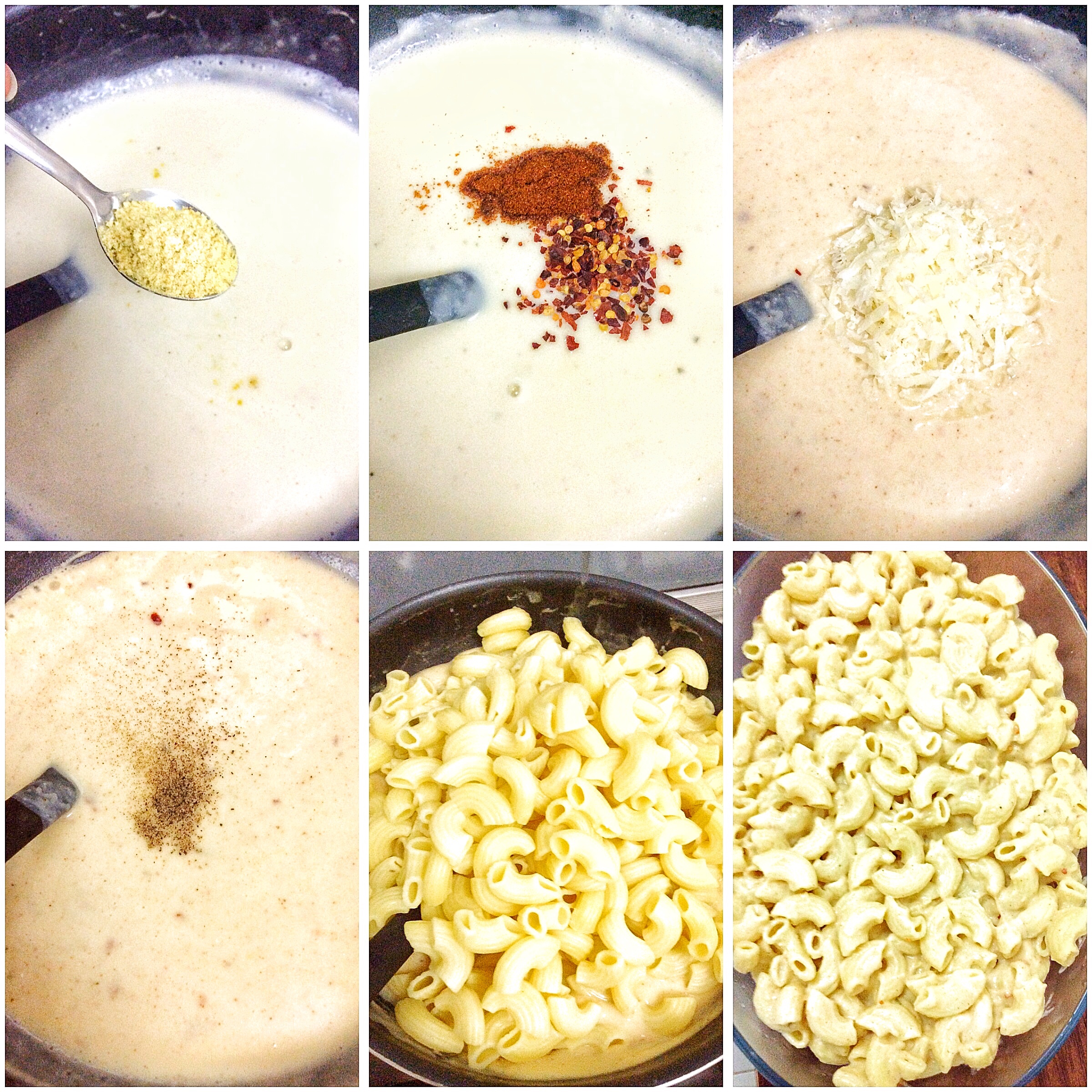 7. Add parsley leaves. Turn off the heat.
8. Add cooked pasta into the sauce and combine.
To make breadcrumbs topping:
1. Mix together melted butter and breadcrumbs.
To assemble:
1. In a long casserole dish, add pasta with the sauce as one layer.
2. Layer fried chicken on top of this.
3. Add jalapeños.
4. Add mozzarella cheese.
5. Sprinkle the breadcrumbs all over.
6. Grate more parmesan cheese.
7. Add red chilli flakes.
8. Bake this for 20 minutes. Turn on the top flame and let the breadcrumbs get golden brown in color and crisp. Turn off flame and serve the pasta bake immediately.