A simple chicken sandwich gets kicked up a notch with spicy sriracha hot sauce based sauce. Our current favorite!!! This definitely is one of the best in the blog.
We have a new favorite sandwich and I am so excited to tell you about it. It is delicious and like most of my recipes, super easy to make. I have been religiously making this sandwich almost every week now, it definitely is addictive. Me and Fadal loves sandwiches which has a nice kick to it and in this sandwich, the tangy and spicy Sriracha sauce does its job so perfectly well. I added honey to the filling and that blends all the flavors together giving a spectacular sandwich.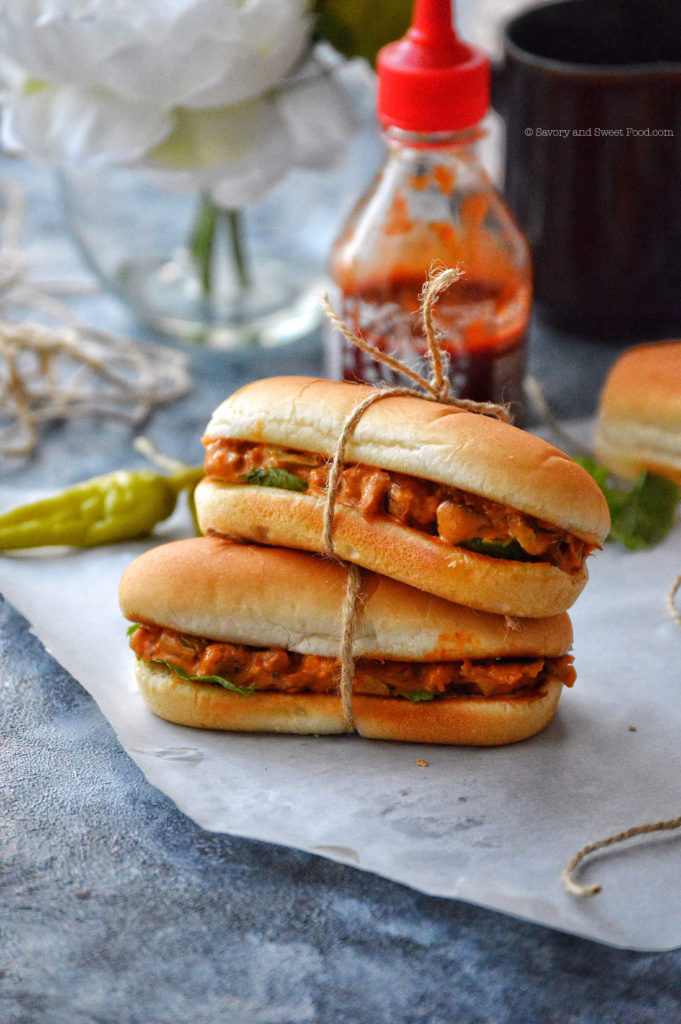 If you want it to be more spicier, add more Sriracha. This filling stays good for 2-3 days in the refrigator. I feel it tastes even better the second day. The filling is so full of flavor that you wouldn't need much fixings in the sandwich. But you can definitely add whatever your heart desires into your sandwich.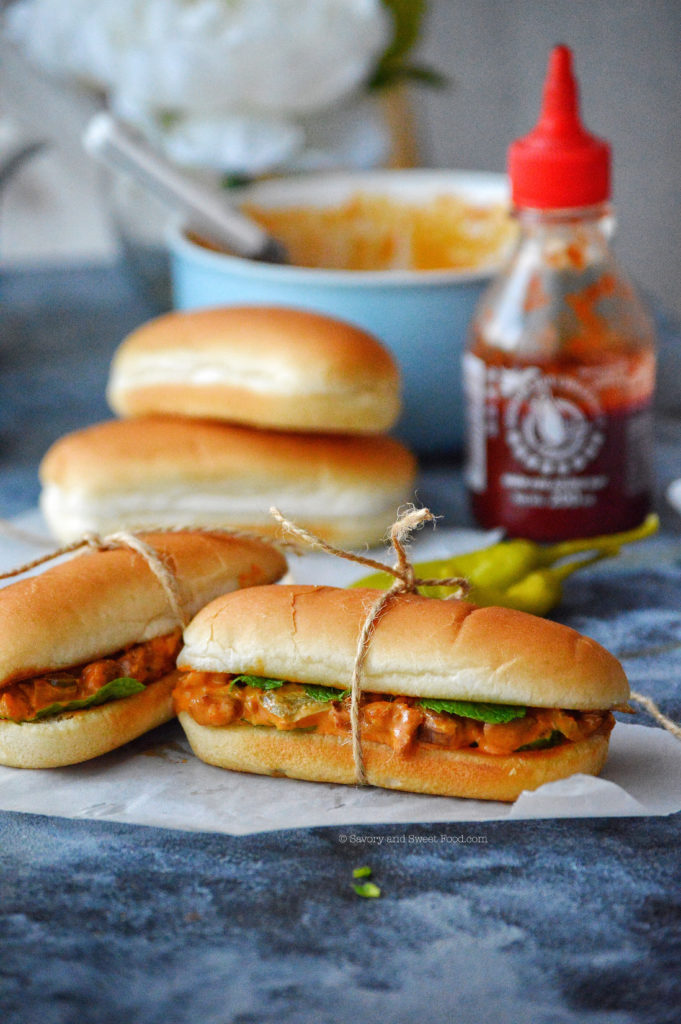 INGREDIENTS:
400g boneless chicken breasts cut into very small cubes
2 tsp paprika powder
1/2 tsp garlic powder
Salt to taste
1 medium sized onion chopped
2 green chillies chopped
1/2 of a capsicum chopped
1 tsp ginger garlic paste
1/2 cup mayonnaise
3-4 tbsp sriracha hot sauce
1 tbsp honey
Oil
Buns
Butter
NOTES:
You can add any extras into the sandwich like jalapenos, lettuce, etc.
If you do not get sriracha sauce in your place, add red chilli sauce instead.
DIRECTIONS:
Marinate chicken with paprika powder, garlic powder and salt. Shallow fry it in a little bit of oil till cooked and golden brown on the outside. Keep it aside.
In the same pan, add onions, green chillies and sauté till soft. Add the ginger garlic paste and sauté for a minute.
Add capsicum and sauté for 5 minutes.
Add the fried chicken into this and mix well. Cover and cook on low for 5 minutes. Remove from heat.
In a bowl add mayonnaise and sriracha sauce. Mix it.
Add chicken into it. Combine.
Pour honey and mix well. The filling is ready.
Toast the bun in butter and spread the sandwich filling in between.
Serve.