Fried Chicken Buns consists of a spicy, saucy chicken filling encased in bread dough, covered in bread crumbs and then deep fried till golden brown.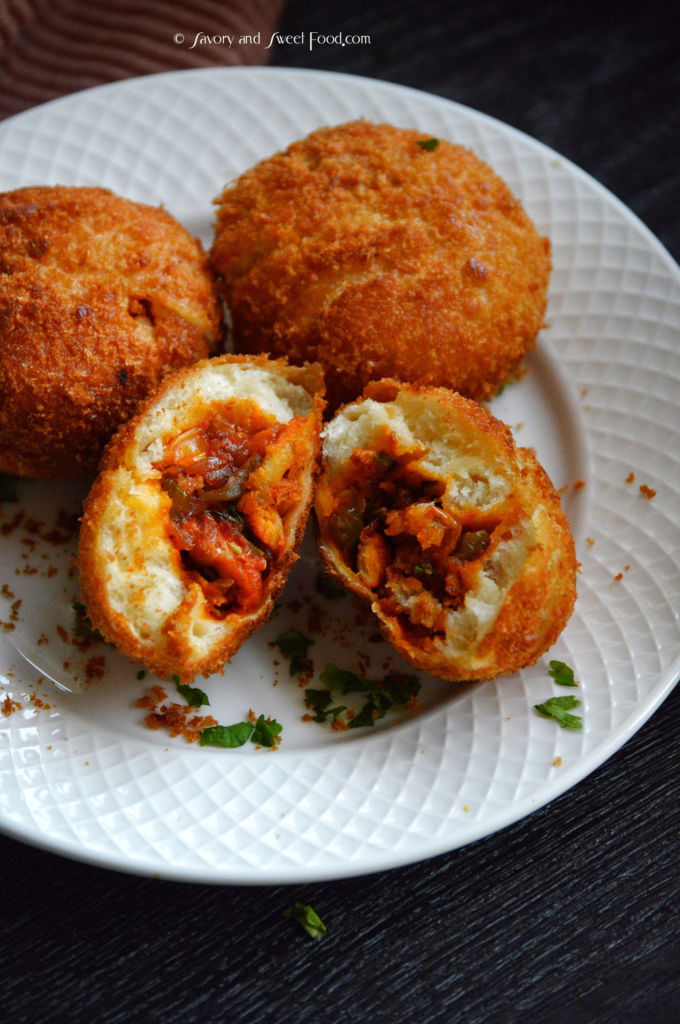 This delicious buns are similar to the famous Japanese Curry Bread or Kare Pan. But they are not exactly the same. In Kare Pan, it has a curry filling and here I have made a Chinese style filling. So I cannot call it Japanese buns exactly but it is a lot similar. I will post the recipe of the real Kare Pan one day. 🙂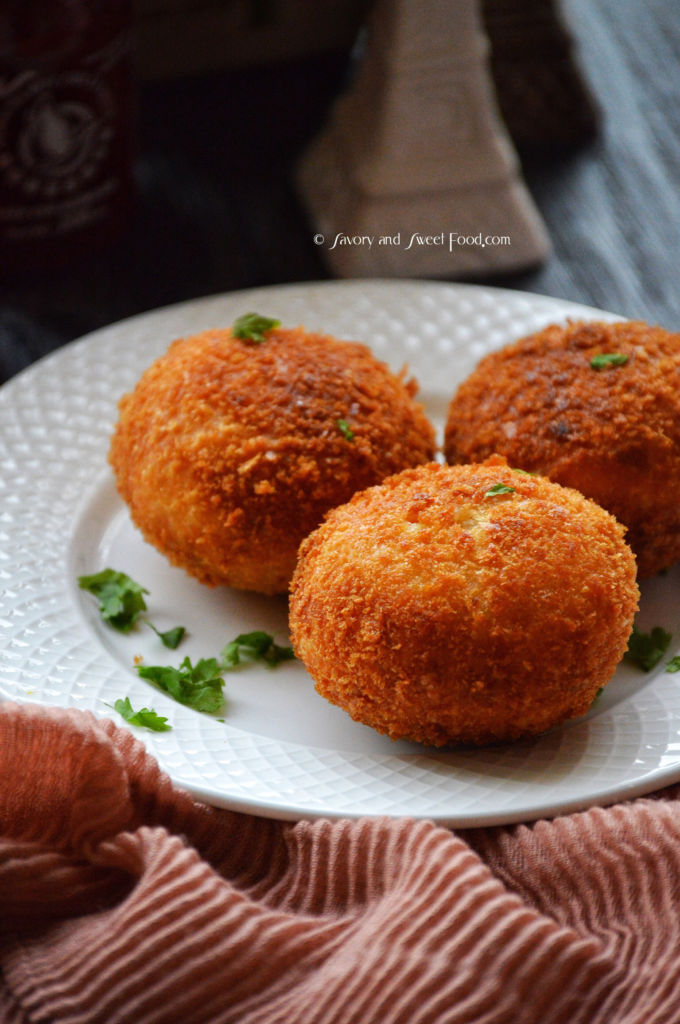 These buns turned out so good that there was nothing more satisfactory than biting into a warm, and crispy bun that reveals a spicy, saucy chicken filling inside. I am obsessed with this bun at the moment, but since it is deep fried I don't think Ill be making it often. But unlike the other deep fried stuff, this doesn't soak up that much oil, so we weren't feeling very guilty after eating it.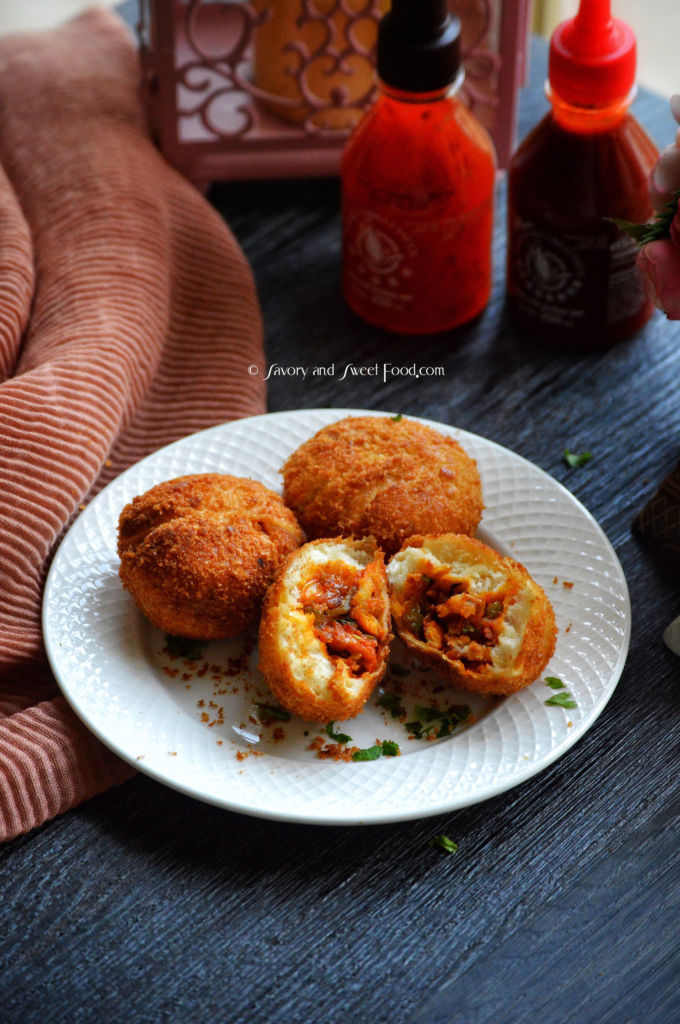 You all have to try this insanely delicious buns to believe how yummy it tastes.
INGREDIENTS:
Makes 6-8 buns
For the dough:
1 1/4 cups all purpose flour
3/4 tsp yeast (I used active instant yeast)
2 tbsp sugar
3/4 tsp salt
1 1/2 tbsp oil
1/2 cup warm milk
Warm water if needed
For breading:
For the filling:
150 grams boneless chicken
For marination:
1 tsp red chilli powder
Black pepper powder to taste
1 tbsp corn flour
Salt to taste
Other ingredients:
1 medium size onion
4 cloves garlic chopped
1/2 inch ginger chopped
1/4 cup sweet corn kernels
1 small capsicum
2-3 green chillies
1 tsp red chilli powder
2 tsp soya sauce
4 tbsp tomato ketchup
1/2 tsp sugar
Coriander leaves/spring onion greens chopped
Oil
NOTES:
You can make a complete veggie filling. Follow the recipe here for that.
Don't be stingy while adding the filling to the dough. Add as much as you can for that delicious tasting buns. But at the same time, do not over fill because if you do so, you wouldn't be able to seal the edges well. As a result, the pinched dough may open while frying, creating a mess.
You can add mozzarella cheese too in the buns.
DIRECTIONS:
To prepare the dough:
In a bowl add sugar, yeast and a little bit of warm milk. Mix well. Cover and let it foam by leaving it to rest for 5 mins.
In another bowl, add flour, salt and oil and mix well.
Add in the activated yeast mixture to the flour along with the rest of the milk.
Mix well with a wooden spoon. Add warm water (I added 1/4 cup of warm water) if needed and knead well to a smooth, non sticky dough.
Cover the dough with oil, cover it and let it rise in a warm place for 1-2 hours. It should get doubled in size.
To prepare the filling:
Cut the chicken into small cubes and marinate it with the above mentioned ingredients.
Shallow fry the chicken in few tbsps of oil.
Take out the chicken and cut it into smaller pieces. Keep aside.
In the same oil, add in onion, ginger and garlic. Sauté for few minutes on high heat.
Add in the capsicum and green chillies. Sauté for few more minutes.
Add in the corn.
Add red chilli powder. Combine.
Pour the soya sauce. Mix well.
Add in tomato ketchup and sugar. Stir and cook for 2 minutes.
Add the cooked chicken into this. Mix everything well.
Finally add coriander leaves/ spring onion greens.
To assemble:
Once the dough has risen, punch it down and knead again.
Divide into 6-8 balls.
Flatten each dough ball in your hand. Make it thin or else it will become too thick after frying.
Spoon the filling in the middle of the flattened dough. (Add a generous amount of filling, don't reduce the quantity of the filling added) Read notes.
You can add cheese if you like at this point.
Seal the edges together and roll into a ball.
Dip it in milk and roll in bread crumbs.
Deep fry in medium hot oil till the buns turn crisp and golden brown in color.
Serve.
[yumprint-recipe id='275′]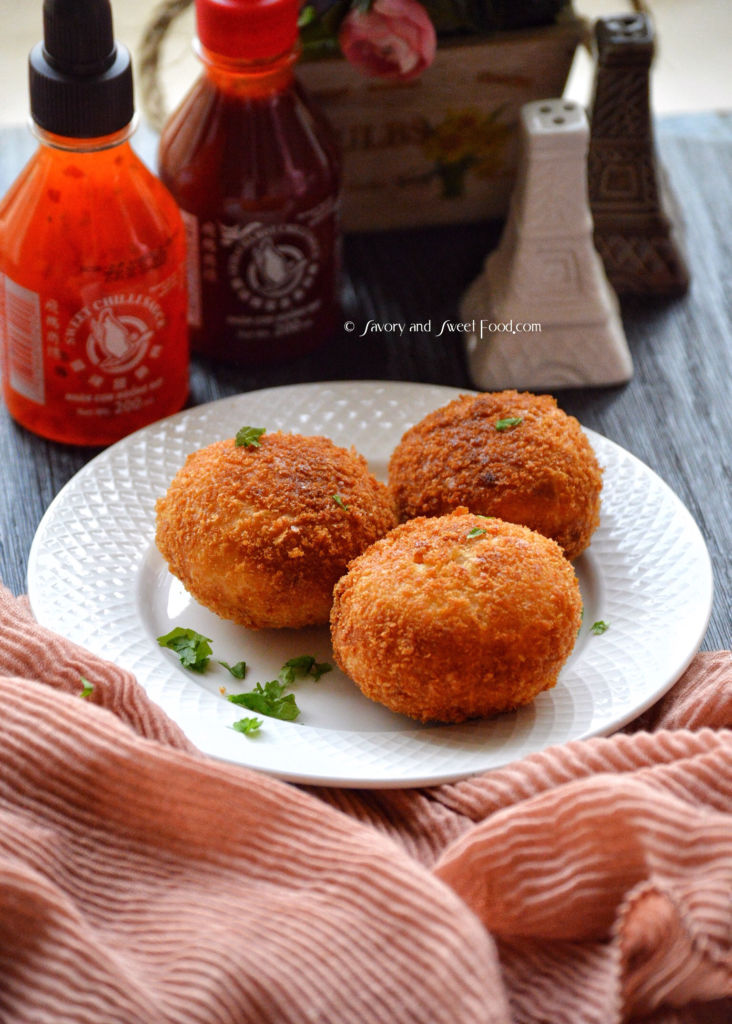 Recipe adapted from Yummy Tummy Arthi.