Chicken 65 is a very popular South Indian spicy deep fried chicken which is usually served as an appetizer. It is tossed in a spicy chili garlic sauce which takes this fried chicken to the next level.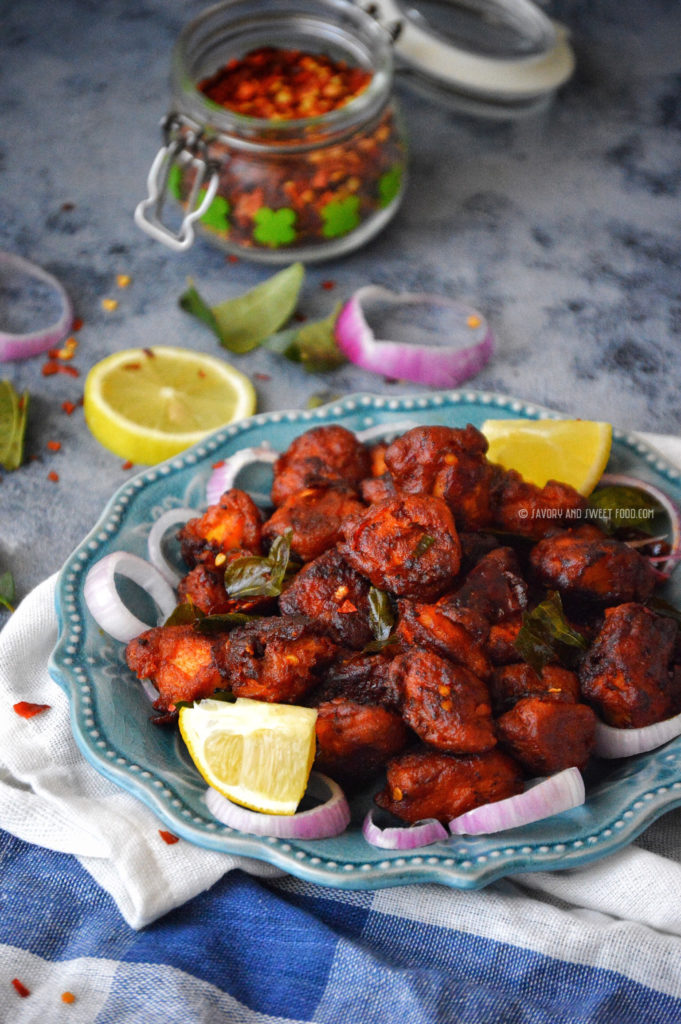 Most of you will be having a staple chicken 65 recipe in your household. I do too, and it is this one here with gravy which I posted some time back. You all love it as much as we do. It definitely is one of the most appreciated recipe in my blog. If you have not seen it, check it out.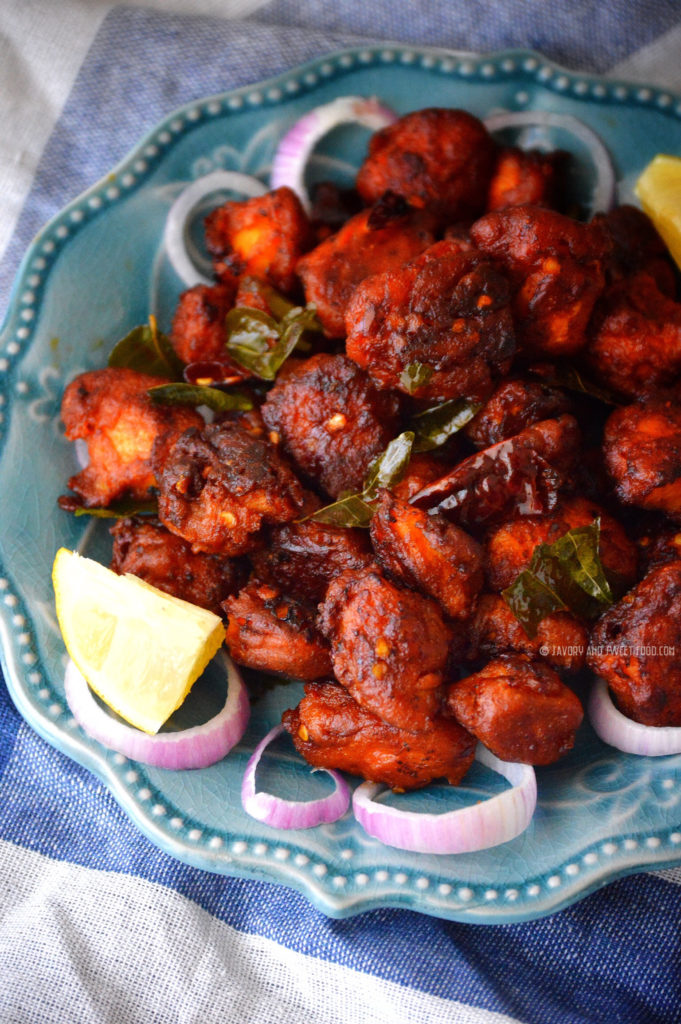 Today I have for you a dry version of chicken 65 and it is our favorite dish at the moment. I tried this with boneless and bone-in chicken pieces and both tasted equally good, but my husband preferred the one with bones. So it's your choice, you can use any.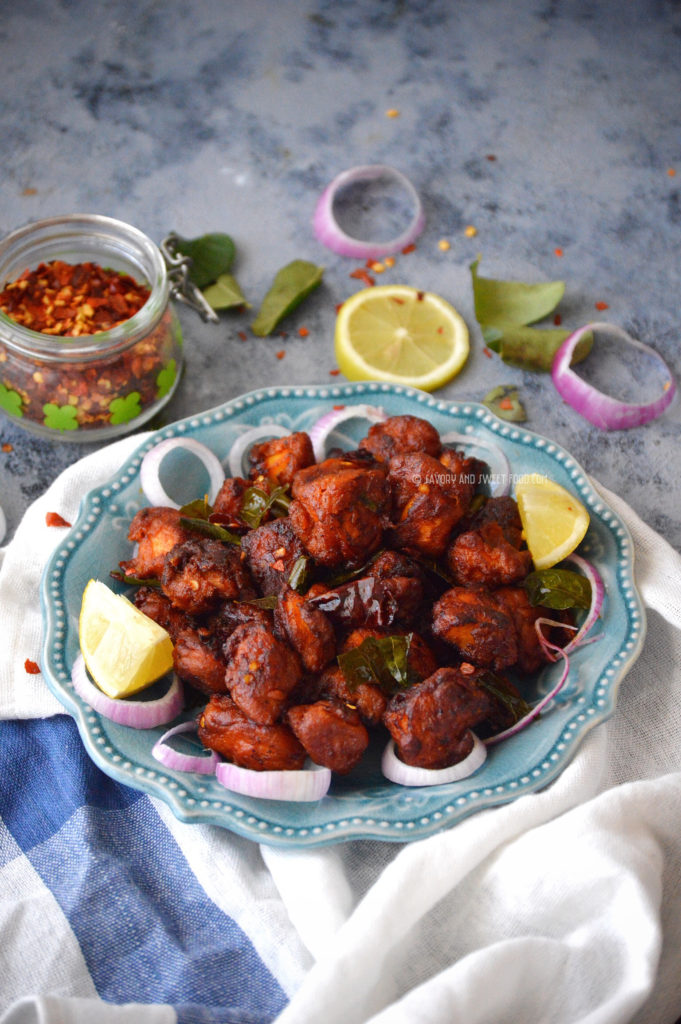 Btw if you ask me why the dish has the name chicken 65, I have no definite answer for that. If you check online there are many bizarre stories associated with the strange name which I don't believe is true at all. The only logical explanation that I read was that this dish was served in a fine dining restaurant in Chennai, India named Buhari Restaurant and this special chicken dish was introduced in the year 1965.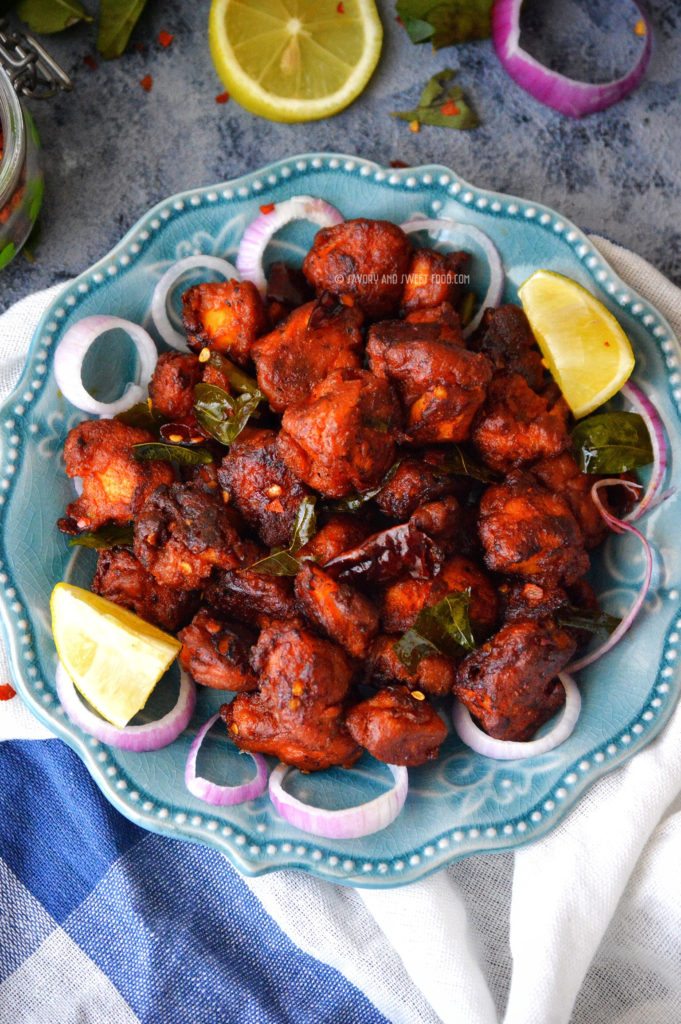 Let's jump onto the recipe. Enjoy!
INGREDIENTS:
450g boneless chicken breast or thighs
2 tsp red chilli powder

1 tsp paprika
1/4 tsp turmeric powder

1 tsp coriander powder
1 1/2 tbsp ginger garlic paste
1/4 tsp black pepper powder (freshly cracked is better)
1/2 tsp cumin powder
1/4 tsp garam masala powder

3 tbsp yoghurt
1 tbsp lemon juice
Salt to taste
3 tbsp corn flour
2 tbsp all purpose flour
2 tbsp water
Oil to deep fry
For the sauce mix:
2 tbsp butter
2 tbsp chilli garlic sauce
2 dried red chillies
1 tsp paprika/red chilli powder
Curry leaves
4-5 green chillies
Pinch of sugar
NOTES:
While making sauce, you can add mustard seeds in the butter before adding curry leaves if you prefer.
You can use chicken with bones too.
While making the sauce chopped garlic can be added for extra flavor.
I didn't add any food color in this dish, the deep red color came from the chili powder, paprika, sauce and a little bit of editing.:D
DIRECTIONS:
Cut the chicken into cubes. Marinate with all the ingredients from red chilli powder to all purpose flour. Mix well and marinate for 2 hours.

Deep fry the chicken on medium low heat till crisp on outside and cooked in the inside. It may take from 10-15 minutes only.

Drain on an absorbent tissue. Fry in small batches, do not overcrowd the pan. If you do so, the coating will not stick on the chicken.

In a pan, add butter. When it melts, add curry leaves and green chilli. Sauté for a minute.

Add dried red chillies, paprika and chilli garlic sauce. Cook for 2 minutes on low heat. Drop in the fried chicken pieces and mix well till the sauce coats all over the chicken. Turn off heat.