Payyoli chicken fry, a dry chicken fry with the authentic malabar flavours. The chicken is marinated with dried red chilli paste and many flavourful spices, deep fried in coconut oil and served with crispy and spicy fried coconut, curry leaves and green chillies.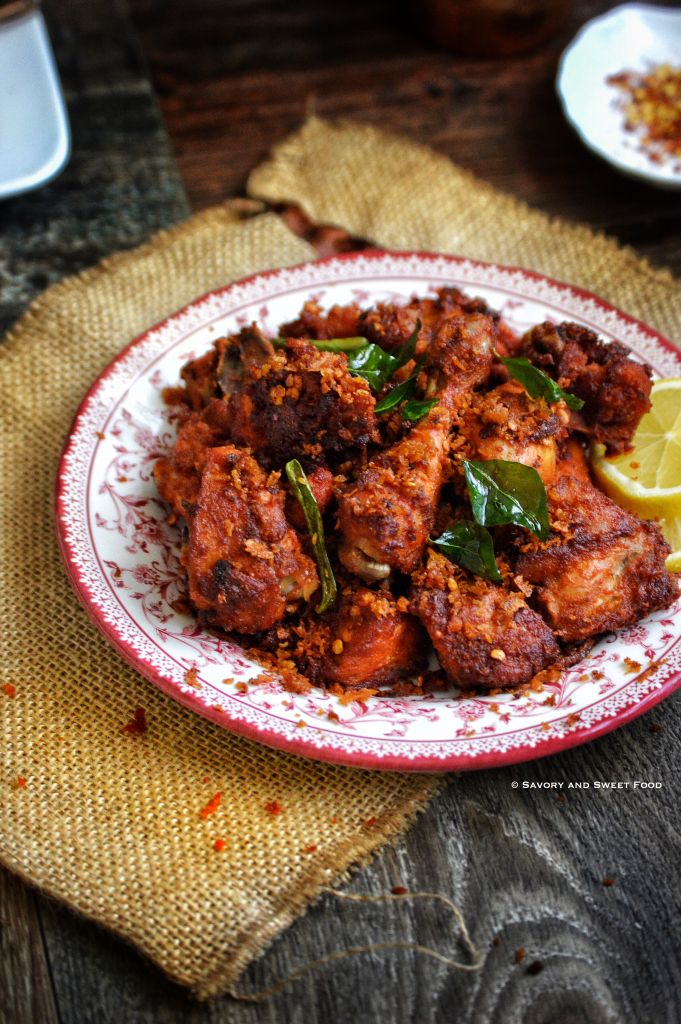 This spicy and delicious chicken fry is quite popular in Payyoli, which is a place situated in the North Malabar Coast of Calicut district in the South Indian state of Kerala.
Calicut, the city of spices is a beautiful and one of my favourite cities. It is the unofficial food capital of Kerala. The food in Calicut has Arabic, Portuguese and the traditional north Kerala Mappila influence, mainly because of the past when it was predominantly a trading port.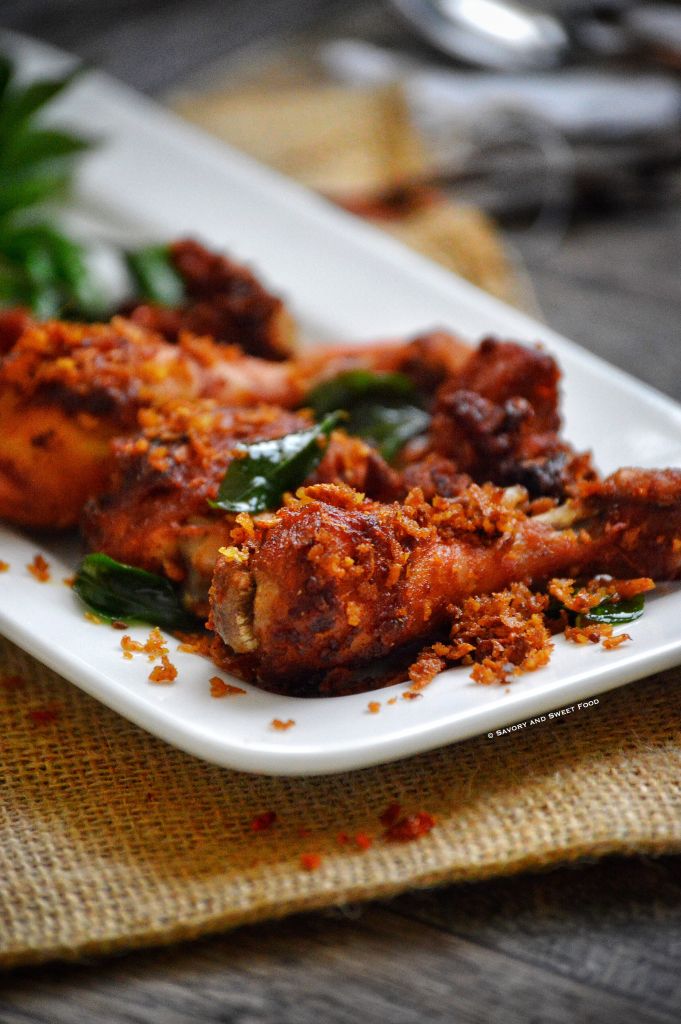 One place that represent all these influences and flavours under one roof is Calicut Paragon restaurant. Established in 1939, with a culinary heritage of more than seven decades. This was one restaurant we never missed during our vacation to Kerala. Straight out of the Calicut airport, we used to head to paragon with excitement all the time. 😀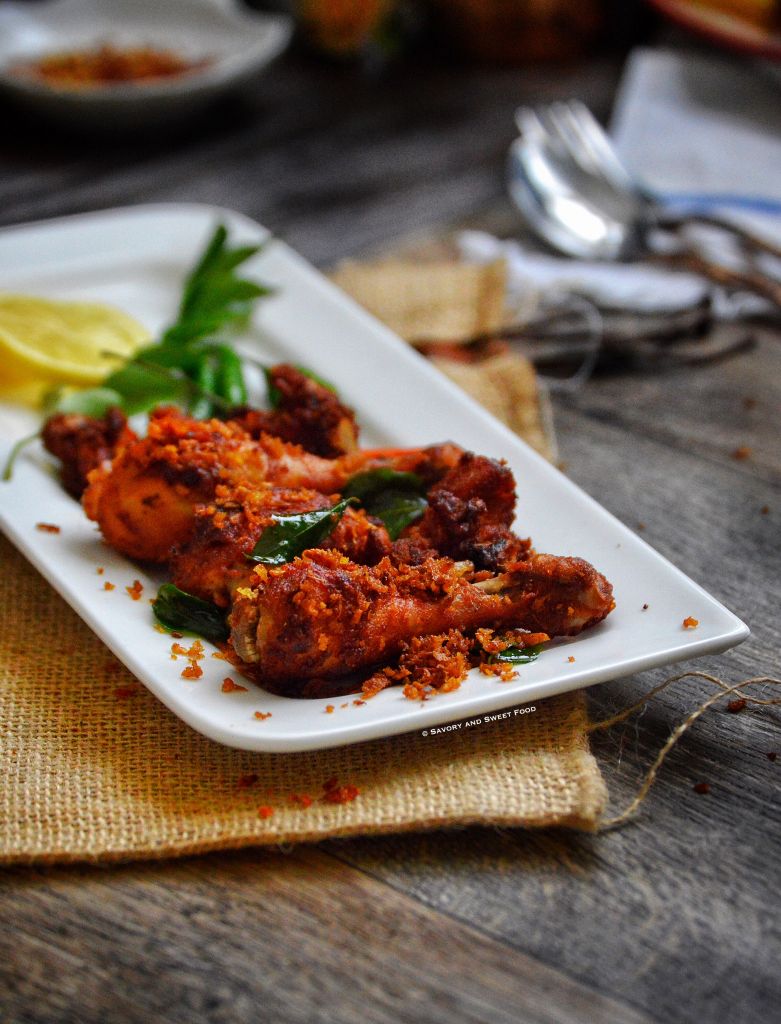 We were so happy when they started their branch in Dubai. One of my most favourite item is their "payyoli chicken fry". Its just too good. Been searching for a good recipe for long. And I saw this video in TV where one of the cooks of this restaurant was demonstrating this recipe. I scribbled the recipe down in a piece of paper asap.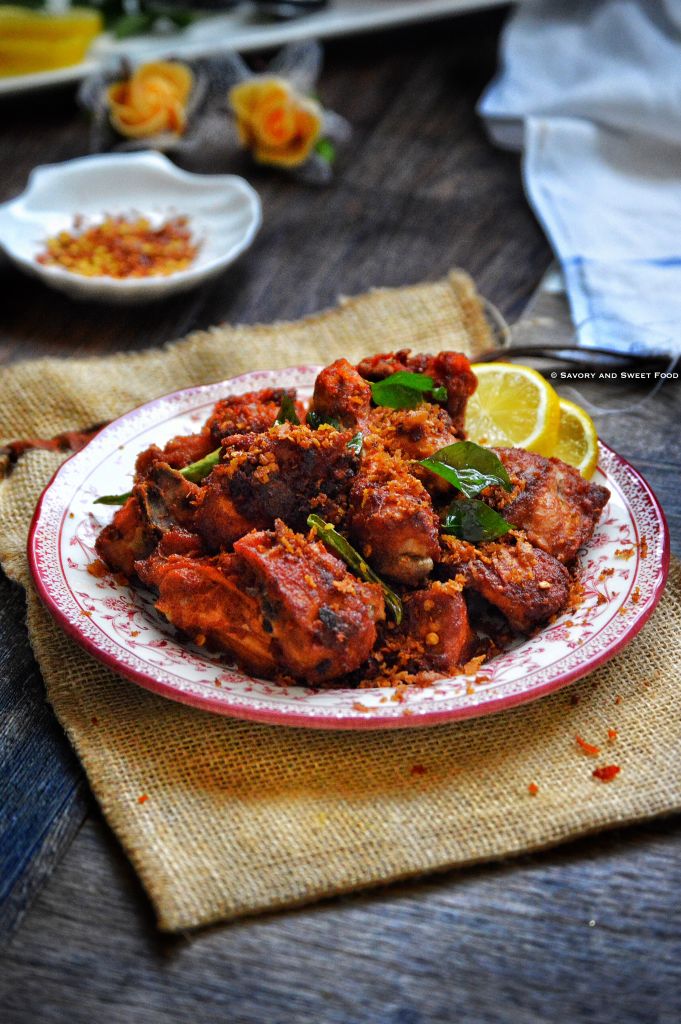 Since then this recipe has become very popular in my family. We make it very often. They don't add garlic, red chilli powder, corn flour and rice flour in the original recipe but we prefer adding that, only then we get the exact restaurant quality. Please do try thIs one out. Im sure you will give this a thumbs up. 🙂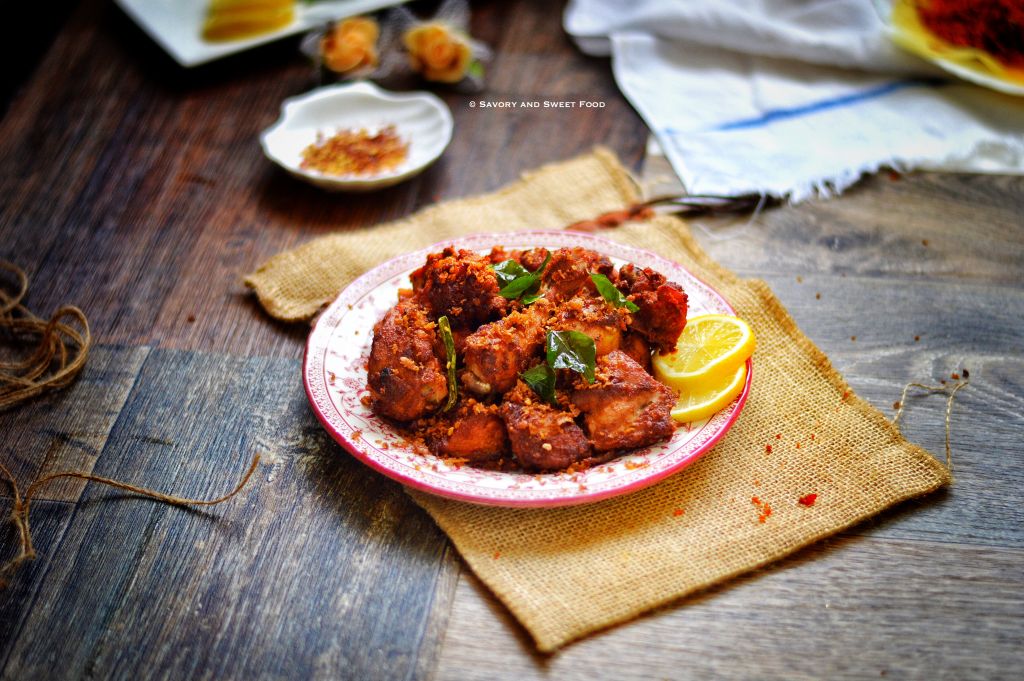 INGREDIENTS:
600g chicken
10-15 dried kashmiri red chillies
1 tsp ginger paste
2 tsp garlic paste
1 tsp meat masala powder
2 tbsp vinegar
1/2 tsp red chilli powder
1/4 tsp turmeric powder
2 tsp corn flour
1 tsp rice flour
green chillies
curry leaves
4 tbsp grated coconut
1 tsp of prepared red chilli paste (explained in directions)
salt to taste
coconut oil
NOTES:
Be very careful while frying the coconut. It may burn fast. Keep on stirring till it turns golden in color on high heat. Take out of the oil.
Make sure that the dried red chillies are the Kashmiri variety. The other ones would be very spicy.
You can add red food color if you like. Do not use vegetable oil instead of the coconut oil. It will change the flavour a lot.
While deep frying the chicken follow these steps:
Heat the oil really well.
Reduce the heat to medium.
Add in the chicken to the oil. Do not overcrowd the pan.
Do not move the chicken from the oil. If you move the chicken the coating will come off. Let it stay for 3 minutes. Then flip.
Cook for 6 minutes. Flip again and cook for 4 more minutes and take the chicken out of the oil. Drain on a kitchen tissue.
DIRECTIONS:
Grind it to a smooth paste.
Marinate the cleaned chicken pieces with ginger, garlic, meat masala, vinegar, red chilli powder, turmeric, cornflour and salt.
Take out a tsp of the red chilli paste and keep aside. Add the remaining red chilli paste to the chicken.
Let it stay for about 2 hours or longer.
Heat the coconut oil for deep frying.
Add in the rice flour to the chicken and mix well. Deep fry till cooked and chicken turns slightly crispy.
Fry the curry leaves and green chillies and keep aside.
Take the coconut and add to it the tsp of red chilli paste and salt.
Add this coconut mixture to oil and deep fry till golden in color. Take care not to burn the coconut.
[yumprint-recipe id='157′]