This Bombay style biryani has all the features a delicious biryani should have- the heady aromas, the vibrant colors, fluffy rice and the strong addictive flavors.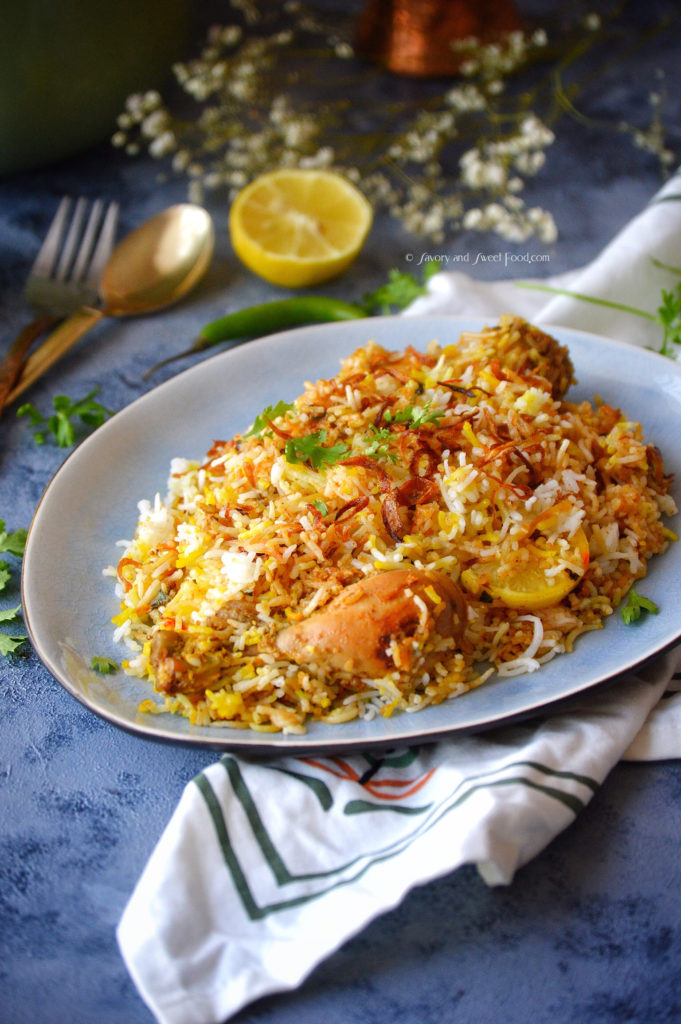 Being a strong Malabari at heart, I always prefer our own Malabar Biryani over any other type of Biryani. Even though I make many different types of biryani at home, it is always our very own traditional type biryani during the weekends. I am actually not allowed to experiment much on Fridays with food, as Fadal wants the naadan (traditional) lunch like neichor (ghee rice) and curry, or biryani.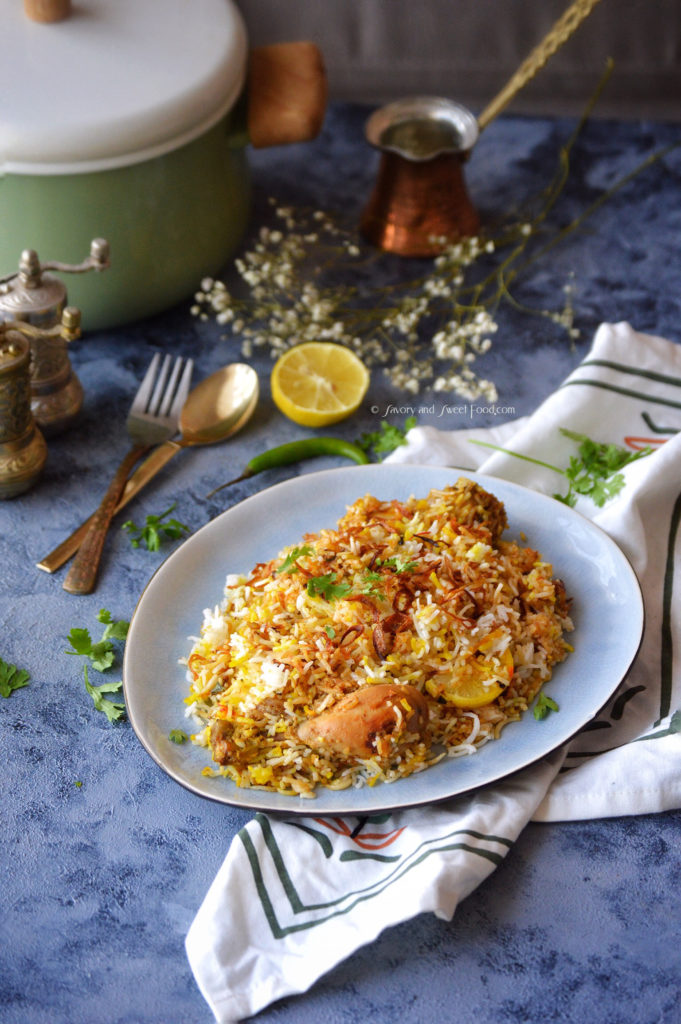 But this Bombay Chicken Biryani was a super success at home, even though it didn't taste anything like Malabar Biryani. It was soo delicious, that I just cannot explain how good it was. Fadal said that I can make this biryani during the weekends too, yaaay!! I was super happy when I got that approval, it really is not easy to get that…seriously! I made it for my family in Dubai and they all devoured it too. So this biryani is going to be there in our usual menu from now on.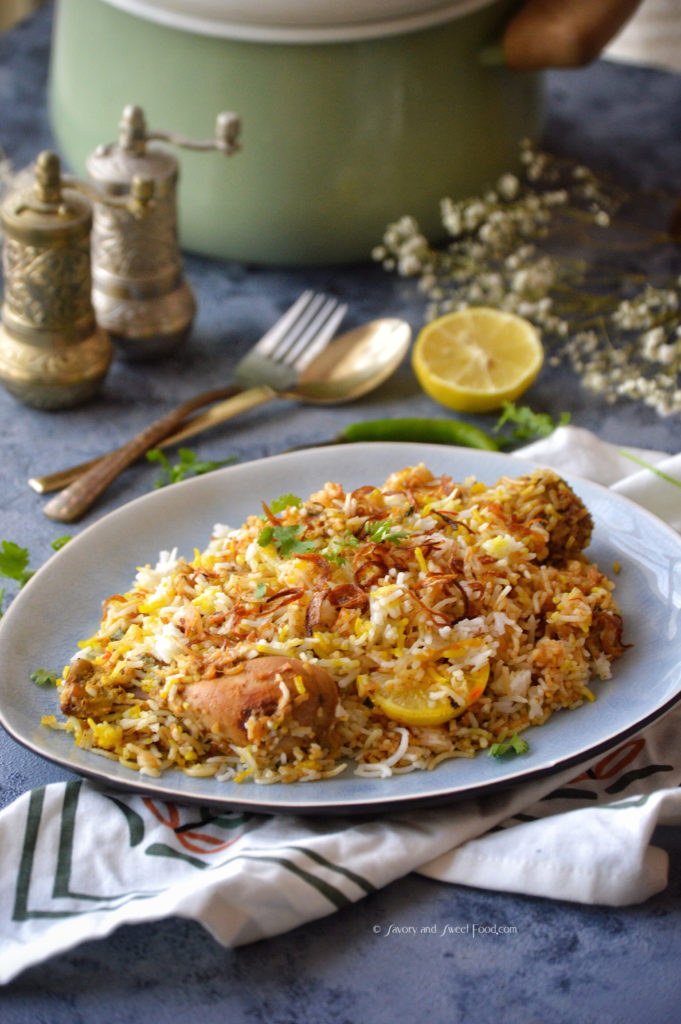 Hope you all will give this recipe a try, it is not very difficult to make it too. You will definitely love it. That moment when you dig deep into the pot, ensuring you get some of every layer, and when the lovely aroma from the masala buried deep under the rice hits you, it will take a whole lot of will power to put that scooped out rice onto the plate instead of putting the entire spoon into your mouth. It is THAT good. 😀
INGREDIENTS:
For marination:
600g chicken
1/2 cup coriander leaves
3-4 green chillies (adjust as per your preference)
250g yoghurt
salt to taste
2 tsp red chilli powder
1/2 tsp cumin powder
2 tbsp ginger garlic paste
1/2 tsp garam masala
1 large potato ( cut in cubes and fried in 1 tbsp oil) – optional
Other ingredients for masala:
3/4 cup oil
3 large onions
For ghee rice:
2 cups basmati rice (soaked in water for 1 hour)
2 tbsp ghee
2 cloves
2 cardamom
Cinnamon stick
3 3/4 cup water (adjust depending upon the type of rice you are using)
Salt to taste
For assembling:
Fried onions
Fried cashews
Fried raisins
Saffron soaked milk
lemon cut in thin slices
a bunch of mint leaves
coriander leaves
4 dry plums, soaked (optional)
1 tbsp kewra water (optional)
1/2 tsp green cardamom powder
fried cashews
NOTES:
You can boil the rice and use instead of making ghee rice. I always prefer ghee rice in biryanis.
DIRECTIONS: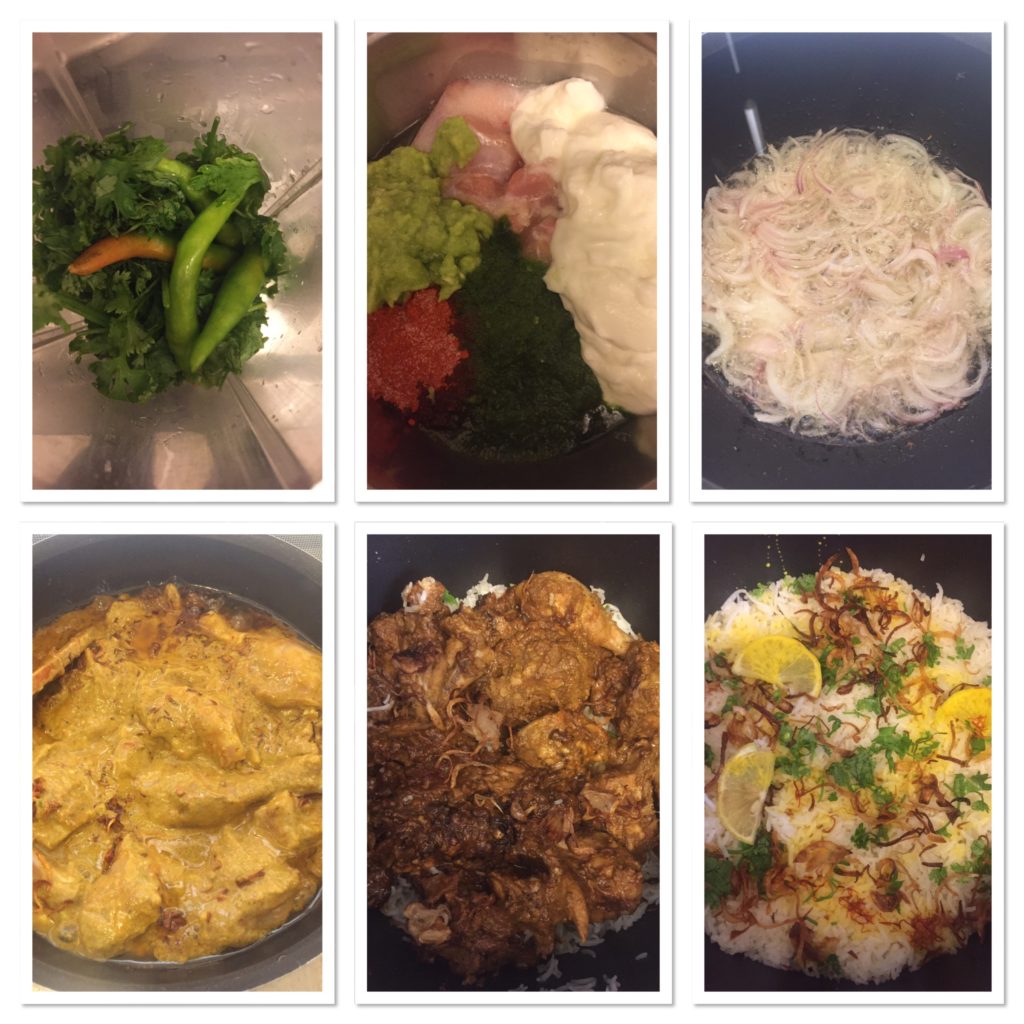 Make a green paste with coriander leaves and green chillies.
In a bowl, add chicken, green paste, yoghurt, salt, red chili powder, cumin, ginger garlic paste and garam masala. Mix well and marinate it for 3-4 hours or overnight.
Add 3/4 cup of oil in a pan and add fry the onions till golden brown and crisp. Keep aside.
Reserve 1/4 cup of fried onions and add remaining fried onions to the marinated chicken.
Take out about 1/4 cup of oil from the pan in which you fried the onions and add to it the marinated chicken and cook for 15-20 minutes till the chicken is cooked well.
Add fried potato to the masala and mix well.
To make ghee rice:
In a pan, add the ghee. Drop in the whole garam masala.
Once the aroma is released, add in the washed and drained rice.
Fry the rice in ghee for a minute on high heat.
Pour the boiled 3 3/4 cups of water. Add salt.
Let it boil on high heat till the water reduces a bit.
Reduce the heat to low, cover the pan with lid and cook for 10 minutes. Open lid and just stir the rice carefully. At this point, if you feel that the rice is not cooked at all and needs more water, pour in 1/4 cup more of water. Close the lid again and cook for 5 more minutes. Once the rice is cooked fluff up the rice with a fork or a large spatula carefully without breaking the rice.
To assemble:
Now take a pan, spread some rice, then chicken masala, then lemon slices, green 

cardamom

 powder, soaked dry plums, fresh coriander, mint, and rice, then on top add kewra water, saffron milk, fried onion and cashews.
Cover with lid and keep for dum on lowest heat inside the oven for 30 minutes.
If you do not have an oven, just cover the vessel with foil (to ensure the steam says in), then close the lid tightly.
Heat a tawa on lowest flame possible, place the biryani on top and cook for 20-25 minutes. Make sure the heat is lowest both in oven and stove top or else the biryani bottom might get burnt