A hearty baked pasta casserole with layers of chicken pasta and creamy béchamel sauce. It is topped with a mix of mozzarella and cheddar cheese which is baked until it turns golden and bubbly.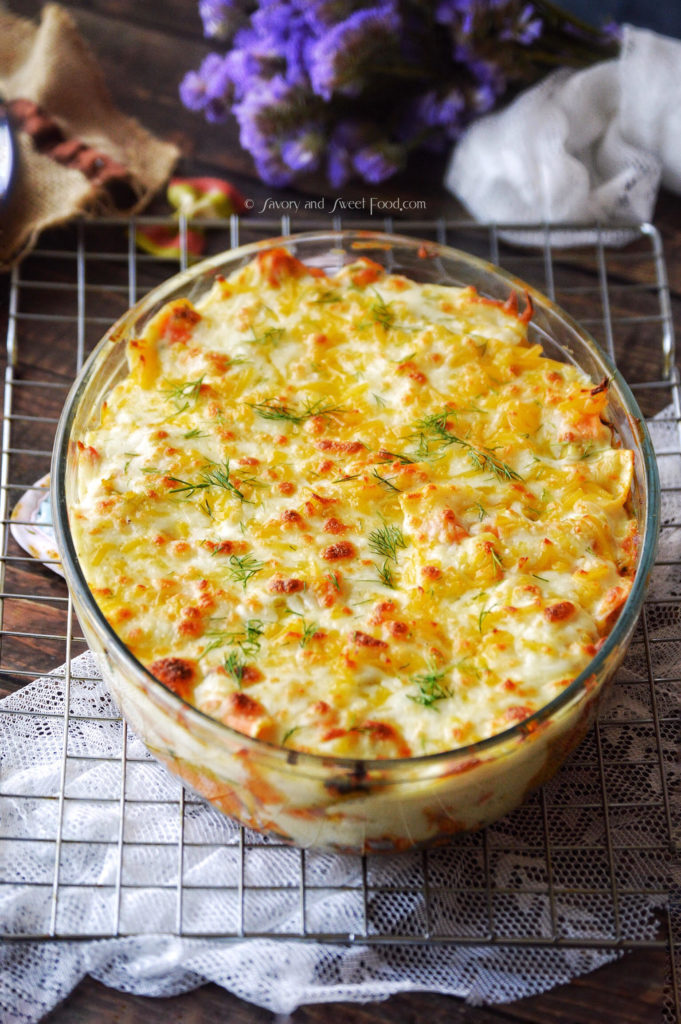 Here I am after the mandatory post Ramadan break with this Chicken Béchamel Pasta Bake. 😀 Cheesy pasta bake is always a pleasant, comforting dinner any day. Who doesn't love pasta and cheese, right? I have been thinking of trying out the basic béchamel pasta for a long time now. My neighbor who is a Lebanese always makes béchamel pasta at their home. And they do send me some too. I love their version which is very mildly flavored but I wanted to make my own spicy kind of pasta bake with a more stronger flavor.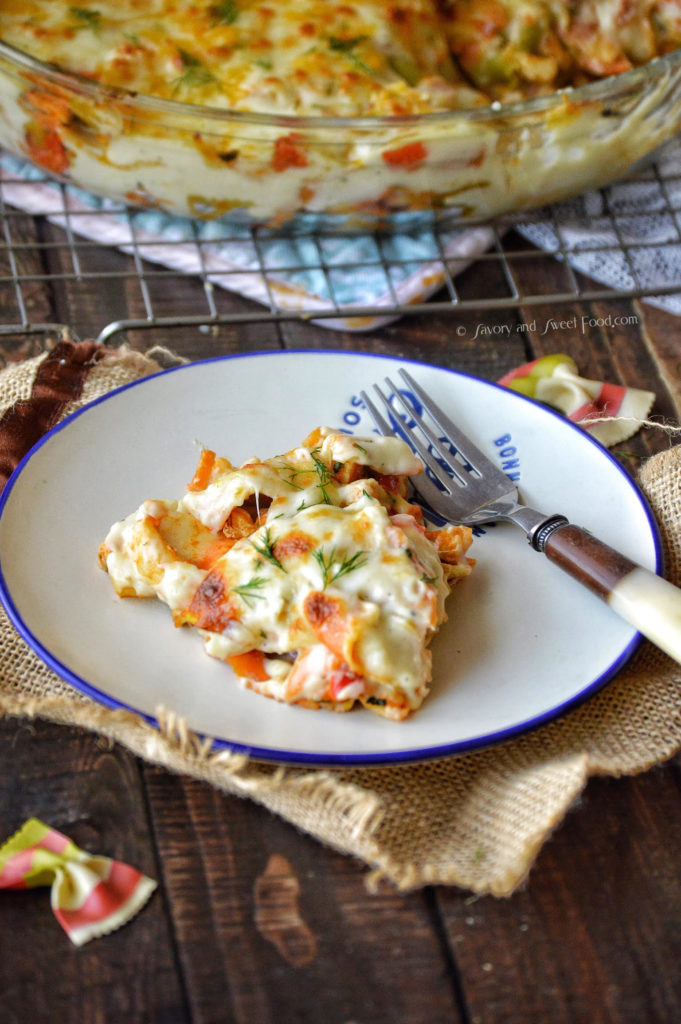 This is how mine looked and it tasted yummy. My fussy eater son, Hamad approved it too which is an achievement for me. Usually minced meat is used in béchamel pasta, but since my husband doesn't like kheema or any sort of minced meat based dishes, I used chicken breasts.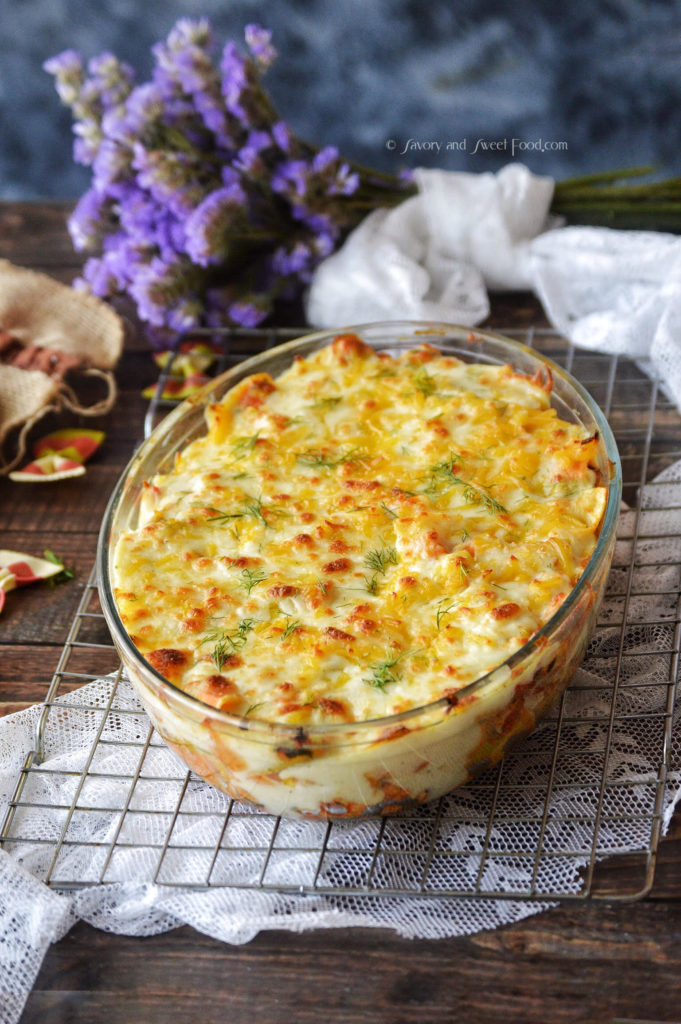 Hope you all will give this a try. Enjoy!
INGREDIENTS:
1 large Onion
2 cloves garlic
I small red bell pepper
200 grams boneless chicken breast cut into small cubes
1 tsp paprika powder
1/2 tsp cumin powder
1/2 tsp onion powder (optional)
1/2 tsp red chilli powder
1/2 tsp oregano
Salt to taste
1 tbsp tomato paste
Parsley
300g pasta
Black pepper to taste
Cheddar and mozzarella cheese
For béchamel sauce:
50g butter
50g all purpose flour
500ml milk
1 or 1/2 cube chicken stock cube (read notes)
A pinch of nutmeg (optional)
Freshly cracked black pepper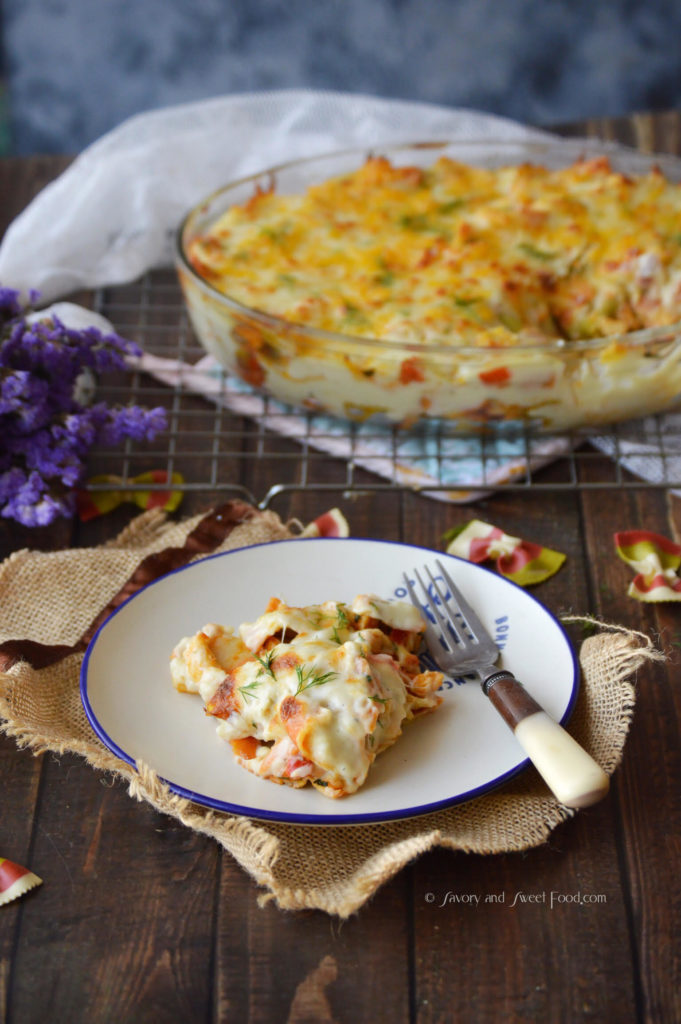 NOTES:
While making béchamel sauce, add half cube of chicken stock first. Then check for salt. If the salt level is perfect for you then don't add the remaining half of cube. But if salt is less, add the other half too. I added one whole cube.
You can add jalapeños too.
DIRECTIONS:
Cook pasta with a bit of salt and a dash of olive oil.
In a skillet, add onions and sauté till soft. Add garlic and sauté for a minute.
Add bell pepper and cook till slightly soft.
Drop in the chicken. Cook on high till half cooked.
Reduce flame and add all the spices.
Cook till chicken is completely cooked. (5-8 mins)
Add tomato paste and sauté for 2-3 minutes. Add parsley and oregano.
Add the cooked pasta into the chicken mix. Combine.
To make béchamel sauce:
In a pan add the butter.
Once it melts, add the flour and cook on low heat till you get a nutty smell.
Gradually pour milk, stirring continuously so that there are no lumps.
Add the chicken stock cube and stir till it is well incorporated into the sauce. *Read notes.
Add pepper and salt if needed.
Let it come to a boil till it gets thick. Make sure it is not too thick. If it turns out to be very thick pour more milk.
To assemble:
In a casserole dish, add the prepared pasta chicken mix as one layer.
Then pour few ladles of béchamel sauce.
Sprinkle a mix of mozzarella and cheddar cheese.
Then add another layer of pasta mixture.
Pour béchamel sauce.
Top with mozzarella and cheddar cheeses.
Bake in a 180C degree preheated oven for 15-20 minutes.