Fatira is a flatbread that is a popular breakfast and snack item. It is made by pressing the dough very thin and adding chicken filling and finally folding all four sides to create a package. It is then shallow fried in oil till it gets crisp on outside.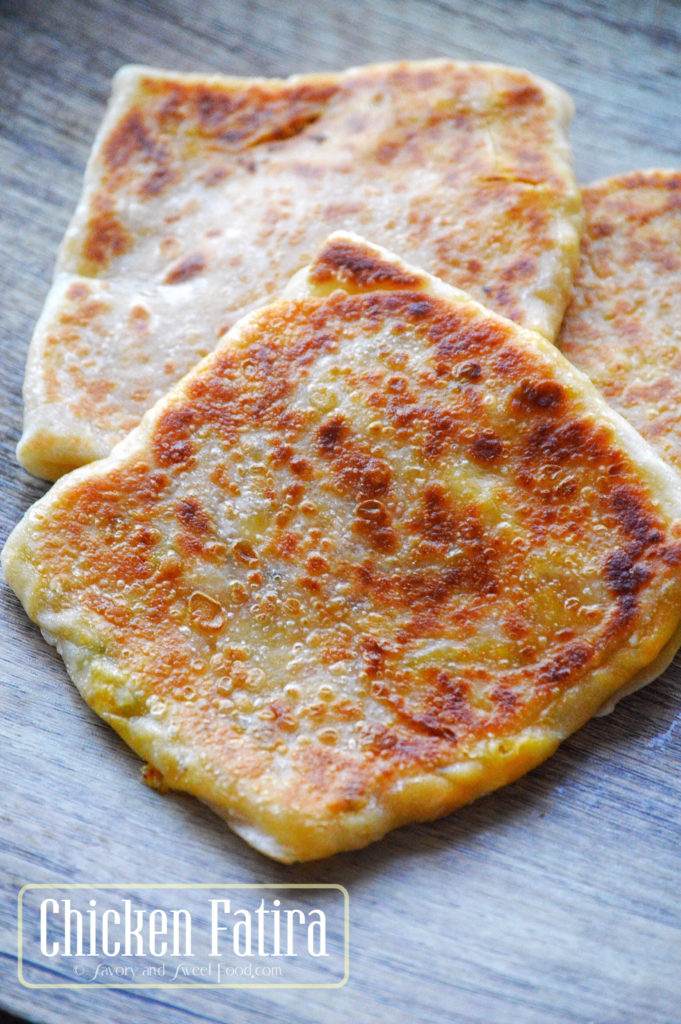 I am sure that the term fatira is quite new to most of you. It was new to me too. I got inspired to make this after I saw a similar
sujuk fatira recipe in Yallazest
Instagram page. It looked so good that I knew that it would taste amazing. I did a little research on google to see where this dish originated from but I couldn't get much info on this. If any of you have any idea, do let me know.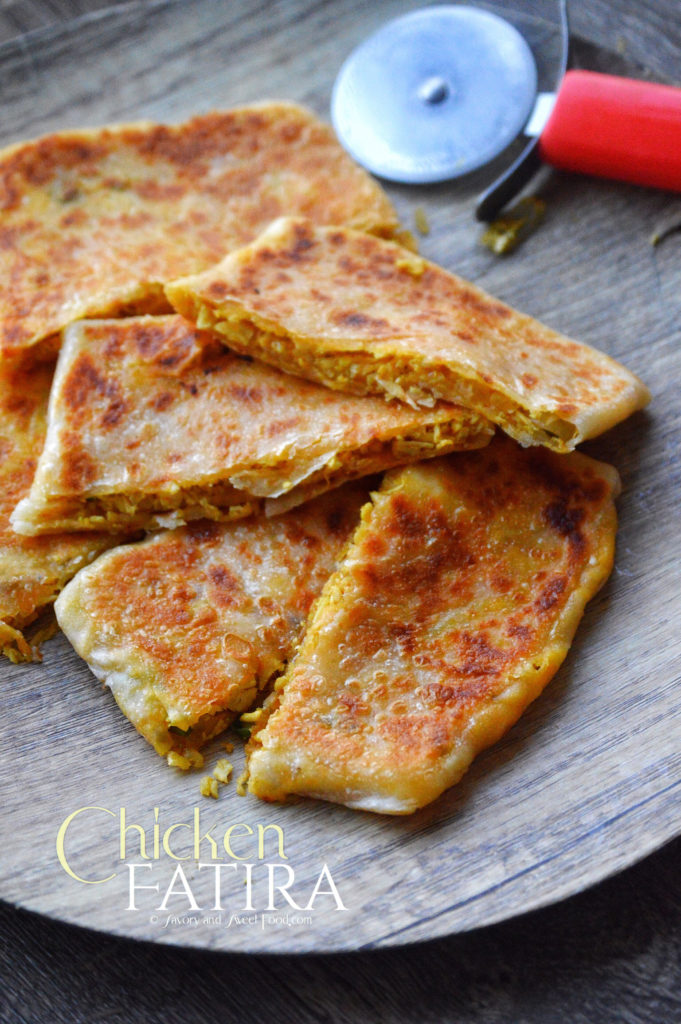 I saw in one article that fatira is a Libyan breakfast item and they serve it with honey without any filling. That sounds yummy too. But filling this with cheese and then serving with a drizzle of sugar syrup or dates syrup sounds more interesting to me. Should try sometime.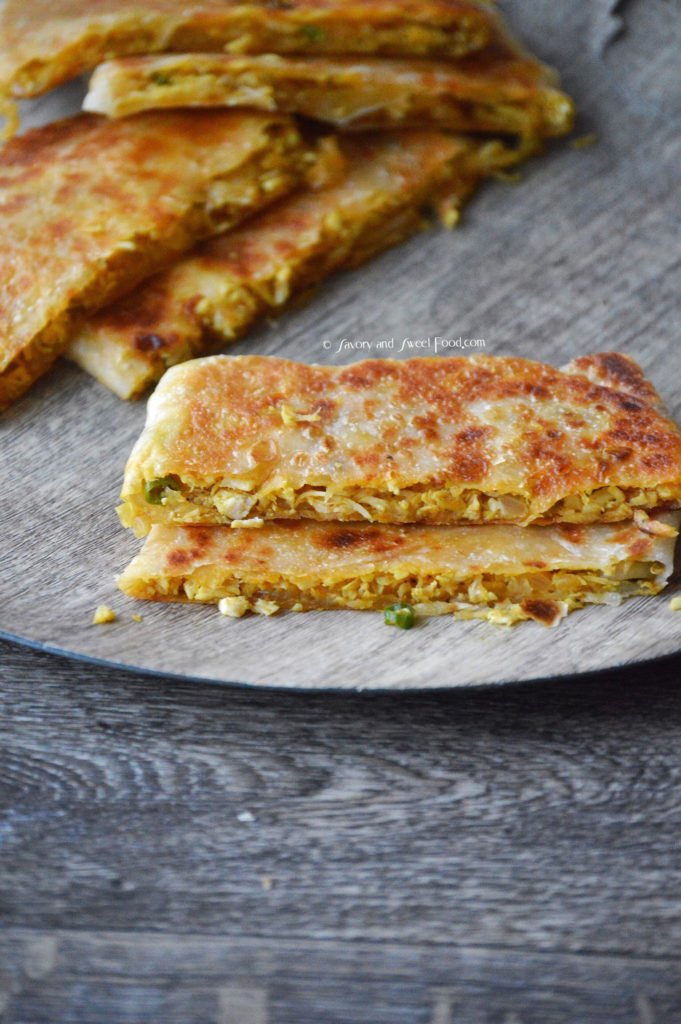 And btw I know the photos look too plain without any props or any sort of scene set up. I had clicked this 15 minutes before iftar so you can understand. I didn't even have coriander leaves to give it a little garnish. But this really tastes amazing.
INGREDIENTS:
Will yield 5 fatiras
For the dough:
2 1/2 cups all purpose flour
1/2 tsp sugar
Salt to taste
1/4 cup vegetable oil
1 cup buttermilk
For the chicken filling:
250g boneless chicken breast cooked with 1/4 tsp turmeric powder, 1/4 tsp black pepper powder and salt and shredded (keep the stock for later use)
1 large onion chopped
4 cloves garlic chopped
1/2 inch ginger chopped
2 green chillies chopped
1 tsp soya sauce
a pinch of oregano
1/2 tsp black pepper
coriander leaves
salt to taste
2-3 tbsp oil
NOTES:
You can roll the dough with your hands too. If you know how to beat the dough to stretch it like how you would do to make Kerala Porota, it would be great.
You can add any sort of filling in this. Minced meat filling will be good too.
You can spread cheese in this and cook. Then pour dates syrup, sugar syrup or honey and serve.
DIRECTIONS:
To make the dough:
Into a bowl, add flour, sugar, salt and oil and rub well with your fingers till the oil gets incorporated into the flour well.
Gradually add buttermilk and mix well with spoon. If you feel the the dough is too hard pour few tbsps more of buttermilk. Knead well with your hand for about 5 minutes.
Cover and let it rest for about 2-3 hours.
To make the chicken filling:
In a pan add in the oil. When it gets hot add the onions, ginger, garlic and green chillies.
Once it gets soft, add the shredded chicken into this. Mix well to combine.
Add in the black pepper, soya sauce, oregano and coriander leaves. Mix well.
To assemble and cook:
Make five balls out of the dough. Dip each dough ball in oil.
Roll each dough balls very thin by applying oil on the counter top. You wouldn't have to add flour while rolling. With oil it will be easier to roll very thin without breaking it. You can apply oil on the countertop and also on top of the dough. It should be as thin as a tissue paper. I didn't use the rolling pin, I streched it with my hand.
Spread the chicken filling on the rolled dough. Fold all four sides as shown in the picture.
In a pan, pour 2 tbsp of oil. Place the fatira on it and fry on medium high heat till both sides are crisp and cooked well.
Press the fatiras well with a spatula while cooking so that it will be thin and crisp.