These saucy chicken tortillas are perfect for any party or get-together. Made with mouthwatering fried chicken filling and a flavorful mayo-tahini sauce which is rolled in soft tortillas, they'll definitely be a favorite!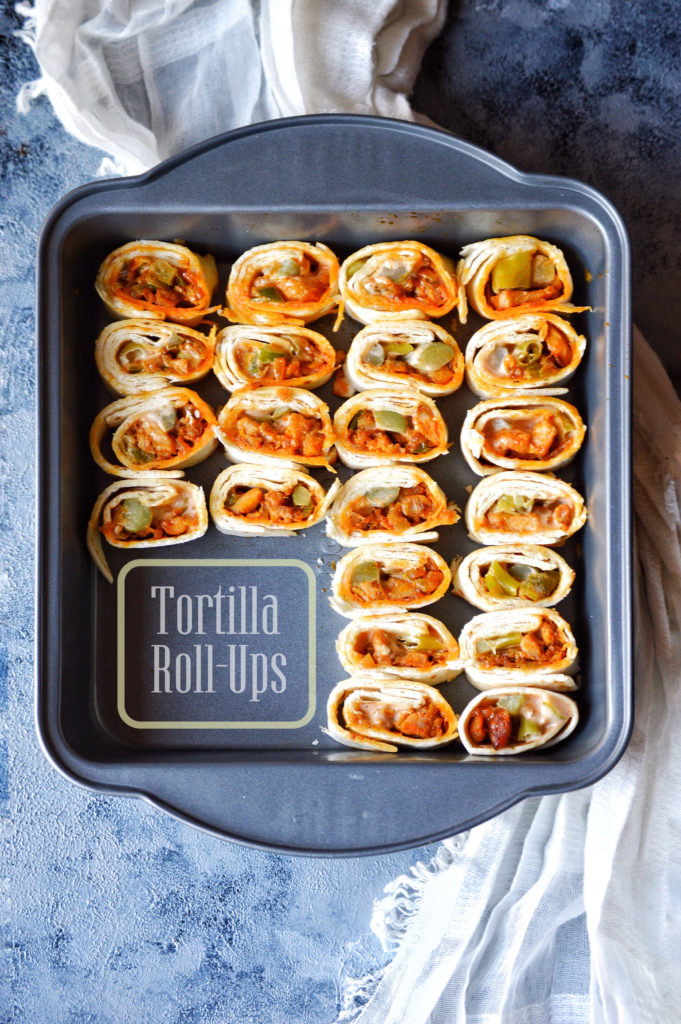 I'm a big fan of anything with tortillas…burritos, quesadillas, wraps and now this roll ups/pinwheels. This is amazing as you can make this ahead of time, change up the flavors by adding any fixings of your choice and can make them in no time at all.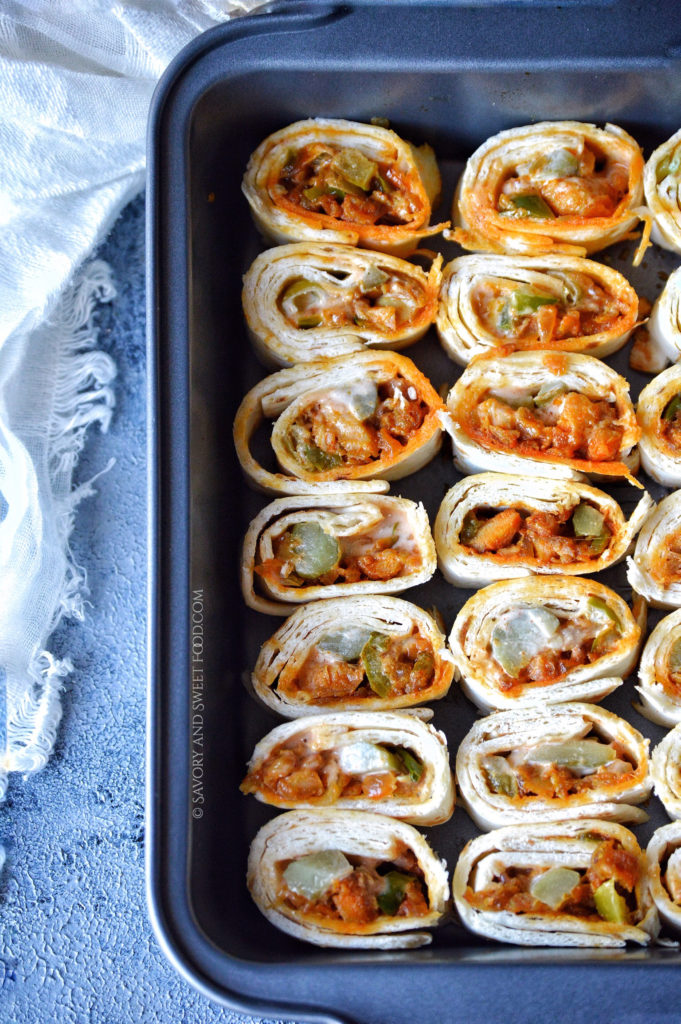 Hope you will give this recipe a try, it will definitely be a hit!
PS: The photos are as sloppy as ever because it was time for Iftar and so couldn't do much with the scene set-up. But it tastes amazing, I swear!! 😀
INGREDIENTS:
For the filling:
300g boneless chicken breast cut into small cubes
1 plus 1 tsp red chilli powder
1/4 tsp turmeric powder
Salt to taste
2 medium sized onions chopped
3 green chillies
1 small capsicum cut into small cubes
1 tsp ginger garlic paste
Coriander leaves
Oil
For the sauce:
4 tbsp mayonnaise
2 tbsp tahina
1 tbsp honey
1/2 tsp garlic powder/ 1 garlic crushed
1 tsp paprika
1-2 tbsp water
Salt to taste
To assemble:
Tortillas
Picked jalapenos cut into smaller pieces
Pickled cucumbers
Lettuce (optional)
Cabbage (optional)
Sriracha sauce (optional)
Mozzarella cheese (optional)
NOTES:
You can use any filling for this.
DIRECTIONS:
To make the chicken filling:
Marinate chicken with red chilli powder, turmeric powder and salt
In a pan, add oil and shallow fry chicken. Keep aside.
In the same pan add more oil, if needed and drop in onions and green chillies. Saute till soft for 4 minutes.
Add capsicum and saute for 2-3 minutes.
Add ginger garlic paste. Cook for a minute.
Add red chilly powder. Mix. Add coriander leaves.
Add in the fried chicken. Mix. Cover and cook on low flame for 10 minutes.
To make sauce:
Mix all ingredients for sauce.
To assemble:
Place tortilla on a plate.
Add cabbage and lettuce if using in the middle.
Add chicken, then pickled jalapenos and cucumber.
Pour the sauce.
Roll the tortillas.
Cut it into small rolls and assemble on a tray as shown in the picture. Heat for a bit in the oven before serving, if you don't like cold sandwiches. You can serve like this or…
This is optional but if you wish, you can add Sriracha sauce on top of the rolls and then add mozzarella cheese and then bake till cheese melts.