A chocolate cake with ricotta cheese that stays moist for days. It is frosted with a fluffy mousse like whipped Nutella buttercream and finished with a layer of decadent milk chocolate ganache.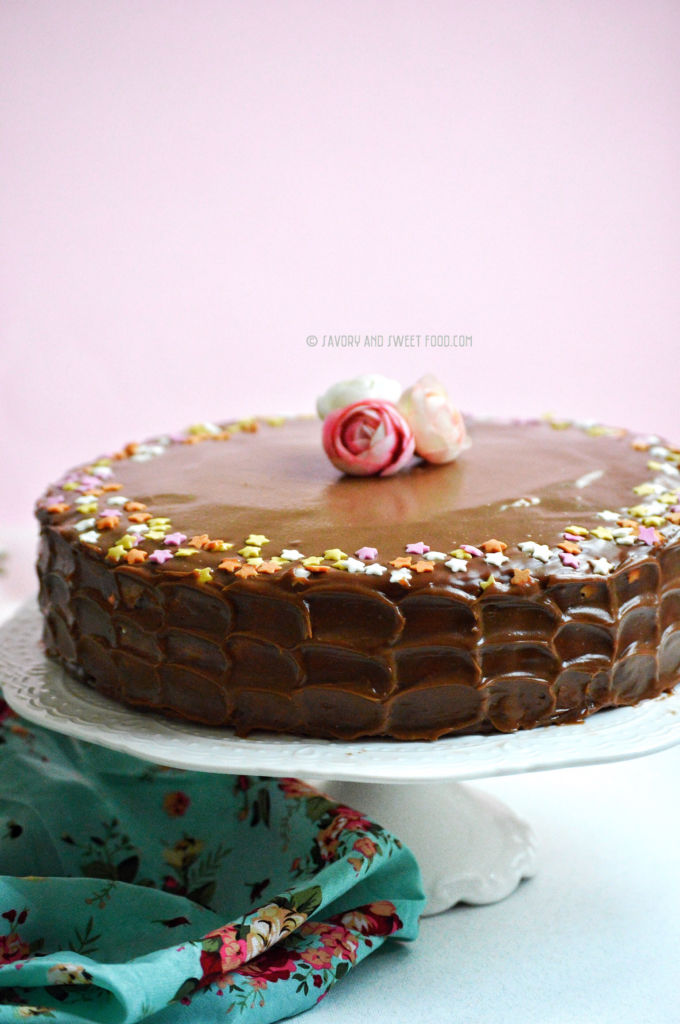 It was my Son's birthday before 2 weeks. My boy is 3 now.I feel it was just yesterday that I
introduced my little bundle of joy
to you guys. Three whole years passed by in lightning speed. Alhamdulillah and mashahAllah these were the best years of our lives. 🙂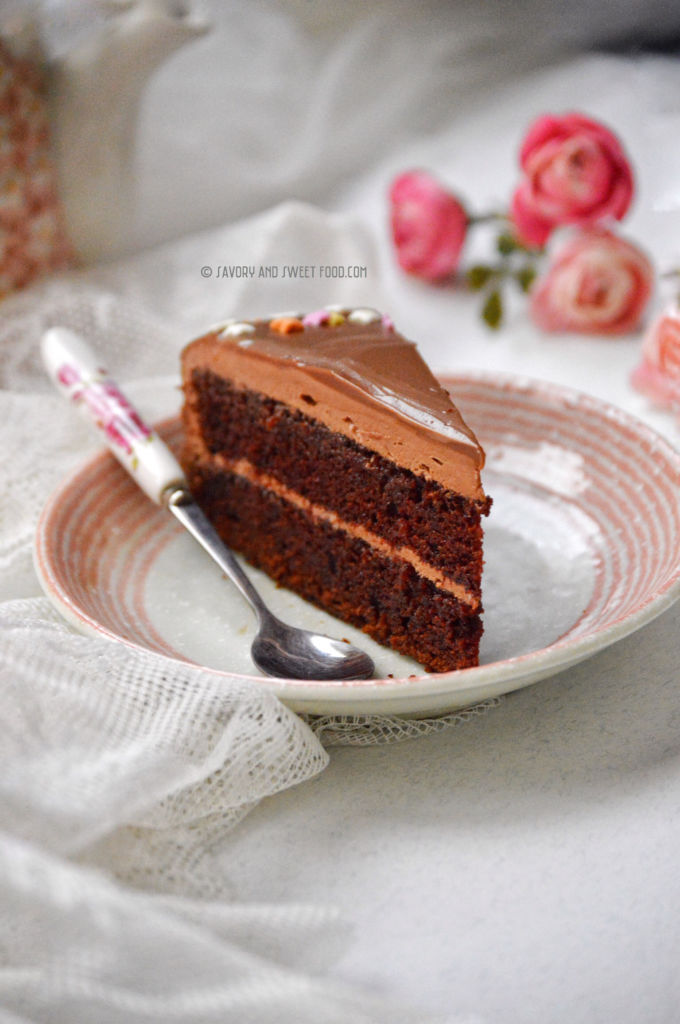 We are not much on conducting huge birthday parties. We usually have our loved ones coming over to our house for lunch and then, yes the mandatory birthday cake. So this was what I made because Hamad loves chocolate cake, and so does his cousins. It was a huge success, both kids and adults devoured it. We usually take the kids to their favorite place after all the eating. So this time it was the beach, then their favorite fun city (children's amusement center) and finally dinner. It was a fun day. 🙂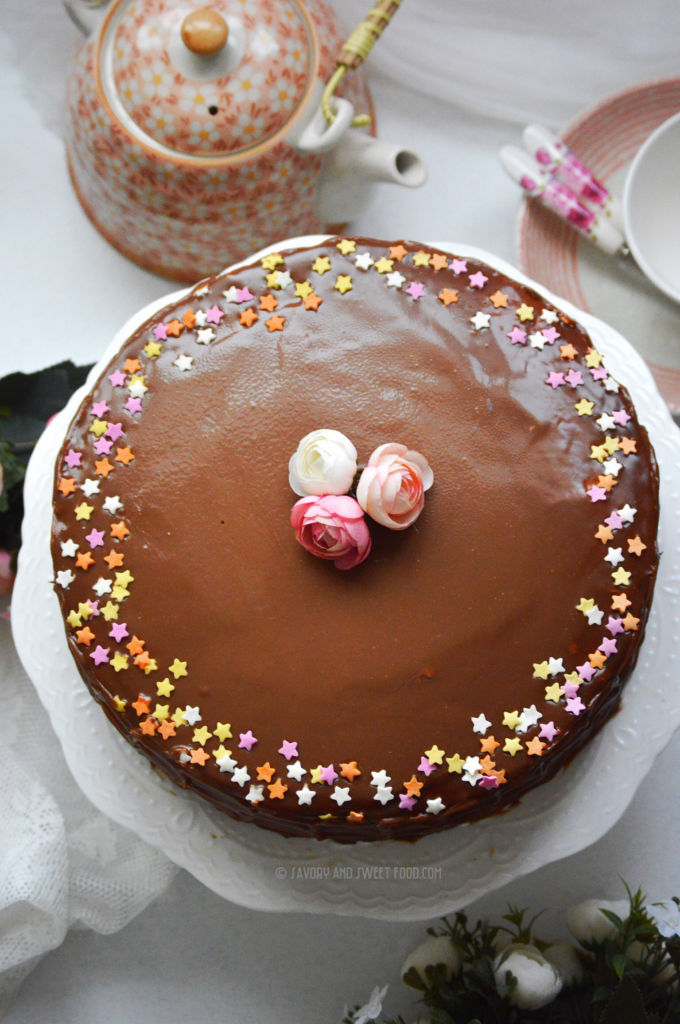 There were few left over cake and it stayed moist for 2 days, just like it was freshly baked and frosted. It has to be because of the ricotta cheese and sugar syrup soak. I had reserved the trimmings of this cake (which I got while leveling the cake prior to frosting). I kept it in a zip lock bag and I took it out after a week to make a pudding and you won't believe it, the cake was still super moist. It had the same quality which was there on the first day. Seriously, the best chocolate cake I made so far.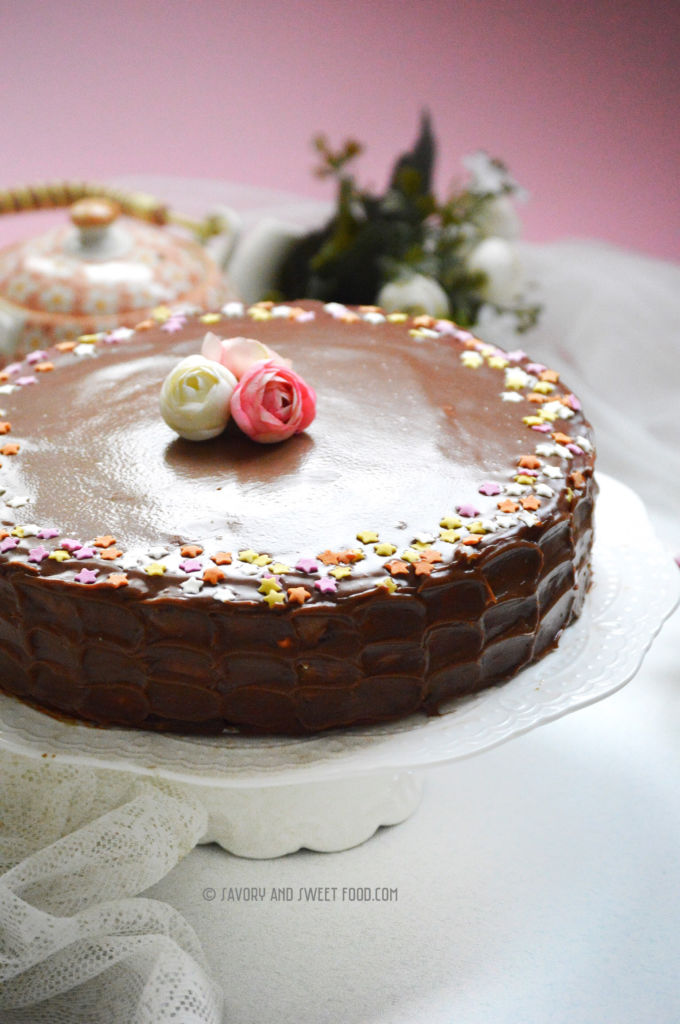 The frosting is perfect too. This is the "light" element of the cake. It is fluffy and mousse like. It complimented very well with the chocolate cake and the ganache.
I hope you guys will give this cake a try and not get intimidated by its huge list of ingredients and the long instructions. It is not very difficult when you make it actually. Enjoy!
Makes a 9 inch, two layer cake
INGREDIENTS:
For the Cake:
2 cups granulated sugar
1 3/4 cup all purpose flour (not packed)
10 tbsp cocoa powder (1/2 cup plus 2 tbsp)
2 tsp baking soda
1 tsp baking powder
1/2 tsp salt
2 large eggs plus 1 egg yolk, at room temperature
1 and 1/4 cup of whole milk ricotta cheese
1/2 cup of vegetable oil
1 tbsp vanilla extract
1 cup of hot water
For the Sugar Syrup:
1/2 cup sugar
1/2 cup water
For the Nutella Buttercream Frosting:
3/4 cup unsalted butter softened at room temperature
3/4 cup Nutella
2 cups powdered sugar
1 tsp vanilla extract
4 tbsp heavy whipping cream
For the Milk Chocolate Ganache:
145g milk chocolate (I used Galaxy plain)
1/2 cup heavy whipping cream
3 tbsp unsalted butter
NOTES:
If you want a rich chocolate flavor in the cake, you can add upto 1 cup of cocoa powder.
The frosting can be stored in an airtight container for unto one week. It can be frozen for unto a month.
Make sure that the cake, sugar syrup and the ganache is completely cool before assembling.
DIRECTIONS: (sorry I didn't take the step by step pictures, but you will just have to read the directions, its very easy to make this)
To make the Cake:
Preheat oven to 350F or 180C.
Grease and flour two 9-inch round baking pans and keep aside.
In a bowl of an electric mixer, add sugar, flour, cocoa, salt, baking powder and soda. Mix on low speed until the ingredients are mixed through.
In a separate bowl, combine eggs, egg yolk, ricotta, oil and vanilla. Mix till combined. Pour this into the dry ingredients. Beat on low speed until just combined.
Pour in hot water and mix on medium speed till thoroughly combined. You will get quite a loose batter. (do not over mix)
Divide the batter into the two baking trays.
Bake in preheated oven for 30-35 minutes, or until a toothpick inserted comes out clean.
Let the cake cool for 10 minutes before removing from pan. Cool cakes completely before frosting.
To make the sugar syrup:
Combine water and sugar in a saucepan and heat over medium heat, stirring occasionally until the sugar has completely dissolved.
Set aside to cool completely before using.
To make the Nutella Buttercream Frosting:
In a bowl of a mixer with whisk attachment, beat the butter and Nutella for 3 minutes or until smooth, sky and creamy.
Add in the sugar gradually on low speed. Once the sugar is completely mixed, add in vanilla and whipping cream, increase speed to high and whip for 2 minutes until creamy and fluffy.
Refrigerate for 15 minutes before frosting onto cake.
To make the Milk Chocolate Ganache:
In a saucepan, pour in the whipping cream and add the butter. Heat it till it reaches boiling point. Turn off the heat.
Add in the chopped chocolate into this. Close lid of the pan.
After 2 minutes, mix it well. Mix till chocolate gets completely incorporated with the cream till you get a smooth chocolate ganache.
Let it come to room temperature.
To Assemble:
Once the cakes have been completely cooled, take it out of the pan.
Level the cakes by cutting the top dome part of it.
Place a cake base on top of your turn table.
Place one cake on it. Brush the top of the cake with sugar syrup.
Add frosting. Place the other cake on top.
Brush sugar syrup on top of the second cake.
Cover the entire cake with the frosting. Level the frosting well.
Refrigerate for 1/2 an hour.
Pour the ganache over the cake.
Refrigerate the remaining ganache for 2 hours. Once it gets thick you can decorate the sides of the cake with it.
[yumprint-recipe id='262′]