A royal mutton/lamb curry which is very popular in the northern regions of India. This is traditionally made in a special clay pot which is called as Handi, that's why the name. But this can be made in our usual pan too.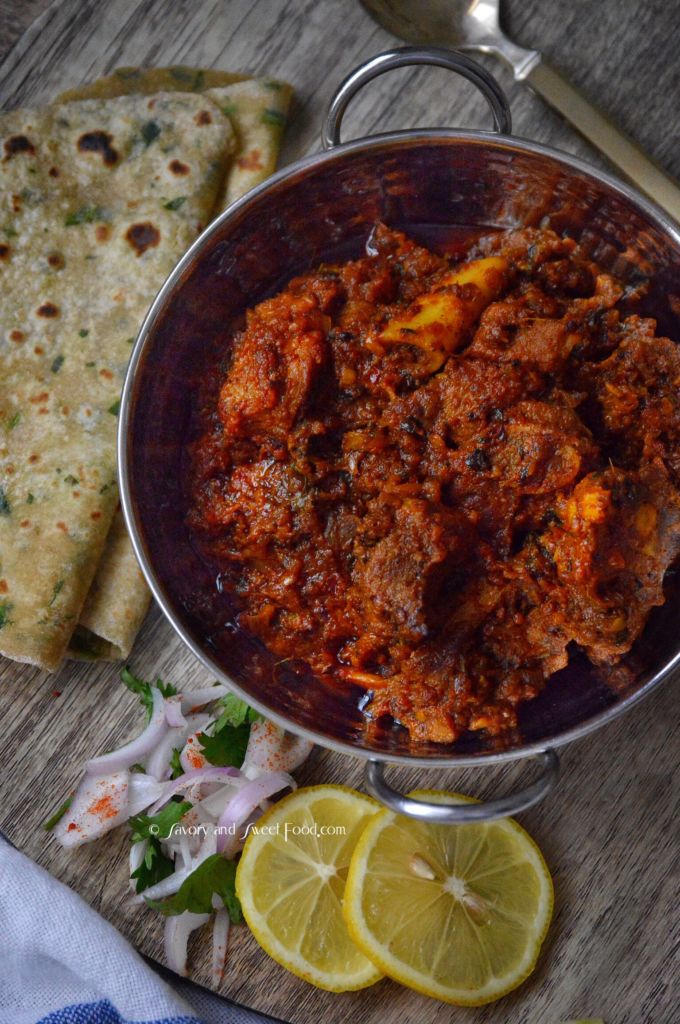 The whole cooking for this dish is done in one pot or Handi. For this preparation I would highly recommend you to slow cook in the usual pan instead of pressure cooking. Although this method takes a long time to cook the meat, the resultant flavor and texture of the meat will turn out to be amazing. And if you cook this in a clay pot, it will taste even better.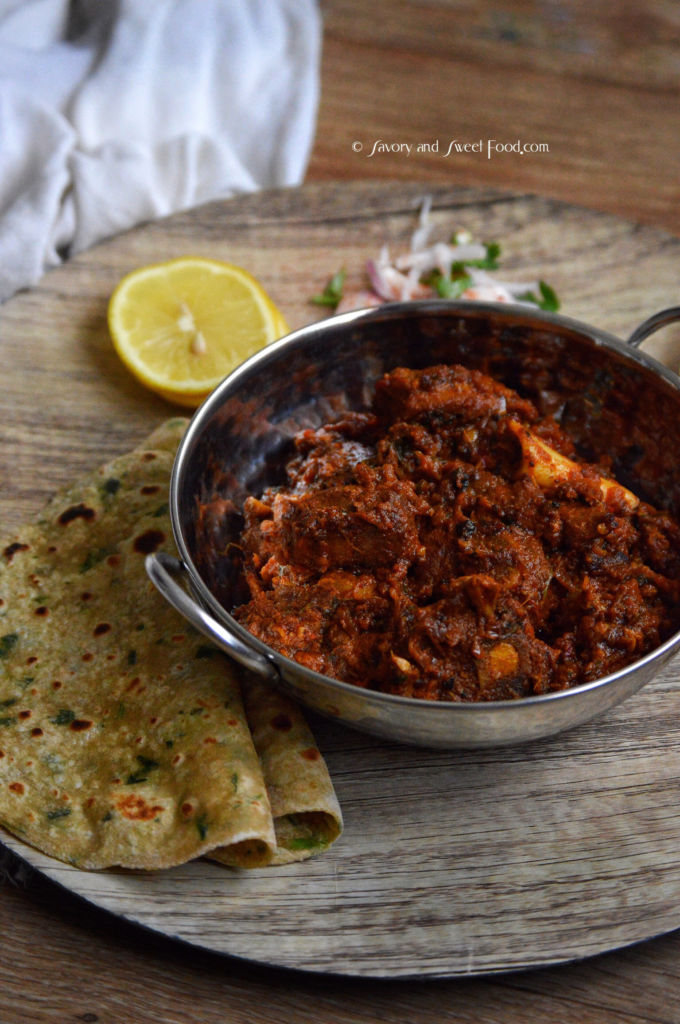 Actually you don't have to feel intimidated by seeing the total time it requires to cook mutton this way. The majority of the prep work will be over within half an hour. Then all you have to do it simmer the mutton on very low heat for an hour or so till the gravy reduces, pouring in more stock or water as needed till the mutton turns almost "falling off the bones" tender.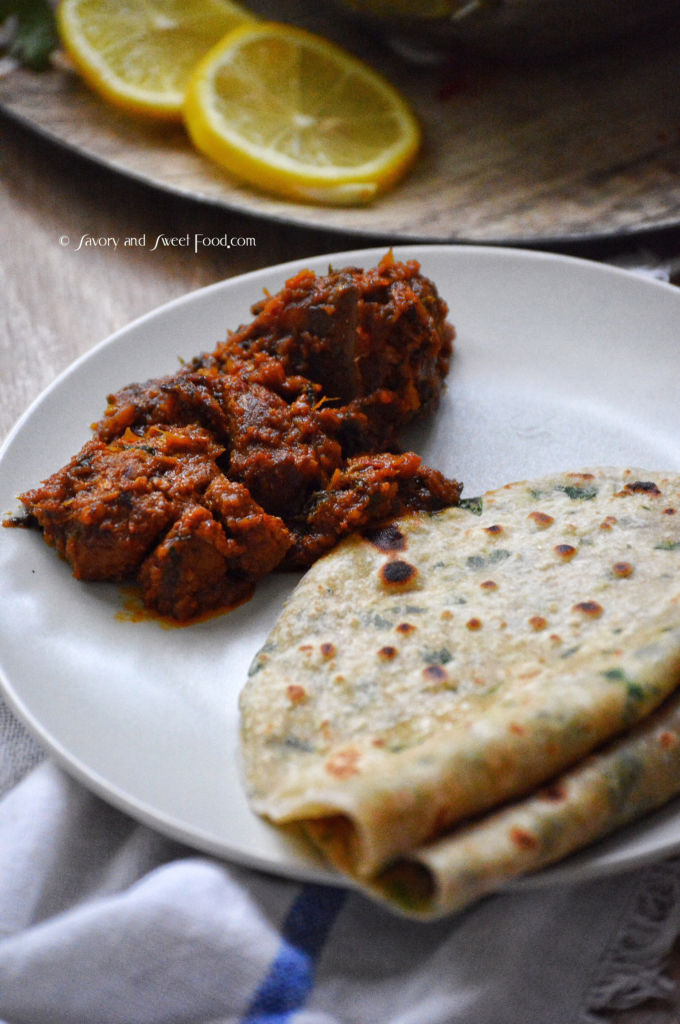 As much as I love the magic vessel "Pressure Cooker", sadly it seems that it is healthier to cook the meat on low heat for a longer time rather than cooking on high heat. I have read that cooking at high heat is not an ideal form of cooking as it causes the food to lose majority of its nutrients and makes digestion more difficult. So I decided that I will give my pressure cooker a rest for sometime. It is going to be a little too difficult because I am so dependent on it. But I will try, I think you guys should try too. So start with this delicious recipe. Here it is. 🙂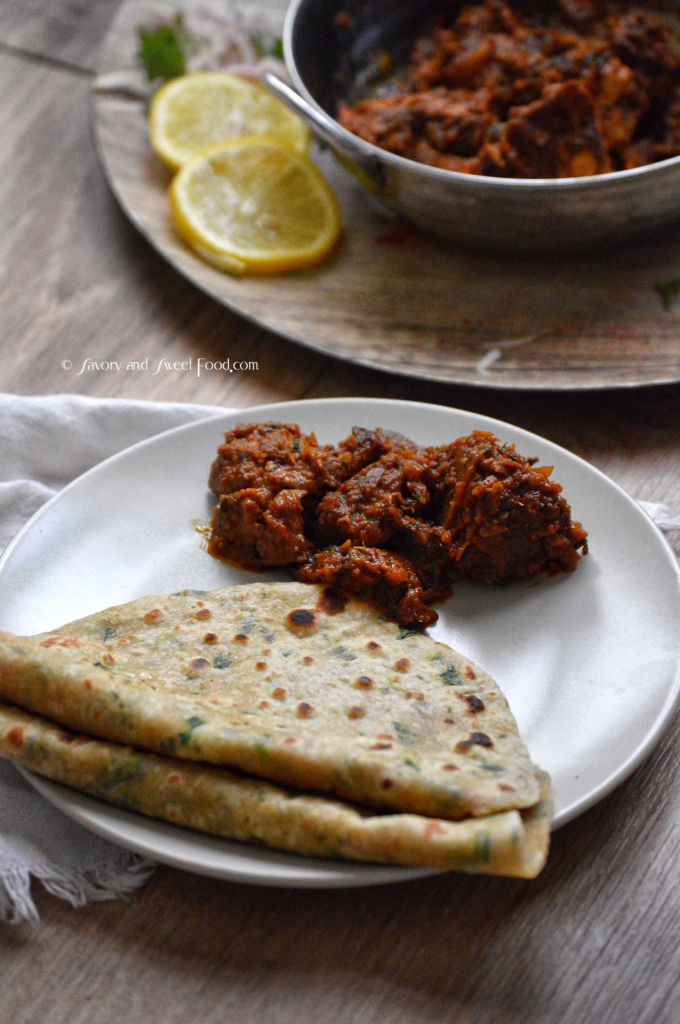 INGREDIENTS:
For marination:
3 tbsp yoghurt
2 tsp spicy red chilli flakes or red chilli powder
1/4 tsp turmeric powder
2 tsp coriander powder
Salt to taste
For the masala:
1 large onion chopped
6 garlic cloves, minced or paste
1 inch ginger, minced or paste
1 tsp coriander powder
1/2 tsp garam masala powder
2 cardamom pods
2 cloves
1 tbsp tomato paste
2 tomatoes puréed
2 cups chicken stock/mutton stock/water (plus more)[read notes]
Salt to taste
a pinch of sugar
Coriander leaves chopped
2-3 tbsp vegetable oil or ghee
NOTES:
You can reduce the cooking time by marinating the mutton overnight.
This dish would taste its best when cooked on low heat in a pan rather than pressure cooking it.
For the chicken stock, I boiled few pieces of chicken on bones with turmeric, salt and pepper and used the stock which I got from that. I wouldn't recommend using Maggi chicken stock cube, instead use water.
DIRECTIONS:
Marinate the cleaned mutton pieces with the above mentioned ingredients.
Heat oil in a pan and add in the mutton. Fry on high heat till browned all over.
Remove from pan and keep aside.
In the same pan, add cardamom pods and cloves.
Add onions. Sauté the onions till it turns golden brown in color and translucent.
Add in ginger and garlic. Sauté for a minute.
Add garam masala, and ground coriander powder. Cook for 2 more minutes.
Add the tomato paste and purée. Mix well.
Drop in the mutton pieces. Mix.
Pour 2 cups of stock to cover the meat. Bring it to a boil.
Cover and cook on simmer for 45 minutes stirring occasionally.
After 45 minutes, pour in more stock or water if necessary and cook till the meat gets tender. It took 1 1/2 hours for me. But keep checking, the cooking time may vary. You can either keep the gravy or just reduce to a thick gravy as per your preference. I cooked mine till I got a thick gravy. Add a pinch of sugar. Mix well.
Add chopped coriander leaves, adjust seasoning and serve.
[yumprint-recipe id='261′]