Goli Baje/ Mangalore bajji are deep fried fritters made mainly with all purpose flour, rice flour and yoghurt. It is so addictive and very delicious. The super crispy exterior and the fluffy, pillowy soft interior is the main feature of this dish. Serve this with coconut chutney and enjoy it as your breakfast or as an evening snack.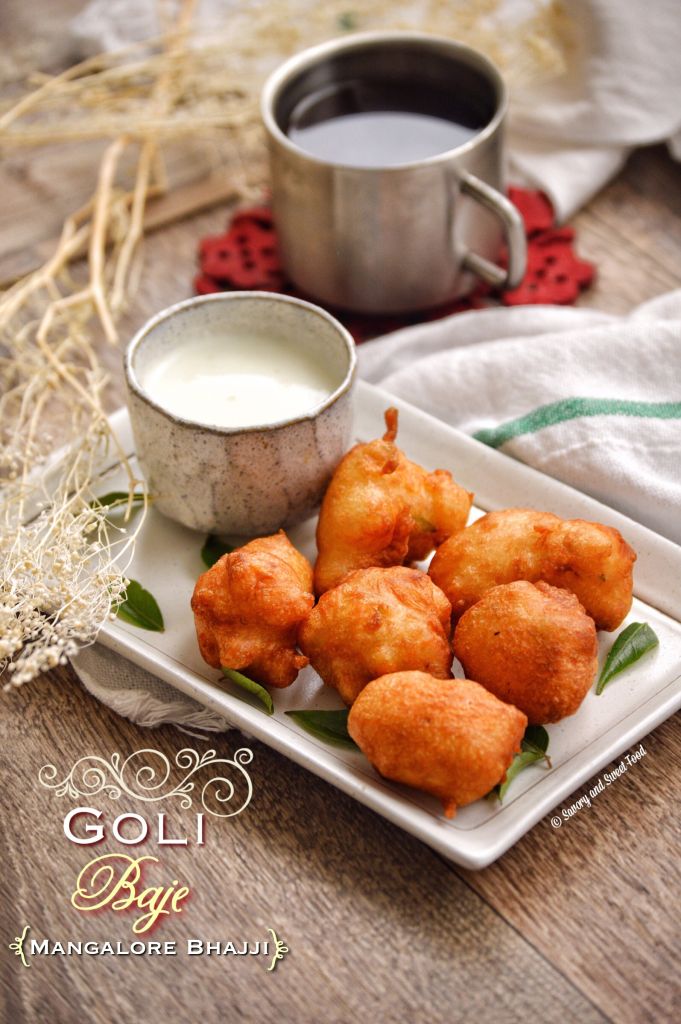 Goli Baje (Goli=Round, Baje=Fritters) is a Mangalorean specialty. Mangalore is a coastal town in the South Indian state of Karnataka. I love Mangalorean cuisine. My husband studied in Mangalore, so he loves that place. He has a nostalgic feel and special love for that town. So whenever we visit India, a trip to Mangalore is a must. I specially love going there to eat looots of food, oh the food there…its so amazing!
Some of the dishes that Fadal particularly mentions most of the time are Mangalore Buns and this Goli Baje. Mangalore buns I have tried from there and it is truly exceptional. Loved it very much. Goli Baje I didn't get to try from there yet.
Just few days back when my cousin told me that she was making these fritters for breakfast, I thought why not I try it too. I tried and we loved it. The best part, Hamad loved it too. I feel so happy when I get this little guys stamp of approval. 😀 The texture is simply great, the pillowy soft interior with the spiciness from that green chili, subtle taste of the ginger and onion, the aroma of the curry leaves…all of this enclosed in the crispiest exterior is just mind blowing. You have to try this to experience it. I am sure that you will like it a lot.
Here is the recipe.