A classic caesar salad with a homemade Caesar dressing, flavorful grilled chicken and croutons makes this a satisfying meal to have at any time of the day.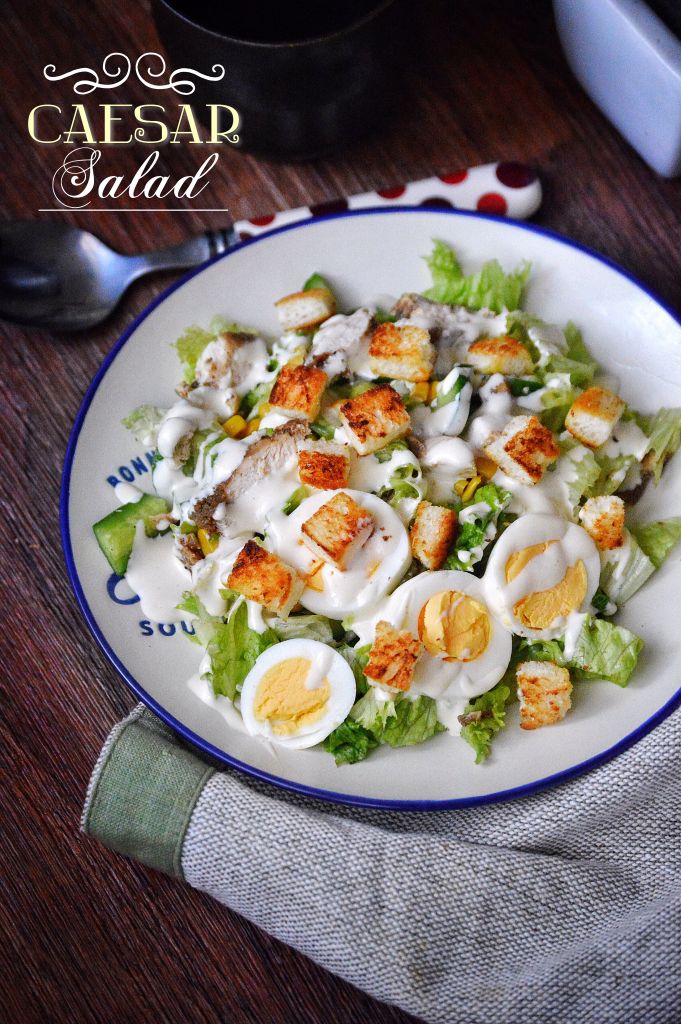 Caesar Salad, I am sure that almost all of you have had this at least once in your life. This will be the most popular salad in the world, no doubt. I remember having this plenty of times during my college days. Especially when I was going though my dieting phase. Little did I know that this is not the healthiest of salads to have especially when some one is dieting. The amount of calories packed in the dressing is..'ahem'…not very less. But that is forgivable because along with the calories I was getting lots of greens into my system. 😀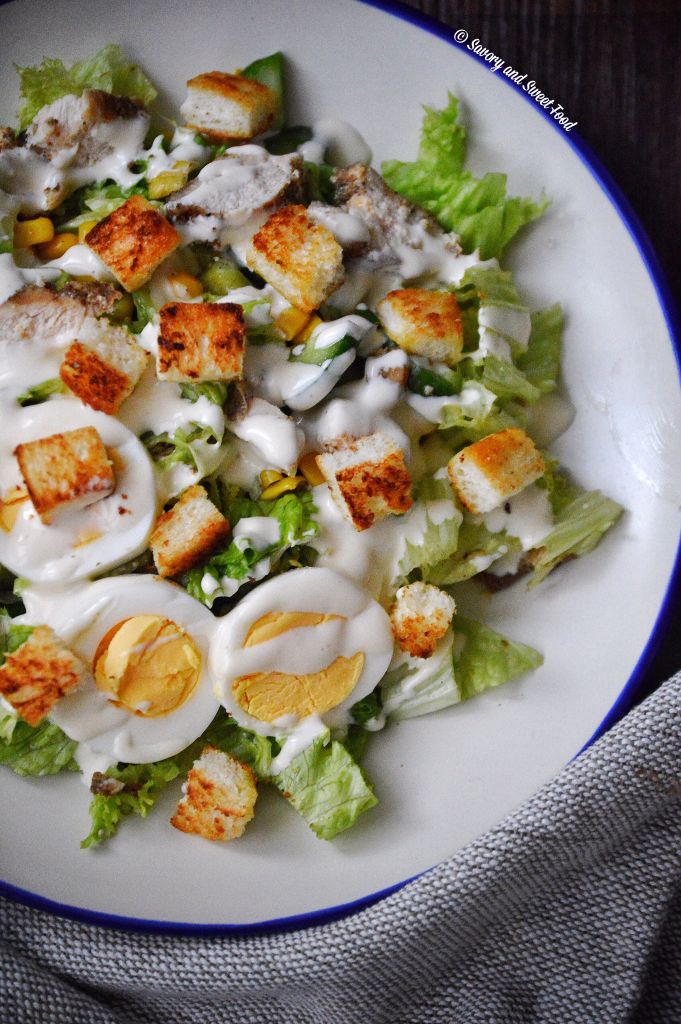 For this salad you have to do a little bit of preparation. Like….make the croutons, cook the chicken and the eggs and make the dressing. Not much work, just a little. But this salad is so delicious that every second you spend making this will be absolutely worth it, trust me.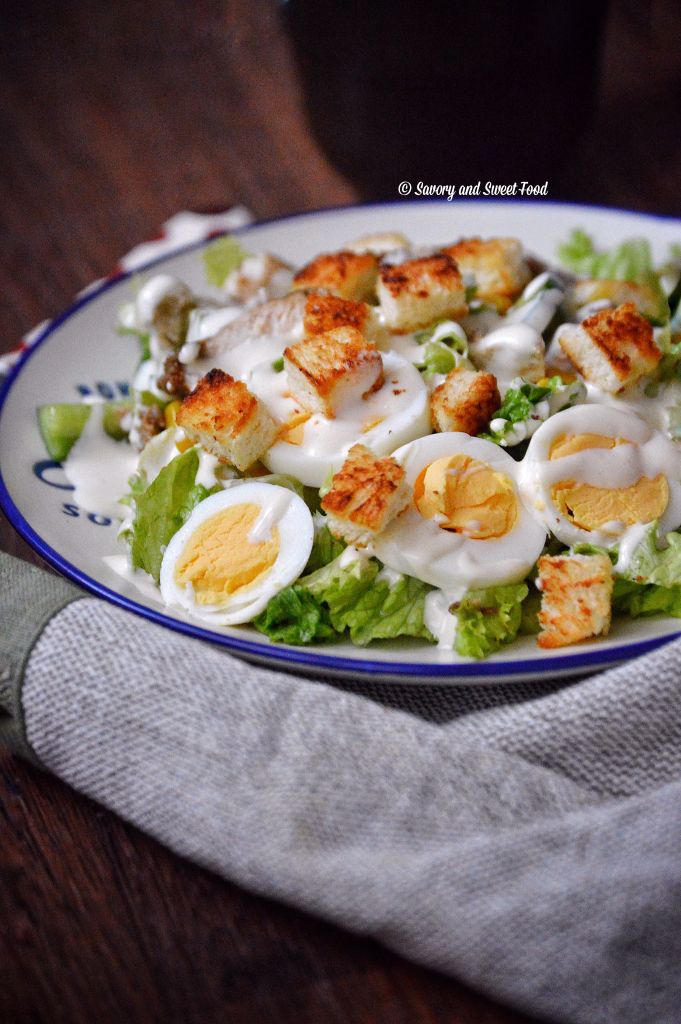 INGREDIENTS:
For the salad:
Lettuce chopped to desired size
Grilled Chicken breast cut in strips (or plain cooked chicken)
Cherry tomatoes (optional)
Sweet corn
Cucumber
2-4 Boiled eggs ( cut in to slices)
Grated Parmesan cheese
For the Caesar dressing:
1/2 cup mayonnaise
3 tbsp buttermilk
1 garlic clove minced
1 tbsp mustard sauce
1 tbsp sugar
2 tbsp grated Parmesan cheese (optional)
black pepper to taste
salt to taste (just a pinch would be enough)
For the Croutons:
3 slices bread, sides removed and finely diced
1 tbsp butter/ garlic butter
salt to taste
For Grill Chicken:
200 grams chicken breast
1/2 tsp black pepper powder
1/2 tsp garlic powder/ garlic paste
1/2 tsp paprika
1 tsp lemon juice
salt to taste
NOTES:
If you don't like the taste of parmesan cheese or if it is unavailable in your place, omit it.
DIRECTIONS:
For Chicken:
Marinate the chicken with the above mentioned ingredients and shallow fry or grill it. Cut the chicken in strips.
To make the Dressing:
In a food processor combine all the ingredients for the dressing and whizz till smooth.
To make the Croutons:
In a pan melt the butter and add in the diced bread pieces. Stir around on low heat for 3-4 minutes till it tuned golden brown and crispy. You can bake these too by placing the bread pieces on a tray sprayed with oil spray.
To assemble the Salad:
Arrange all the ingredients for the salad in a bowl. Drizzle the dressing all over. Add the croutons.
Add grated parmesan cheese. Serve. (Sorry I forgot to add parmesan while clicking the pictures, but I did add it later)
[yumprint-recipe id='211′]