A Middle Eastern dessert, Kunafa made with crunchy shredded phyllo pastry filled with a creamy gooey mixture of mozzarella cheese and semolina and finally sweetened with an authentic scented sugar syrup.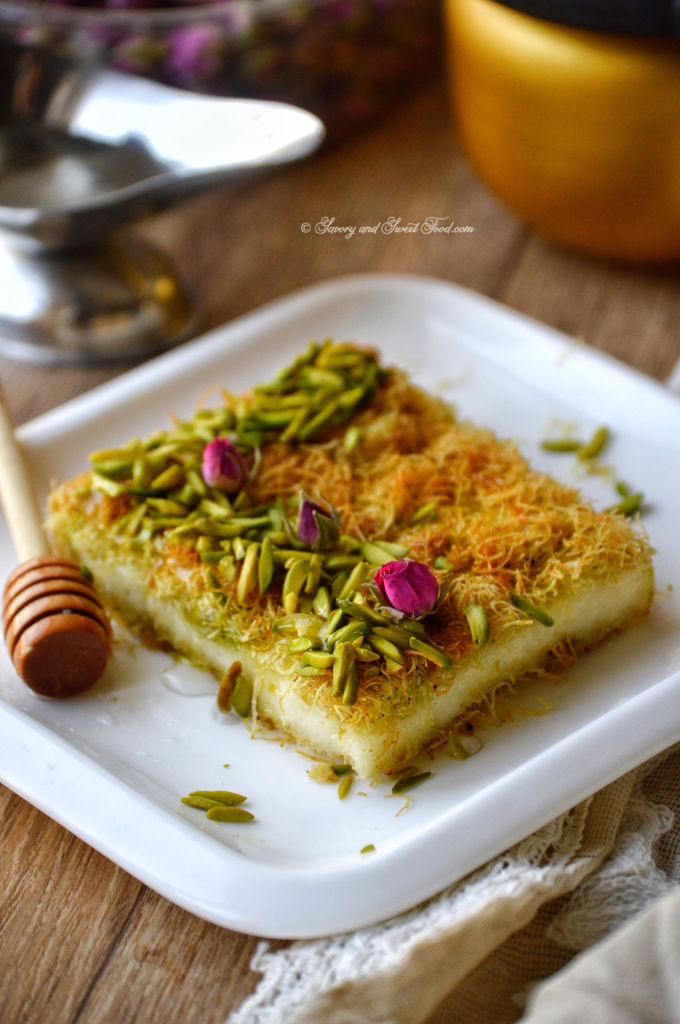 In our home, it's not Ramadan without Kunafa, our go to Ramadan dessert indulgence. There are numerous ways to prepare this sweet dish. Today I have for you Kunafa with cheese. The filling is not prepared in the traditional way, where authentic cheeses like Akkawi or Nabulsi are used.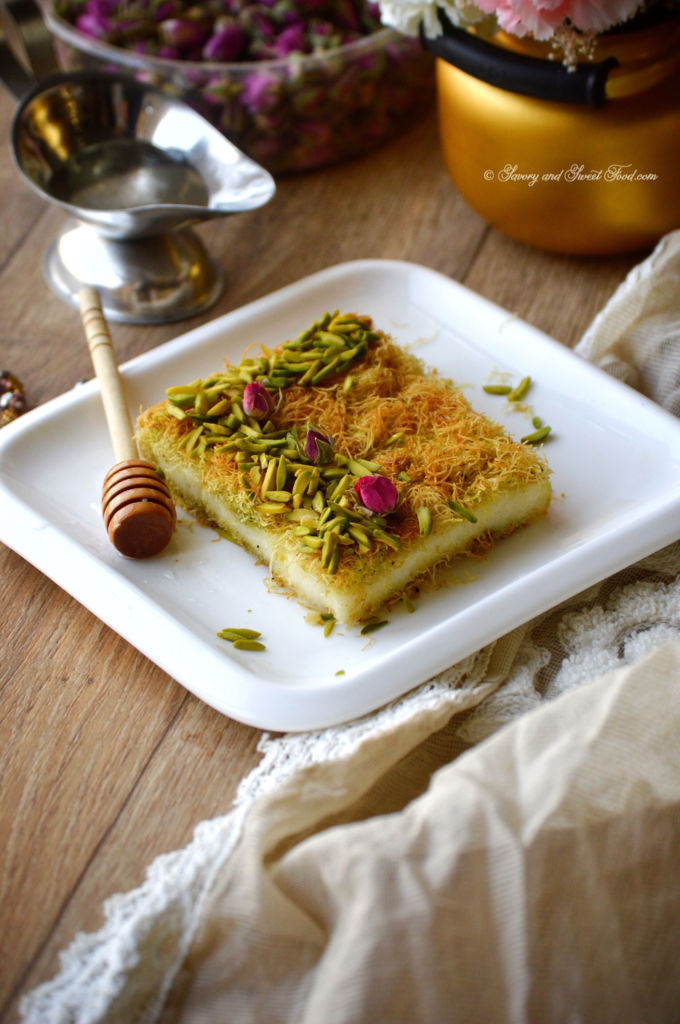 I am making it with the world famous, everybody's favorite, Mozzarella Cheese. Why not? It is very easily available and Kunafa tastes just as good as the traditionally prepared ones. But I made a semolina pudding kinda mixture and mixed it with the mozzarella giving the filling a creamy cheesy texture.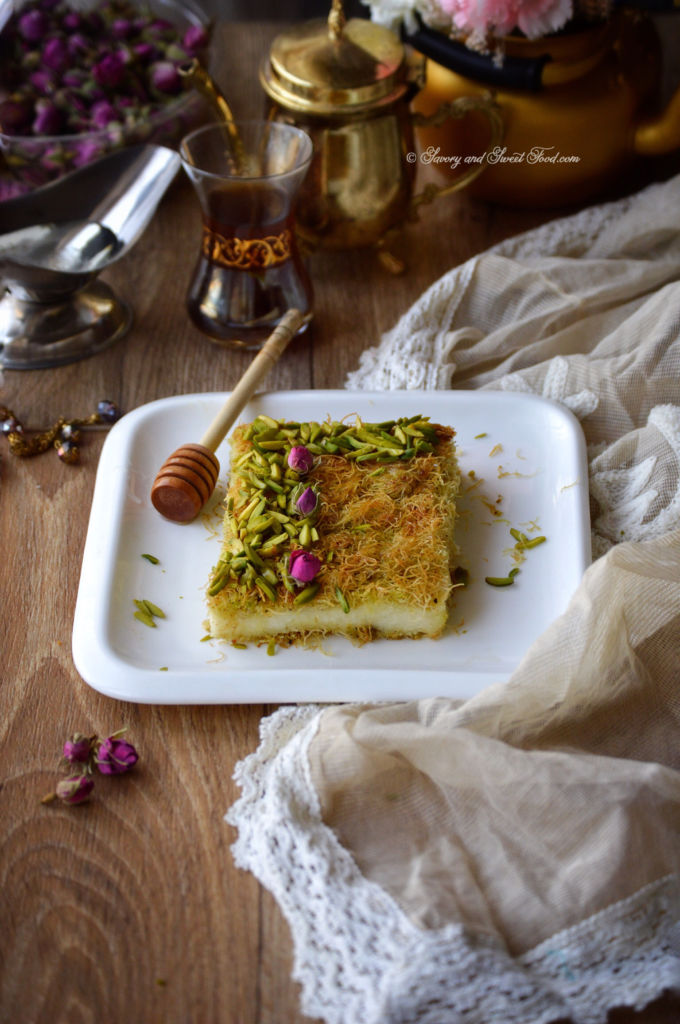 Hope you all will give this a try, I am sure that it may become your new favorite.
INGREDIENTS:
250 grams Kunafa (shredded phyllo pastry)
1/2 cup unsalted butter or ghee (melted)
For the filling:
2 cups mozzarella cheese
1 1/2 tbsp sugar
2 cups milk
1/4 cup semolina
1 tsp rose water
For the simple syrup:
1 cup sugar
1/2 cup water
1 tsp lemon juice
1 tbs rose water
NOTES:
You can freeze the Kunafa before baking. Assemble the kunafa in pan, don't bake, then cover it with cling film really well. Then cover with aluminum foil. When ready to bake, let it thaw, then bake as usual.
DIRECTIONS:
Preheat the oven to 400 degrees.
In a food processor, add the phyllo dough and process into small sized pieces or cut into small pieces with scissors. Add this into a bowl.
Pour melted ghee into the kunafa. Combine.
Press half of the dough into the bottom of an 8 inch greased pan and press down very well. Use measuring cup to flatten it well.
To prepare the milk pudding:
In a small pot heat milk, add sugar. Let it dissolve.
Add semolina, stirring continuously. Cook for about 2 minutes while stirring.
Pour rose water.
To prepare the simple syrup:
In a pan, add sugar, water and lemon juice and bring it to a boil. If the sugar isn't dissolving, give it a stir.
Once it comes to a boil, put it on simmer for 2-3 minutes.
Turn off flame. Pour rose water.
To assemble:
Pour  milk pudding over kunafa dough, spread well.
Generously add mozzarella cheese all over.
Add a few tbsps of milk pudding on top of mozzarella.
Add the rest of the kunafa on top.
Place in the oven, cook for about 40 minutes or until crust is golden brown. Use a knife or spatula to push the sides of the kunafa to check if it is golden brown at the bottom too. The longer the kunafa bakes, the crunchier it gets.
I usually flip the kunafa after baking for 40 minutes and then keep it on broil so that the top gets crunchy and golden brown in color.
Take it out of the oven. Immediately pour about 3/4 cup of sugar syrup all over the kunafa, starting from the edges moving to the center. Reserve the leftover to drizzle while serving.
Let cool for 10 minutes before flipping it over onto a nice plate.
Decorate with ground pistachio and serve warm with reserved simple syrup.
[yumprint-recipe id='276′]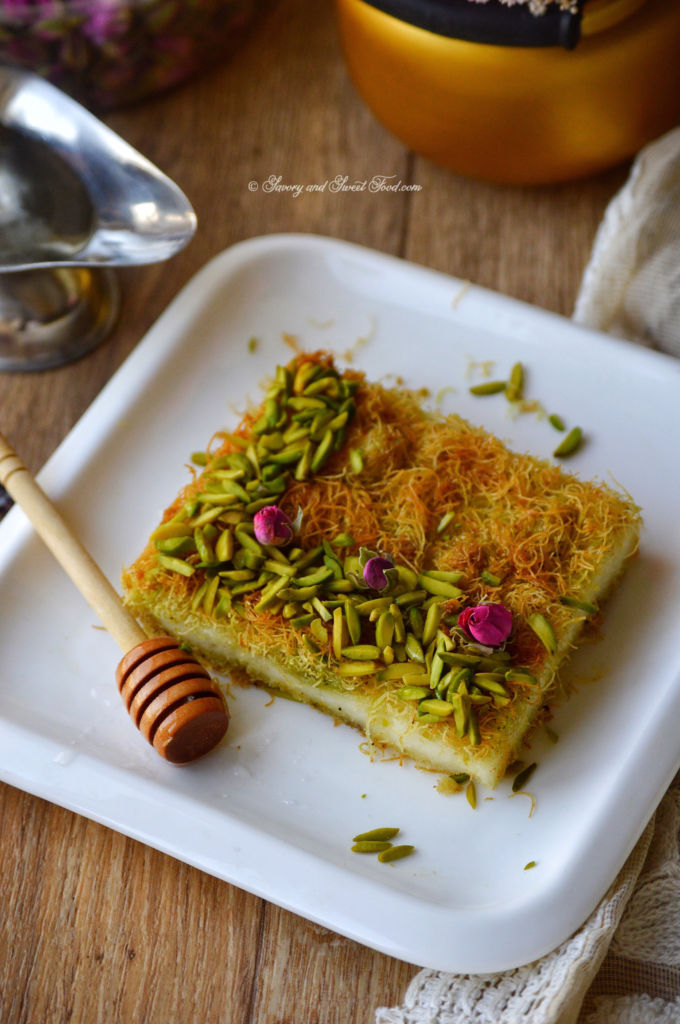 Filling recipe adapted from Dedemed