These cute little cups made with sandwich bread are filled with a delicious chicken filling, topped with olives, jalapenos, white sauce and mozzarella. It is then baked till the bread turns crisp and the cheese melts beautifully. Who can resist these cute little bites?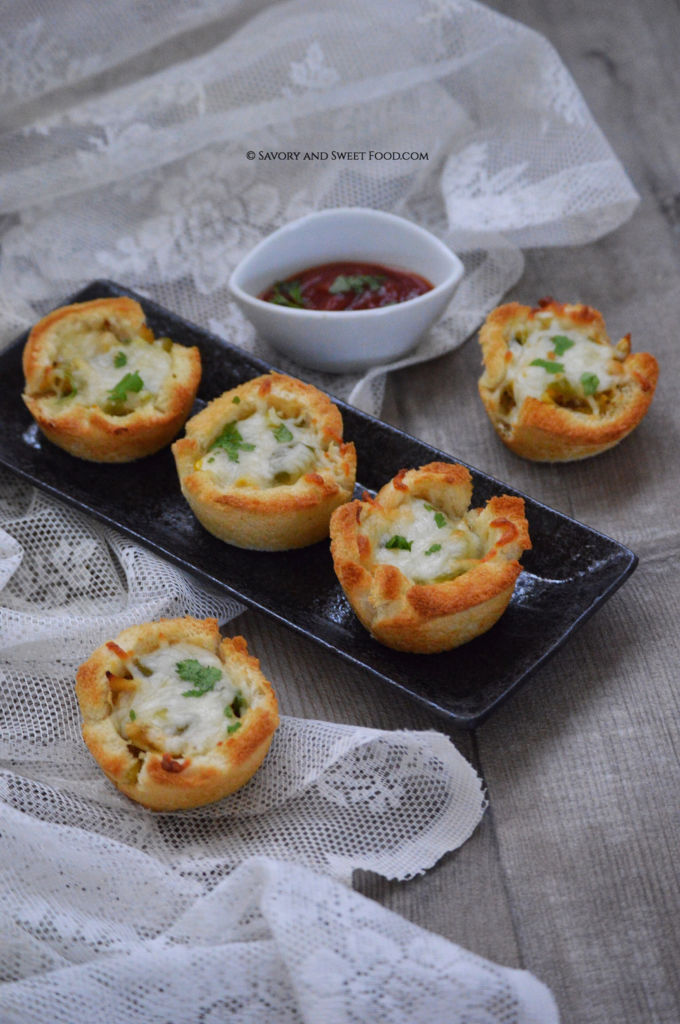 So FINALLY, here is my first Ramadan post. I am lagging behind in blogging really bad. I have been too busy with other stuff lately that I don't get time to try out new recipes. Since Ramadan started I was making mostly our traditional Malabar (naadan) snacks for iftar. But really, nothing can beat the taste of naadan treats.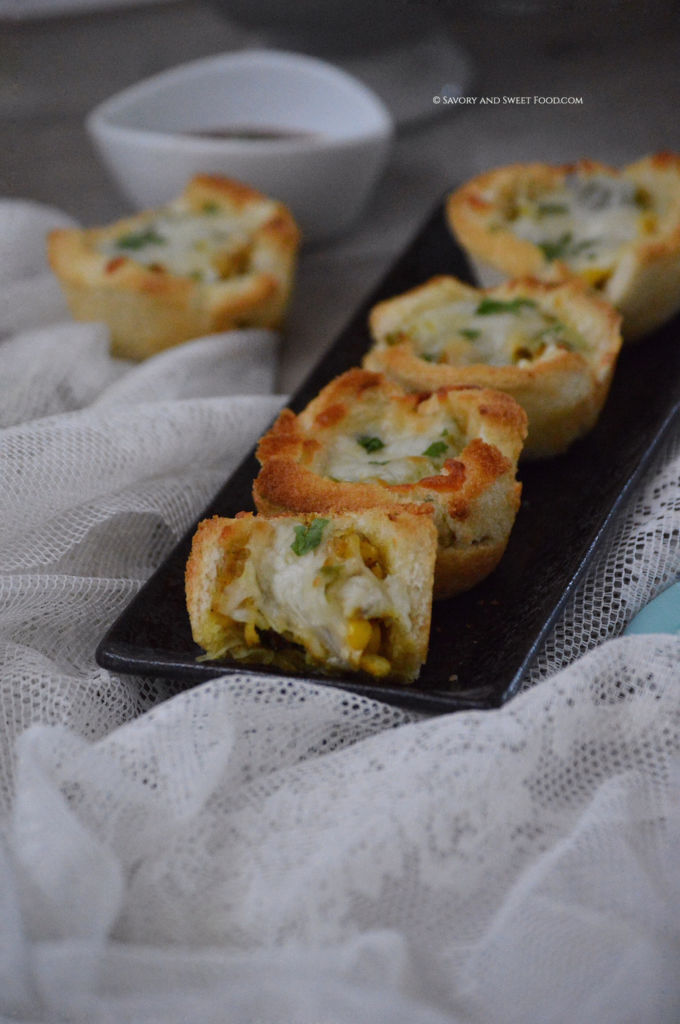 Do let me know if you would like to see the recipes of such dishes. Then you can see me posting more actively on the blog. 😉 So these little cuties I have for you today was a huge winner at home. This is my mom's discovery. The other day, my brother had posted the pic of this bread cups in our family WhatsApp group, which was followed by my siblings comments raving about how yummy it was. That second I knew that this is going to be my first Ramadan post.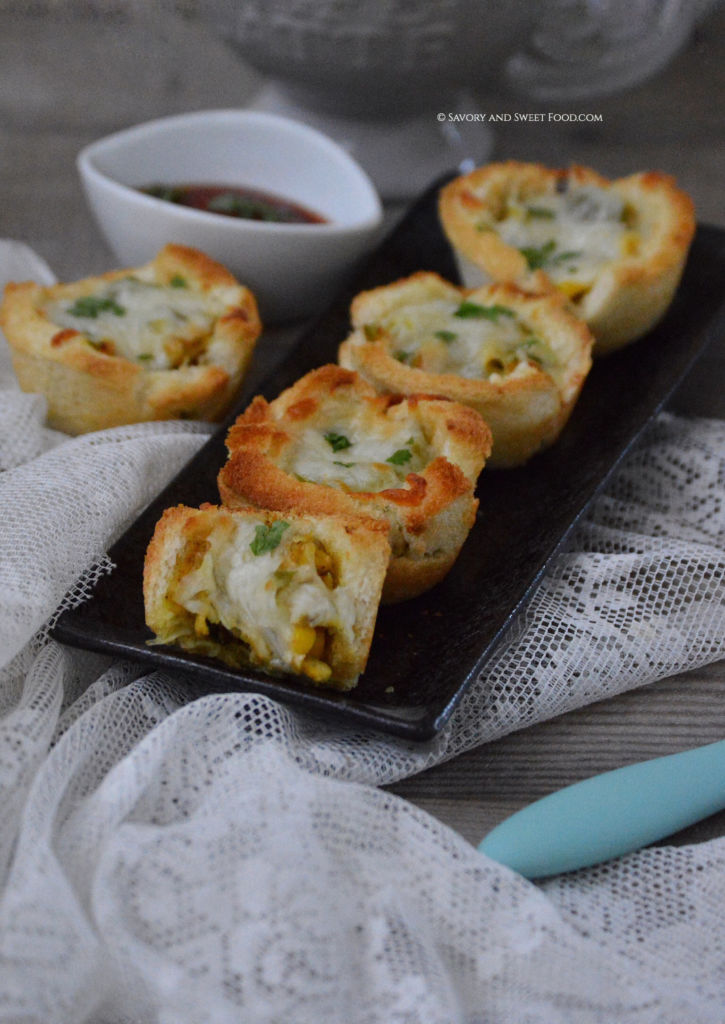 But PLEASE DON'T GO BY THE LOOKS of this snack shown in these pics. I had clicked these images few minutes before Iftar and so the lighting was horrible. It really tasted soooo good…trust me, you have to try this once. So here is the recipe. A great little treat to pop for your next iftar.
INGREDIENTS:
For the filling:
100 grams boneless chicken cut in small pieces (marinate with 1/4 tsp black pepper powder, 1/4 tsp cajun spice and salt)
1 small onion chopped
2 cloves garlic chopped
1/4 cup sweet corn/ 4-5 baby corn cut into thin rounds
3-4 mushrooms (add this if you prefer veg filling and omit chicken)
2 green chillies
a pinch oregano
black pepper
salt to taste
vegetable oil
For the white sauce:
1/2 tsp all purpose flour
1 tsp butter
1/2 cup milk
black pepper to taste
1/4 tsp cajun spice (optional)
salt to taste
For garlic butter:
1/4 cup butter
1 clove garlic chopped
(or use readymade garlic butter)
For the bread cups:
6 slices bread (sides trimmed)
mozzarella cheese
parsley
jalapeños (optional)
olives
filling
white sauce
garlic butter
NOTES:
I made a very small batch. You can double the ingredients if you want to make for a larger crowd.
Capsicum, carrot, broccoli etc can be added to the filling.
DIRECTIONS:
To prepare the filling:
In a pan shallow fry the chicken till cooked. Keep aside and chop into further smaller pieces if required.
In the same pan, add chopped onions and garlic. Sauté for 3-4 minutes.
Add corn and green chillies. Mix well.
Add in the oregano, black pepper and salt. Stir and cook for 2 minutes.
(If you prefer veg, omit the chicken and add mushrooms)
To prepare the white sauce:
In a pan add butter.
When it melts add in the flour on low heat and stir immediately. Cook for few seconds till you get a nutty smell.
Pour the milk little by little stirring continuously to prevent formation of lumps.
Add black pepper, salt and cajun.
Let the sauce thicken. (You can make with double the quantity if you like to add more white sauce)
Turn off the flame.
If the sauce turns too thick after cooling, add few tbsps of milk and mix well till you get the desired consistency.
To prepare garlic butter:
Melt butter and add chopped garlic into it.
To assemble the bread cups:
Grease cup cake tray very well with butter.
Place the bread slices into each cavity.
Brush or drizzle garlic butter in the cups. Brush on the sides as well.
Place the chicken filling.
Add white sauce.
Place jalapeños and olives.
Sprinkle the mozzarella cheese.
Place in a preheated oven (180C) and cook till the top and bottom turn crisp and golden brown and the cheese melts beautifully. (turn on top and bottom flame)
Serve immediately.
[yumprint-recipe id='274′]