If you are a fan of Tiramisu, then try making this super quick one which can be whipped up in just about 10 minutes. This no bake, no cook, eggless recipe turns out creamy and decedent and are perfect to serve during any festival parties, or gathering.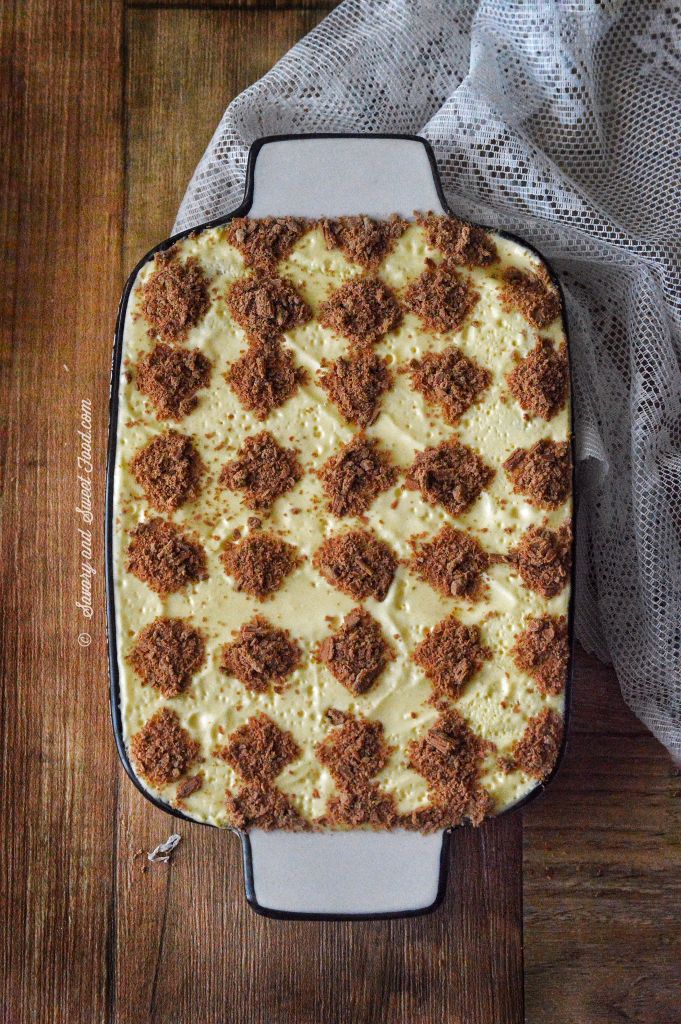 Its been long since I posted a pudding recipe isn't it? I was so into baking cakes past few months ever since I got my new oven. So pudding got sidelined. After
Kit Kat Pudding
, I am posting another recipe only now. But this one is a bomb, I am not bragging but it turned out too good, one of the best, as good (or even better) than your favorite Kit Kat Pudding. 😀 These are so easy to make, the hard part is not eating the whole thing in one sitting.
As Eid is coming up, I wanted to do two Eid posts. One that of a Biryani and another one of a dessert. Biryani, I knew which one to post. I have an amazing amazing recipe of a Chicken Biryani. I have been making it on repetition mode. I made it thrice already during Ramadan. I clicked the picture of that only 2 days back and unfortunately the pictures turned out kinda meh. So no biryani post for Eid. But will definitely post it soon.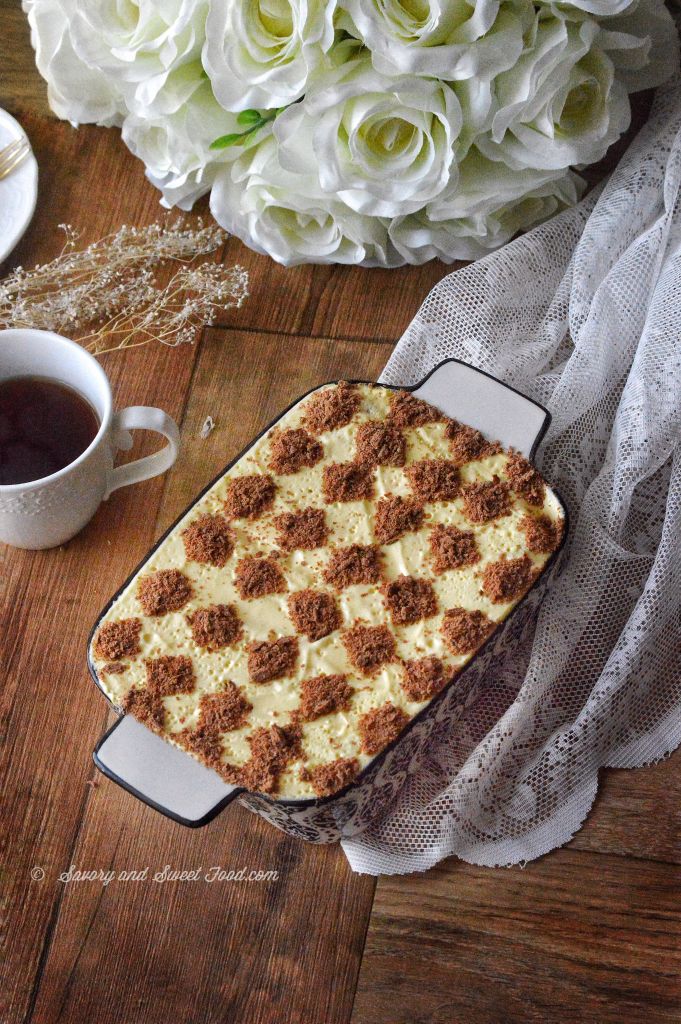 Then dessert, I had no plan, no idea what to post. That's when I noticed a pack of lady finger biscuits in my pantry, unused, unopened…smiling at me. 😀 And I had left over mascarpone cheese from the
Mafroukeh
I made few days back. I didn't want to spend hours in the kitchen, that's the last thing I would want to do especially in these beautiful last days of Ramadan. So I dumped all the ingredients which would be good to build a pudding, into the blender jar and layered it with the biscuits on a tray, and pushed it into the refrigerator, not having any idea how it would turn out.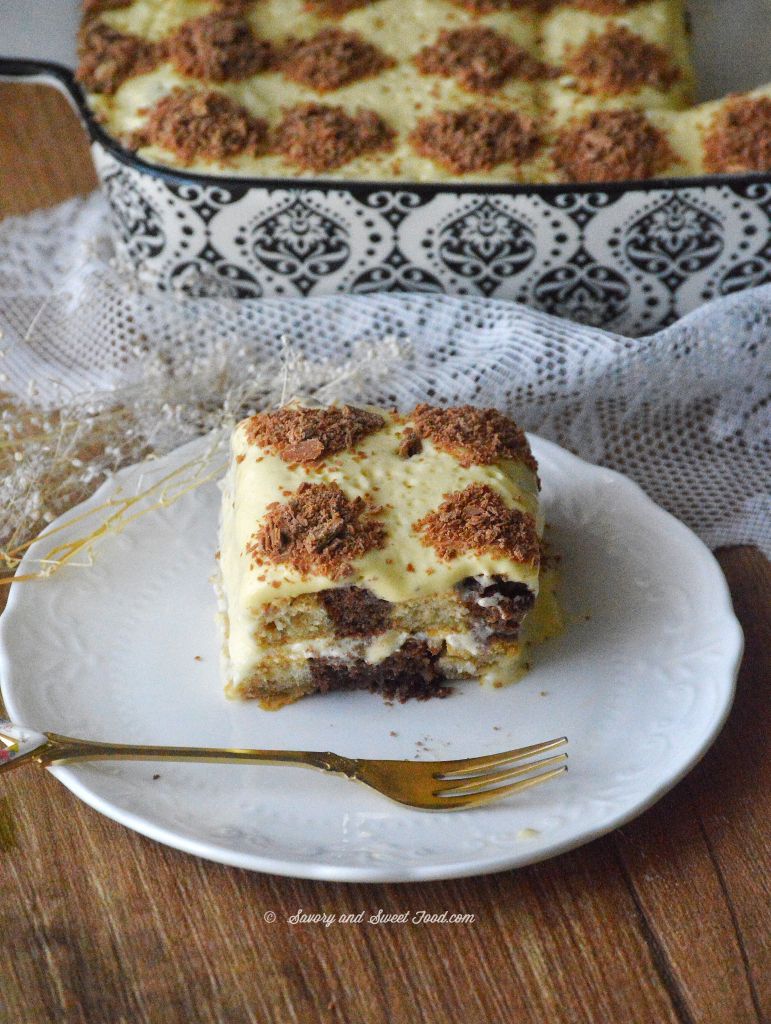 The next day, when I tasted it I wanted to jump up and down in glee because it tuned out superb. Yay! Alhamdulillah for that. But I must say that this is no where close to the traditional Tiramisu. The method of preparation and ingredients are way too different. If you want to see the traditional way of preparation, check out this
recipe
.
Hope you all will get to try this one and please let me know how it turned out for you, I would love to know.
Serves 3-4
INGREDIENTS:
150g mascarpone cheese/cream cheese(softened at room temperature)
1 sachet dream whip powder
1 sachet instant caramel custard powder
200ml puck thick cream
1 tbsp sweetened condensed milk
half of a pack of lady finger biscuits (I used semi chocolate lady fingers)
1 cup of light black coffee (or strong if you like the flavor)
Crushed chocolate for garnish (I used Flake)
NOTES:
If you don't get dream whip powder, then replace it with 1/4 cup of whipping cream. In this case, you have to add more condensed milk or add sugar.
The caramel custard powder mentioned here is not the plain custard powder. This is the instant caramel custard pudding mix.
With this quantity you will get a small tray of pudding good for 3-4 people. If you want to make for larger number of people, double the ingredients.
Do not dip the biscuits in coffee for long. Just dip it once and immediately place in the pudding tray. If you dip for long the biscuit will get very soggy.
This is not the traditional tiramisu. This is a complete diversion from the traditional recipe.
DIRECTIONS:
Blend together mascarpone, dream whip powder, caramel custard powder, thick cream and condensed milk in a blender for 1 minute till it turns thick.
In a medium small pudding tray, place a layer of lady fingers after dipping them in coffee. (read notes)
Pour half of the blended mixture on top.
Then place another layer of biscuits dipped in coffee.
Finally pour the remaining cream mix on top.
Decorate with chocolate.
Refrigerate overnight.
[yumprint-recipe id='248′]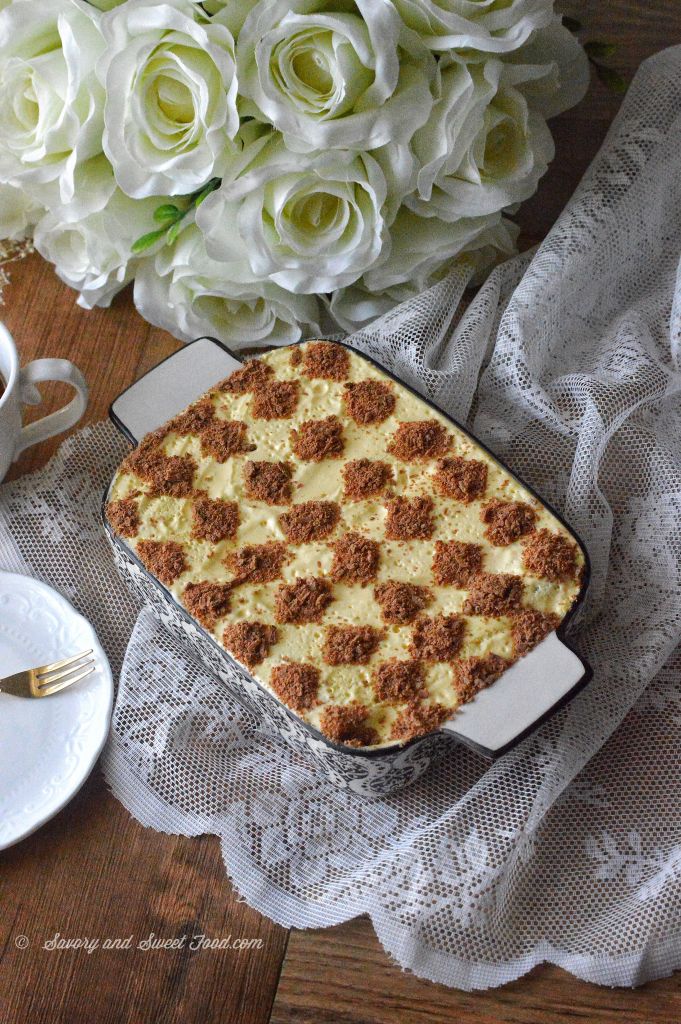 I am taking this dessert to this virtual Eid Potluck, "Eid Eats 2017" organized by My Ninja Naan and Chocolate & Chillies. You should check out their space to see the amazing contribution by many other bloggers.