A salad with lots of fresh veggies, pulses, chicken, a tahini-yogurt dressing, finished with a layer of Hot Sticks Potato Chips.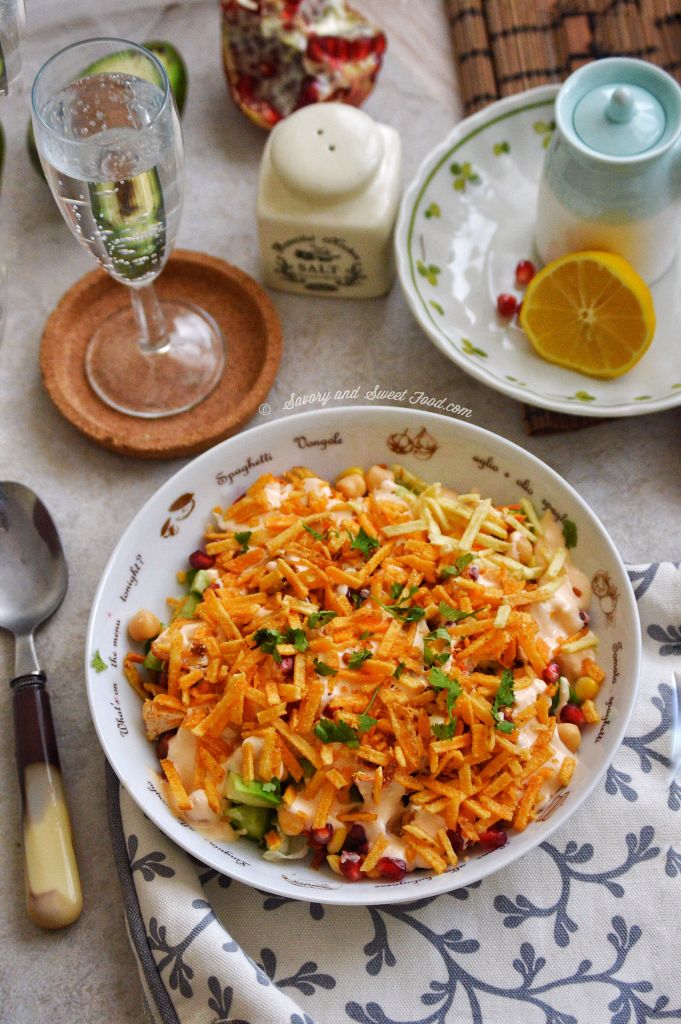 Ramadan is over, Eid is over and now everybody must have gotten back to their usual routine. Even though I miss Ramadan, I feel happy that the holy month went by beautifully.
Now vacation mode is on. Vacation time is undoubtedly the most exciting time for everybody. I am planning to go back to my hometown, Kerala for a month to sit back and relax. I am really excited. Hope everything goes well.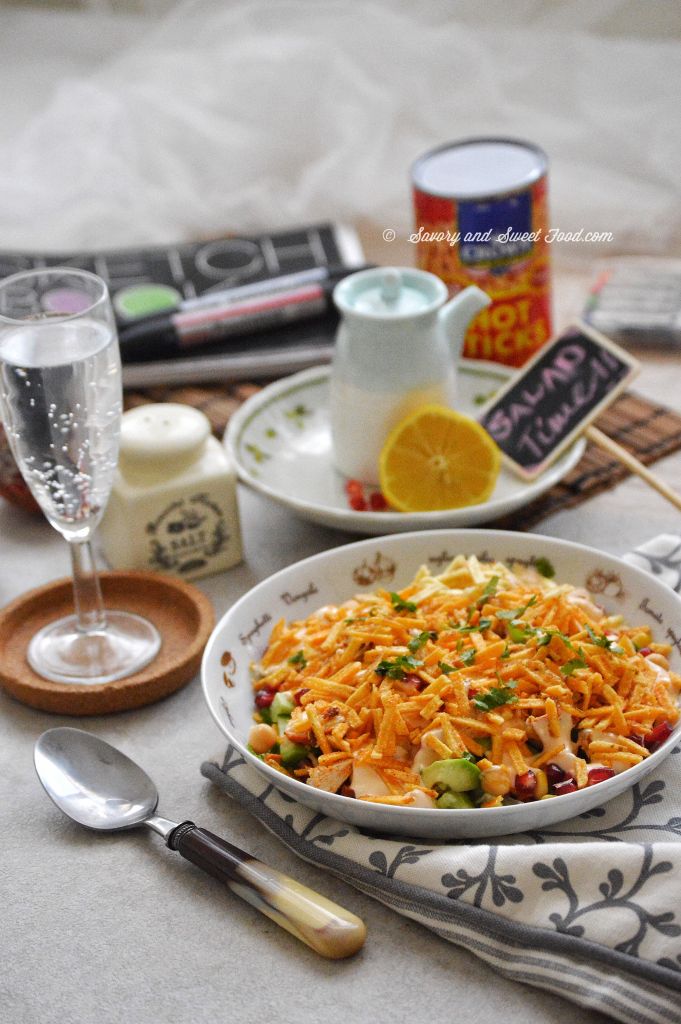 Todays recipe is that of this very simple salad. I love the dressing, I enjoy anything with tahini. I added all the things I like into this salad. It has got many fresh veggies, grilled chicken, the flavorsome dressing and yess…HOT STICKS. Hot sticks chips gives a nice crunch to the salad and I love it. If you feel that it is unhealthy, just omit it and have the salad without it. It will taste awesome that way too. But please do try with the chips at least once, it is too good. You wouldn't feel even a bit of guilt, I swear. 😀
INGREDIENTS:
For the dressing:
1 cup yoghurt
2 tbsp tahini
1 tbsp ranch sauce
1 tsp lemon juice
1 tsp hot sauce
1 tsp french salad dressing (optional)
1 garlic clove crushed
Salt to taste
Black pepper to taste
4-5 tbsp water
For the salad:
Lettuce
Cucumber
Carrot chopped
Sun dried tomatoes
Corn
Red kidney beans (optional)
Sweet corn
Cooked chicken (read notes)
Pomegranate
Sumac powder (optional)
Hot sticks potato chips
NOTES:
I grilled the chicken breast, sliced it and added to the salad. I used paprika, cajun spice, garlic, lemon juice and salt in the marinade.
DIRECTIONS:
To prepare the sauce:
Combine all the ingredients for the sauce in a bowl.
Assembling the salad:
Arrange all the ingredients for the salad in a serving bowl.
Sprinkle sumac powder.
Pour the dressing as much or as little as you like.
Add the hot sticks chips on top.
Serve immediately.
[yumprint-recipe id='249′]