These cheese balls are going to be your new favorite starter. You just have to make instant Ramen noodles, mix it with a delicious chicken and veggie mix, roll them into balls, bread it and fry them in this bite sized form and you have one amazing appetizer.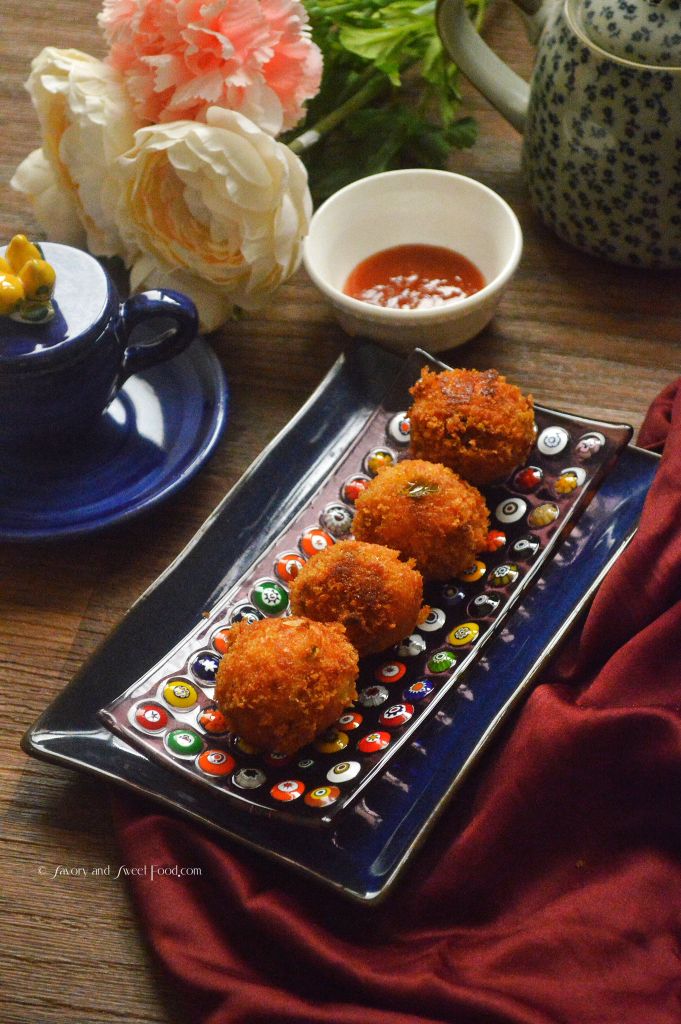 With this recipe our ultimate comfort food, instant noodles is taken to the next level. Besides the fact that these are absolutely delicious, they are so good for make ahead. So full of amazing flavors and so full of cheese…yummm!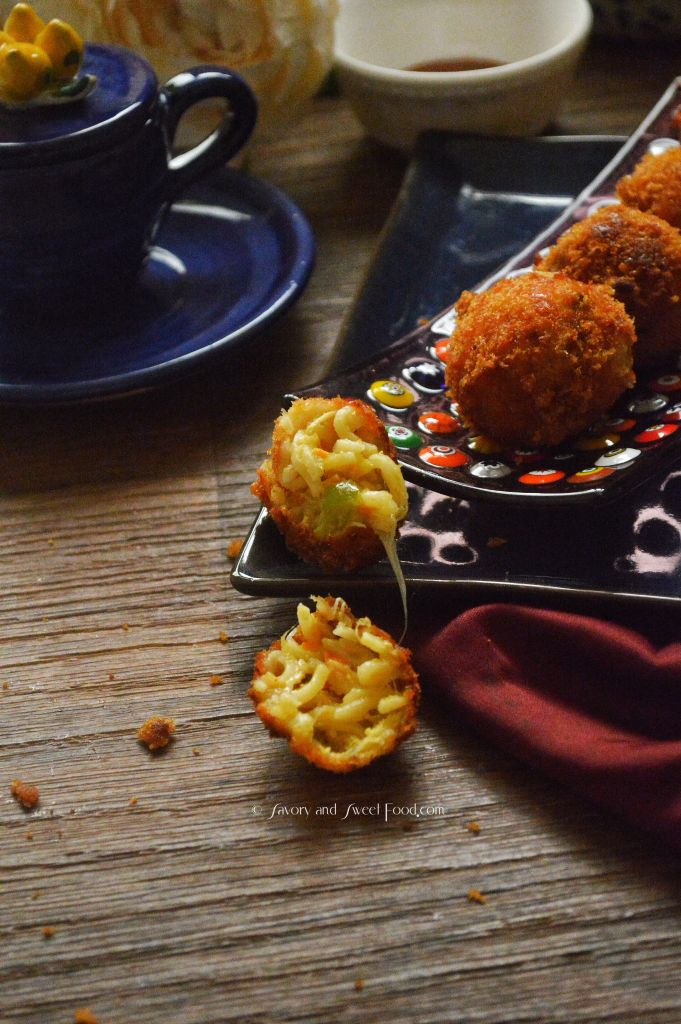 The entire credit for this recipe goes to my BFF Nimeena's mom, Sayda Aunty. Nimeena had mentioned about this cheese balls a couple of times before but I never asked her for the recipe for it until recently when she sent me a picture of it. I didn't even know that it had noodles inside it. When she explained how it is made, I got very thrilled.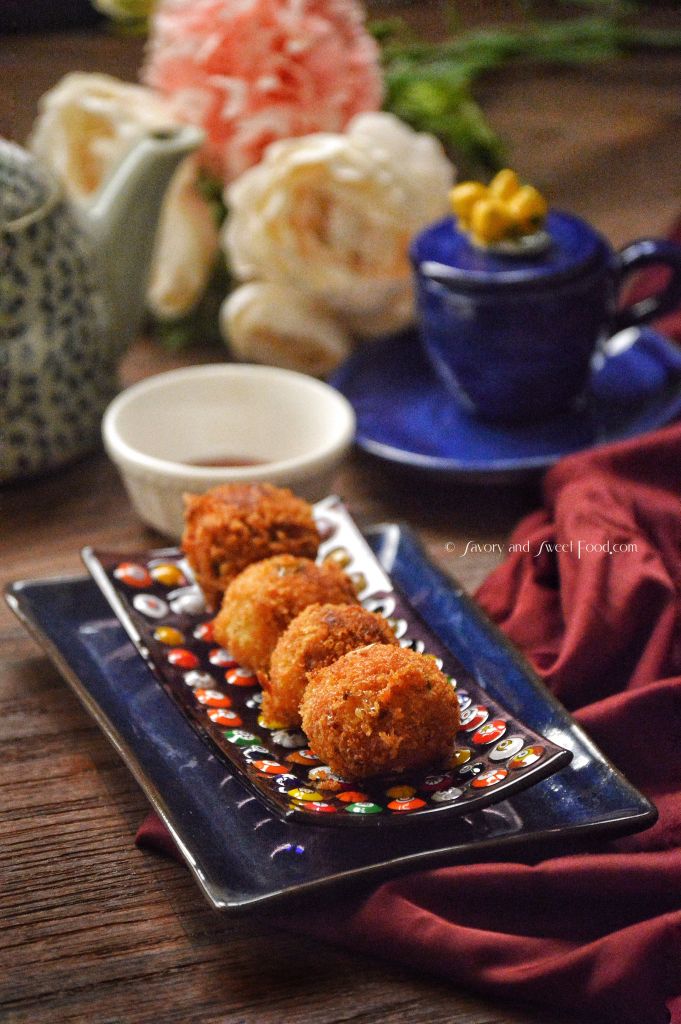 I made it and we all fell for this dish immediately. It was amazing. The flavors were inexplicably incredible. This happened before Ramadan. 🙂 Since this was Sayda Aunty's recipe, I knew it that it has to be perfect. So I clicked the pictures of this during my first attempt itself. And now this one is a regular during our iftar.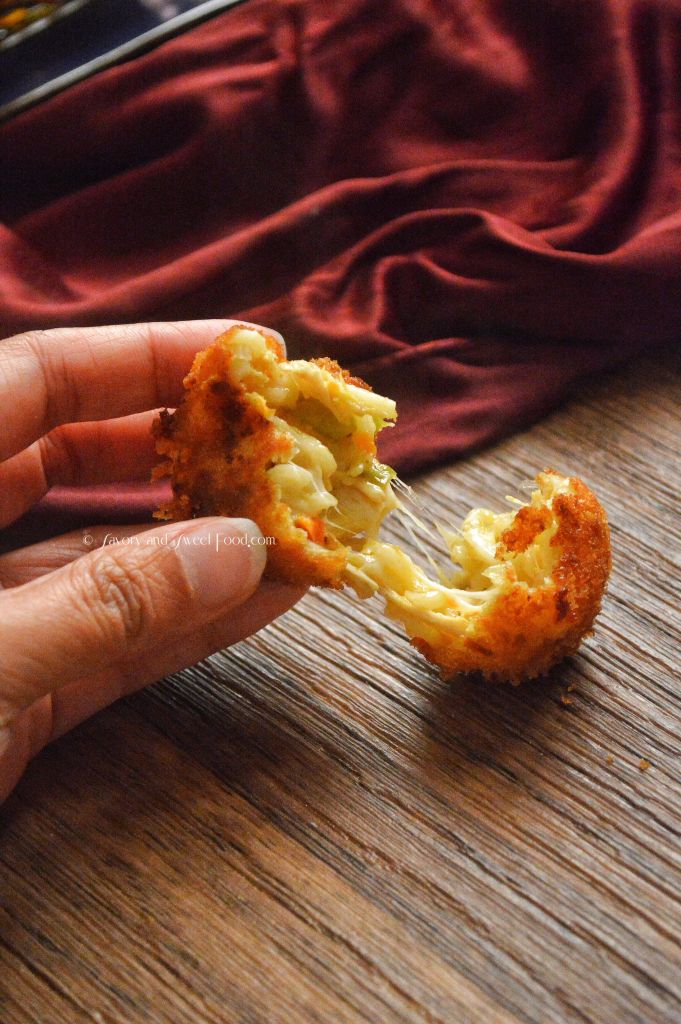 I really do hope that you'll try this simple and delicious recipe. 🙂
INGREDIENTS:
400g Chicken breast (boiled with black pepper, salt, turmeric powder and shredded)
1 medium sized onion chopped
2 spring onion whites (optional)
1-2 green chillies
2 cloves garlic chopped
3/4th of a carrot chopped
1 capsicum chopped
100gms beans chopped
1 tsp soya sauce
1 pack instant ramen noodles (Maggi noodles)
3/4 cup mozzarella cheese
1 egg beaten
Breadcrumbs
Oil to deep fry
NOTES:
The smaller the cheese balls the better.
You can do the breading and freeze it for about 10-15 days.
You can use any flavor noodles, but I usually use curry flavored one for this.
DIRECTIONS:
To make the chicken mixture:
In a pan, add onions, green chillies and garlic and sauté till it turns soft.
Add in capsicum, beans, carrot and cook for 5-6 minutes till it gets a cooked. Add half the seasoning from the sachet that you get along with the ramen noodles.
Pour soya sauce. Mix everything together.
Add the cooked, shredded chicken. Combine well.
To cook noodles and assemble:
Crush the noodles into smaller pieces and cook it as per the directions given on the packet. Add the remaining half of the seasoning to the noodles while cooking it.
Add the chicken mix to the noodles and combine well. Let it cool slightly.
Add mozzarella cheese and mix well.
Make small balls out of this and dip it in beaten eggs and then bread crumbs and deep fry. Serve immediately.
[yumprint-recipe id='247′]