Crunchy phyllo pastry stuffed with an orange blossom water fragranced almond filling which is then drenched in sugar syrup.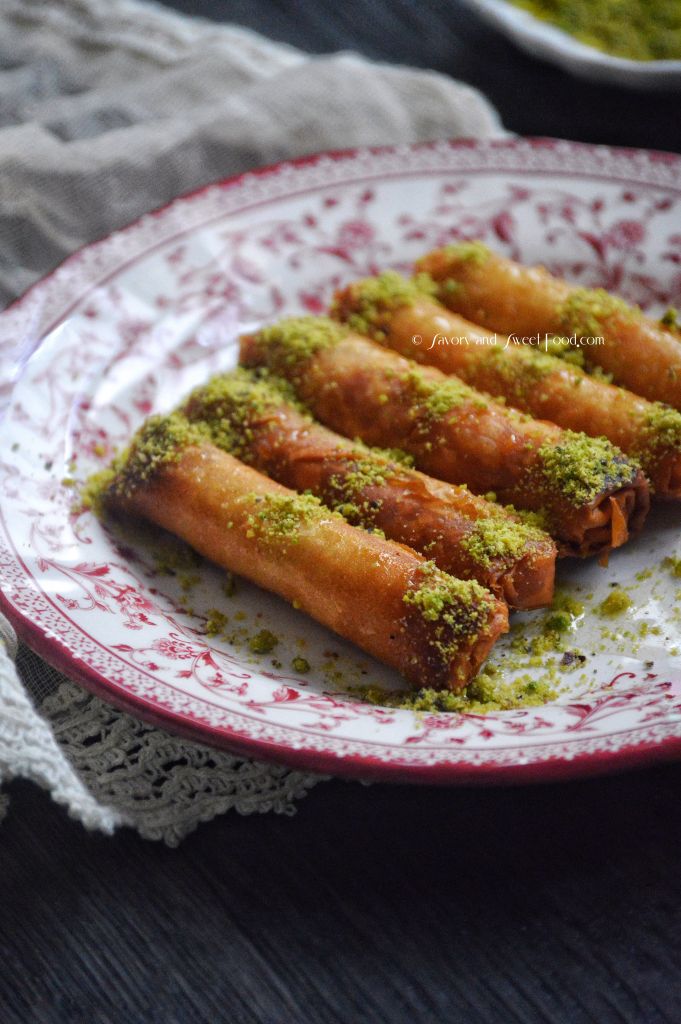 This sweet dish reminds me so much of the Moroccan biscuits which I think are called Ghoribas. I had completely forgotten about those. I remember my sister used to get these delicious Moroccan biscuits from a bakery in Dubai called French Bakery. Me and my brothers used to wipe the box clean immediately. 😀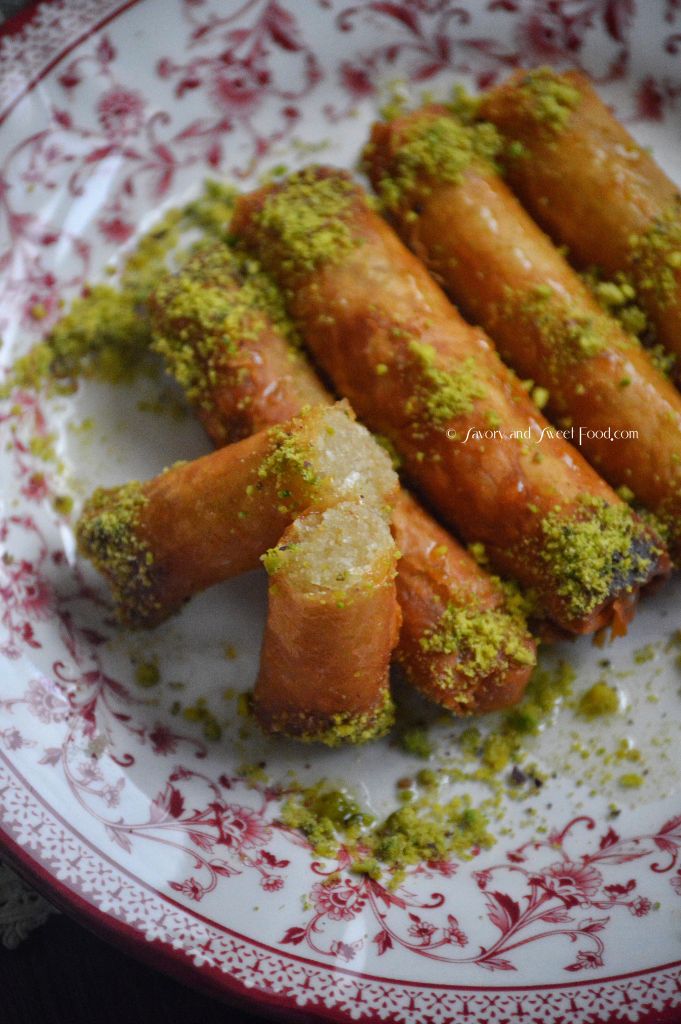 I am wondering why didn't I try making those at home. Those biscuits have got into my "things to try" list. This almond cigars has got a similar flavor and taste as that of Ghoribas. I think it is because of the almond filling and also the aroma of orange blossom water. I know many of them who dislike the smell of orange blossom, if you are among those, feel free to substitute that with rose water. But you have to add any one of these.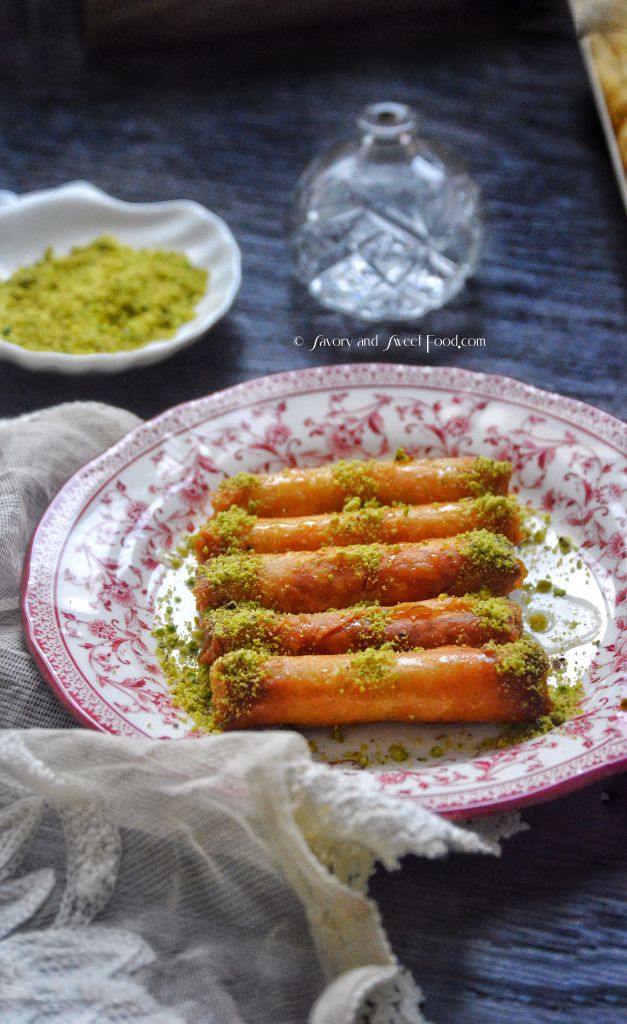 If you want to cut down on the oil, you can easy bake it. But make sure to brush the phyllo pastry with butter. But the crunchiness that you get if you deep fry is marvelous.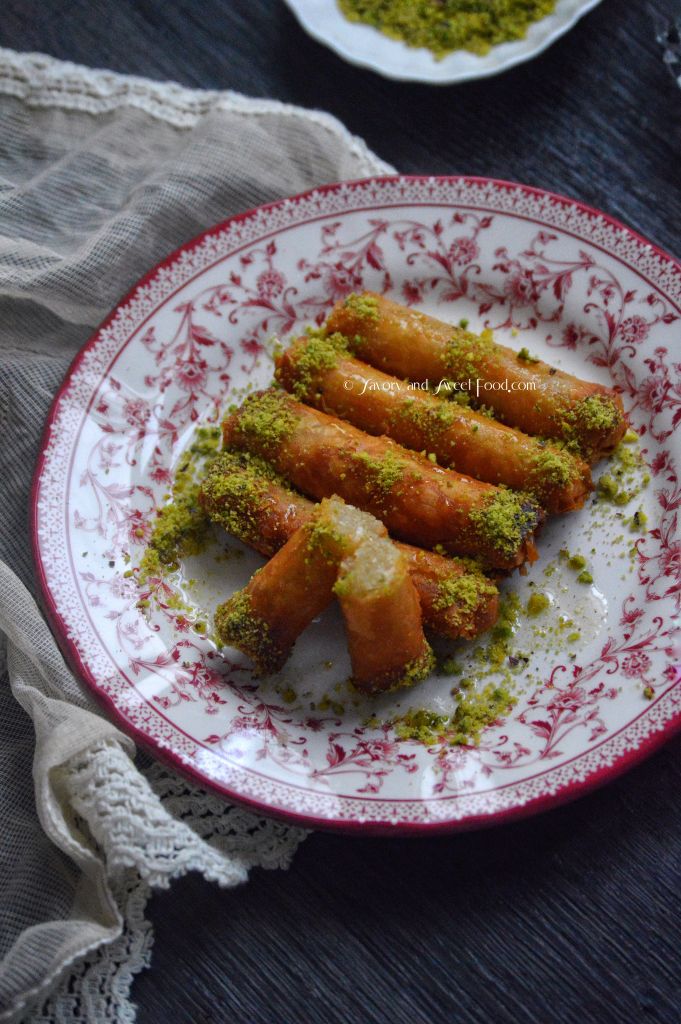 INGREDIENTS:
1 pack phyllo dough, thawed at room temperature
water to seal
powdered pistachios for garnish
For the almond stuffing:
250g almond powder
40g icing sugar (or more if you want it very sweet)
1 egg white
40g vegetable oil
1 tsp orange blossom water
water
For the sugar syrup:
1/2 cup sugar
1/4 cup water
1 tsp lemon juice
1 tsp rose water
NOTES:
Make sure that you thaw the phyllo pastry completely. Keep it in the refrigerator overnight.
You wouldn't need lots of water to for the almond filling to come together. I just added 2 tbsp of water.
You can assemble these and freeze it and fry when you would need it.
DIRECTIONS:
Mix all the ingredients except the water in a bowl.
Add 1 tbsp of water at a time till the dough comes together and forms a dry paste.
Take a small amount of the dough and shape it into long oval shapes and place it on a plate.
To make the sugar syrup:
Combine water and sugar in a saucepan. Stir and bring it to a boil. Let the sugar dissolve completely. Simmer it for 5 minutes.
Turn off the flame and pour rose water, and lemon juice.
To assemble the cigars:
Place the phyllo sheets on a clean surface and cut each sheet into 4 rectangles. Cover the remaining sheets with a damp cloth so that it wouldn't dry out and start cracking.
Place one almond roll on top of the dough.
Moisten the edges of the dough with water.
Roll by folding the larger edges horizontally and then rolling it vertically as shown in the pictorial.
Repeat with all the other rolls.
Deep fry till the cigars turn golden brown. (make sure that the flame is on medium low so that it doesn't burn fast)
Take out and drain on kitchen towel.
Carefully dip the cigars in sugar syrup and make sure that the cigars are coated well all over.
Let it come to room temperature, garnish with pistachios and enjoy.