Chicken shawarma on crisp French Fries along with all the toppings possible giving this starter dish burst of flavors.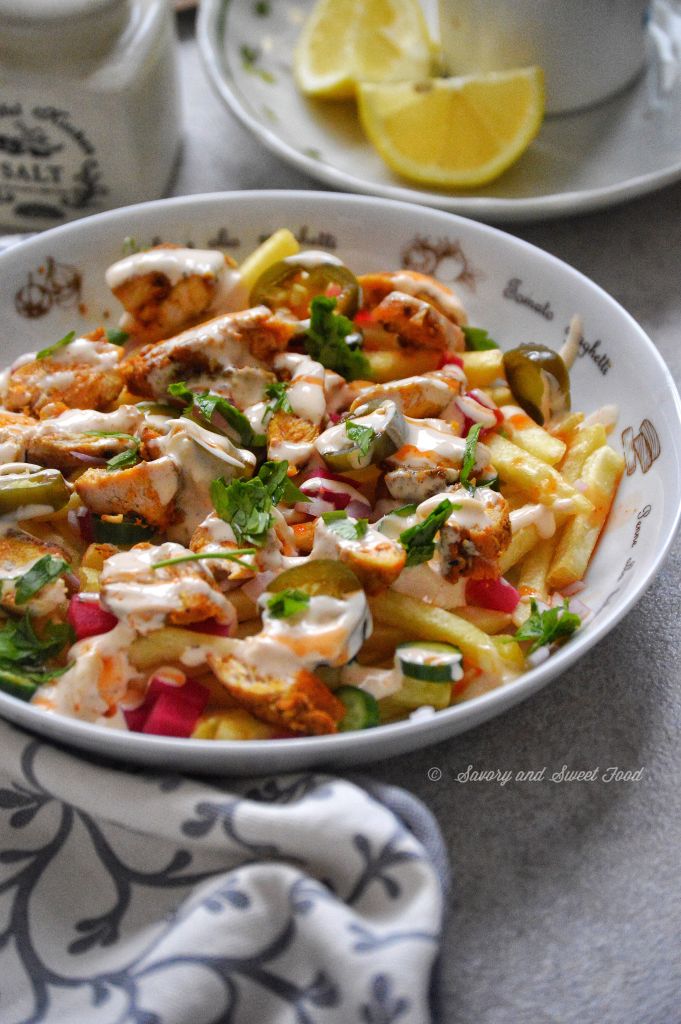 These loaded Chicken Shawarma Fries are simply perfect when you feel like eating shawarma but don't feel like getting out to the restaurant to grab one. This was just an experiment because I love french fries, and I wanted to make a meal with it because I was super lazy that day. And luckily I had few pickled goodies in the fridge and marinated chicken too.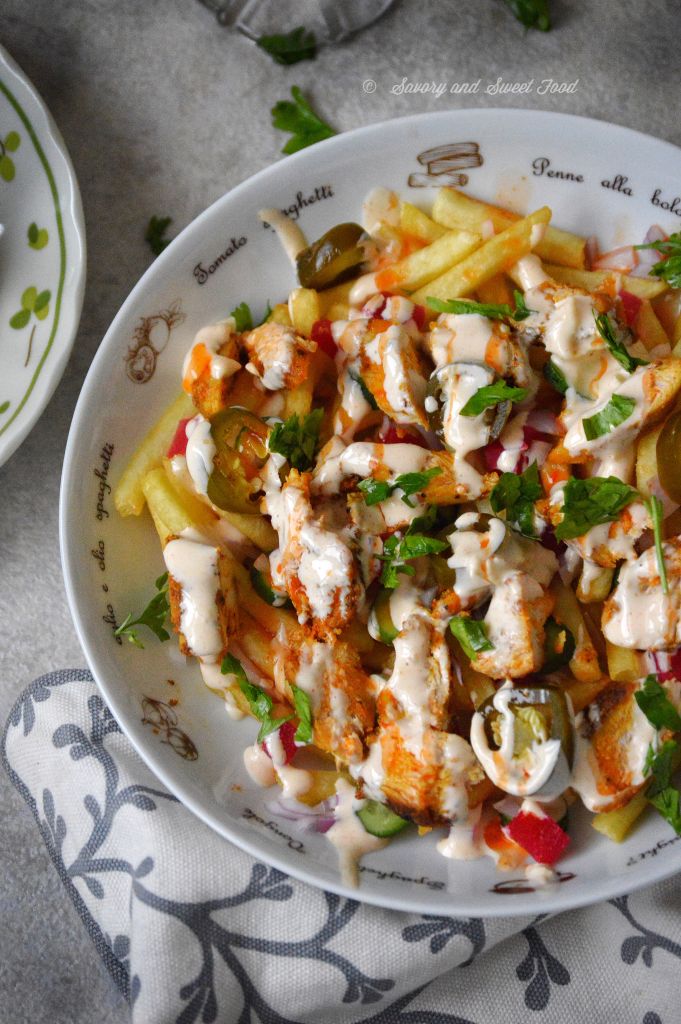 So I thought why not try Chicken Shawarma Fries and I simply grilled the chicken, fried the frozen french fries and assembled it on a plate with all the possible toppings I could think of. And it tasted so good, I mean I felt it tasted better than the traditional shawarma in pita bread. At least that's what I feel now, because I can stuff my face with a plate of this deliciousness at this moment. 😀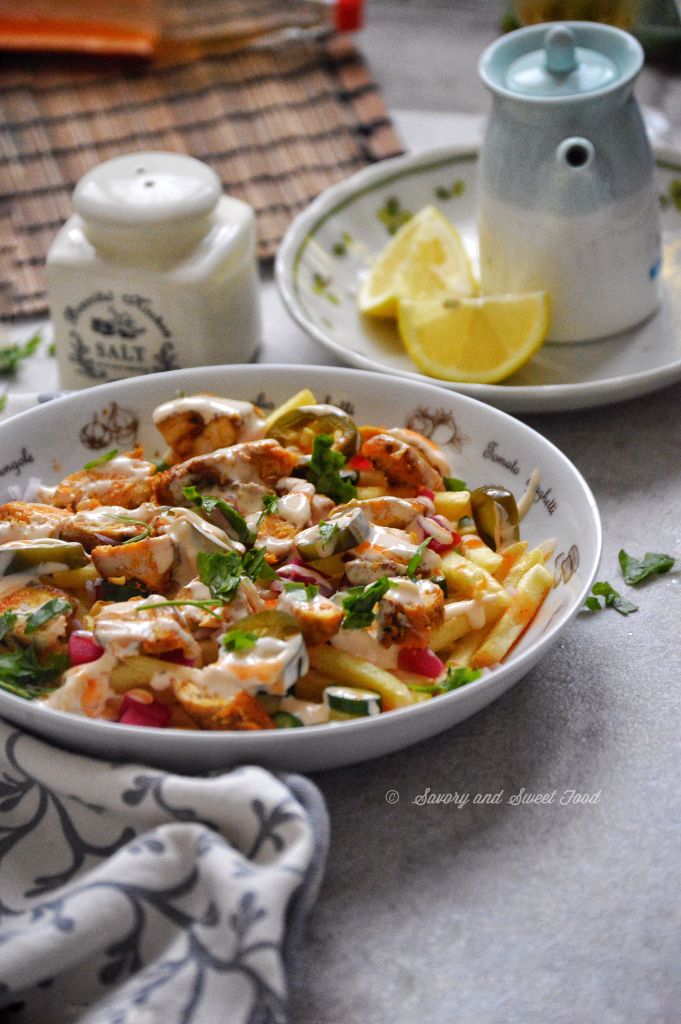 This is the third loaded french fries recipe in the blog. I had posted
Cheese Fries with Ranch Sauce
and
Chicken Fries
previously. Do check out those recipes if you haven't. Its yummy. Hope you all will try out this recipe too. And please do let me know how you liked it, if you do give it a try. I love reading your feedback. 🙂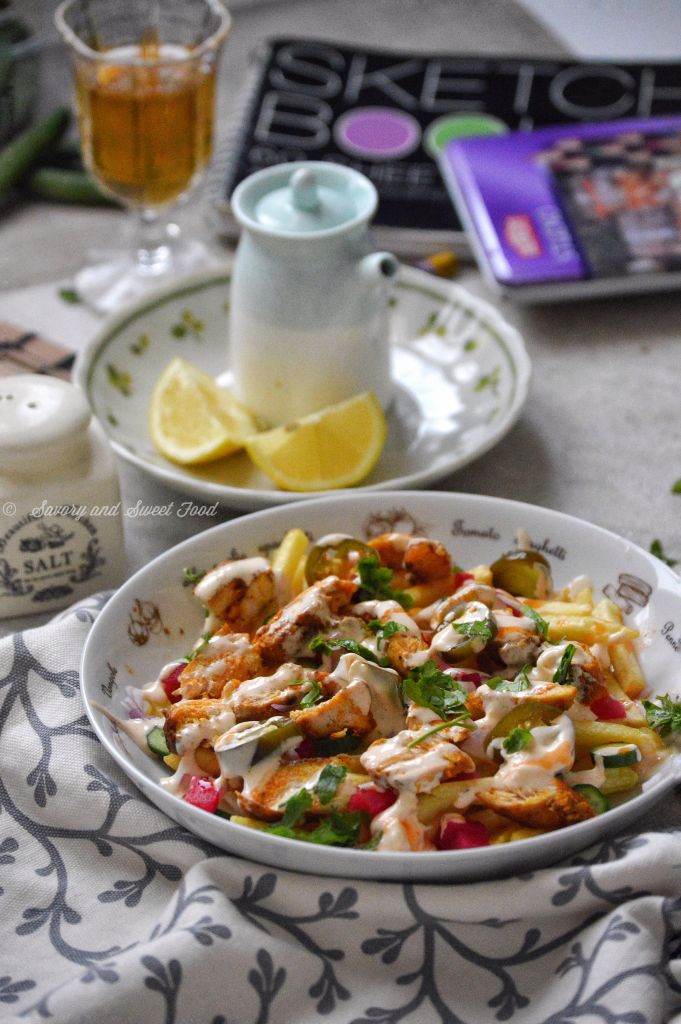 Serves 2
INGREDIENTS:
Frozen French fries
300g boneless chicken breasts
3 tbsp olive oil
For the Chicken:
1 tsp paprika/ red chilli powder
1/4 tsp cumin powder
1/2 tsp coriander powder
a pinch of ground cinnamon
a pinch of ground cardamom
Black pepper to taste
1 tsp garlic paste/ 1/2 tsp garlic powder
1 tbsp lemon juice
Salt to taste
4 tbsp mayonnaise
1/4 tsp red chilli powder
1 clove garlic crushed
1 tsp tahina
Black pepper to taste
3 tbsp milk or buttermilk
A pinch of salt
Toppings:
Cucumbers
Pickled turnips
Pickled jalapenos or green chillies
Onions chopped
Parsley chopped
Hot sauce
NOTES:
You can bake the french fries too.
Fresh homemade french fries can be used.
DIRECTIONS:
Fry the french fries and keep aside.
To make the chicken shawarma:
Marinate the chicken breast with the above mentioned ingredients.
Shallow fry the chicken till cooked and nicely charred on outside.
Slice the chicken and keep aside.
To make the sauce:
Add all the ingredients for the sauce in a bowl and mix well. Keep aside.
To Assemble:
In a plate, place a layer of french fries.
Then add cucumber, turnips, onions, jalapeno, chicken, parsley, hot sauce and mayo sauce.
Serve immediately.
[yumprint-recipe id='240′]