A simple and easy comfort food, CHIKEN FRIES with a spicy chicken filling on a bed of crisp french fries which is then topped with mozzarella cheese and baked till done.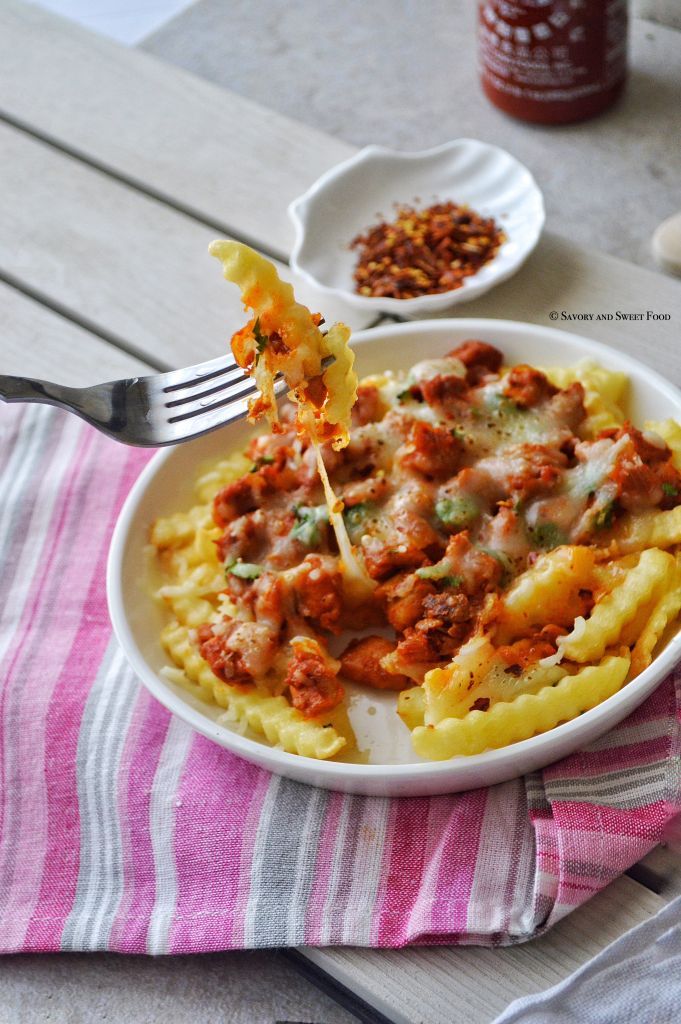 Remember my old post,
cheese fries with ranch sauce
? Well this is another version of it. A more spicier one. This one is definitely a comfort food for me. This is one of those meals, which everyone will love and just anyone can make.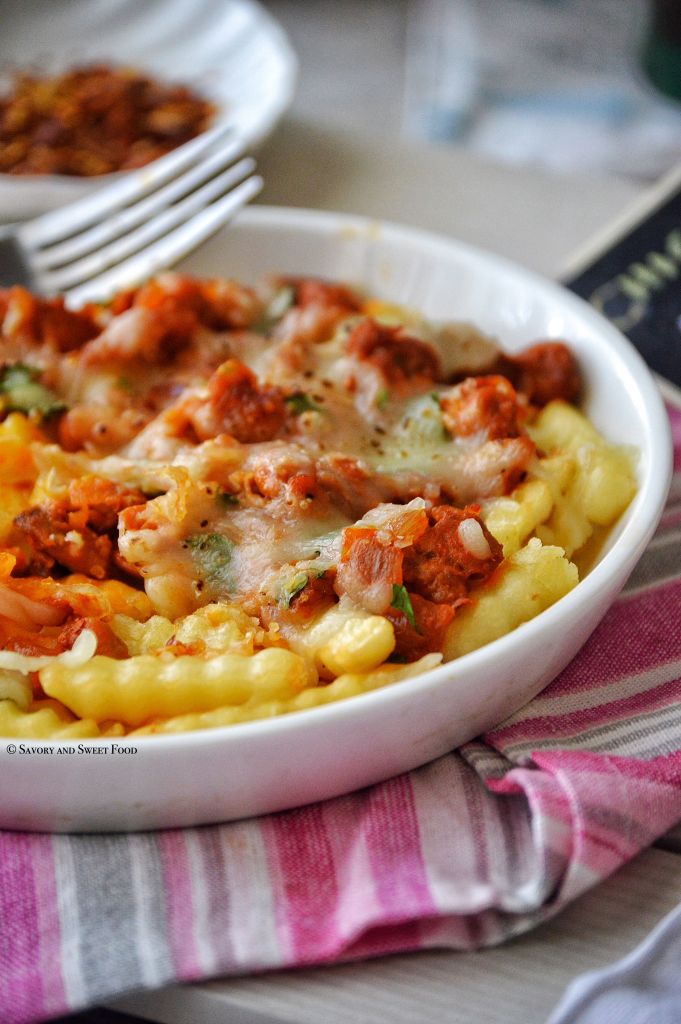 There is no particular season for comfort food. We need it most of the time. It's there for us during the hardest, craziest of days and also to enjoy our happiest times.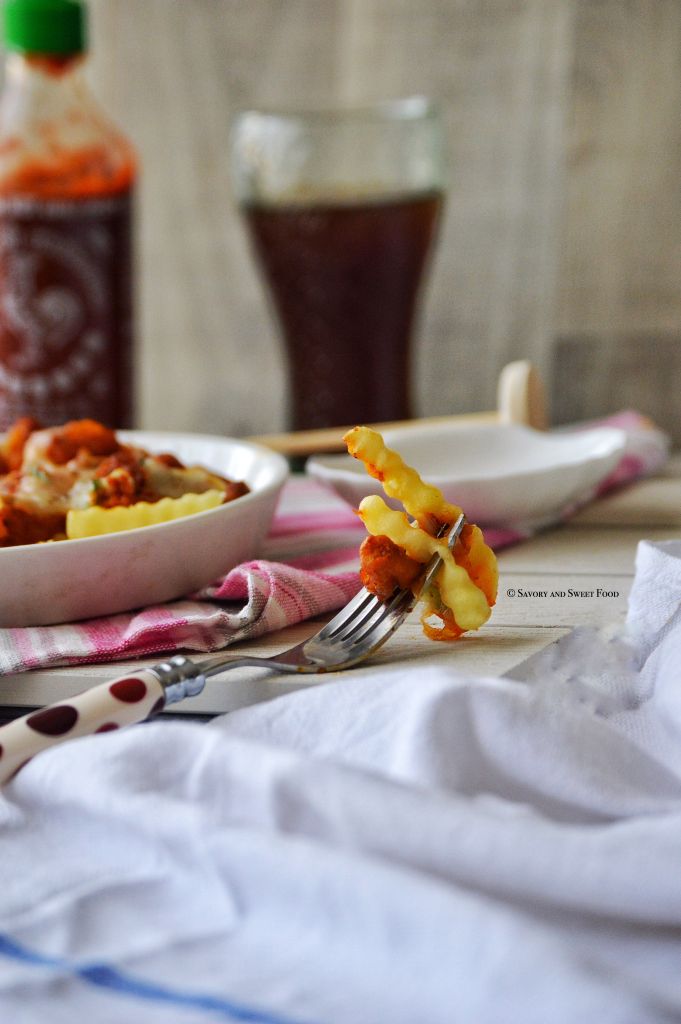 So, this was our lunch yesterday. It was a busy busy day for me…lots of cleaning and many other chores. Time just went so fast that I suddenly realised that it was time for lunch and Fadal would be coming back from work. Normally I would have made lunch earlier in the morning, but yesterday was a massive failure day where all my plans went wrong.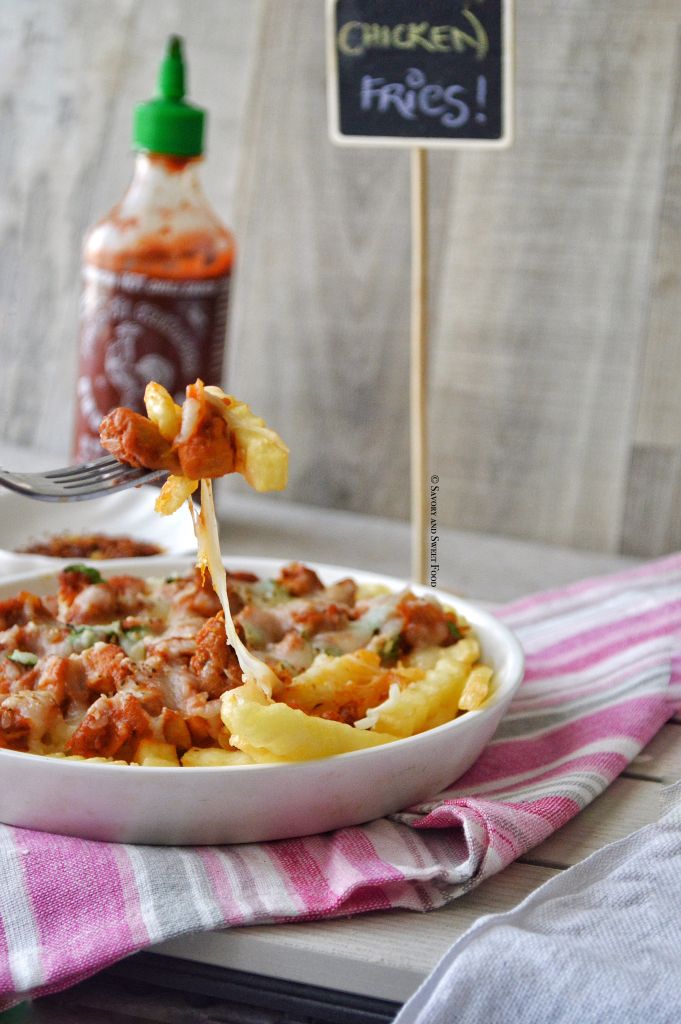 Anyway, I was tired and lunch HAD to be quick. And I had to make something which I knew Fadal would actually eat. So as I was opening and closing my fridge and freezer searching for ideas, I took out the bag of frozen french fries and some chicken breast.
I defrosted the chicken really quick and made this easy and simple chicken filling. Fried the french fries till nicely golden and crisp, placed it on the baking plate and spread this chicken on top and finally nice mozzarella cheese. Fad entered the house while the chicken fries were in the oven. He was like, "I can smell something great" with a big smile on his face. 🙂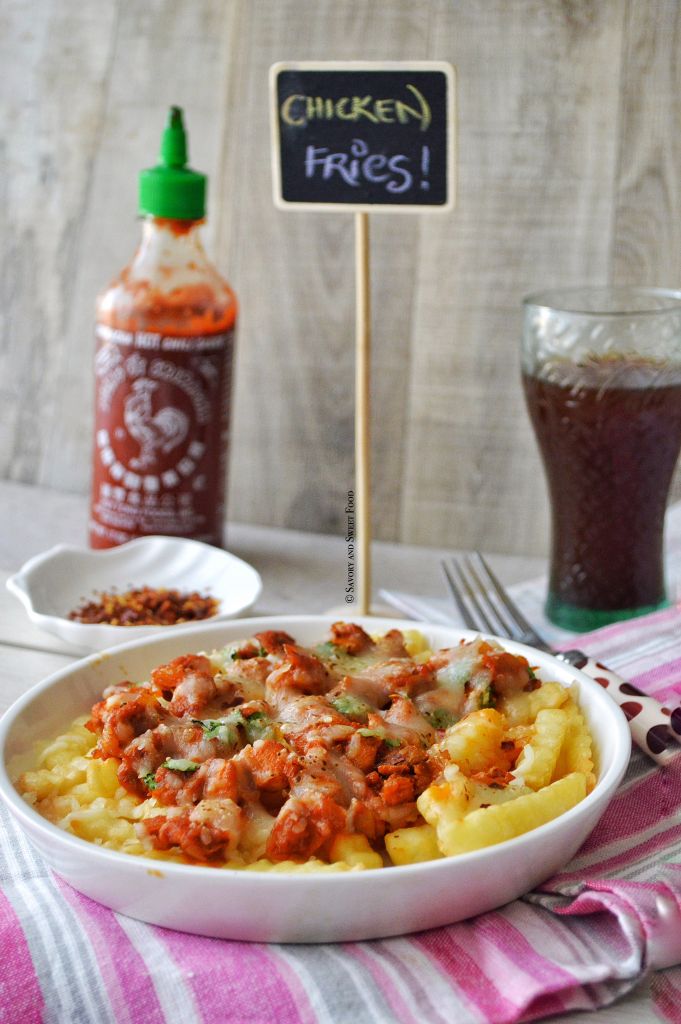 He tasted this and immediately he asked if i took pictures of it. I said no, so he said "hurry up and click few pictures real fast". So he waited till I clicked the pics and then we both finished it in no time. You all should make this too, and you're gonna love it.
INGREDIENTS:
300g boneless chicken cut into small pieces
1 tsp kashmiri chilli powder
1/4 tsp turmeric powder
very little salt
1 medium sized onion chopped
1 tbsp tomato paste
1/2 tsp garlic powder or garlic paste
1/4 cup water
1/2 cube of chicken stock (read notes)
coriander leaves
oil
french fries
mozzarella cheese
NOTES:
Be very careful while adding the salt in the chicken because we will be adding chicken stock later which also has salt in it.
While adding the chicken stock, add in 1/4th of a cube first and then check if the salt is too much. If not, add the remaining 1/4th of the cube, so totally 1/2 of a cube.
DIRECTIONS:
Marinate the chicken with a red chilli powder, turmeric powder and very little salt. Do not add too much salt as you will be adding chicken stock later which also has salt in it.
Shallow fry the chicken.
In the same frying pan add in the onions and sauce till soft.
Add in the tomato paste. Sauté really well for few minutes till the raw smell of tomato paste goes.
Add in garlic powder. mix.
Add in the chicken.
Pour in the water, and then add the powdered stock cube. (read notes). Mix well to combine.
Assembling:
Place the fries in one layer on a baking plate.
Then spread the chicken mix evenly.
Add few chopped coriander leaves.
Then finally add in mozzarella cheese.
Pop it into the oven till the cheese is all melted and slightly golden on top.
Serve immediately.
[yumprint-recipe id='159′]