A chilled layered dessert with mango and rabri (sweetened reduced milk) as the main ingredient. It has a cooling effect because of the basil seeds and mango ice-cream. Perfect for the hot summer days.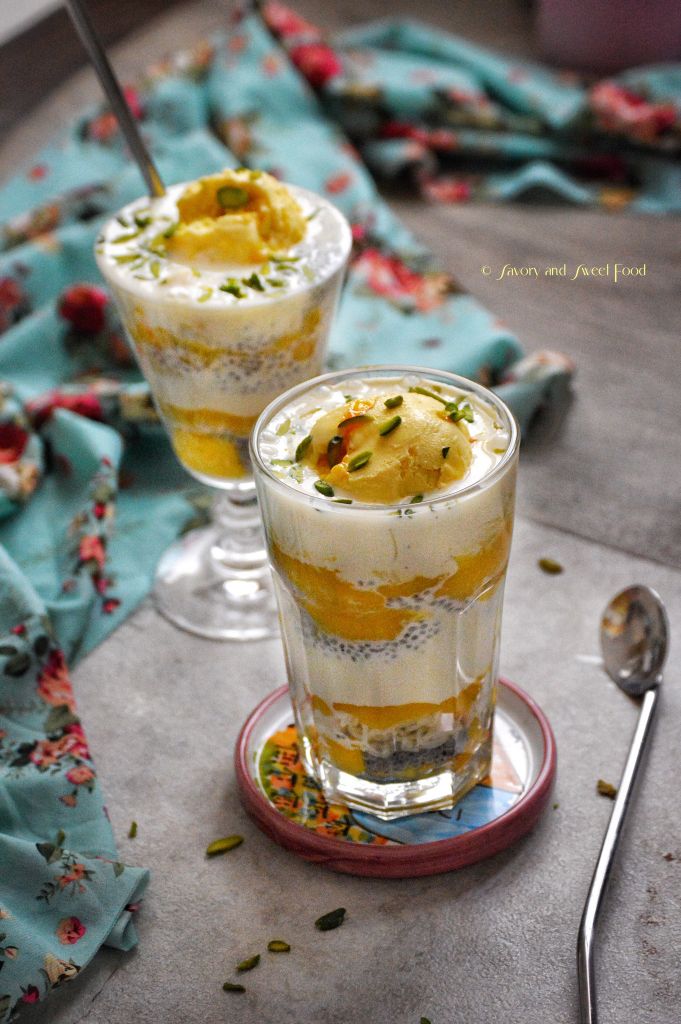 Falooda is a very popular dessert in many regions of India, Bangladesh and Pakistan. It is originally a Persian dessert, which was named faloodeh. This dessert was brought to India by the Mughal Empire. Traditional Falooda is made by mixing rose syrup, vermicelli, basil and pieces of jelly with milk and mostly topped with a scoop of ice cream.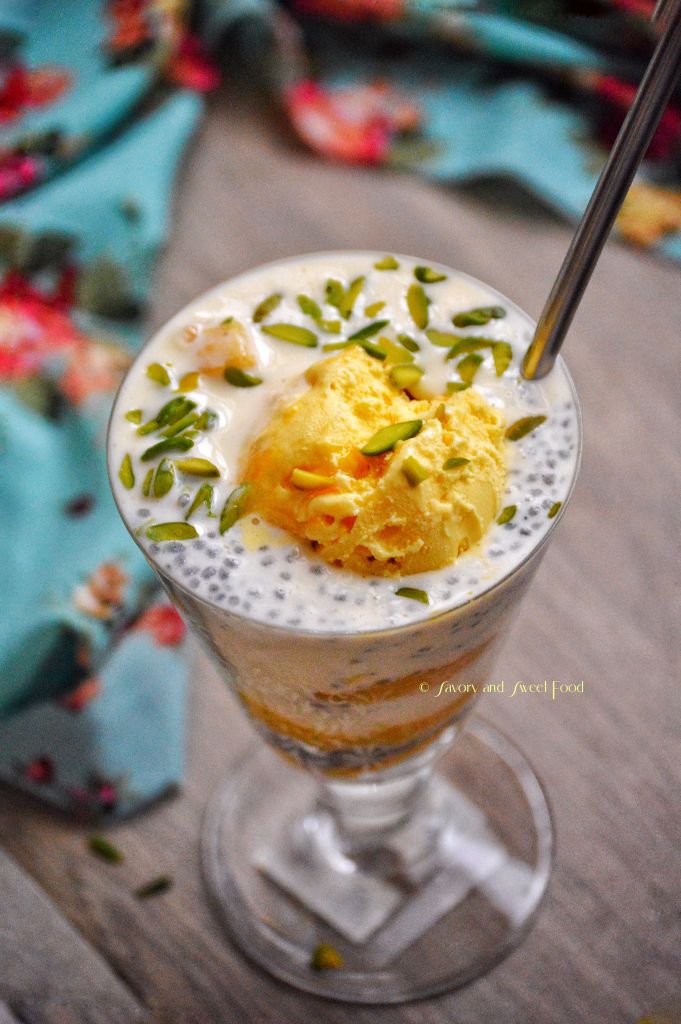 Since mango is in season now, I chose to add mango as a main ingredient. Another reason is that my fruit bowl is filled with mangoes and it is keeping on increasing because my better half is a mango maniac. He loves mangoes so much that he waits for this time. It seems there is a particular mango named
Ratnagiri Alphonso Mangoes
which is the sweetest, most delicious mango. There is a website named
Ratnagirimango.com
where you can adopt a mango tree and they will send the mangoes to you wherever you are. They send 100% carbide and chemical free mangoes which is hard to get nowadays. I can see Fadal being a Godfather to one of the mango trees there very soon. 😀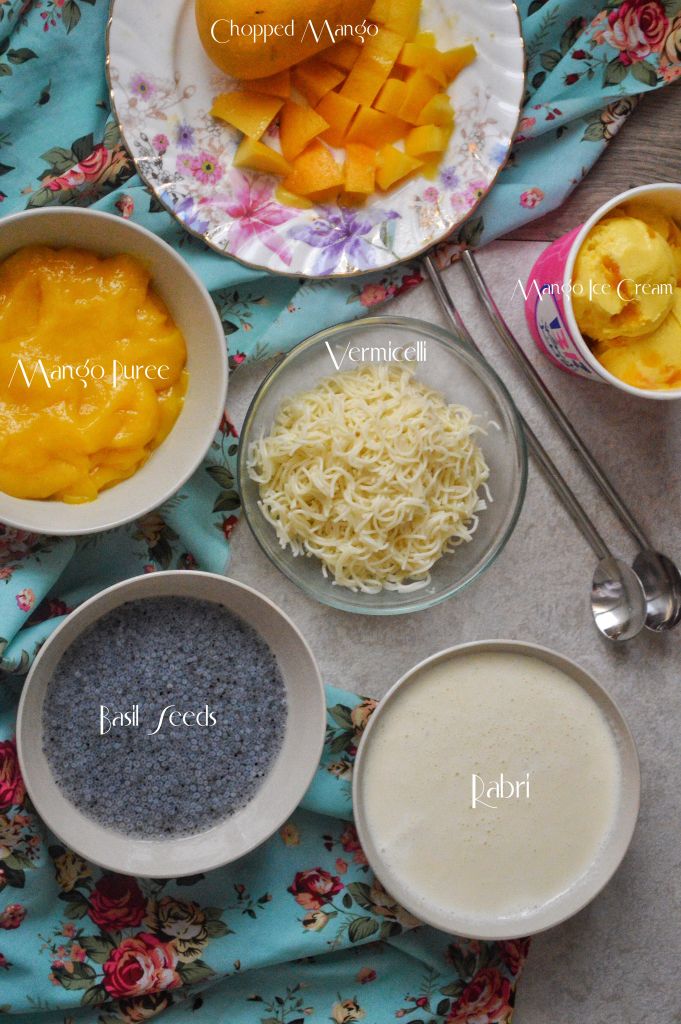 So back to the recipe, I decided to make rabri to make this falooda even yummier and I am so happy that I did. It came out great and all the flavors were so beautifully merging together that I just couldn't control my happiness. This recipe is a keeper for sure. I am planning to make this again tomorrow. You guys should try it too.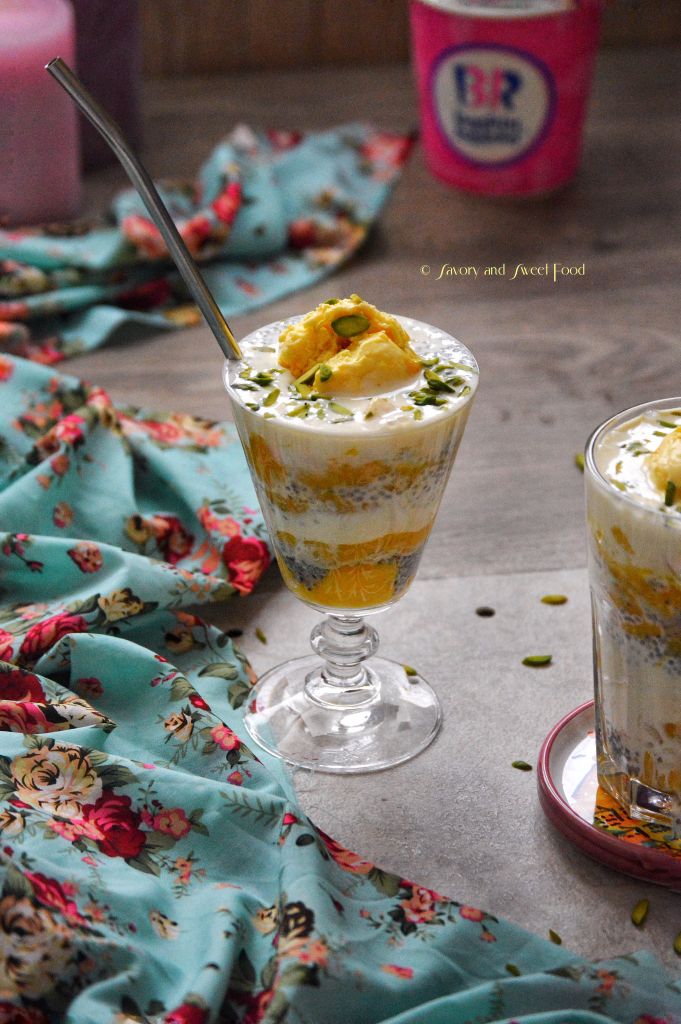 INGREDIENTS:
3-4 ripe mangoes
2-3 tbsp sugar
2 tsp basil seeds/ takmaria soaked in 1 cup water
1 cup Vermicelli/ Falooda sev cooked
Mango icecream
Nuts
Rabri
To make Rabri:
500 ml milk
3 tbsp condensed milk or more
1/4 cup whipping/cooking cream
NOTES:
If you get falooda sev, use that.
You can add mango jelly too, if you like.
To make it even richer, add one scoop of ice-cream in the middle layer and another scoop on top.
If you making rabri with more amount of milk, it will take longer for it to thicken.
DIRECTIONS:
To make rabri:
Bring the milk to a boil. Simmer on medium high heat, stirring regularly for 15 minutes.
Add condensed milk. Cook for another 10 minutes.
Add in cream and cook for 5 minutes. The rabri should be medium thick by now. It shouldn't be too thick as it will thicken further while refrigerating. If it turned very thick, pour a little more cream or milk. Refrigerate overnight or for 4-5 hours.
To prep the basil seeds:
Soak the seeds in 1 cup water and let it stay for 1 hour till it blooms. I kept mine overnight.
To cook the vermicelli:
Add vermicelli in boiling water and let it boil till it gets cooked. Drain and wash in cold water.
Mangoes:
Skin the mangoes and make puree out of two mangoes with 2-3 tbsp of sugar. Dice the other mangoes and keep aside.
To Assemble the Falooda:
Refrigerate the falooda glass for half and hour.
Take out the glass, add diced mangoes.
Add in a tbsp of basil seeds, then vermicelli followed by the mango puree.
Pour in rabri. Then basil seeds, mango puree, vermicelli, mango and then rabri.
Finally top it with mango icecream and nuts and serve immediately.
[yumprint-recipe id='239′]