Soft garlic rolls stuffed with flavor packed chicken meat balls and topped with mozzarella cheese which is then baked to perfection till gooey and hot.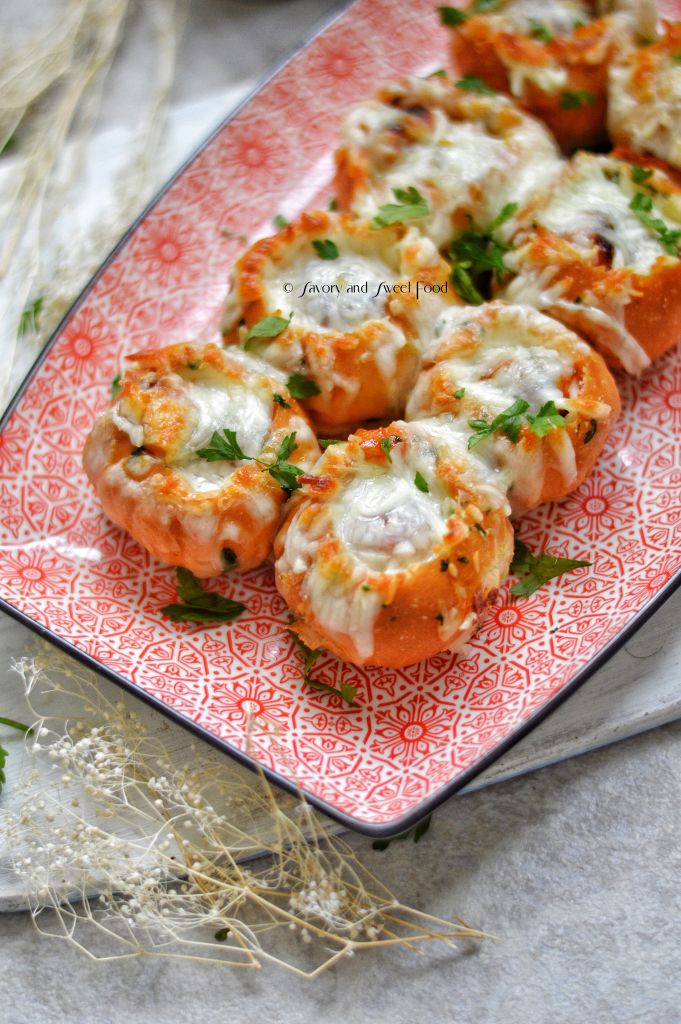 I love all things small, like these cute little buns/ rolls. I am a little obsessed with these buns and really enjoy turning these into gooey, yummy finger food which can be party worthy.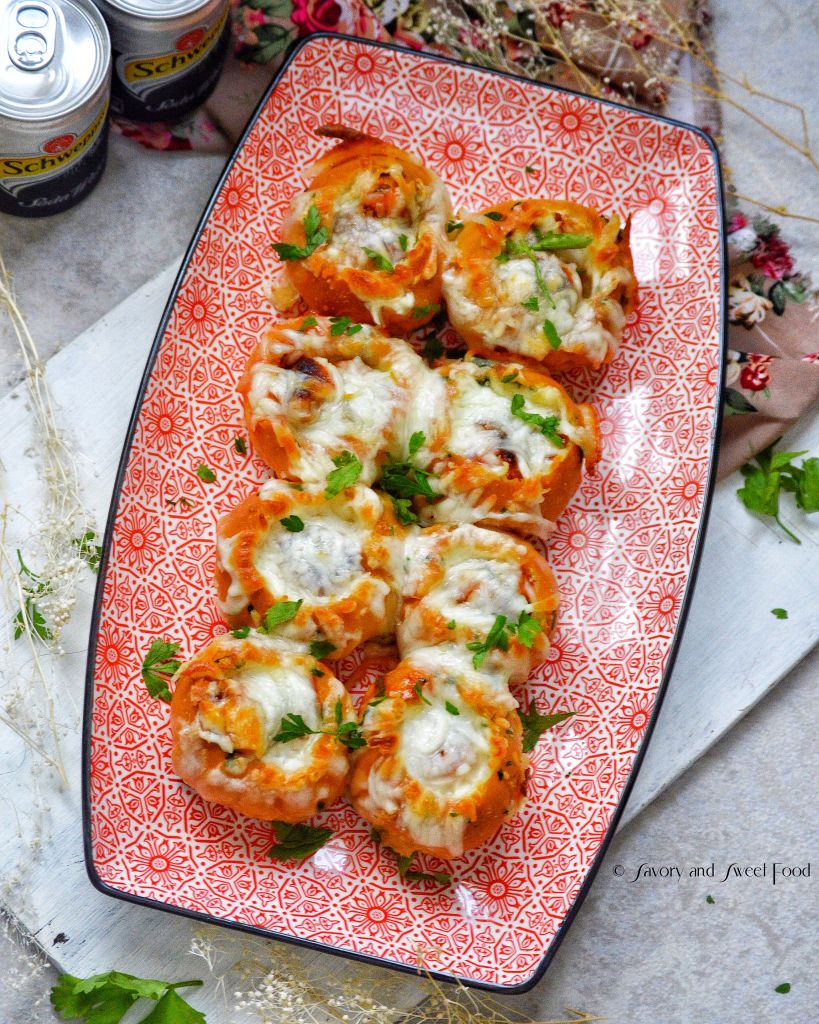 I got the inspiration to make this when I saw a video of meatball stuffed cheesy garlic bread on Facebook by So Yummy. I made my version of it with all that I had in hand and as expected it came out amazing. 😀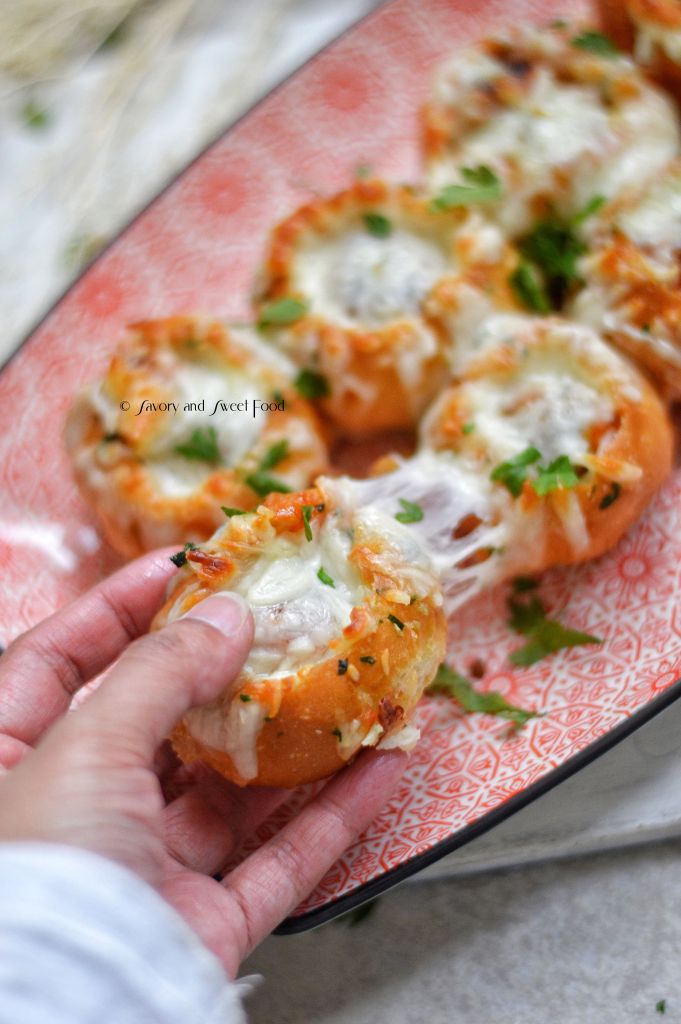 I have decided, for the next party in my home, this is a sure one on the list. These are perfect bites, almost a meal in itself – with the garlic rolls, cheese, a little bit of sauce and of course, the main stuff – the meatballs. This is so easy to make and it will be a winner among the guests.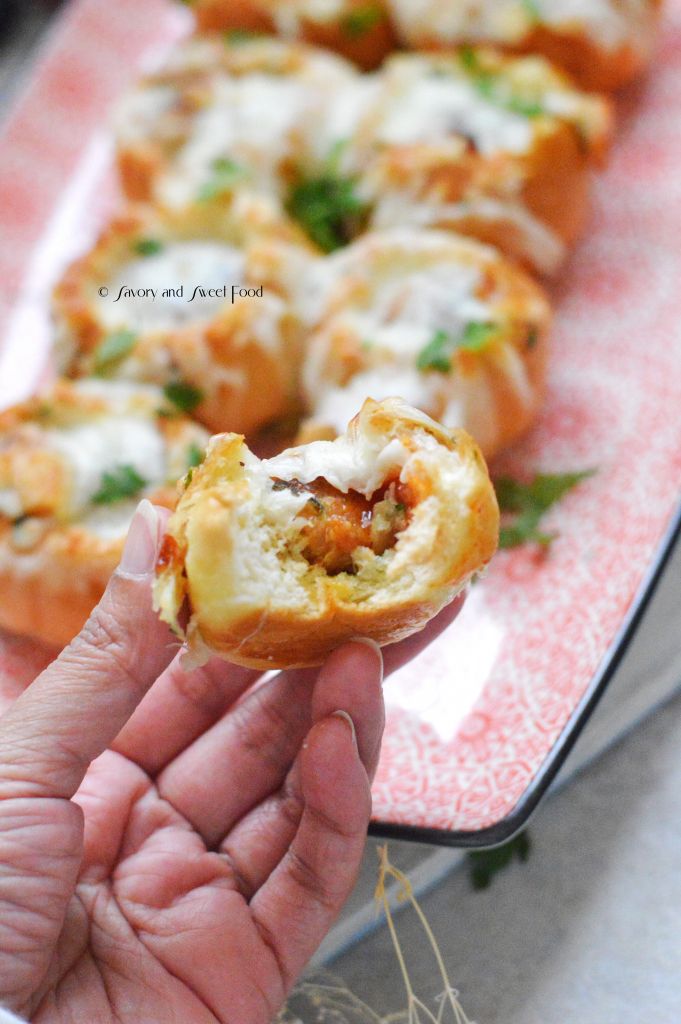 INGREDIENTS:
For the meatballs:
300g chicken mince
1 small red onion, finely chopped
1 teaspoon garlic, finely chopped or paste
1/2 teaspoon ginger paste
1/4 teaspoon garlic powder
1/4 teaspoon ground cumin
1/2 teaspoon dried oregano
1 tsp soya sauce
1 teaspoon red chili powder
1 teaspoon paprika
1/4 cup fresh coriander leaves, chopped
1/2 cup dried breadcrumbs
1 egg
freshly ground black pepper
salt to taste
oil to grease and fry (I used olive oil)
For the Cheesy Garlic Rolls:
1 package small round buns/ rolls
2 tbsp melted salted butter
2 cloves garlic minced
1 tbsp chopped parsley
marinara sauce/ pizza sauce/ sweet chili sauce/ ketchup
mozzarella cheese
NOTES:
The first time I made this, I used slightly bigger rolls, the one that comes attached (the pictures in the directions). The second time I used very tiny round loose buns (the one in pictures above). I preferred the small round ones.
If you don't get this type of bun, you can make it at home by following this recipe. But make sure that you make really small buns.
With this recipe you will get about 20 meatballs. If you do not want to use them all, you can freeze the remaining and use later to make this recipe again or just add it to pasta, pizza etc.
DIRECTIONS:
Sauté onion, ginger and garlic paste in a small frying pan on low-medium heat until they start turning golden (approximately 3 minutes). Remove from heat, stir through the cumin and set aside.
Combine all other ingredients in a large bowl and mix well with a wooden spoon. Add the onion mix to the bowl and mix until thoroughly combined.
With oiled hands, shape the mixture into small round balls. (If you feel that the mixture is too sticky, add extra breadcrumbs). You will get about 20 meatballs.
Freeze for half an hour.
Shallow fry in little oil till cooked through and browned all over.
Preheat oven to 180C
Cut a hole into the rolls large enough to fit the meatballs into it.
Into the melted butter, add garlic, and parsley. Brush this mixture into the rolls.
Place the meatballs in the rolls. Add sauce on top.
Sprinkle mozzarella cheese all over.
Bake for 15 minutes or until bread is toasted and cheese fully melted.
Serve immediately.
[yumprint-recipe id='234′]