Mafroukeh which is a Lebanese dessert is made of semolina, pistachios, sugar and butter infused with sugar syrup, and rose water. It is filled with a cream called ashta (I have replaced it with mascorpone cheese). Here I have made truffles out of it, making it look more appealing. This is easily one of my favorite Arabic desserts.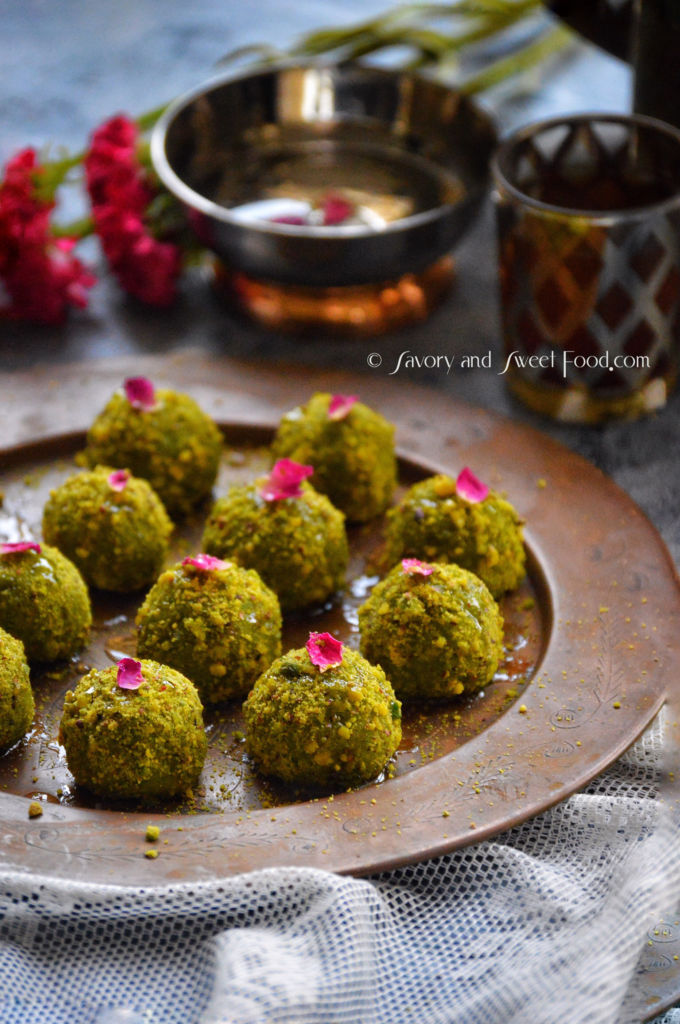 I felt so good after posting white chocolate crunch pudding recipe this week after the long break, (mainly because of all your overwhelming response) that I got super motivated to be active in the blog. I had passed the slight depression mode after delivery, which is in the package that comes along with pregnancy and post delivery.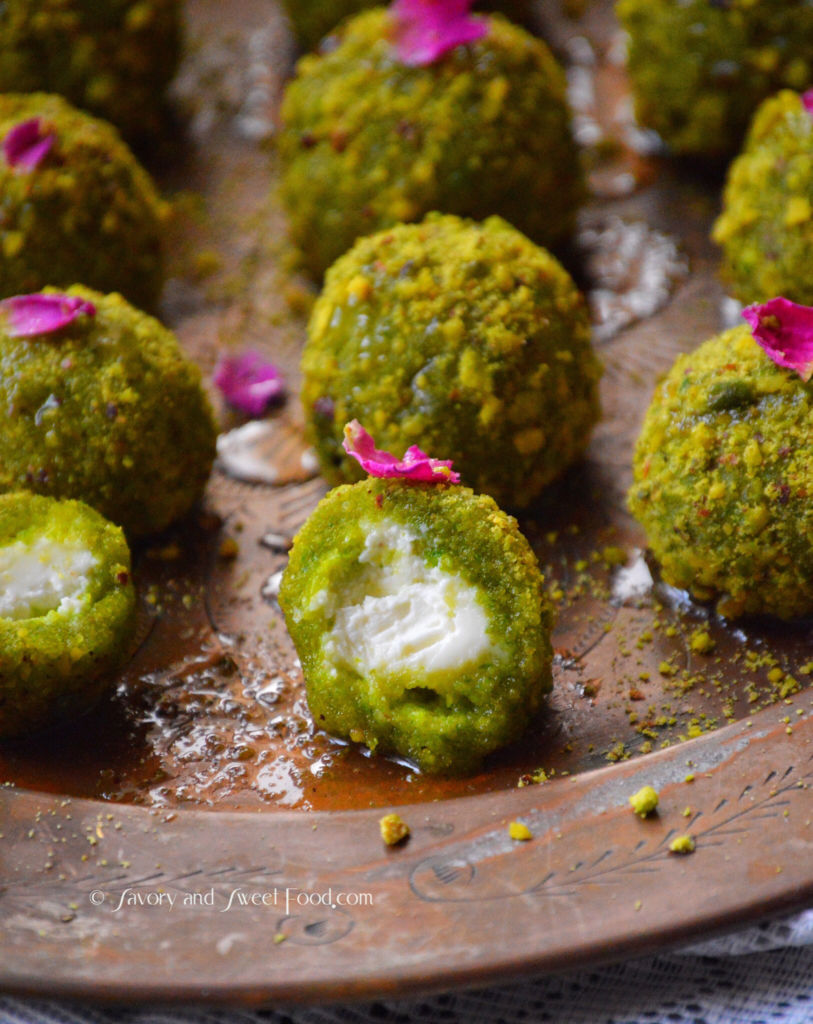 I wanted to do something that I loved, but I just
couldn't get the time and I didn't know how to plan my day. As my son, Hamad had started school too, the same month I gave birth to Aysha. It was chaotic in the first month. But Alhamdulillah everything is kinda settled now since I have gotten into a routine. And I want to make blogging a part of my daily life as well, like before.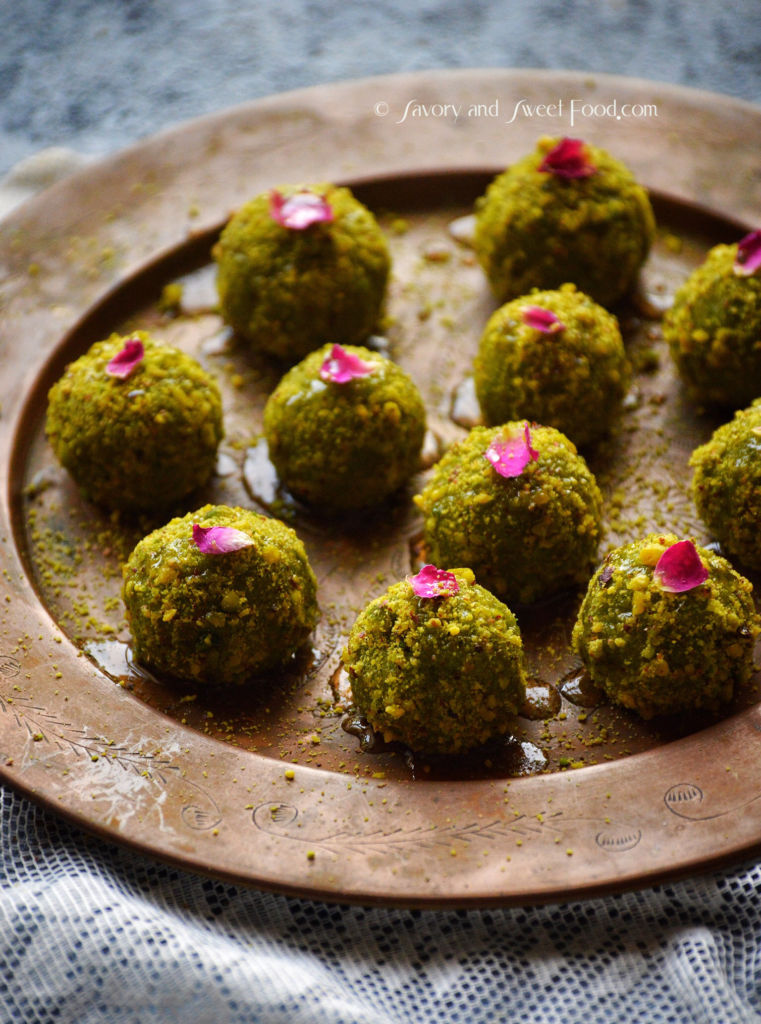 So here I am posting the recipe of this delicious Mafroukeh Truffles. Again I had kept the pictures ready for this before few months. This dessert is winner among my family and Fadal's colleagues. Right now I am craving these so much that I may make a big batch of it right now. You guys should try it out too. It definitely is a splendid treat.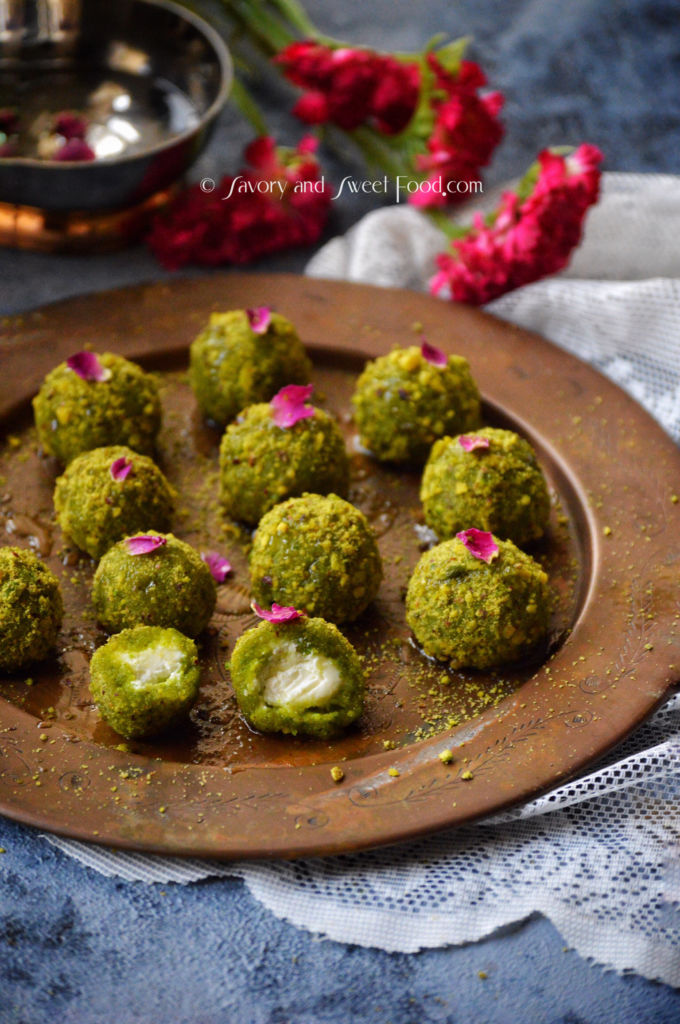 INGREDIENTS:
For Mafroukeh:
2 cups shelled pistachios
1/2 cup plus 4 tbsp caster sugar
8 tbsp semolina flour
4 tbsp water
2 tbsp unsalted butter
For assembling:
Mascarpone Cheese/ Clotted cream
Powdered pistachios
For the sugar syrup:
1 cup sugar
1/2 cup water
1 tbsp lemon juice
1 tsp rose water
NOTES:
Do not use the usual semolina. You have to use the super fine semolina for this. If you don't get it in the market, just grind the usual semolina till very fine and use it.
DIRECTIONS:
To make Pistachio Mafroukeh:
Soak the pistachios in warm water for several hours or just boil the pistachios and the peel off the skin.
Process the pistachios with half a cup of sugar till chopped very fine.
Heat butter in a pan and then add semolina and roast the semolina on low heat for 5-10 minutes.
Place the remaining sugar, lemon juice and water in a saucepan and heat, stirring till dissolved. Simmer on low for 2 minutes.
Add in the semolina and stir rapidly.
Add this mixture to the pulsed pistachios and again pulse it twice or thrice till it is all combined and you can form a moist dough out of it.
Sprinkle rose water on top of the dough and combine.
Cover and transfer to fridge for 2-3 hours.
To make the sugar syrup:
Combine the sugar, water and lemon juice in a sauce pan and heat it. Stir until dissolved.
Simmer on low for 5 minutes till thick.
Turn off the heat and pour in rose water.
To Assemble:
Scoop out a small ball of pistachio mafroukeh and flatten it.
Fill it with a tbsp of mascarpone.
Fold the ends of the mafrooukeh to cover the mascarpone and pinch the top of the to seal it.
Make a ball out of it. When shaping the mafroukeh you can dip your fingers in rose water so that the mixture wont stick to your hand.
Roll the truffles in powdered pistachios.
Refrigerate for 3-4 hours.
At the time of serving pour sugar syrup on the mafroukeh truffles.