Flaky Puff pastry wrapped around beef meatball along with a spicy sauce, jalapeño and mozzarella cheese.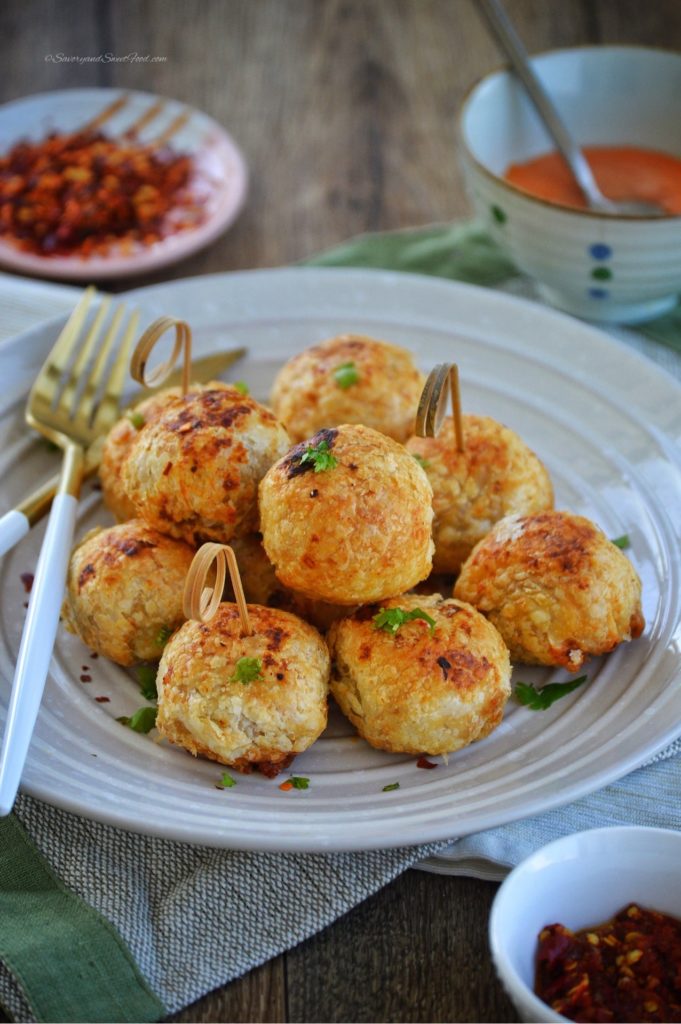 I am always on a look out for super easy recipes nowadays as you can imagine how it would be with three kids, 6 and under. I do meal plan and prep every Saturday for the entire week, which seems to work well. With this new routine I do have some extra time to concentrate on my blog.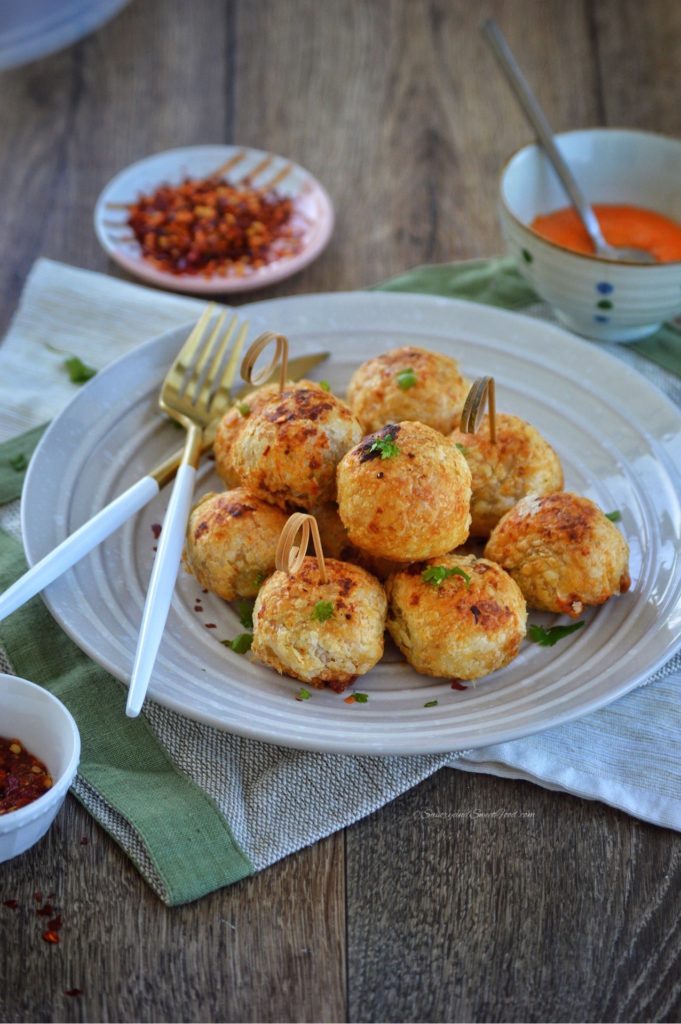 But since Ramadan started it has been a little trickier me for to plan meals as now I have to think of 4 meals a day. Even though we don't need breakfast and lunch, I have to think of something for the kids. So I try to keep Iftar (evening meal with which we end the fast) simple. That's how I came up with this idea of meatball puffs.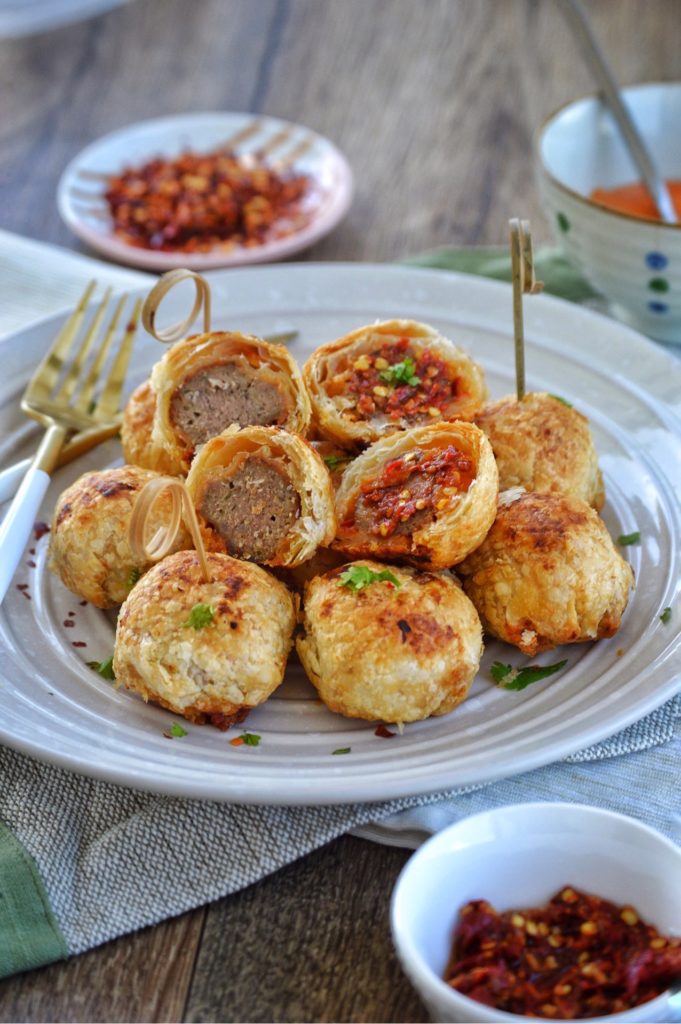 I made it using frozen puff pastry, frozen meatballs and a simple spicy cheese sauce recipe which my super-chef sister, Sabeena shared with me. I fried the meatballs in my favorite gadget in the kitchen, the Air-Fryer and wrapped it with puff pastry along with the sauce and other simple fixings. I then baked the pastries in the air-fryer again and that's it. It tasted amazing.
If you do not want to use frozen meatballs, you can make it from scratch. Here is a very yummy chicken meatball recipe which I posted a while back. Hope you will give this recipe a try. Enjoy! 🙂
Meatball Puff with Spicy Cheese Sauce
Flaky puff pastry wrapped around beef meatball along with a spicy cheese sauce, jalapeno and mozzarella cheese.
Ingredients
Frozen Meatballs

(cooked in a pan or airfried) I used Americana brand

Puff Pastry Sheets

Pickled jalapeños

Mozzarella cheese

(it would better to use cheese slice than shredded)

Spicy cheese sauce

(recipe below)

Spicy chilli flakes sauce

(recipe below) (optional)
For the spicy cheese sauce:
1

tbsp

butter

1/2

tbsp

all purpose flour

1

cup

milk

1/2

tsp

red chilli powder

1/2

tsp

smoked paprika

1/2

cup

cheddar cheese

salt

to taste
To make the Spicy Chilli Flakes Sauce:
7-8

dried red chillies

1

clove

garlic

juice of half a lemon

salt

to taste

1/2

tsp

cumin seeds

1

tbsp

olive oil
Instructions
To make Spicy Cheese Sauce:
Once it heats up, add flour. Cook for a minute stirring continuously.

Pour milk little by little whisking continuosly until there are no lumps. Cook on low for a minute.

Drop in the cheddar cheese and mix well until the cheese gets melted. The sauce is ready.

Add chilli powder, paprika powder and salt.
To assemble:
Place the puff pastry on a plate. I used the mini puff pastry squares. If you are using a bigger one, cut it into small cubes. (But large enough to fit in the meatballs)

Add in a tbsp of cheese sauce.

Add jalapenos. ( I added in few of them and it tasted really good)

Add a little bit of the spicy red chilli sauce.

Put mozzarella cheese. (cheese slice would be better)

Close the puff pastry by closing and pinching all four sides. Roll it into a ball.

Bake it in an air-fryer or preheated 180C oven by placing the seamed side down.

Serve immediately with the red chilli sauce.
To make Red Chilli Sauce:
Add dried red chillies, garlic, cumin, lemon juice, salt and water if needed into a grinder jar.

Pour a tbsp of olive oil to it.
Notes
It may be a little tricky to fit in all the stuffing inside the pastry, but try to pull the sides of the puff pastry and stick it together.
Stick the puff pastry well or else it may open up when baking.