Perfectly moist and tender Carrot Cake with a creamy, not-extremely-sweet Cream Cheese Frosting. The best carrot cake I had ever.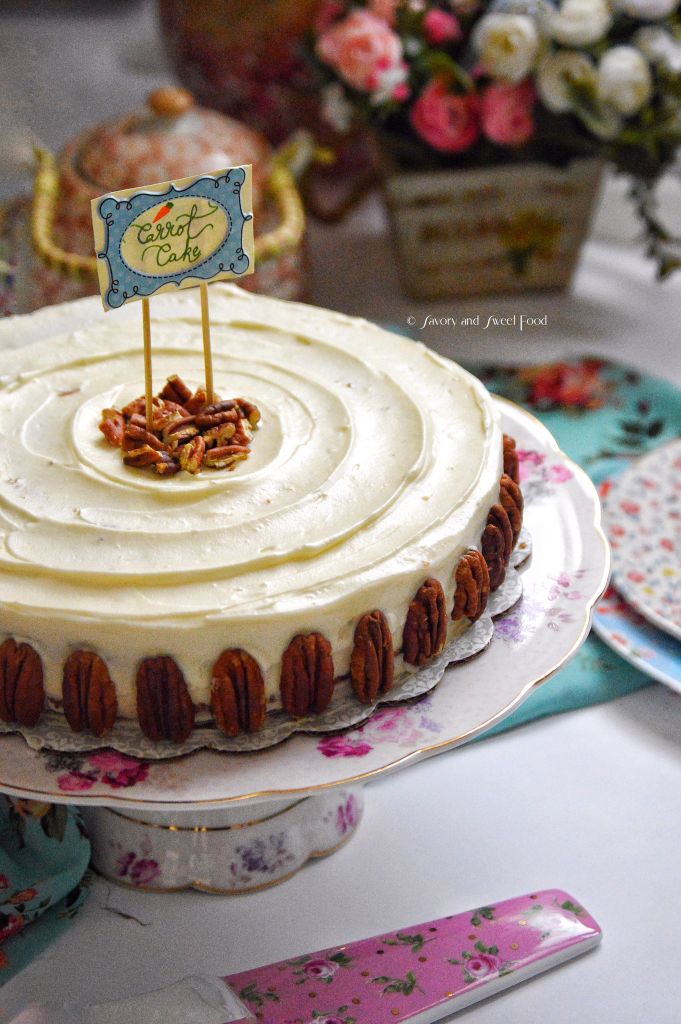 I had made this carrot cake few days back and was holding myself from posting this as I wanted to post this one closer to Easter. I just couldn't wait as I get very excited to share the recipe of things I've made that I really like.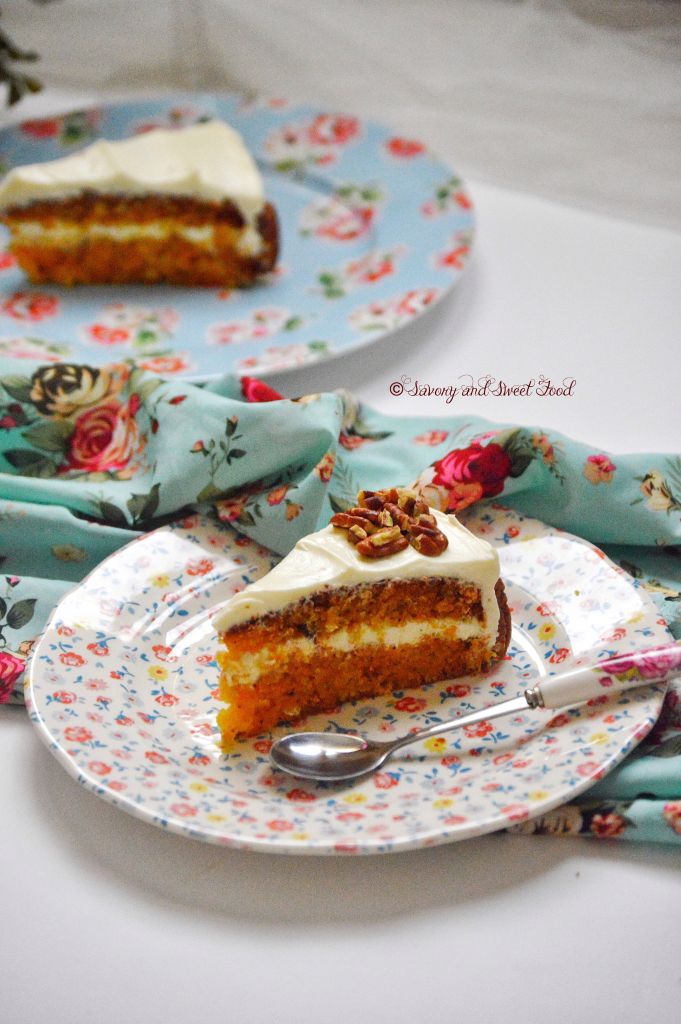 So without delaying any further, I present to you guys the recipe of the most PERFECT Carrot Cake. Well, I am not trying to brag, but this is one of the best carrot cake I have made and tasted so far. It is literally perfect….it is tender, super moist, heavenly, perfectly sweet, fluffy etc etc all at once.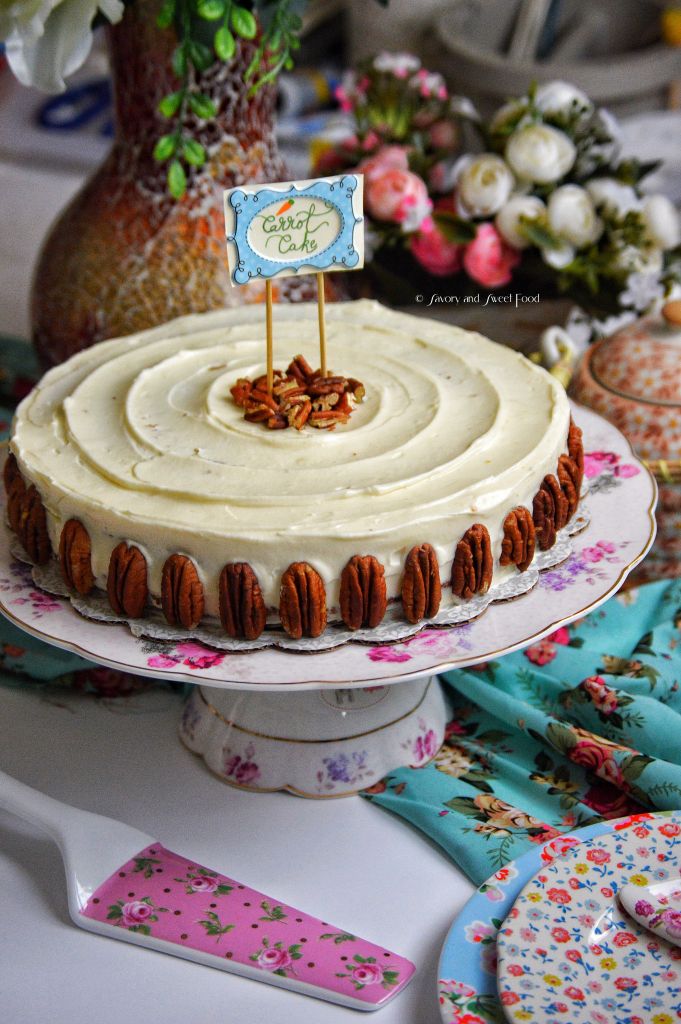 All thanks to my super-cook sister, Sabeena who shared this amazing recipe with me. This recipe is from this blog named
Menu Musings of a Modern American Mom
. Mindblowing recipe, seriously.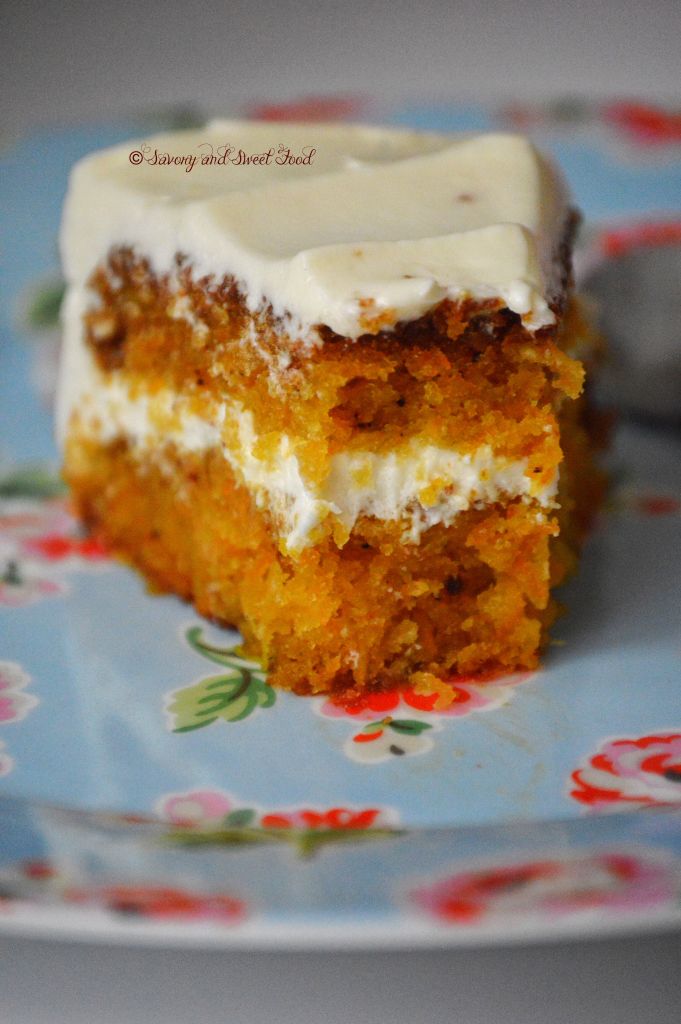 Now lets move on to the frosting. I am normally not big on cream cheese frosting, but this one is really good. Unlike the usual cream cheese frosting, this is thick, sturdy, pipeable and not overly sweet. This texture is achieved because we add COLD cream cheese into the frosting and not the softened one. This really makes a huge difference. I could frost the cake without much mess and it tasted divine. This is seriously my go-to cream cheese frosting recipe from now on.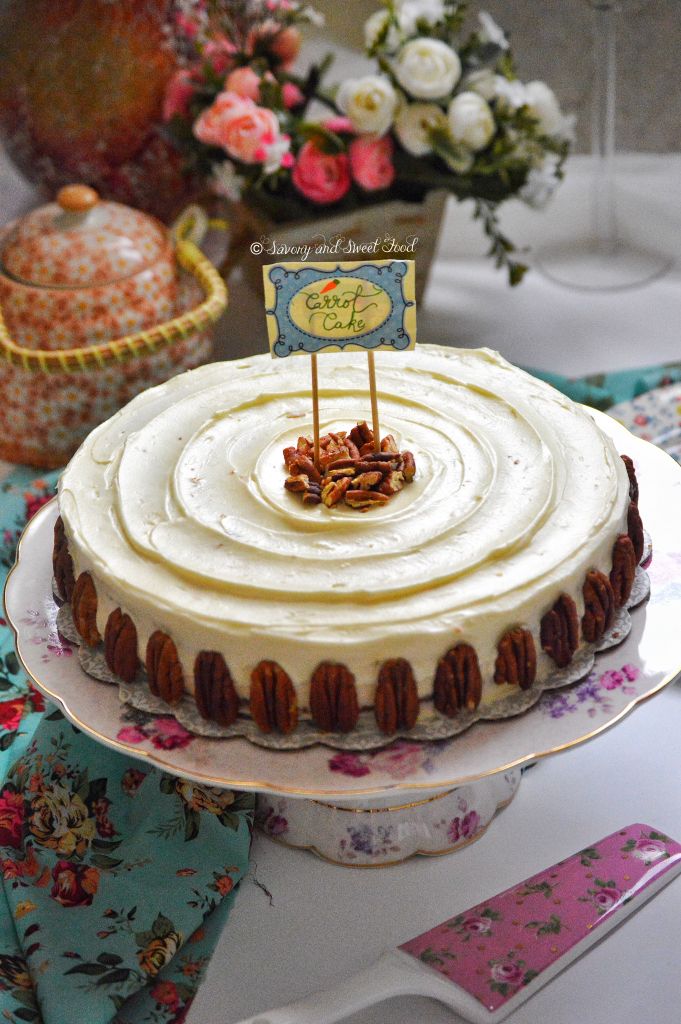 For all those who will be celebrating Easter and are looking for a good Carrot Cake recipe, here it is. Please do try it out and enjoy.
To make three 9" cakes
INGREDIENTS:
For the Carrot Cake:
3 cups finely grated carrots
2 cups cake flour (read notes for substitute)
1 tsp baking powder
2 tsp baking soda
1/2 tsp salt
2 cups granulated sugar
1 tsp ground cinnamon
4 eggs, beaten well
1 3/4 cups vegetable oil
1 tsp vanilla
1/2 cup crushed pineapple, semi-drained
1/2 cup grated coconut
1/2 cup chopped roasted walnut or pecan
For the Frosting:
1 cup (226g) unsalted butter (softened to room temperature)
3 1/2 cups (397g) confectioners sugar/icing sugar
1/4 tsp salt
1 tsp vanilla
2 cups (454g) cold cream cheese cut into 1 inch pieces/ 28 squares of kiri cheese
Roasted pecan nuts
NOTES:
Instead of cake flour you can combine 1 3/4 cups all purpose flour with 1/4 corn starch.
I made the cake and frosting with half the ingredients and I cut the cake into half and frosted as I didn't want a big cake.
For the frosting use cold cream cheese as this will give you firmer, easy to work with, pipe-able frosting.
DIRECTIONS:
To make the Cake:
Preheat oven to 180C. Prepare three 9″ cake pans with butter or non stick cooking spray and coat the pan with flour. Add wax paper to the bottom of these prepared pans.
Grate the carrots(do not use pre-grated carrots as it will be dry and will sink to the bottom of the batter. Grate with fine grater as we will need finely grated carrots here.
Combine the carrots, cake flour, baking powder, soda, salt, cinnamon and sugar in a bowl with your stand mixer. It will be a bit dry and tough at this stage.
Now add in the beaten eggs, oil and vanilla. Mix till combined.
Next add in the coconut, crushed pineapple, and pecan. Mix well to incorporate.
Pour the batter into three prepared 9″ pans.
Bake at 350C for 30 minutes or until a toothpick inserted comes out clean when inserted intothe middle.
Cool the cakes in the pan for 10 mins. Then run a knife all around the edges and invert onto a cooling rack. Allow it to cool completely before you frost them.
Once cooled, frost the cake in between layers and all around the cake. Use pecans for garnish.
To make the Frosting:
Place softened butter in the bowl of a stand mixer fitted with paddle attachment.
Mix the butter until creamy for about 1 minute.
Add in the sugar, salt and vanilla and beat for about 5 minutes until lightened in color and texture.
Add in one piece of cold cream cheese at a time, one after the other till there wont be any lumps.
After you add in all the cheese pieces, beat well for 2 minutes until light and creamy. Ths frosting can be used immediately.
[yumprint-recipe id='235′]Sorry there are no good pictures of frosting steps.