A gooey skillet cookie filled with Nutella or Lotus Biscoff spread, loaded with chocolate bits. It can be served with a scoop or two of your favourite ice cream and then drizzled with chocolate and caramel sauce. It can't get better than this.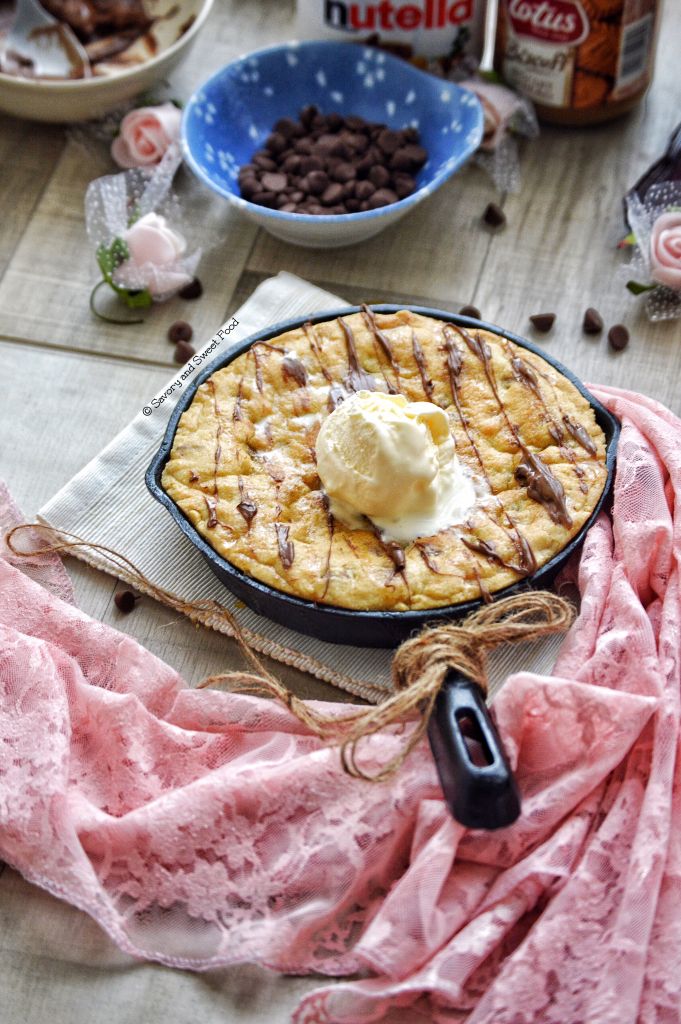 This is one absolute pan of glory! In one bite of this cookie, you will experience a molten, gooey type Nutella/ Cookie butter center, melty chocolate bits/chips, lightly crispy edges which when eaten along with a scoop of ice cream will be a total, complete decadence.
If you have kids who love to cook, then this is a recipe for them. It just involves beating all the ingredients together. Nothing to be careful about. It's that simple. The best part is that it makes one gigantic cookie. Kids love gigantic cookies, actually who doesn't love it?
You can pretty much top the cookies wth whatever you like – sprinkles, caramel, toffee, chocolate, hot fudge, you name it. If you have any of your favourite cookie dough recipe, go ahead and use it for this. Just bake it in a skillet or a round cake pan. Under baking is the secret here. That gives you the gooey, yumminess.
Now who could resist a warm chocolate chip cookie served in these cute skillets? Any cookie which you can eat warm with a spoon right from the skillet is my kind of cookie. But if the cookie has Nutella or Lotus in it, it will sure be a game changer!
INGREDIENTS:
2 cup all purpose flour
1/4 cup of corn flour
200 grams unsalted butter (softened at room temperature)
1/2 cup brown sugar
1/2 cup white sugar
1 tsp vanilla
2 eggs (whisked)
Pinch of salt
1/2 tsp baking soda
1/2 tsp baking powder
1/4 cup chocolate chips (optional)
Nutella or lotus cookie spread for filling (optional)
NOTES:
If you don't want to add the stuffing, just omit it. It tastes amazing without the Nutella or Lotus too. But in that case use a bigger pan or skillet (8-9 inch).
If you want the cookies to be chewy, do not bake for more than 13 minutes. If you want it to be a little on the crunchy side, bake for 15-20 minutes.
Let the cookies cool for sometime. If you break the hot cookie you will see that it is still raw inside. It has to get cooled as it is the residual heat of the baking sheet that gently bakes it through without hardening it.
Cook till the edges turn golden and the center is just set and not overcooked.
I used chopped bits of milk chocolate instead of chocolate chips.
DIRECTIONS:
Beat together the butter, brown sugar, white sugar and vanilla till nicely combined.
Add in the eggs. Beat well till combined.
Sift together plain flour, corn flour, baking soda and powder, and salt.
Add in the sifted flour and mix until incorporated.
Add in chocolate chips at this point. Mix lightly till evenly distributed.
Grease a 6 inch baking tray or a cast iron skillet.
Flatten the half of the dough into disk onto the skillet or tray.
Spread a little Nutella or Lotus.
Flatten the remaining dough into disk on top of the filling.
Keep in preheated oven (180 degree C) and bake for 13-20 minutes. (Read notes). Cook till the edges turn golden and the center is just set and not overcooked.
[yumprint-recipe id='190′]