Chicken Bread Discs are made with a spicy chicken filling placed on bread discs, which is then topped with tomato slice and cheese, this is then dipped in egg and then breadcrumbs and finally shallow fried in butter.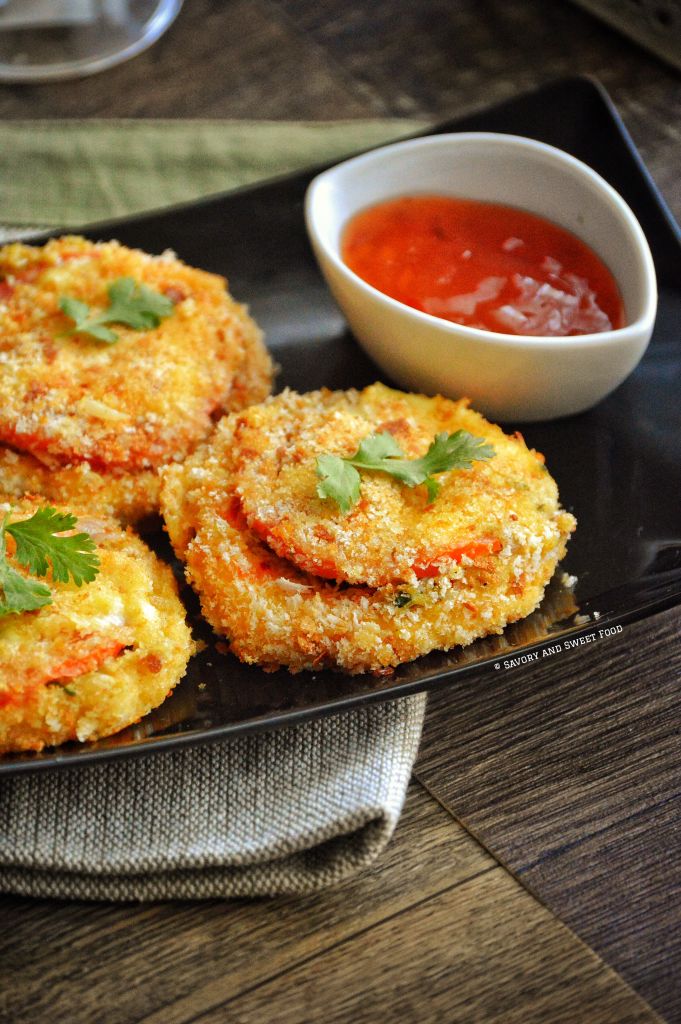 The first 10 days of Ramadan are over and now we are in the 13th day. Seriously days are flying so fast. The first days of Ramadan was beautiful. It went so good Alhamdulillah (All praise to Allah).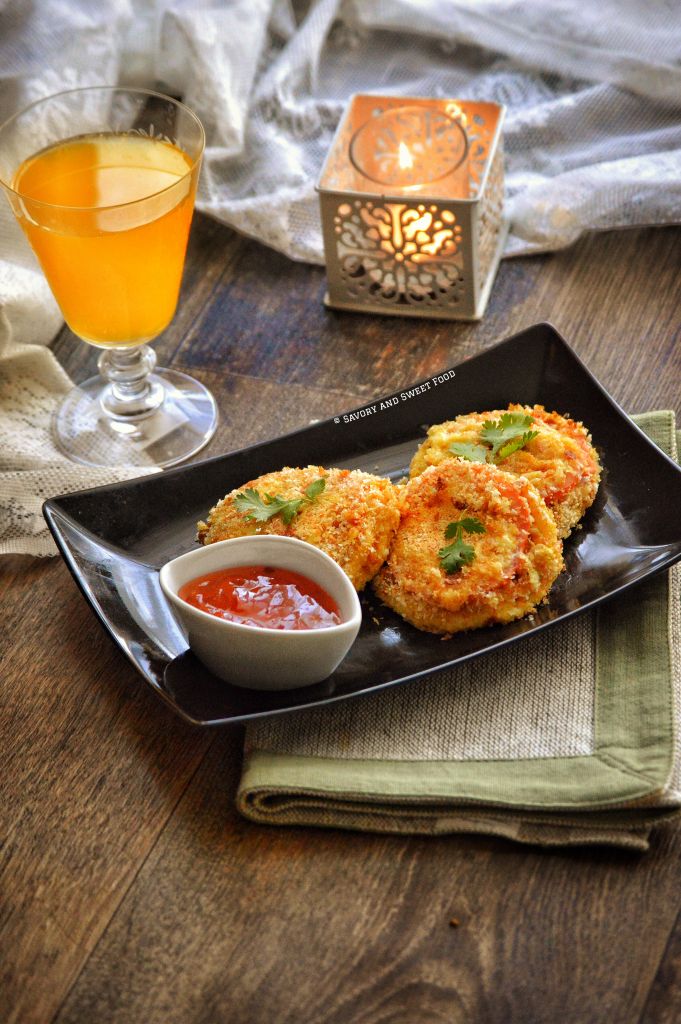 The Prophet (Peace be upon him) said: "Whoever gives food for a fasting person to break his fast, he will have a reward like theirs, without that detracting from their reward in the slightest."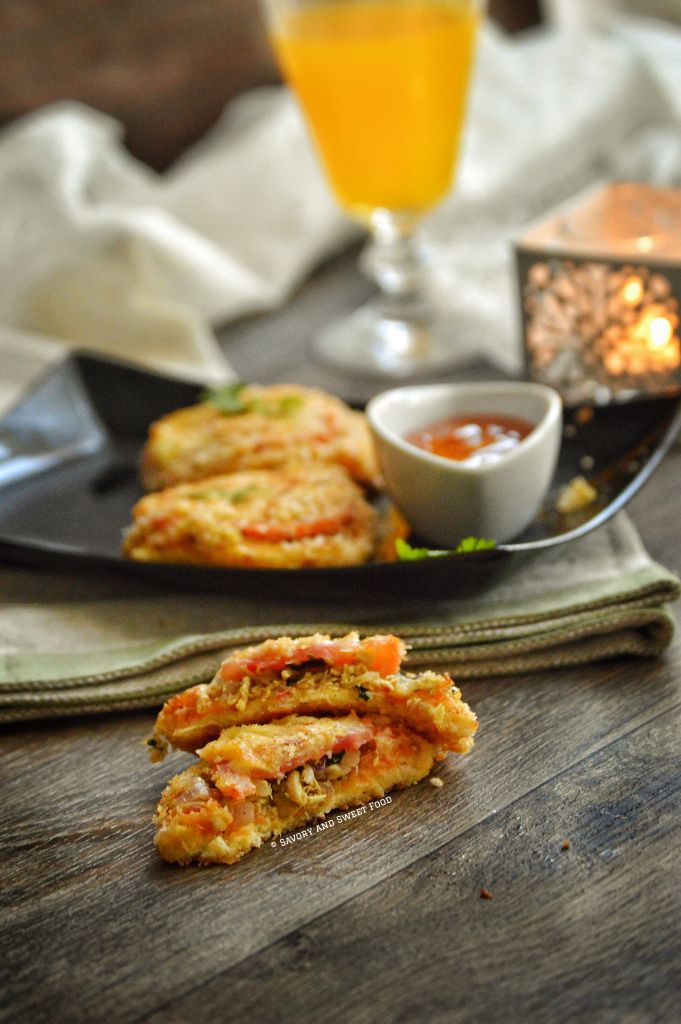 But it is not allowed to make a grand one with lots of food, spending hours and hours in the kitchen preparing them and finally ending up with many left overs. And what you do with it, throw it. Wastage of food is a sin and a violation to the very concept of Ramadan.
Keep iftar parties simple. Make good quality food, forget about the quantity. What say guys?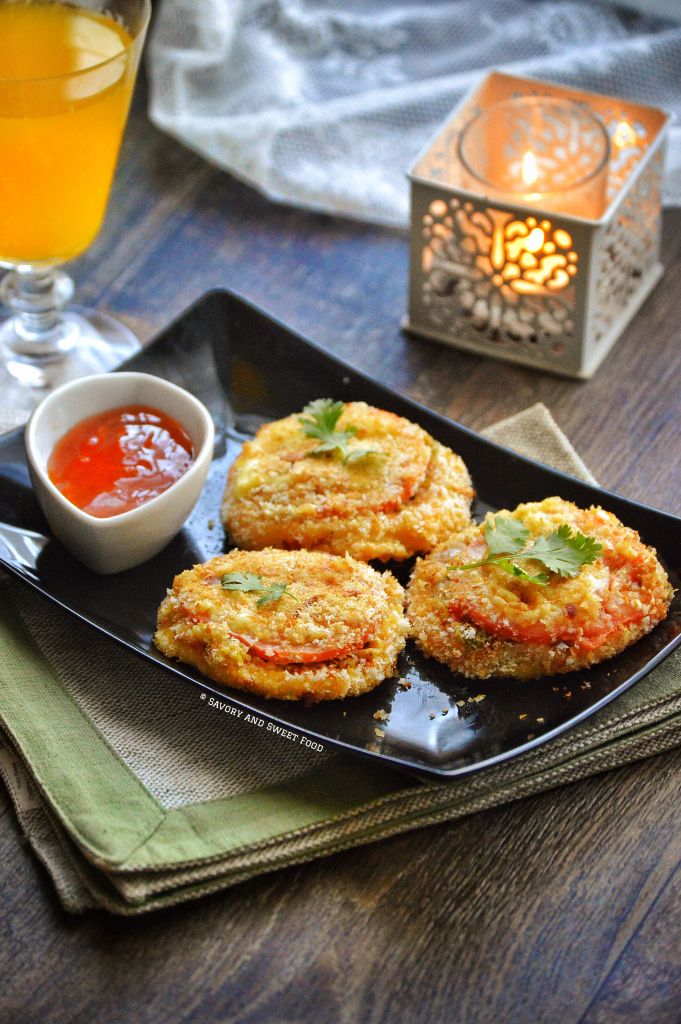 Now lets go to today's recipe. This one is called bread discs. I learned it from my cousins in India. Thank you Satheera and Nazia for introducing this one to me. I love it. It is made with few basic ingredients which will be easily available in our homes most of the time. It has a slight pizza like taste. It is very easy to prepare this but the only tricky part is flipping the discs while cooking it. The first one will be a little messy, but that's ok, you will get the hang of it once you make 2-3 of them.
INGREDIENTS: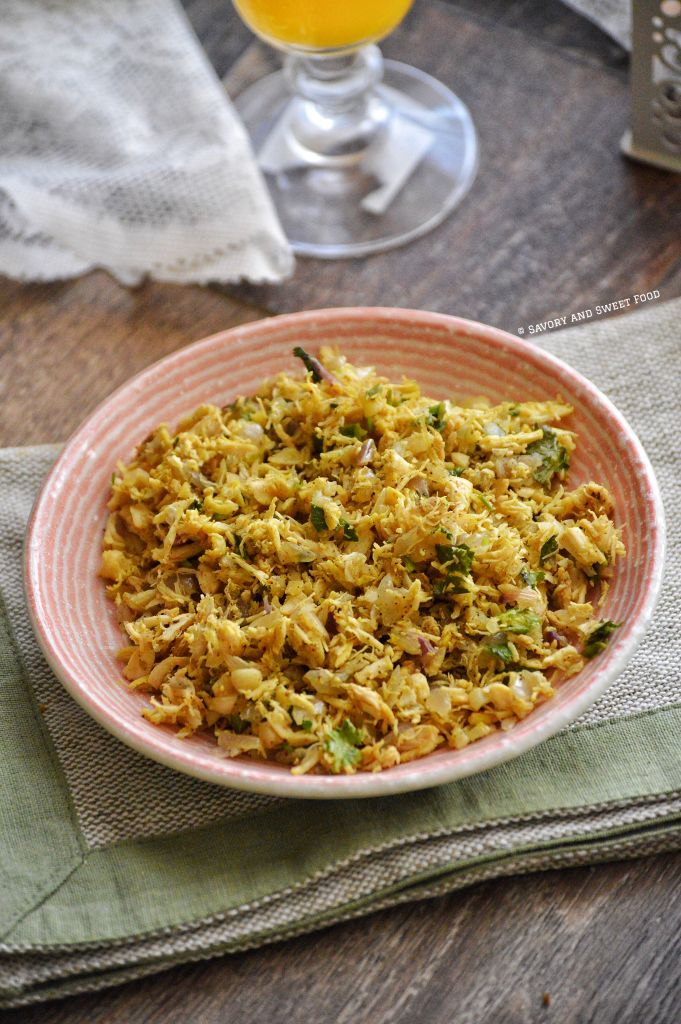 For the Filling:
250g boneless chicken breast cooked with 1/4 tsp turmeric powder, 1/4 tsp black pepper powder and salt and shredded (keep the stock for later use)
1 large onion chopped
4 cloves garlic chopped
1/2 inch ginger chopped
2 green chillies chopped
1 tsp soya sauce
a pinch of oregano
1/2 tsp black pepper
coriander leaves
salt to taste
2-3 tbsp oil
8 slices sliced bread
4 sliced cheese
1 tomato cut into very thin rounds
8 tsp sweet chilli sauce
2 eggs lightly beaten
Butter
NOTES:
Few days old bread would be perfect for this.
Even if you don't like tomatoes don't omit it. I can't stand tomatoes, but in this, it goes well and you won't get the tomato taste at all. Make sure you slice the tomatoes very thin.
Flipping the bread disks in the pan and in the egg would be a little difficult task. But once you get the hang of it, it will be easier. You would find it tough with the first one. Try not to drop the filling out.
You don't have to cover the discs in bread crumbs, it is optional. It was not said in the original recipe but it did it to avoid wastage of the remaining bread pieces and also it was a little easier to flip the discs without letting the chicken fall out while cooking
DIRECTIONS:
To make the filling:
In a pan add in the oil. When it gets hot add the onions, ginger, garlic and green chillies.
Once it gets soft, add the shredded chicken into this. Mix well to combine.
Add in the black pepper, soya sauce, oregano and coriander leaves. Mix well.
Take a slice of bread. Cut out rounds from it. Do the same with all the bread slices. Make breadcrumbs out of the remaining part of the bread pieces and keep aside in a plate.
Cut each cheese slice into four pieces.
To assemble:
To assemble, place the round piece of bread on a plate.
Spread sweet chilli sauce over it. Place the chicken filling.
Keep a thin slice of tomato on top. Then place the cheese.
Carefully dip both the sides of the assembled bread disk into beaten egg. (This can be a little tricky, be careful not to drop the chicken filling into the egg)
Cover the disks in prepared bread crumbs. (this is optional)
Heat a few tablespoons of butter in a frying pan. Cook both sides of the bread till slightly golden in color. (Again flipping this would be a little difficult, but try doing it very carefully)
[yumprint-recipe id='179′]