A sandwich made with a mixture of caramelised bananas, sweet coconut mix and cashew nuts placed inside white bread which is then toasted in butter till crisp.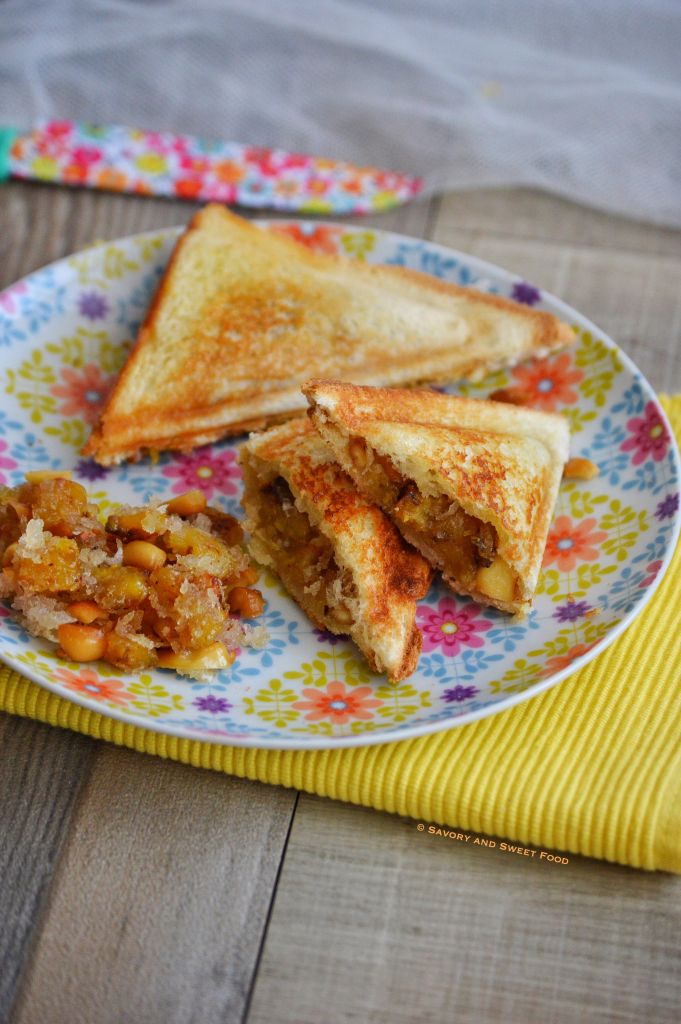 This recipe is my moms simple discovery. She started making this recently, and I had it when I visited mom few months back. I really really loved this humble, simple recipe of hers. And I immediately told her that I will post this in the blog. She started laughing because according to her this is a very usual, "nothing great for it to be blogged about" type of recipe. She was like 'your viewers will think you have completely gone out of ideas and that's why you are posting this'. But I told her, Naaa..they will love this. Well, you all love simple, easy peasy recipes right?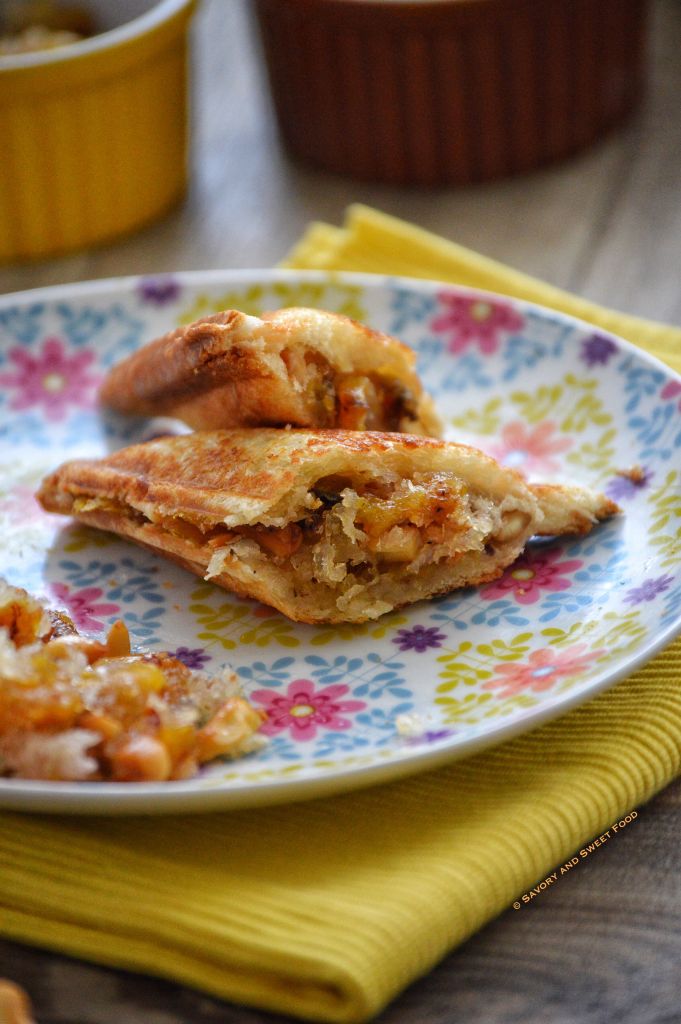 The filling used in this sandwich is a very common mixture which we use in most of our traditional malabar snacks. We make something called kaayi ada, in which we add the coconut filling inside mashed bananas and we shape it into oval shaped patties and then deep fry it. Its really yummy.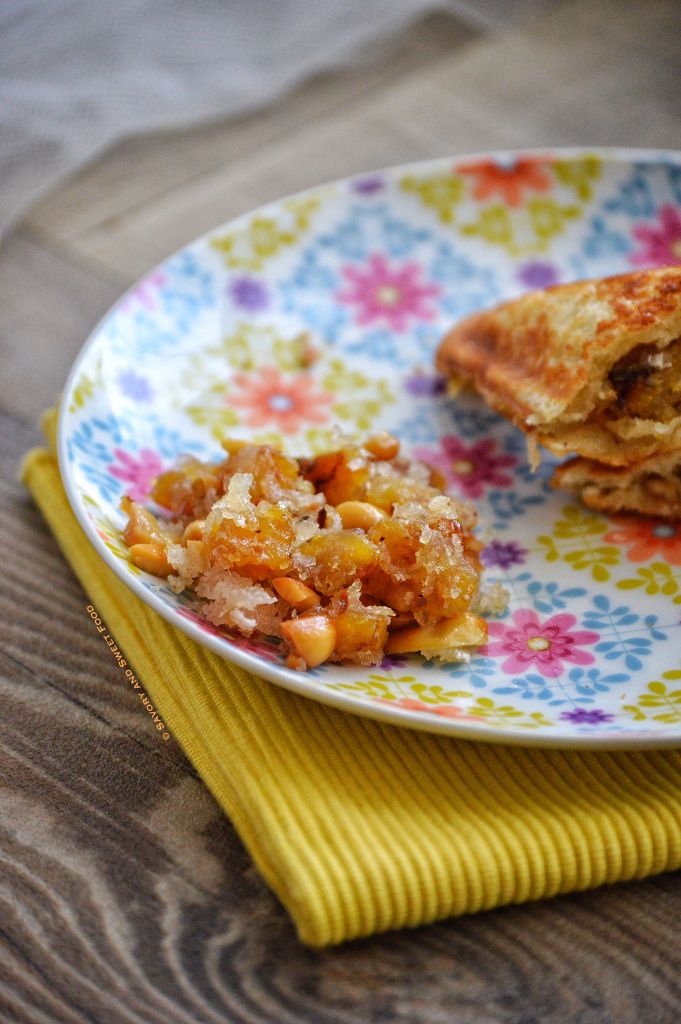 Then there is another dish called thera ada, where you make very thin crepes and add this filling into it and roll it. Then pour sugar syrup over it and dig in. There are many more such malabar snacks involving this coconut mixture, or coconut banana mix or even banana and egg mixture. Its all very tasty.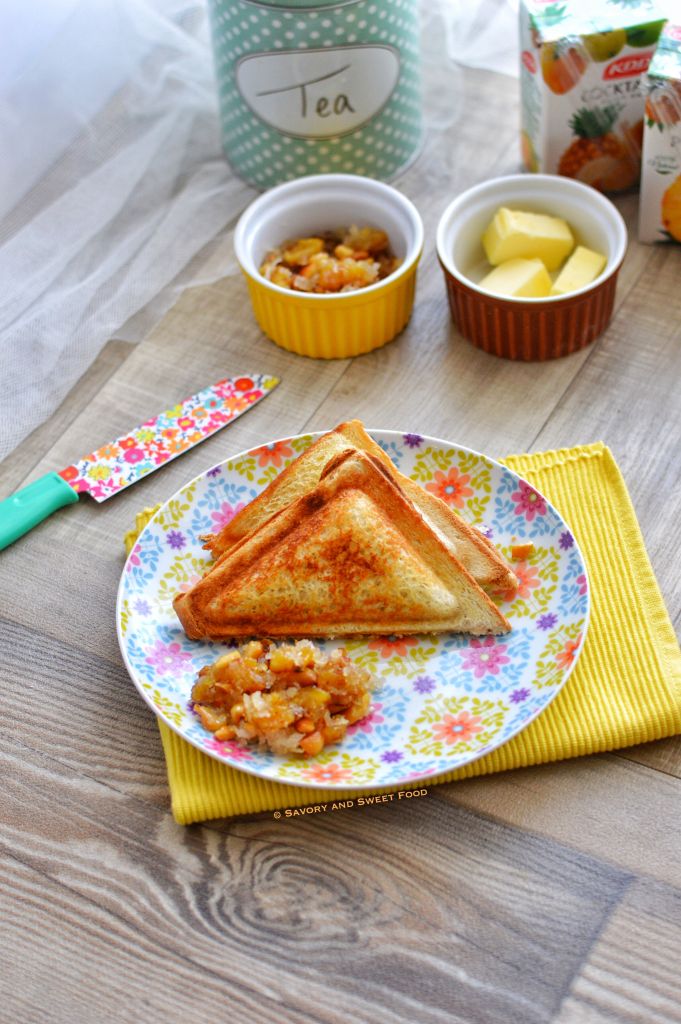 I had never thought that this banana coconut yumminess will go perfectly well in a usual sandwich. It really does! But make sure that you toast the bread with a generous amount of butter for it to get that crisp buttery exterior. I am having this for my iftar today. 🙂 Please do try making this guys, I am pretty sure that you all will love it.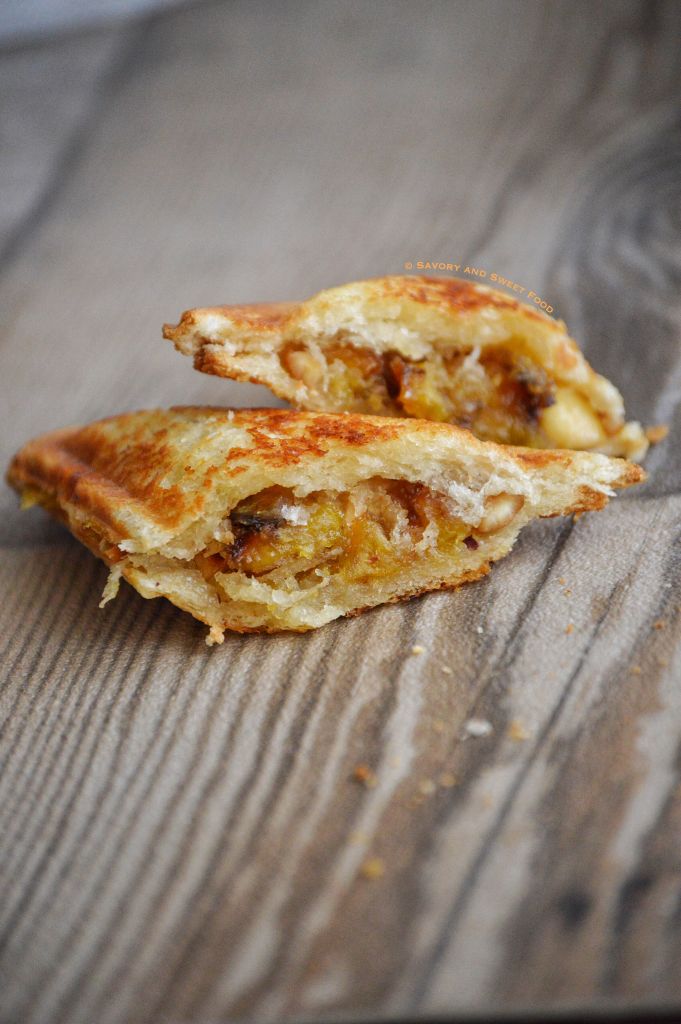 INGREDIENTS:
3 ripe Indian Bananas (Plantains)
1 cup grated fresh coconut
1/2 cup sugar plus 2 tbsp sugar
1/4 cup water
1/4 tsp cardamom powder
8 slices bread
Butter
Cashew nuts
2-3 tbsp Ghee/ butter
NOTES:
You can use the usual robusta bananas for this too. But in that case, you wouldn't need to cook it for long. If you do, the bananas will get too mushy.
DIRECTIONS:
(I somehow lost the step by step pictures for this. But you wouldn't need it anyway. Its that easy ;))
To make the sweet coconut mixture:
In a saucepan combine sugar and water. On high heat, stir until the sugar dissolves.
Once the sugar dissolves, turn the heat to low and add in coconut. Cook for 15 minutes or more till the syrup reduces.
Add in the cardamom powder.
To cook the bananas:
Cut the bananas in small cubes.
In a frying pan, add ghee. Once the ghee melts, add in the cashew nuts. Fry till it turns slightly golden. Keep aside.
Add a tsp more of ghee and place the bananas in a single layer. When one side gets brown in color, flip it and cook the other side too.
Sprinkle 2 tbsp of sugar on top, and cook on medium high heat till the sugar gets stuck onto the bananas with a slight caramelised effect. Turn off the heat.
Now combine the bananas, coconut, and cashew nuts.
To make the sandwich:
In a sandwich maker, place sliced butter on the plates. Keep the bread (you can trim the sides off if you want).
Add in the filling. Pace the other bread on top. Again add sliced butter on top of the bread.
Close and let the bread get nicely toasted. Serve warm.
If you do not have a sandwich maker, just toast the sandwich in lots of butter on a frying pan.
[yumprint-recipe id='178′]