Soft and fluffy leavened Indian bread, KULCHA made with all purpose flour and yoghurt and cooked with a sprinkle of black sesame seeds and coriander leaves on top.
I love homemade Indian breads as much as I dread making those at home. Seriously, I feel so lazy to make chapathis, naans, parathas or any type of bread. Maybe its the thought of kneading and then rolling and rolling and rolling. 😉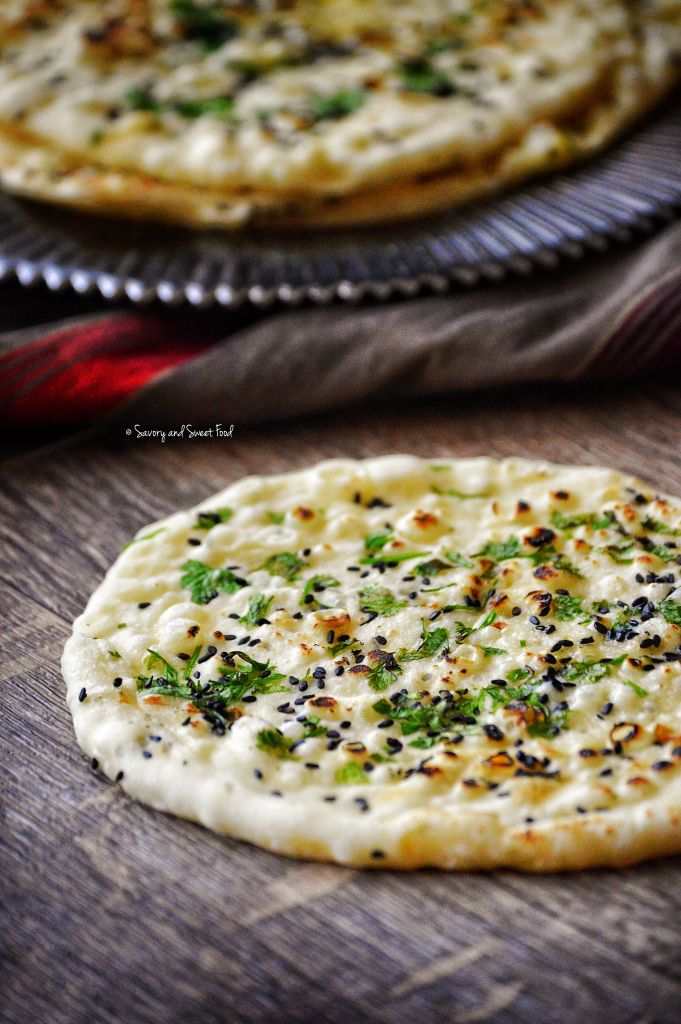 But I do make them often at home as Fadal likes it a lot. Otherwise thank God for the readymade chapathis and parathas we get in the market.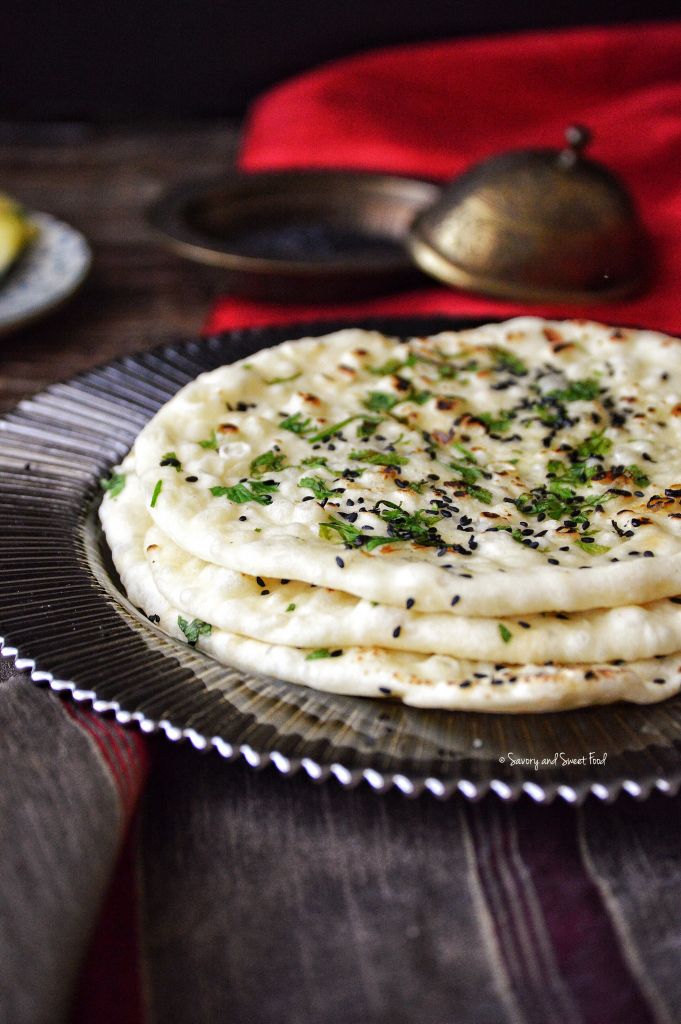 Kulcha are both of our favourite. A 'must order' when we go to Indian restaurants. I have been thinking of making it at home for quite sometime now. And I had bookmarked, this amazing looking kulcha recipe from this amazing blog Rak's Kitchen.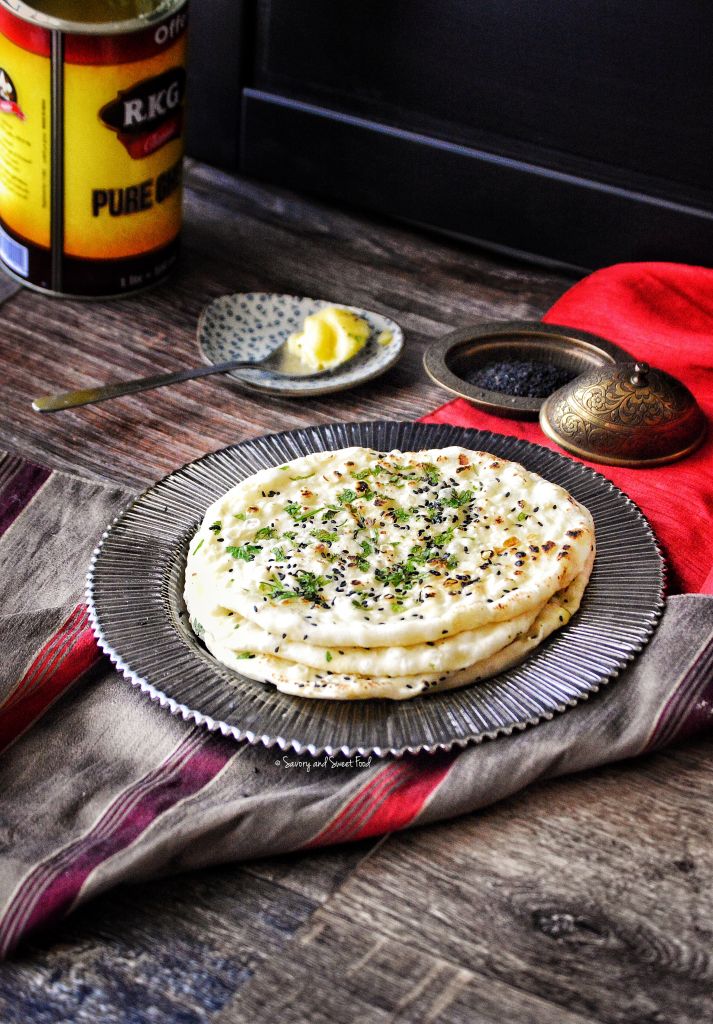 It looked pretty easy and sure it was. It came together with very little prep time, and it was SUPER good. Like, the as-good-as-the-restaurant (or dare I say better?) kind of good. So obviously, I had to share it with you.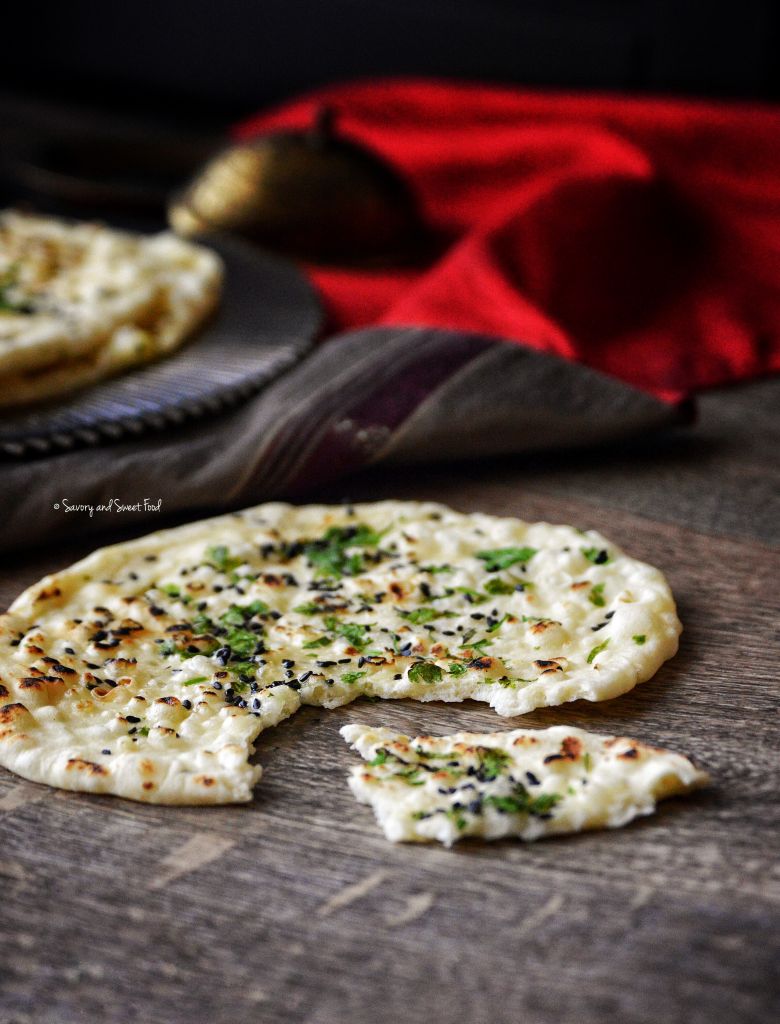 I tweaked the recipe a teeny bit with the quantity of milk added. I added a little more milk because I feel its always easy to add flour to a sticky dough than adding water to a stiff dough. Got what I am trying to say? 😀 And like that, I always get a soft dough and so finally a nice and soft bread.
So try it you guys, you will love it for sure.
INGREDIENTS:
2 cups maida/ all purpose flour plus more (notes)
1/2 tsp baking soda
1 tsp baking powder
2 tsp sugar
salt
1 cup milk
2 tbsp yoghurt
black sesame seeds
chopped coriander leaves
oil as needed
ghee or butter as needed
NOTES:
The dough might seem to be sticky after adding the milk. But thats okay. Just keep on adding tablespoons of maida till the dough gets smooth and not sticky. I added 5 more tablespoons of flour. The dough should be soft.
Adding oil while rolling the kulcha keeps it from shrinking. It makes rolling easier.
Roll it thin, otherwise it will look like naan. But I rolled mine medium thin as thats how I prefer.
METHOD:
Sift together flour, baking soda and powder.
Add in the sugar and salt and mix well.
Next pour in the milk and add the yoghurt. Mix in with a spoon to gather the dough. The dough will be very sticky at this point. Add in more flour till it is less sticky and smooth. I had to add 5 more tablespoons of flour. Knead for a minute or two.
Rub the dough with oil all over and rest it covered for an hour.
Knead well again for 2 minutes to make a smooth dough.
Divide the dough into 8 or 10 equal sized balls. Roll with dusting of maida on the counter top.
When it is half rolled, add few drops of oil on counter and roll the kulcha into thin rounds. Adding oil while rolling helps to spread the dough easily without shrinking.
Remove the rolled kulcha and sprinkle some sesame seeds and coriander leaves on the counter top.
Again place the rolled kulcha over this and roll gently so that the coriander and sesame seeds stick to it well.
Heat a tawa and before placing the kulcha on tawa spread little water on top of rolled kulcha (on the side without sesame and coriander)
Take the kulcha carefully and place it over the hot tawa such that the water brushed side is down and sesame side up.
Cook on medium flame. Once you see bubbles on top of the kulcha, flip and put it over direct heat (now the sesame and coriander side placed down). Wait till brown spots appear on the kulcha.
Remove and brush with butter or ghee.
[yumprint-recipe id='160′]