BISCUIT CRUNCH PUDDING, a simple and delicious pudding made with layers of sweetened cream, lotus biscuits, bread and nuts.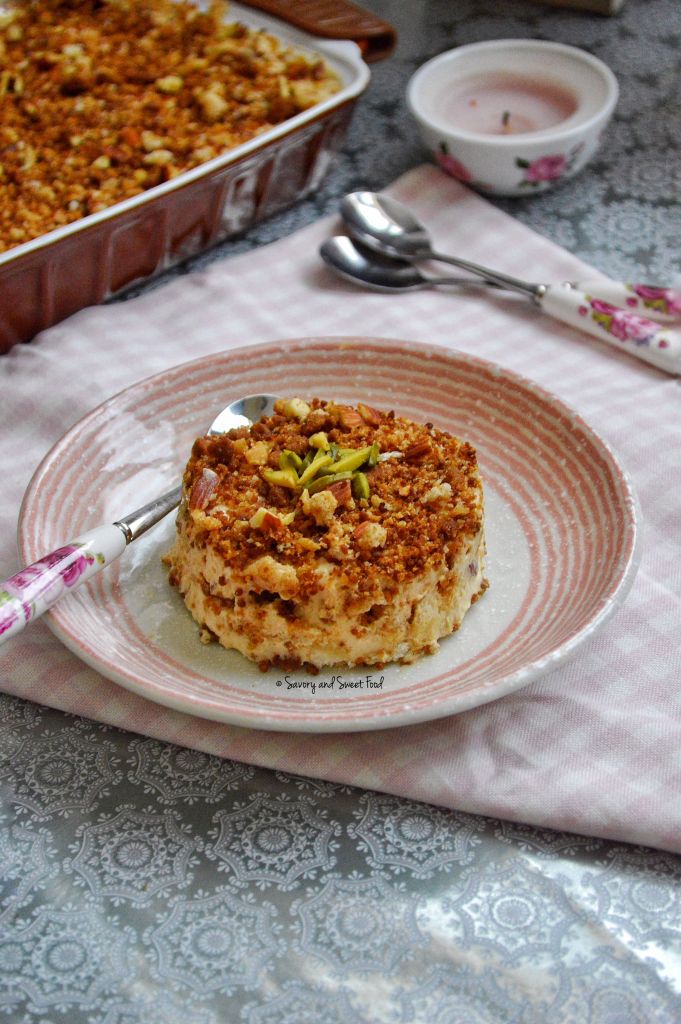 You all, how can I emphasize to you that this BISCUIT CRUNCH PUDDING is one dessert that you have to…HAVE TO make immediately. Don't have any sort of doubt in your mind if you will like this or no. I get the feeling that this is soon going to be each of your faav pudding.
This is my top favourite at the moment. Like, I wish I had made more of this because it ended up being such a hit and I literally couldn't stop eating it. The people I made this for couldn't stop eating too. It was all gone in a jiffy. 😀 And that made me very happy.
I have used my favourite lotus biscoff cookies in this. Its getting viral all over the middle east now. So it is easily available here. But if you don't get it in your place you can use any other sweet cookie. You can use chocolate cookies too. If you really love chocolate flavour, you can mix in Nutella in one of the layers of cream.
So here is the recipe for you. Enjoy! 🙂
INGREDIENTS:
For the crunch part:
1 handful of almonds crushed (not powdered)
15 lotus/ Hide and seek biscuits
4 slices bread (sides removed and tear into small pieces with hand)
25g butter
For the Cream:
2 sachet dream whip powder
1 1/2 tin nestle cream
2 tbsp sweetened condensed milk
1/4 cup milk
NOTES:
Lotus biscuits tastes best in this. But you can substitute it with hide and seek biscuits or good day biscuits if lotus biscuits are not available in your place.
Instead of the dream whip powder, you can use whipping cream. In that case don't use the milk and increase the amount of sweetened condensed milk.
DIRECTIONS:
To make the crunch part:
In a pan, melt the butter and add in the almonds. Stir it for a minute.
Then add in the bread and crushed biscuits.
Roast it for about 15 minutes till everything gets crispy.
To make the cream layer:
Beat the dream whip powder in milk.
Add in the condensed milk and cream and beat again till creamy.
Divide the whipped cream into two parts.
In one half add in half of the crushed biscuits.
Leave the other half plain.
Layering:
In a tray spread a little roasted nut, bread, biscuit mixture as base.
Then add in the plain dream whip mix.
Again a layer of roasted mix.
Then spread a layer of the biscuit and dream whip mixture.
Finally again a layer of the roasted mix.
Refrigerate for 3-4 hours. Serve cold.
[yumprint-recipe id='158′]