Mini bite sized samosas with cream cheese filling, sweetened with thick rose flavored sugar syrup.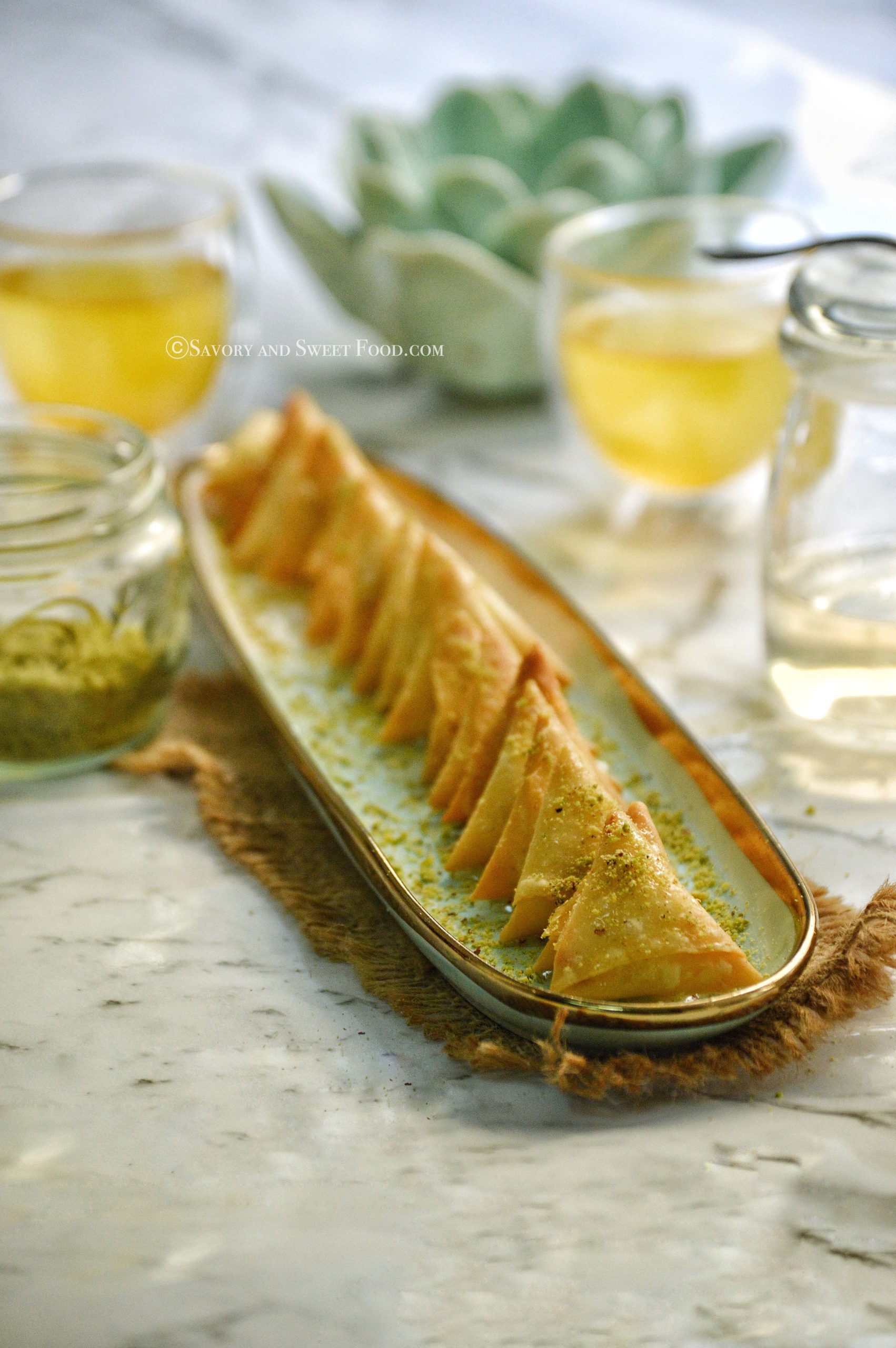 A sweet dish is always a lovely addition to any meal. Even though they're served and enjoyed all year round, sweet treats have been one of the major highlights of Ramadan. Be it suhur, iftar or after dinner, we will always have a small plate of sweet dish on our table.
This sweet cheese samosa has been our favorite dessert for the past four years ever since my most favorite food blogger Cleobuttera posted this recipe in her blog. I make dozens of this and it disappears from our table in no time.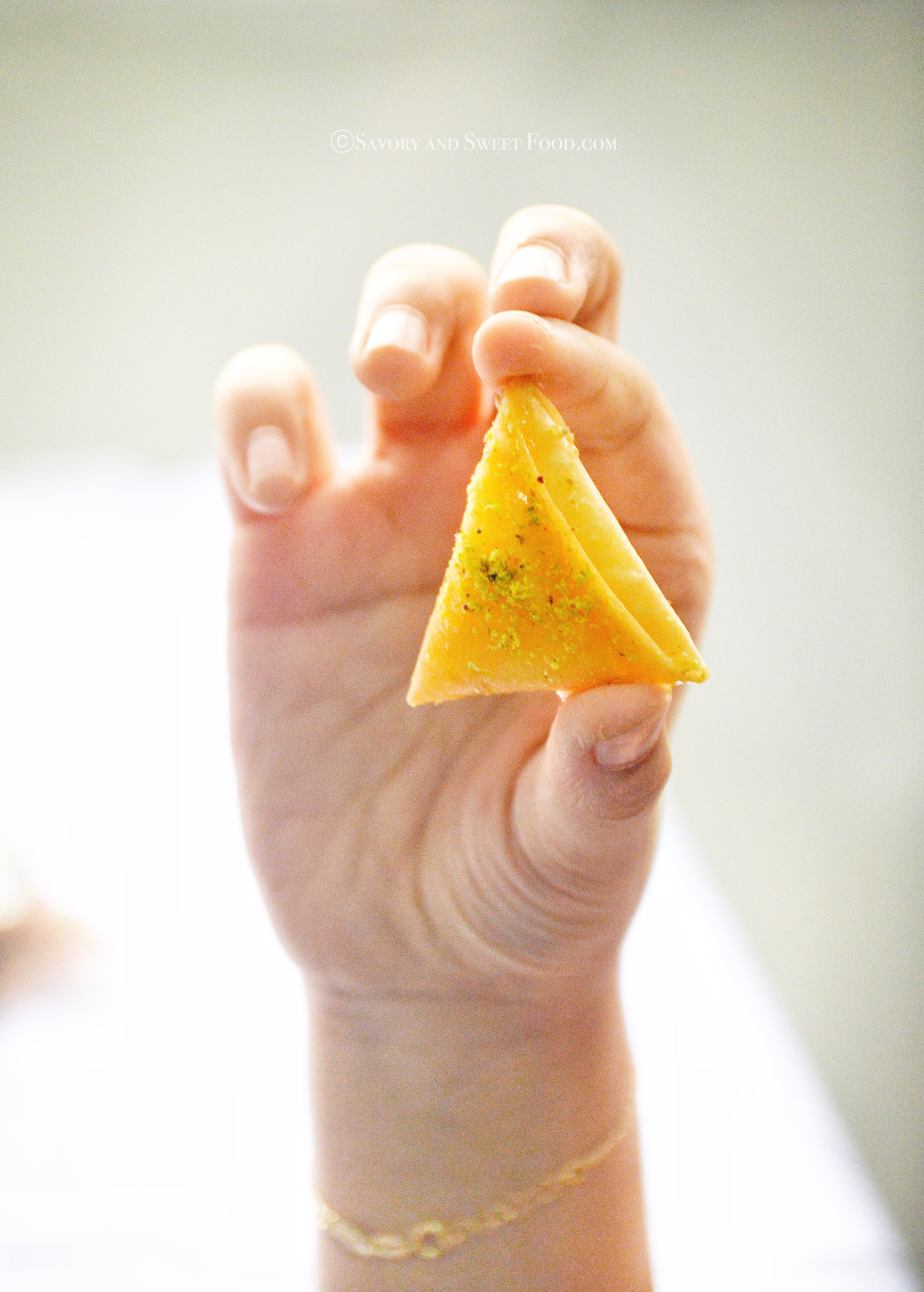 The recipe is extremely easy but I may have to warn you that these mini treats are super addictive. It is very difficult to stop with one. So be prepared to make a whole bunch of it. 😀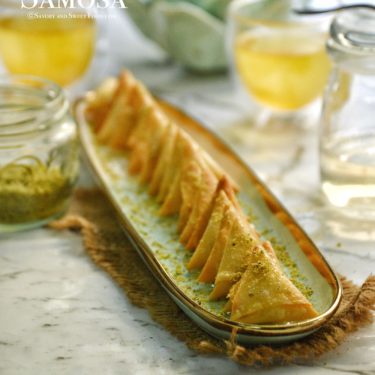 Mini Sweet Samosas/ Samboosak
Mini bite sized samosas with cream cheese filling, sweetened with thick rose flavored sugar syrup.
Ingredients
Frozen samosa sheet

Kiri cheese cubes/ cream cheese cubes or tub cream cheese

Flour paste (mix 1 tbsp all purpose flour in a little bit of water)

Sugar syrup

Pistachio powdered or chopped

Oil for deep frying
For sugar syrup:
½

cup

Sugar

¼

cup

Water

1

tbsp

Rose Water
Instructions
To prepare the simple syrup:
 In a pan, add sugar, water and lemon juice and bring it to a boil. If the sugar isn't dissolving, give it a stir.

Once it comes to a boil, put it on simmer for 5-6 minutes.

Turn off flame. Pour rose water.
To assemble the samosas:
If you are using cream cheese cubes, cut each cube into 6 small squares. If you are using the tub style cheese then use 1/4 tsp for each samosa.

Take out the samosa sheet depending on how many samosas you want and keep them in a stack on the cutting board. Each sheet will give you 4 mini samosas.

With a sharp knife cut the sheet from the middle vertically into two parts. Then cut from the middle horizontally. So totally you should have four stacks. Cover with a damp tea towel so that it doesn't dry out.

Peel one sheet from it and keep remaining covered.

Make an inverted cone and place the small piece of cheese inside. Press it lightly and cover it further by folding the dangling long side of the sheet over the cone. Seal the open sides with flour paste.

Do the same with remaining sheets.

Freeze for half an hour or more so that the cream sets and it doesn't leak out when frying.

Deep fry or shallow fry the samosas.

When ready to serve pour a little sugar syrup at the bottom of the serving dish and place the samosas over it. Pour a little syrup all over the samosas. Sprinkle pistachios.