A crisp and delicious paratha box with a creamy and rich malai chicken filling.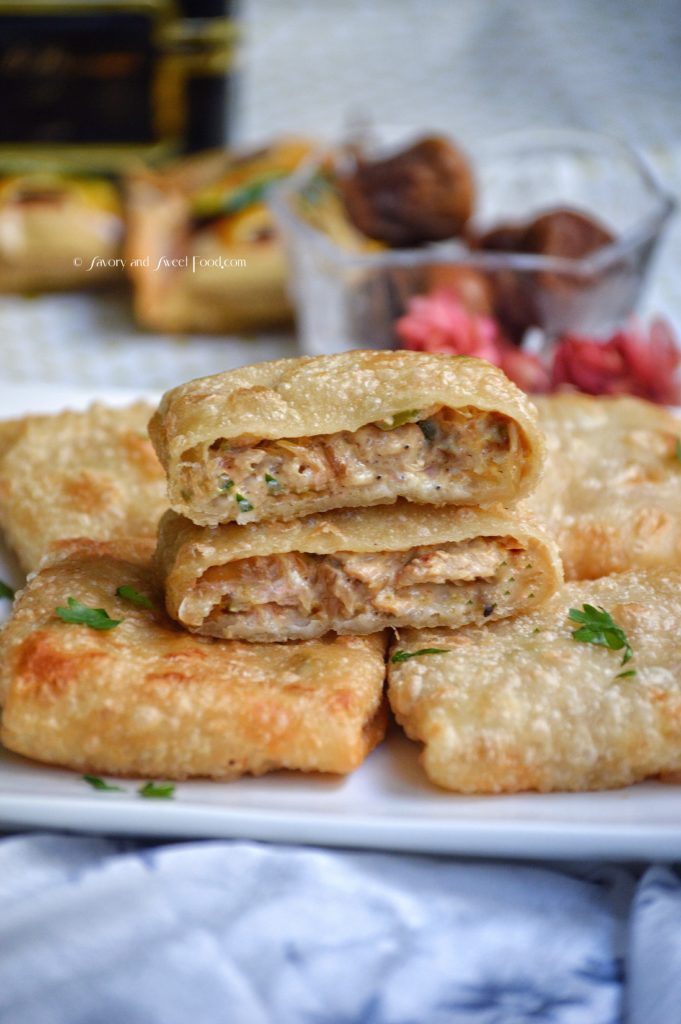 If you love paratha and also creamy malai chicken curry or malai kebab, this one is definitely for you. I actually combined three recipes for this: Malai Chicken, Malai Chicken Kebab and Paratha. I was too happy with the outcome. Crisp exterior with creamy flavor packed filling.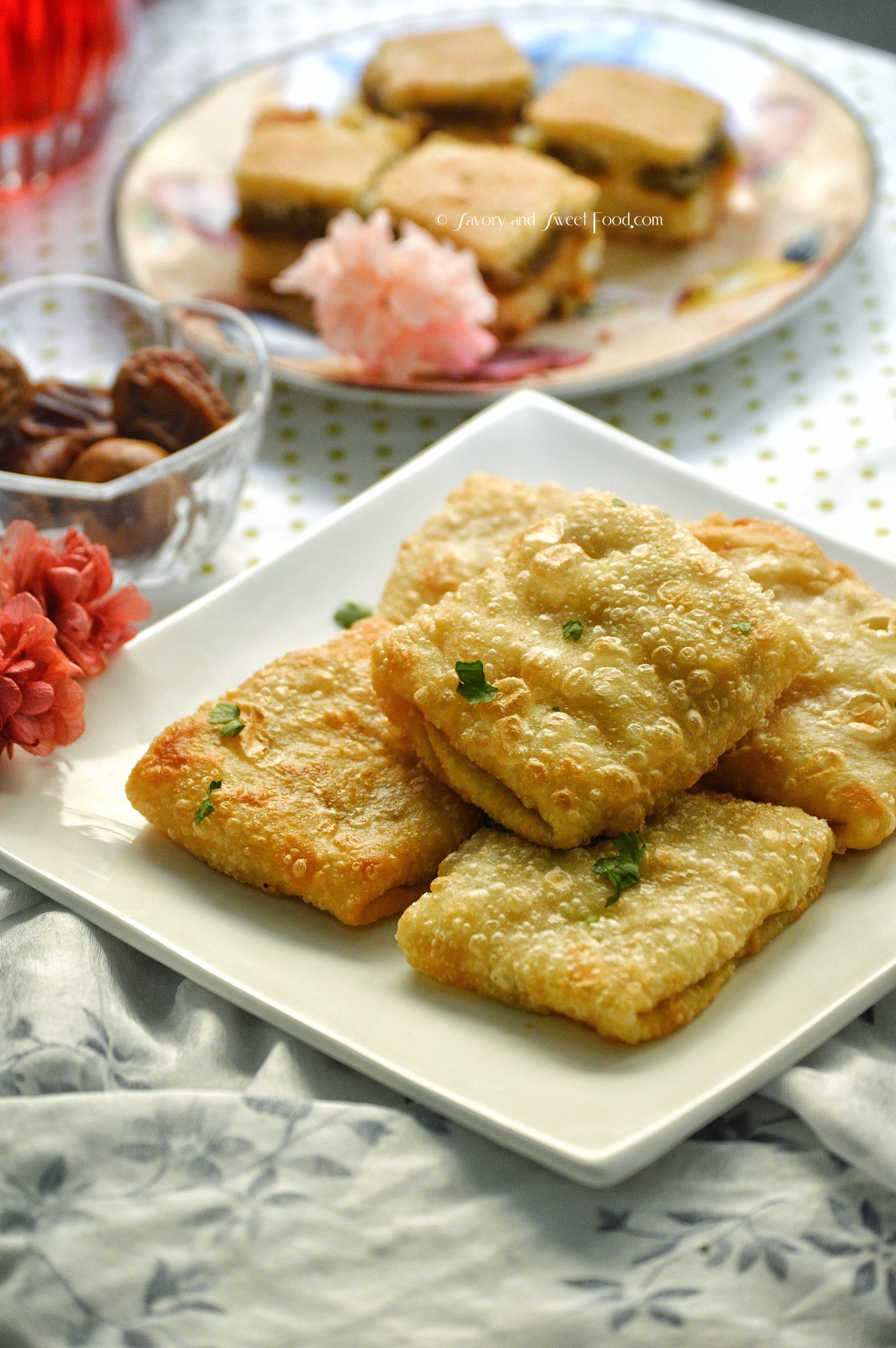 This recipe can be modified as per your liking. Make any sort of filling, Chinese style noodle filling, or your basic chicken or meat filling. You can even make an egg omelette like mixture pour inside the paratha, add chicken filling on top, close it and fry and you will have Mughlai Paratha.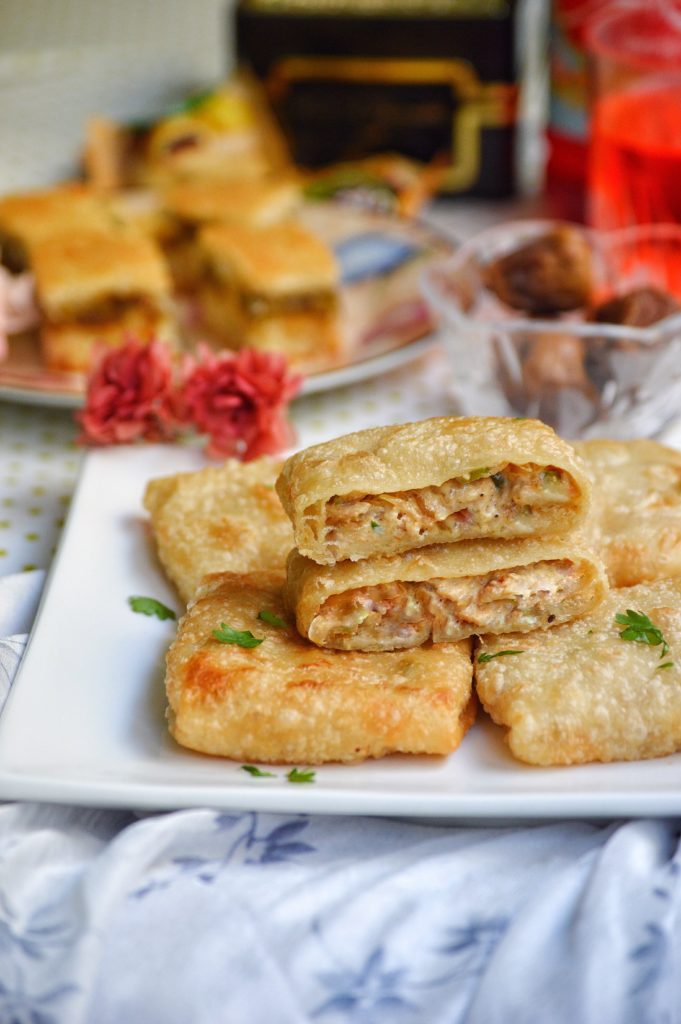 Hope this recipe will be a hit this Ramadan for you all. Please do give me the feedback if you try it. 🙂
INGREDIENTS:
For the malai chicken kebab:
• 200 gms chicken breast
• 1 1/2 tbsp yoghurt
• 2 tbsp cream
• 1/4 tsp cardamom powder
• 1/2 tsp lemon juice
• 1 tsp pepper powder
• 2 chopped green chillies
• 1 tbsp ginger garlic paste
• 3 tbsp chopped coriander leaves
• Salt to taste
For the filling:
1 large onion chopped
2-3 green chillies chopped
1 tbsp ginger garlic paste
1 tbsp cream cheese/ 1 kiri cheese cube
1/4 cup cooking cream
1/2 tsp cumin powder
1/2 tsp pepper powder
Coriander leaves
Salt to taste
Oil
For the paratha:
1 cup all purpose flour
2 tbsp oil
1/2 tsp salt
1/2 cup water
NOTES:
You can add mozzarella cheese with the filling.
If you don't want to deep fry, shallow fry in a pan with ghee on all sides until it turns crisp.
DIRECTIONS:
To grill or fry kebabs:
1. Soak the chicken pieces in all the above ingredients for 3-4 hours.
2. Grill or shallow fry in ghee or oil until cooked. Remember to baste the chicken with a little ghee twice while grilling.
3. Chop the chicken into smaller pieces. Keep aside.
To make the filling:
1. In a pan, pour 2-3 tbsp oil. Add onion and green chillies. Sauté till it turns soft.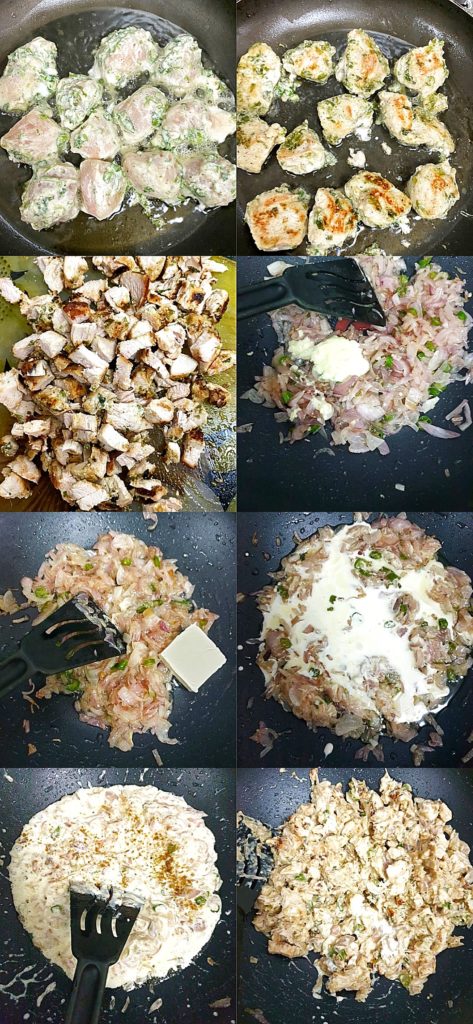 2. Add ginger garlic paste. Cook till raw smell goes.
3. Add kiri cheese. Let it melt. Mix well.
4. Pour the cream.
5. Add cumin and pepper powder. Mix.
6. Drop in the chicken and mix. Cover and cook for 5 minutes on low flame.
7. Add chopped coriander leaves. Filling os ready.
To make paratha:
1. In a bowl, add flour, oil, and salt. Mix.
2. Pour water little by little and start forming a dough. I had about 2-3 tbsp water left from 1/2 cup water. Knead the dough well for about 2-3 minutes. The dough shouldn't be very hard or very soft. It should be somewhere in the middle.
To assemble:
1. Make small 8-10 small balls out of the dough.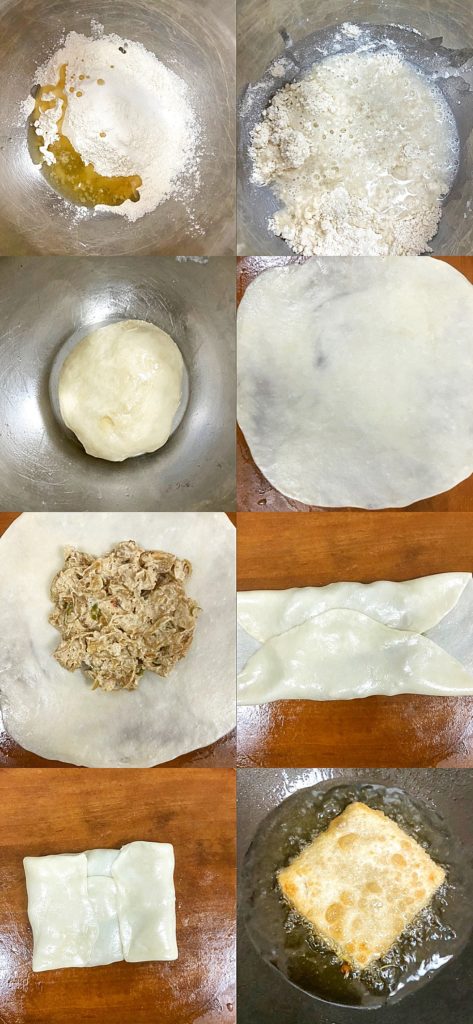 2. Using little oil, roll out the dough very very thin. Like a paper. Don't use flour for rolling. Oil will help you roll it very thin.
3. Place the filling in the center. Close the filling by folding all four sides of the paratha dough.
4. Do the same with all the other balls.
5. Heat oil in a pan.
6. Deep fry on medium low heat until cooked and crisp.
7. Don't fry on high heat or else the inside of the dough will remain uncooked.