Super soft, pillowy steamed buns with a spicy Korean chicken filling.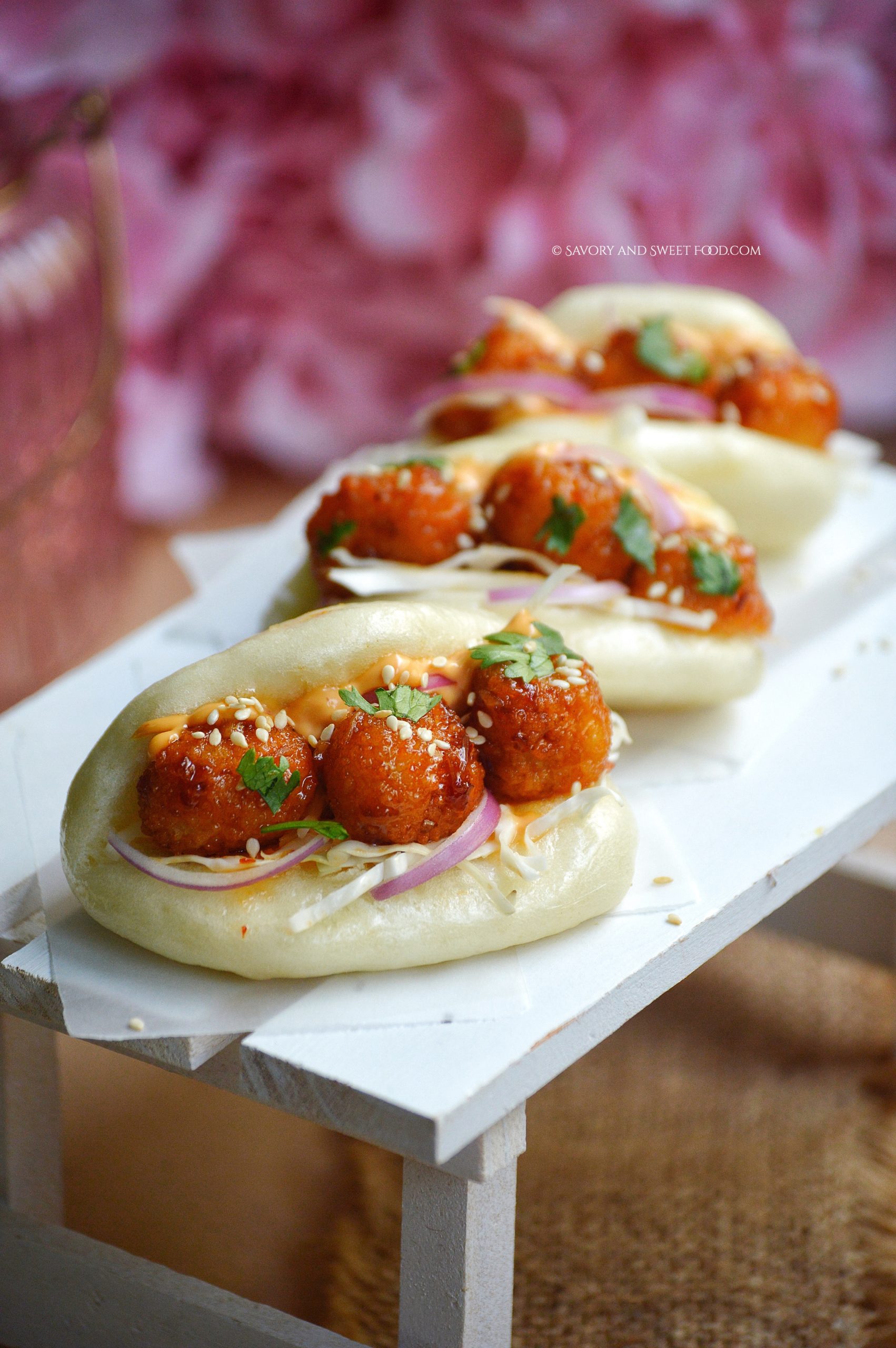 Have you ever tried bao buns? These pillowy soft buns are simply A-M-A-Z-I-N-G. These are fluffy buns with succulent pieces of chicken popcorn coated with sweet and spicy sauce, adorned with crisp veggies like cabbage and onions and garnished with sesame seeds and fresh herbs.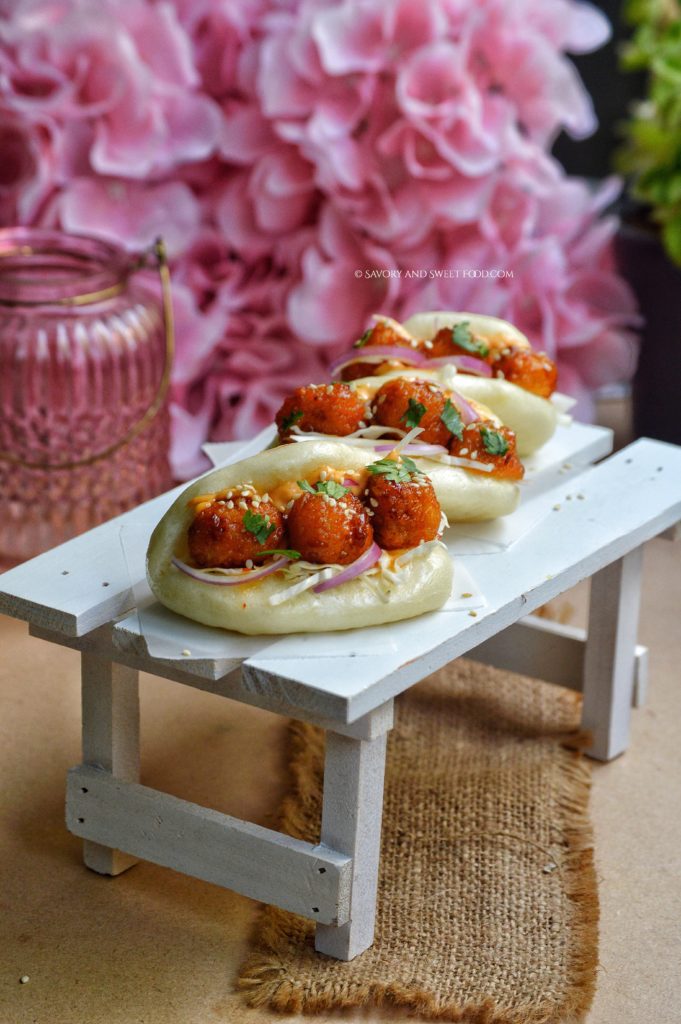 I fell in love with these buns when I tried it from a restaurant named BAO in Kuwait. They serve heavenly buns with delicious fillings. Their fried bao buns served with ice cream is to die for.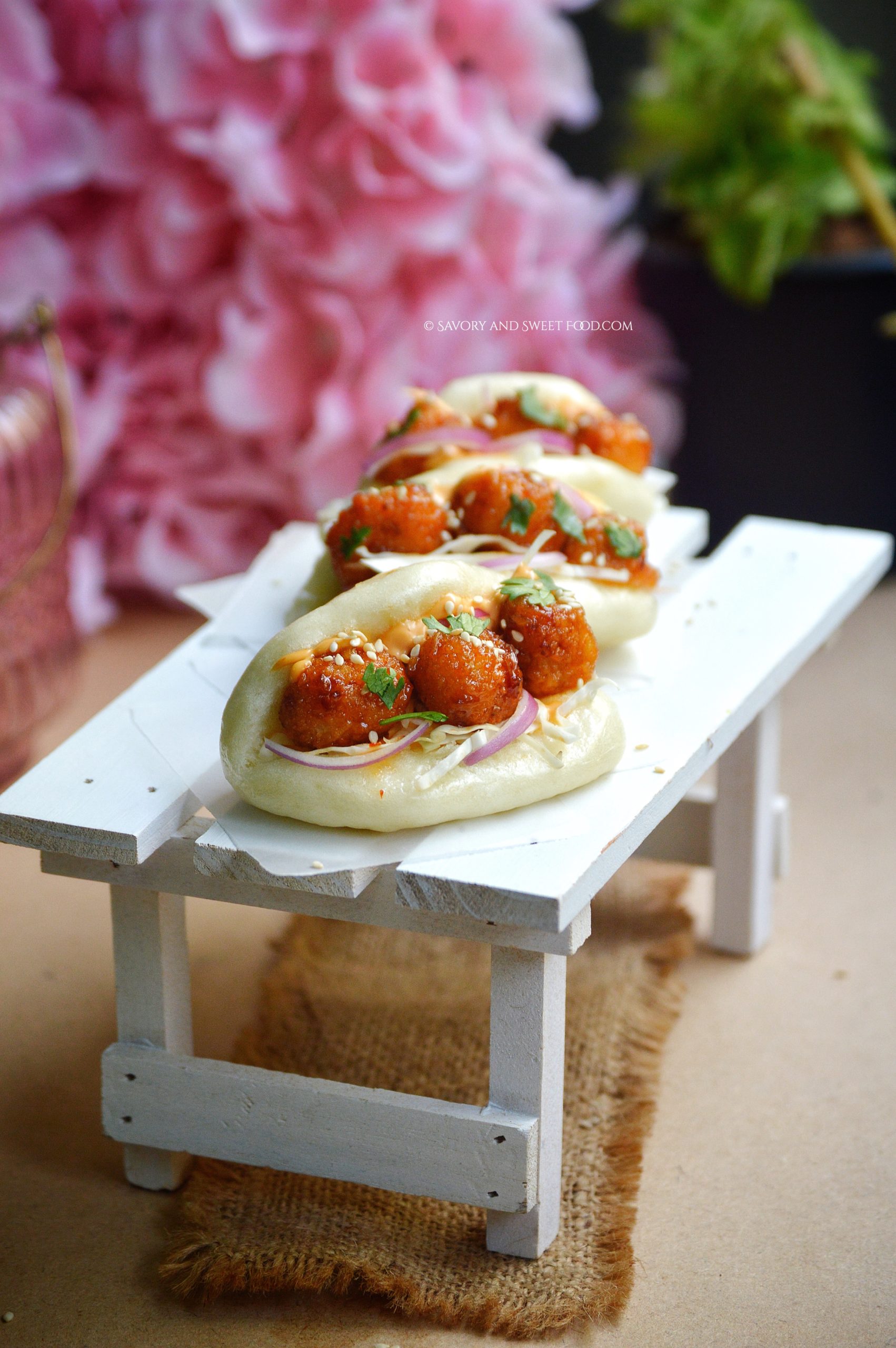 Since then I have been thinking of recreating it in my kitchen. My Pinterest has a lot of bao bun recipe pins with such appealing filling ideas. I followed the bao recipe from Eat, Little Bird and it came out superb. Such a perfect recipe, I must say. The filling recipe is slightly inspired from Kitchen Sanctuary. I was craving bao buns so bad, and I thought now is the best time to try it out as it will be a non-deep fried item for iftar. I am so glad that I did, as it was love at first bite and sight.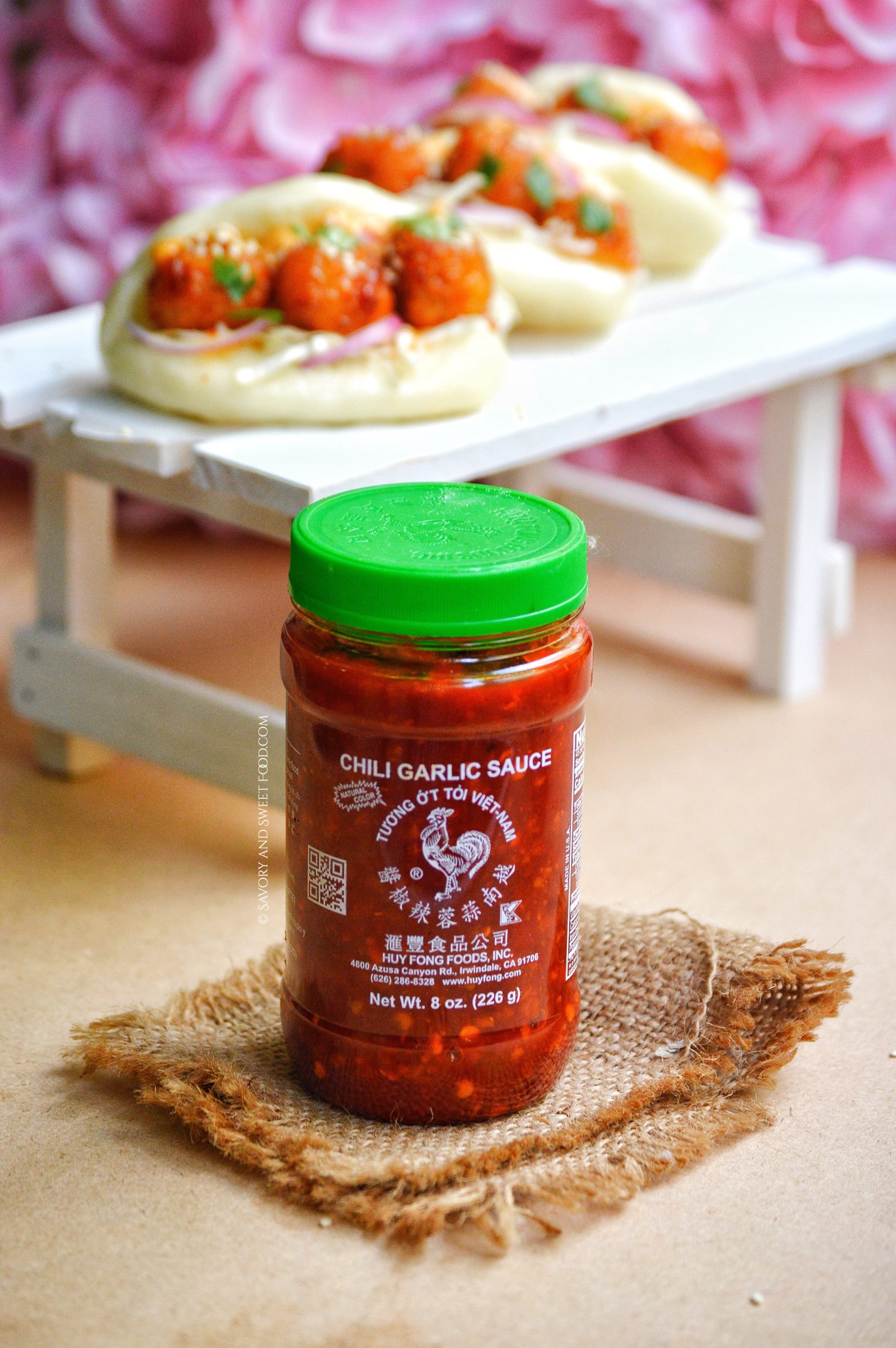 I used this chilli garlic sauce by huy fong foods. The same brand who came up with the legendary sriracha sauce. I recommend that you order it from Amazon or grab it from your supermarket. You can use it in almost anything. I'm sure you will be hooked if you have a liking for spicy food.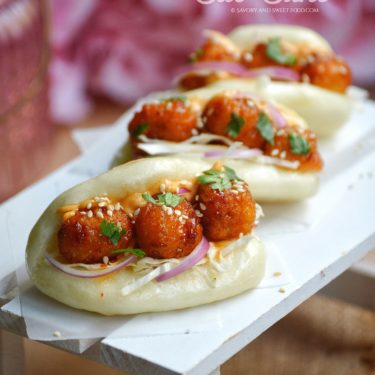 Korean Chicken Bao Bun
Super soft, pillowy steamed buns with a spicy Korean chicken filling.
Ingredients
For the bao buns:
2

cups

All purpose flour

1

cup

Corn flour

5

tbsp

Castor sugar

1

tsp

Instant yeast

2 1/2

tsp

Baking powder

1/2

tsp

Salt

200

ml

Warm water

1/4

cup

Oil
For the Korean Chicken:
300

g

Frozen chicken popcorn (I used Sadia chicken mini chef popcorn)

2

tbsp

Huy Fong chilli garlic paste/ any chilli garlic paste/ spicy schezwan sauce

2

tbsp

Brown sugar

4

tbsp

Soya sauce

2

tbsp

Honey

2

cloves

Garlic

peeled and minced

2

tsp

Ginger

minced

2

tsp

vegetable oil

Salt if needed
To assemble:
Cabbage sliced

Onion sliced

Chilli mayonnaise

Chilli garlic paste

Fresh coriander leaves chopped

White sesame seeds (roasted)
Instructions
To make the bao buns:
In a bowl of a stand mixer, add flour, corn flour, sugar, yeast, baking powder and salt. Mix well.

Combine oil and water. The water should be little hotter than lukewarm, but not boiling hot.

Use a stand mixer with a hook attachment to knead the dough. (If it is not available, you can use your hands to knead it)

Pour water and oil mixture into the flour mixture gradually kneading on medium high speed. Knead well for about 10 minutes using stand mixer or for 5 minutes using hand. The dough should be smooth and soft to touch. Knead a little more from your counter top.

Keep it in a greased bowl, cover it and let it rise for 60-90 minutes in a warm place until doubled in size.

Punch down the dough to release the air bubbles and knead for five minutes.

Roll out the dough in 1 cm thickness. Spread a little bit of oil on the surface of the dough so that the buns don't stick to each other.

Using a 3 inch cookie cutter, cut out the dough into small circles. You can roll it further if it is very thick.

Keep these dough circles on a cupcake liner or small pieces of baking sheets. Fold the dough in half and roll it gently.

Keep it cover with a tea towel and let it rise again for 1/2 an hour.

Fill the steamer with water and keep it on the stove. Once it comes to a oil, reduce heat to medium low and place the buns in it and steam for 10-12 minutes until it turns puffy and soft and cooked all way through. (By this time make the Korean chicken)
To make the Korean chicken:
Deep fry or air-fry the chicken popcorn and keep aside.

In a pan, add oil and saute garlic and ginger for a minute. Add all the remaining ingredients and let it come to a boil. Put it on simmer for 5 minutes. By then it would have become slightly thick.

Pour this mixture into the fried chicken popcorn and toss it well until all of the chicken pieces and coated well with the sauce.
To assemble:
In the bun, add chilli mayo, lettuce and chicken (you can cut each chicken into half). Add onions.

Finally I added chilli garlic sauce to buns. I didn't add in the pictures.

Sprinkle sesame seeds and coriander leaves.
Notes
Kneading is very important while making this bun.
If you have left over cooked buns, you can freeze them in a zip lock bag. You can steam them again for 5 minutes and use it.