Back to school is around the corner after the short midterm break and my lunch box duty will start again. I am seriously not the best at the lunch box game but I try my best to give my kindergartener, home made food in his lunch box. I always plan one weeks menu for his school lunch ahead of time, during the weekends.. That makes it super easy for me to assemble everything in the morning. I will be posting two more lunch box posts in this series. Hope this lunch box series gives you some inspo. 🙂 These are some of the items I pack for Hamad.
Lunch Box number 1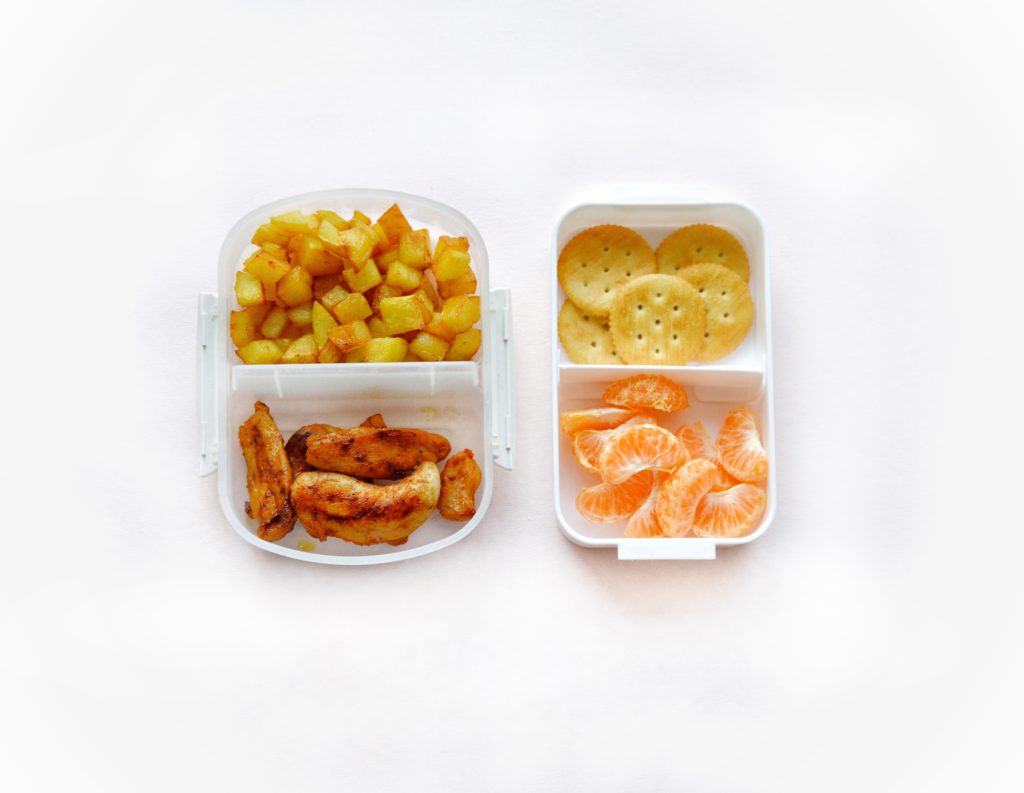 GRILLED CHICKEN STRIPS: My son loves any form of fried or grilled chicken. So I cut chicken breast into strips and marinate it with little paprika, a pinch of freshly cracked black pepper, garlic powder and salt. I do this the day before and I fry the chicken in little bit of olive oil in the morning. It takes only 10 minutes for it to cook. He gets very excited when I pack this for him.
SHALLOW FRIED POTATOES: The best side dish for this chicken is shallow fried potatoes. Hamad is obsessed with this. I peel and cut the potatoes into small cubes and shallow fry it in little olive oil or butter till slightly browned and crisp. I season it with salt and sometimes I add a little bit of paprika.
SALTINE CRACKERS: For snack, I have put Ritz Crackers
FRUIT: I placed mandarin oranges for fruit.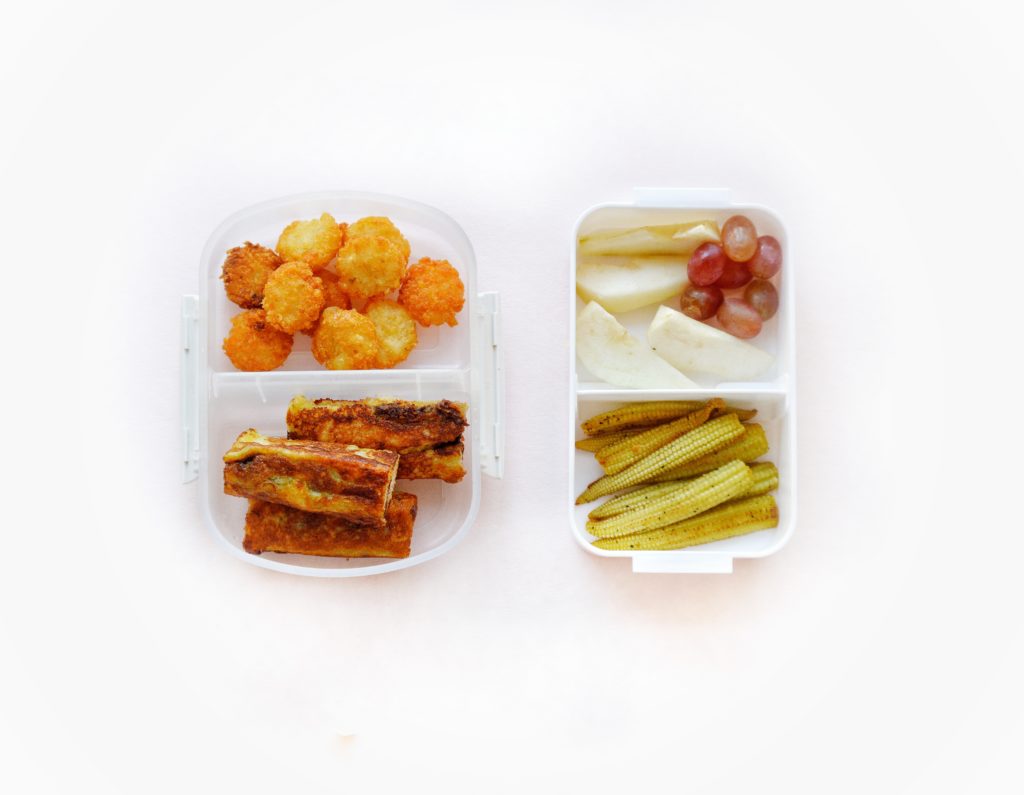 FRENCH TOAST ROLL-UPS: Hamad really likes French Toast Roll-Ups. I filled it with Nutella here. But sometime I add Lotus spread. This is one of the oldest recipes in the blog. Get it here.
HASH BROWNS:  This is a top hit among kids. I got a frozen packet of hash brown crowns from the supermarket. The name of the brand I bought is Ore-Ida. I shallow fried it in a little bit of olive oil till cooked and crisp.
BABY CORN: Corn in any form is always a winner with Hamad. That is baby corn sautéed in a little bit of butter with salt and pepper.
FRUITS: For fruit, I placed seedless red grapes and pear.
Lunch Box number 3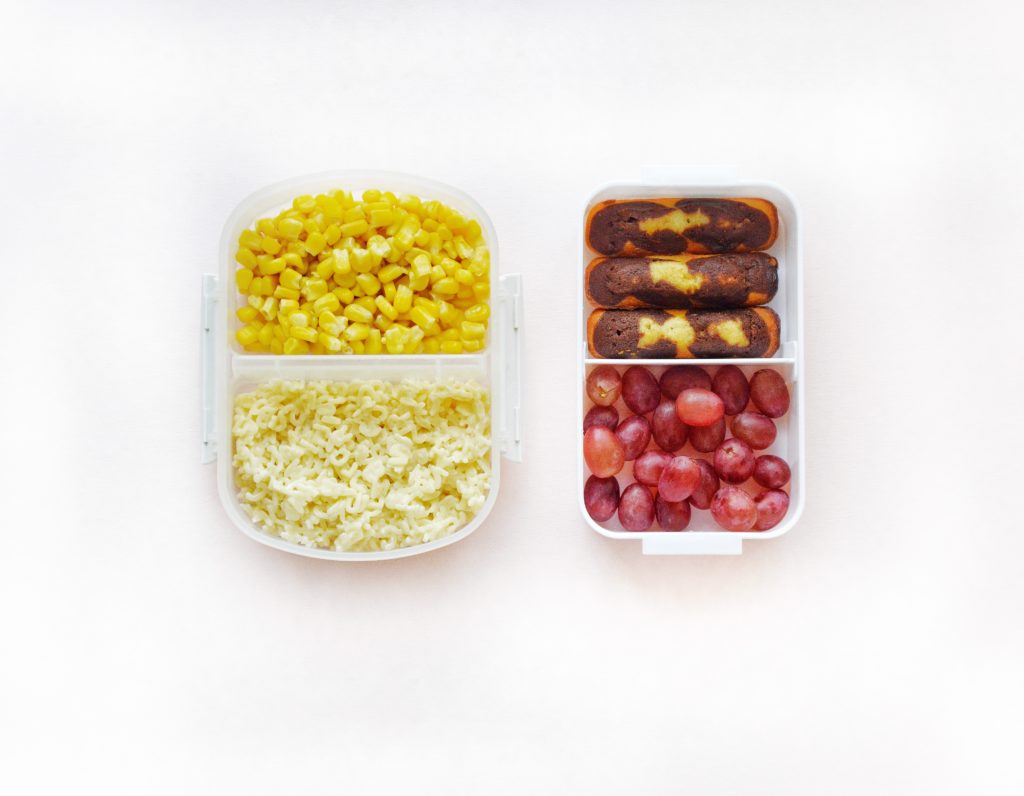 ABC PASTA: Here for main food, I placed ABC pasta in Kiri cheese based sauce. To make this I boil the pasta and keep it ready. In a pan, melt butter and add the pasta, keeping the flame on low drop in kiri cheese. Let it melt. Stir. Pour 2-3 tbsps of milk or cream. You can season it with Italian seasoning, paprika or cajun spice. You can add anything your kids like into this. My son usually likes simple pasta without anything in it as he is a very picky eater. You can add jalapeños, olives, chicken, corn etc etc…the list is long. I usually place this pasta in a thermal lunch box so that it remains warm.
SWEET CORN is Hamad's favorite. I boil frozen corn for 5-7 minutes. Drain it and sauté it in a bit of butter and salt. During winters I use olive oil instead of butter as butter will solidify by the time he eats the corn in school.
FRUIT: For fruit, I placed red grapes. But it is always better to cut it into half so that we can avoid the risk of choking.
TREAT: I placed madeleine (a French butter cake) as treat. This is a store bought one.
Hope these lunch box ideas gave you some inspiration. I will come up with another series soon. I would love to see what you guys give your little ones in their lunch boxes. Please do dm me your ideas in instagram or post it in the comments section down below. Thank you. 🙂