A delicious bake with layers of bread, a spicy paprika chicken filling, and a cheese sauce which is topped with tangy mozzarella cheese mix.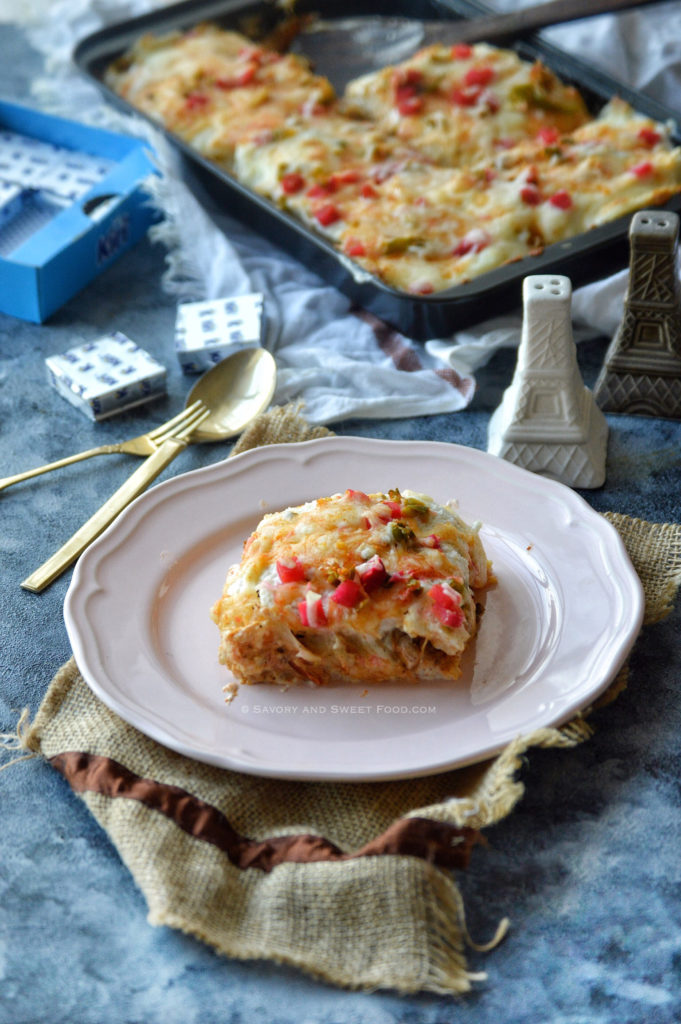 Hi everyone! I am back after a month long vacation. Actually it's been 2 weeks since I got back from India. And since then I was super busy with Hamad's school and lots of other things. My stay in India was beautiful, the only thing on my to-do list was not to do a thing, haha!. I had complete relaxation there. After I got back, I was struggling to get back into my normal routine. 
But now I am well settled. My planner is all filled up for the month. Have lots of new recipes lined up for the blog. I have started doing what I love doing the most again, which is oil painting. Seriously, I love painting more than cooking. I will share few of my works in my second insta page, savoryandsweetfood_more. So stay tuned. 🙂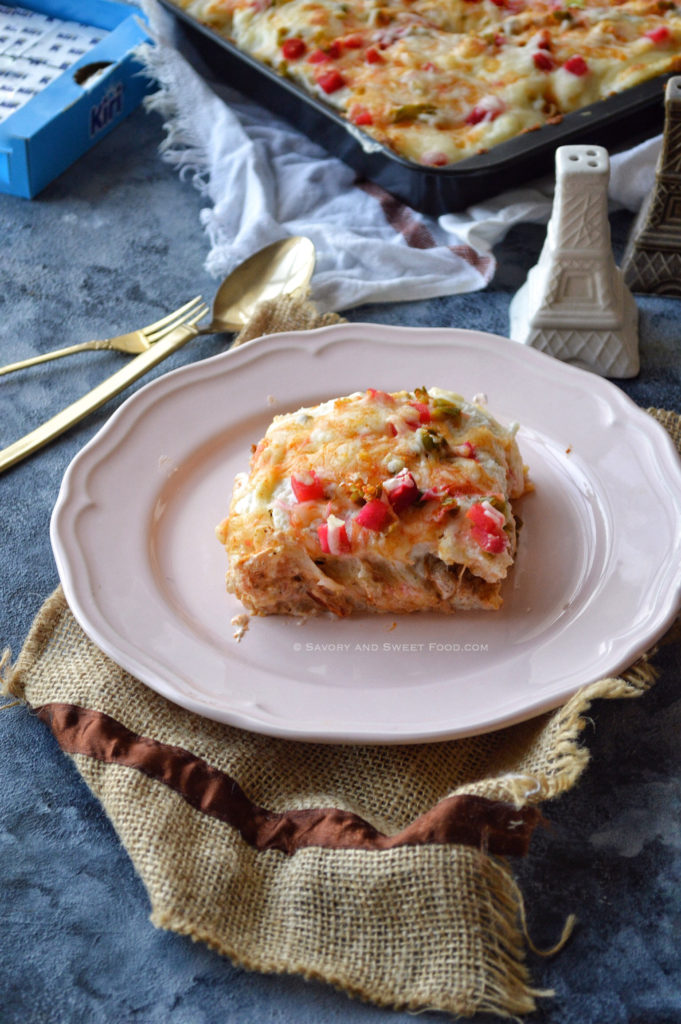 So now let's go to today's recipe, which is of this simple Paprika Chicken Bread Bake. This one is a super easy recipe, perfect for those lazy crazy days. There is no elaborate cooking needed for this. The steps are very easy to follow and make. I loved how this dish turned out. Hope you all will give this recipe a try. Let me know how you liked it. 
INGREDIENTS:
For the filling:
450 grams boneless chicken breast, cut in small cubes or strips
2 plus 1 tsp mild paprika powder
1 or 1/2 tsp red chilli powder
1 tsp onion powder
1 tsp garlic powder
1/2 tsp pepper powder
1 medium sized onion sliced
1/2 of red capsicum cut in strips
1/2 of green capsicum cut in strips
2 tbsp salsa
Salt to taste

 

Olive oil

 
For the creamy sauce:
1 1/2 cup cream
4 tbsp processed liquid cheese/ 4 cubes kiri cheese

 
For the cheese mix:
1 cup mozzarella cheese

 

1/2 tsp paprika powder

 

Salted relishes cut into small pieces(cucumber, jalapenos, turnips)
Bread slices (side trimmed)
Butter
NOTES:
You can make the filling directly in the oven my mixing all the ingredients with 1/4 cup of olive oil and baking.
DIRECTIONS:
To make the filling:
Marinated chicken with all the powders and salt (add only 2 tsp of paprika at this time).

 

Pour olive oil in a pan and add the marinated chicken. Let it get cooked on high heat for 5 minutes.

 

Add in all other ingredients except salsa and mix well.

 

Cook everything together on high heat for about 10 minutes till the chicken turns nicely charred and the vegetables are all cooked.

 

Add in the remaining 1 tsp of paprika, and cook on high flame for a minute.
Add in salsa and mix. Cook for a minute.

 

Filling is ready.

 
To make the sauce:
Whisk together all the ingredients till mixed well.

 

If you are using kiri cheese, heat it in microwave oven for few seconds till it turns soft and then mix with the cream so that it won't turn lumpy.

 
To prepare the cheese mix:
Mix all the ingredients together.

 
To assemble:
Preheat oven to 180C
In a rectangular baking tray, place thin slices of butter at the bottom.

 

Place the slices of bread.

 

Spread the prepared chicken mixture on the bread.

 

Place another layer of bread on top of chicken layer.

 

Pour the sauce all over the bread.

 

Sprinkle the mozzarella cheese mix.

 

Place in the oven and bake with the top and bottom flame for 15-20 minutes till the cheese gets melted and the whole dish gets hot and bubbly.

 

Serve immediately.