This White Crunch Chocolate Pudding is an absolutely simple dessert to make whenever a dessert craving hits you. It has a delicious white chocolate cream layered between a crunchy, nutty, biscuit layer.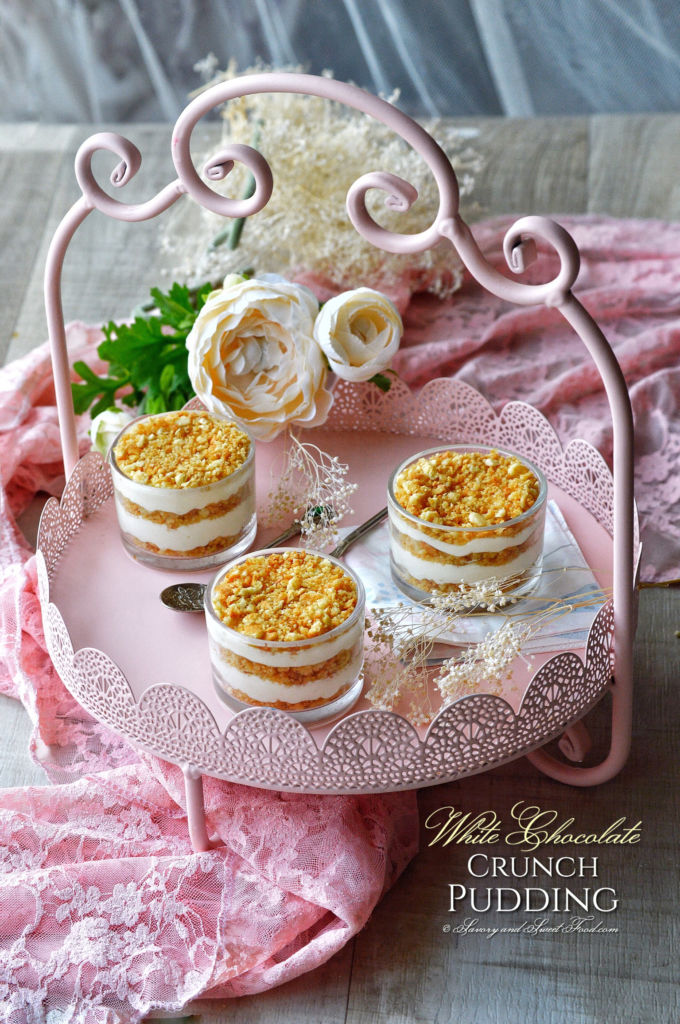 Hello all! Nice to be back here after the 2 months break. Technically I have not been posting regularly in my blog for the past 1 year. That sure is a long time to be away. I had just intended on taking a small break from blogging, few months to just catch up with life's responsibility. But time just flew and so many things happened, the main thing being pregnancy and delivery. 🙂 Yes, we are blessed with our second child, a beautiful baby girl and we named her Aysha Beevi. She made her grand entrance on the 9th of September, making our hearts feeling so incredibly full, well beyond what we ever imagined.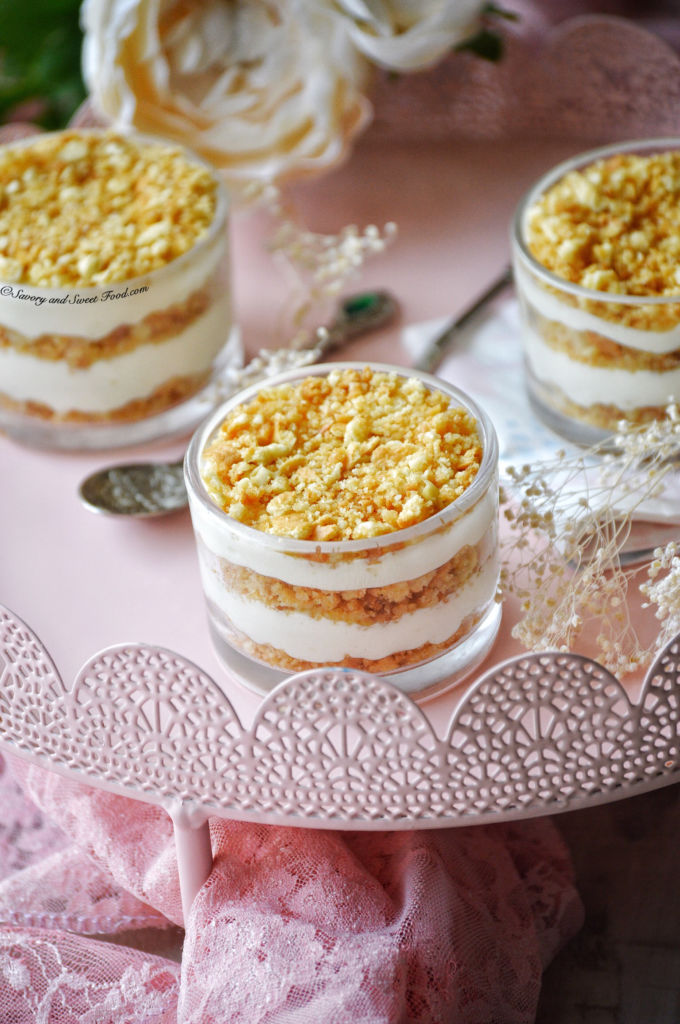 Hamad is in love with Aysha. He has been a very caring and understanding big bro, Mashaa Allah. So yes, I'm a mom of two now and I have my hands full, Alhamdulillah. I have no idea how I am going to be active here in this favorite space of mine – my blog. But I will try to post new recipes as much as I can. You won't believe me but it took me nearly 1 week to complete this write up. The moment I open the computer, my daughter whom I had put to sleep opens her eyes and then her mouth to cry out loud, haha.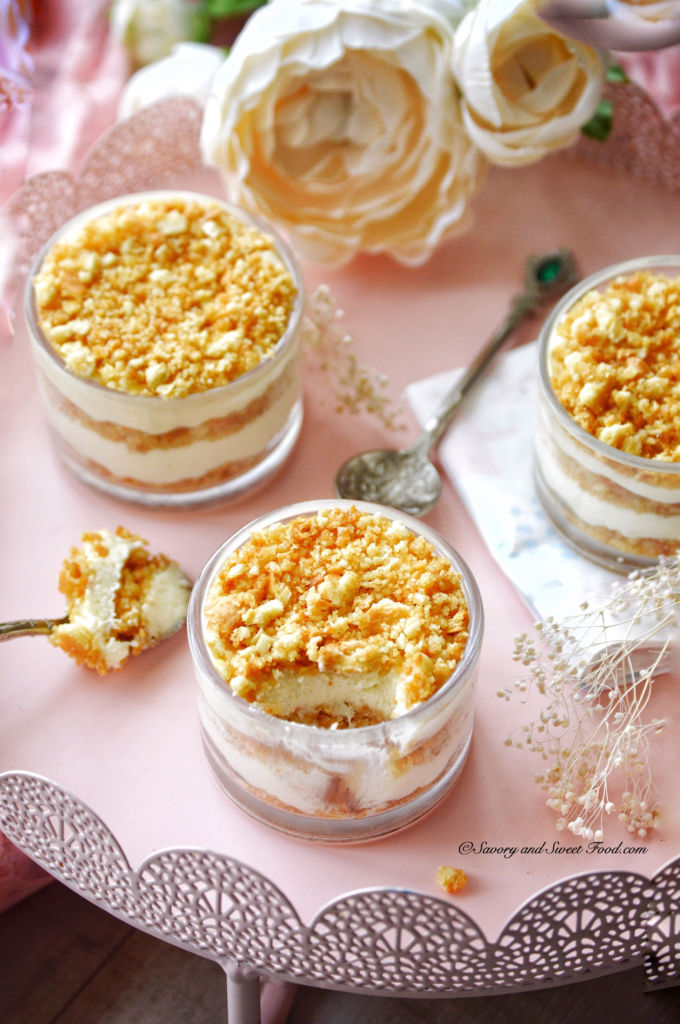 This pudding recipe which I am posting today is a very yummy and a very easy one too. I had made this post ready about 4 months back, Thank God I did that. 🙂 Please do give this recipe a try, I'm sure you all will like it.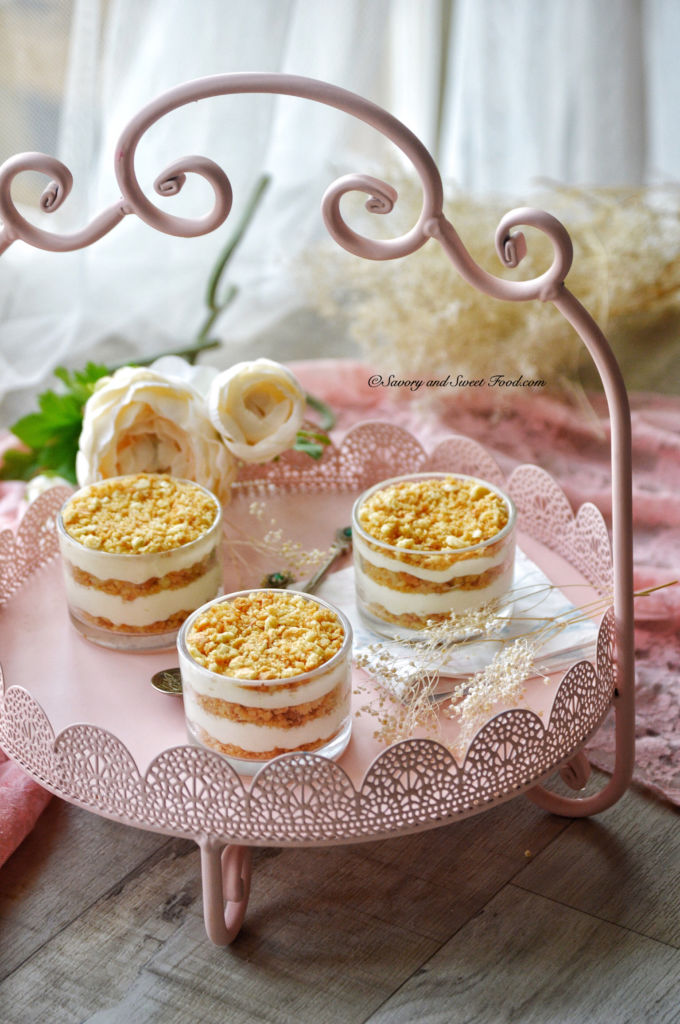 INGREDIENTS:
For the cream:
250ml whipping cream
1 sachet dream whip powder (whipping cream powder)
2 bars (76g) white chocolate
2 cubes softened kiri cheese (2 tbsp cream cheese)
2 tbsp powdered sugar
2 tbsp fresh cream/ thick cream
For the biscuit layer:
24 Marie biscuits
30 cashew nuts
50 g melted butter
2 tbsp powdered sugar
DIRECTIONS:
To make the cream mix:
Melt the white chocolate by placing in the microwave oven for 10 second bursts. After each 10 second, stir the chocolate and see if melted. You don't want to heat it for long or else the chocolate will harden and will not melt again. (You can melt the chocolate by double boiling method too)
In a bowl, pour whipping cream. Whip it up till stiff.
Add dream whip powder and sugar. Whip again for a minute.
Add kiri cheese and white chocolate. Beat on low speed just until combined.
Add cream and fold.
To make the biscuit layer:
Place all ingredients except butter in a ziplock bag.
Crush it to a coarse mixture using a rolling pin.
Add this into the melted butter and mix well.
Toast it in a frying pan on low flame for 5 minutes.
Assembling:
In small individual pudding moulds, add a spoon of biscuit mixture, the cream mix, then biscuit, cream and finally a biscuit layer. You can do this in one medium sized pudding tray too.
Refrigerate for 4-6 hours and serve cold.
[yumprint-recipe id='280′]