Kosha Murgir Mangsho/ Bengali Chicken Kosha is a Bengali speciality dish. It is a spicy, semi dry chicken curry and goes well with roti, puri or pulao.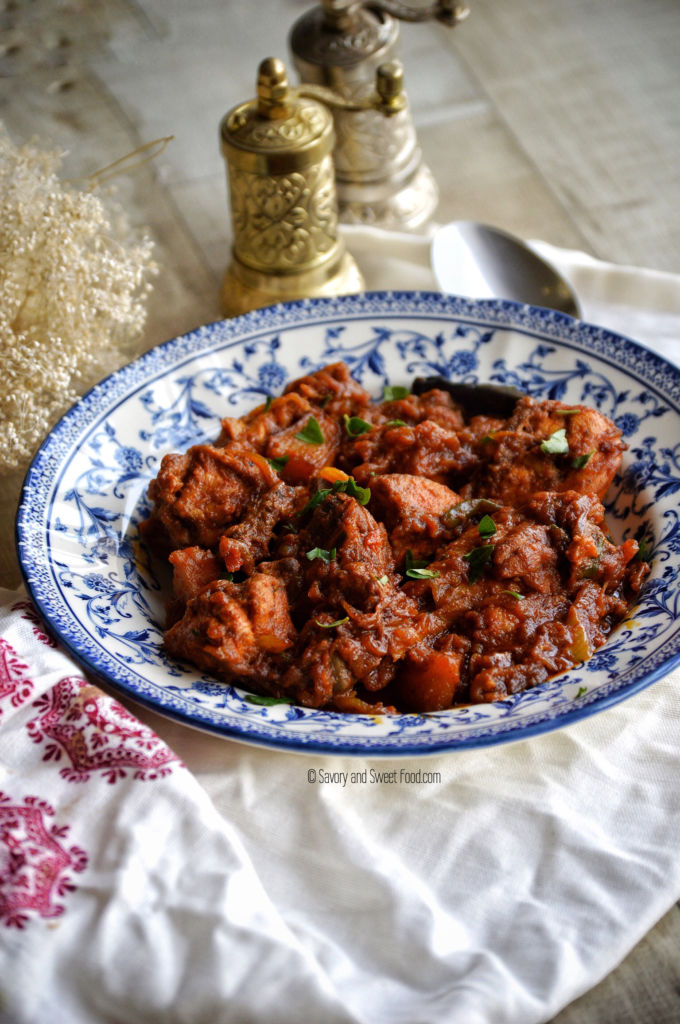 Hey there. I am back after a break, again. 🙂 I had gone for a three week vacation to my hometown, Kerala. Had a fantastic time there. Miss everything about that place right now. I had gone for my brother in law's wedding, which was a grand one. We all had a blast. And my new co-sister is a beautiful person inside out. My husband has 4 brothers and one sister, so a total of 6 kids, mashahAllah. My husband is the eldest, and this is the fourth wedding at home. And I must say that I am very lucky to have such sweet co-sisters, all of them are such sweethearts. <3 Miss you all and you too Fathii.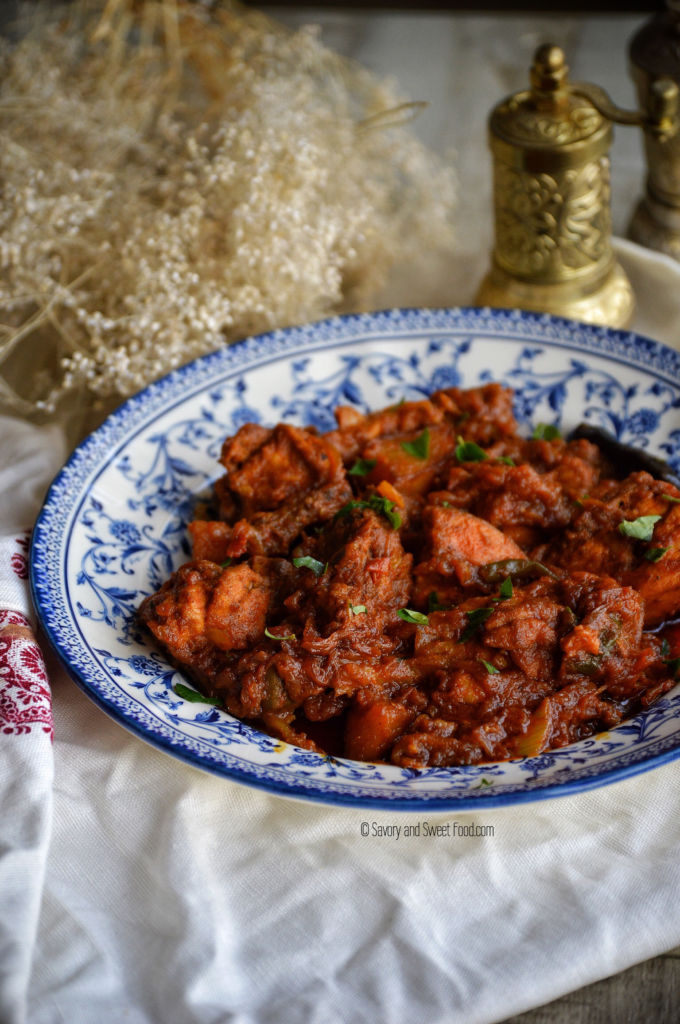 Well, there are lots of other things that are happening in my life too … Alhamdulillah all good things about which I will let you guys know later. So I will be on and off from blogging but I will try to post new recipes whenever I get the time. Please don't forget me and my blog when I am not active. I will be back, in shaa Allah.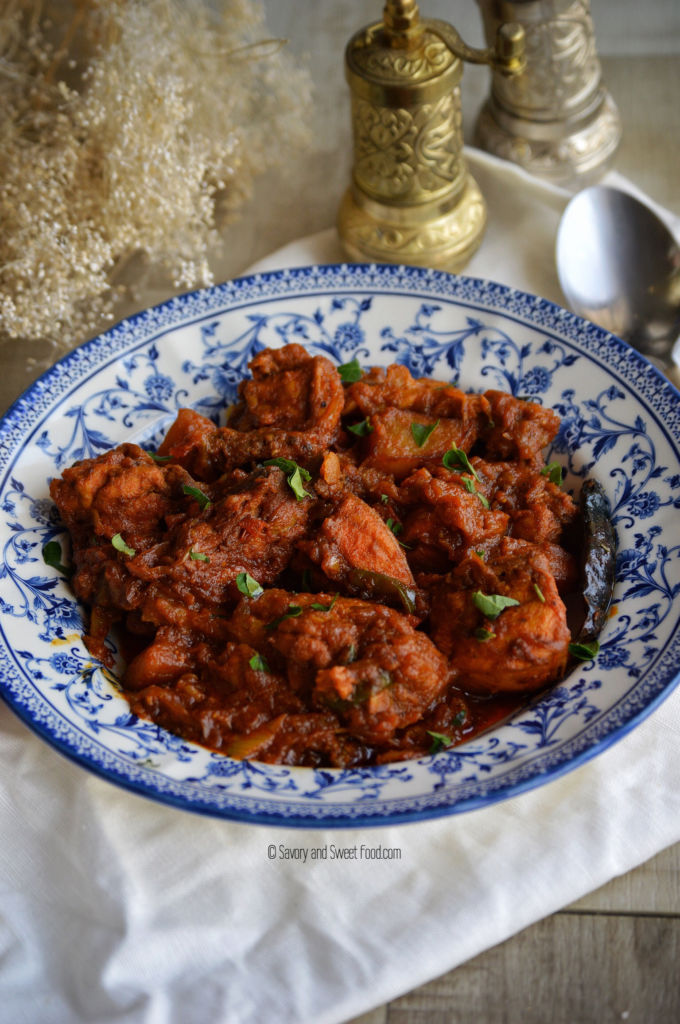 So after coming back from India, I was feeling a bit lonely and low. So I stepped into the kitchen and tried this Bengali chicken dish which turned out super delicious. It was too good. You have to make it to believe it. Here is the recipe.
INGREDIENTS:
800 grams chicken (cut in medium sized pieces)
1 medium sized potato (cut in cubes)
4 garlic cloves cut in big chunks
3 medium sized onions sliced thin
1 tbsp lemon juice
1 tbsp ginger garlic paste
1 big tomato roughly chopped
1 bay leaf
2 whole dry red chillies
2 green cardamom
1/4 tsp black pepper powder (add more if you like the flavor)
Salt to taste
1/2 tsp sugar
5-6 green chillies split (medium spicy, reduce if the chillies are too hot)
1 tbsp Kashmiri chilli powder
1/4 tsp turmeric powder
1/4 tsp garam masala powder
1/2 tsp cumin powder
coriander leaves
vegetable oil/ mustard oil
DIRECTIONS:
Wash the chicken and keep it in the colander to remove excess water.
In a pan add 5-6 tbsp of oil and add half the amount of sliced onions with a  pinch of salt.
Once it turns light brown add in the cut garlic cloves. mix and fry the onions till it turns crisp and brown in color. Take out of the oil, let it cool. Crush them with your hand and keep aside.
In a bowl, marinate the chicken with fried onion-garlic. red chilli powder, lemon juice and garam masala powder.
Add more oil if needed in the same pan and fry the potatoes till it runs golden brown. Keep aside.
In the same oil, add bay leaf, cardamom and dry red chillies. Stir and cook till aroma is released for a minute.
Add rest of the sliced onion to the oil and sauce till it turns soft and golden brown in color.
Add ginger-garlic paste, cumin powder, turmeric powder, black pepper powder and chopped tomatoes.
Cook till the tomatoes are mashed well.
Add in the marinated chicken along with the green chillies. Mix well. Cover and cook on low flame for 20 minutes. Stir in between. If there is lots of gravy, then increase heat to high and let the gravy get thick.
Add potatoes and sugar. Mix and simmer on low for 5 minutes.
Add coriander leaves and mix.
Recipe adapted from notoutofthebox.in