Chicken and Veggie Cheese Balls are tasty treats to serve your guests for a party. It has a chicken and veggie outer covering which is a flavor bomb. The highlight is the gooey, cheesy centre with small bits of jalapeños. These cheese balls are then breaded and deep fried or baked till golden brown and crisp. So yum!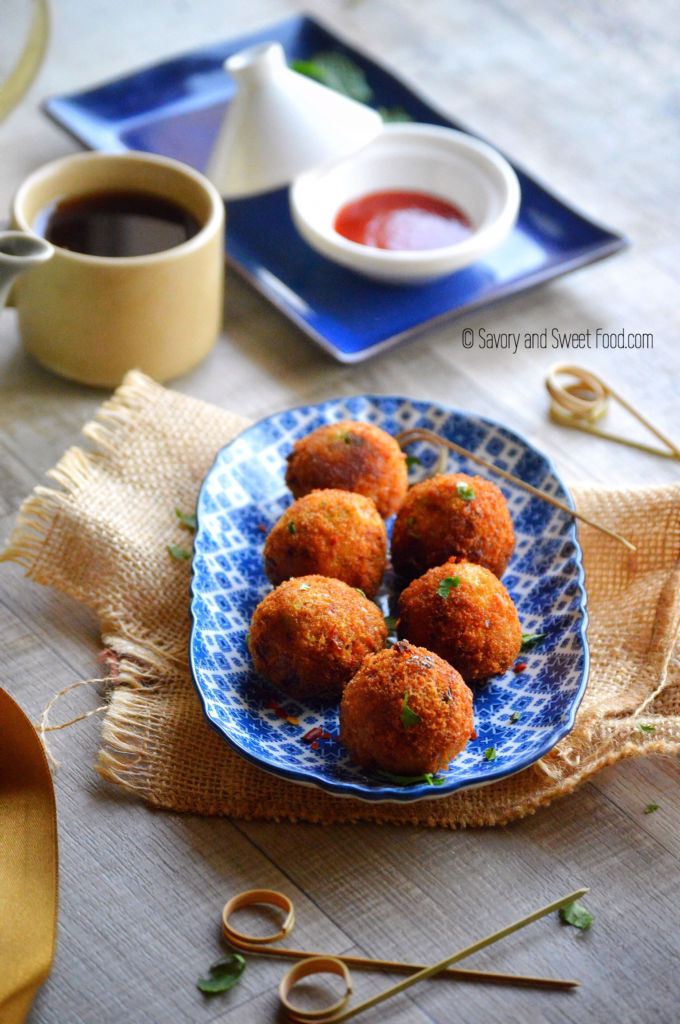 So Ramadan has reached it's finale days now, the beautiful last 10 days. I'm sure that most of our energies are drained by this time, but the inner spirits will be high to make maximum use of these blessed days to earn the love, blessings and forgiveness from our All Mighty. May Allah accept all of the good deeds and efforts we make during these days.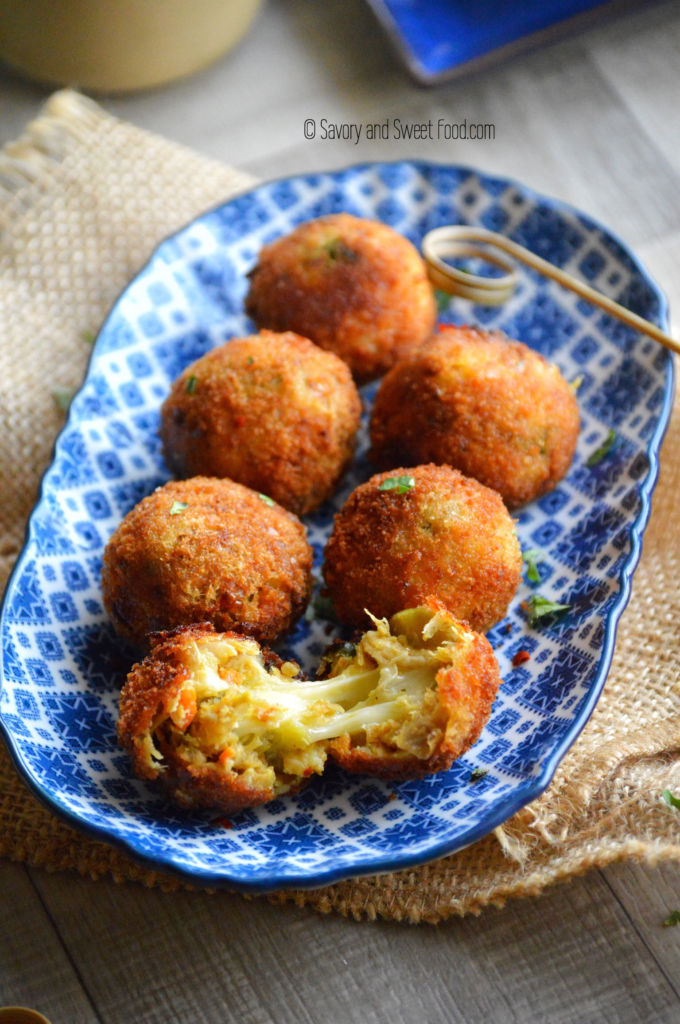 This Ramadan as I mentioned in my previous post was mainly about basic traditional food during Iftar for us. I seldom made anything new. The only few new dishes I made was for the blog.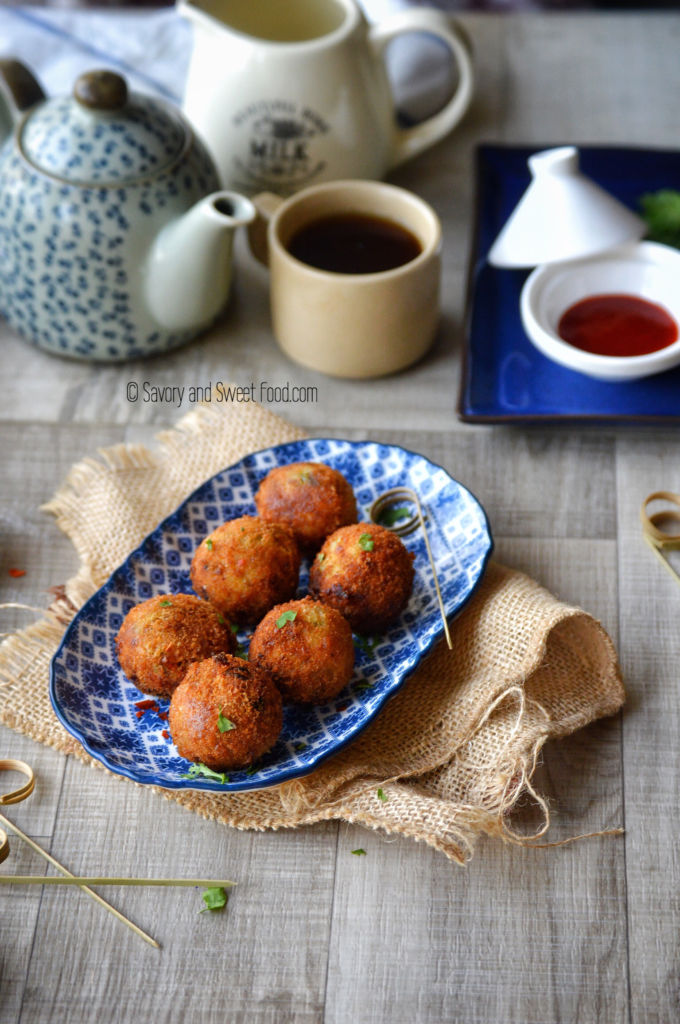 Now this one is also nothing unique. You can find numerous cheese balls recipes in the internet. But I never made it before, so this is a fresh one for me and it tasted fantastic. So I couldn't help myself from posting this here. The chicken and veggie mixture that I made for this tasted so delicious that it can be used as filling for other dishes too, without the potato. Here I used a very small amount of potato, just for it to act as a binding agent, to hold the chicken mix together. And it did it's job very well. 🙂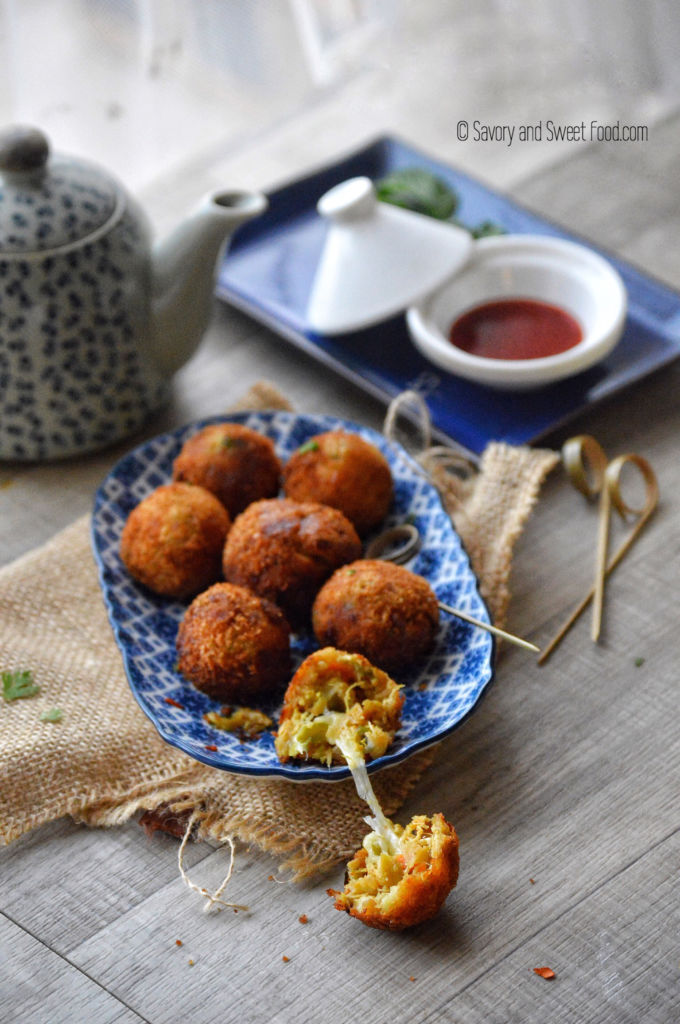 So here is the recipe for you all. Hope you'll give it a try.
INGREDIENTS:
Makes 14 cheese balls
200 grams boneless chicken breast (boiled with 1/4 tsp turmeric powder, salt and black pepper and shredded)
1 medium onion chopped
3 green chillies chopped
3 cloves garlic chopped
3 inch piece carrot chopped
Half of a small capsicum chopped
1/4 cup chopped cabbage
50 g potatoes boiled and mashed (half of a medium potato)
1 tbsp soya sauce
Black pepper to taste
Red chilli flakes to taste (optional)
2 pinch oregano
1/2 tsp paprika
1 cup mozzarella cheese
1/4 cup chopped pickled jalapeños
1 egg beaten well with a splash of milk
Breadcrumbs
Oil
NOTES:
You can freeze the chicken cheese balls and fry it later when you need it.
You can bake these cheese balls too. For that:
Preheat oven to 180 C and prepare a baking sheet by lining it with foil. Spray generously with cooking oil.
Place the chicken cheese balls on the baking tray, turn around the balls on the baking tray, so that all the the sides are coated with oil. This will ensure that the chicken balls bake crispy, and not soggy.
Bake for 15-20 minutes or until the cheese balls are golden brown and crispy.
If you froze the

cheese balls, the baking time will increase.
DIRECTIONS:
Cook the chicken breast along with turmeric powder, pepper and salt. Take out, shred and keep aside.
In the same water cook the potato. Mash and keep aside.
In a chopper chop onion, garlic and green chillies together.
Sauté this in little bit of oil on high heat till browned.
Meanwhile chop carrot, cabbage and capsicum together in the chopper.
Add these veggies to the onion mix.
Sauté for 5 minutes till everything gets cooked and turn a bit soft.
Pour soya sauce.
Add chilli flakes, black pepper, paprika and oregano. Stir everything together.
Check for salt and add if needed.
Add in the shredded chicken. Mix everything together. Cook for 2 minutes.
Add mashed potato and mix everything together till combined.
In a bowl mix together shredded mozzarella cheese and chopped jalapeños. Keep aside.
To assemble:
Method 1:
On a small sheet of cling film, place a tablespoon of chicken filling.
Flatten it well.
Place a tsp mozzarella mixture in the centre.
Bring together the the cling film ends and pinch it together, making a ball shape out of the chicken veggie mix, such that you cover the cheese completely.
Remove from cling film and make proper ball shape sealing the ends properly with your hands.
Method 2:
Take a tablespoon of filling onto your hand and flatten it.
Place cheese in the middle of the flattened mix and cover the cheese with the chicken making a ball shape.
This may sound simple but is a little difficult to do. But if you find this method easy, go for it.
Method 3:
Mix the cheese with the chicken filling. And make rounds and continue with the remaining steps. This is the easiest, but the cheese will be spread all over instead of having a molten gooey cheese centre. But in this case you may not want to add the entire cheese. Add in about 3/4th of a cup and see if the mixture sticks well together, only then add remaining.
14. Dip this prepared chicken balls in egg and then in breadcrumbs.
15. Deep fry on medium low heat till golden in color. Or bake (read notes)
16. Serve warm.
[yumprint-recipe id='277′]