A fusion style pizza with the Indian Butter Chicken flavors.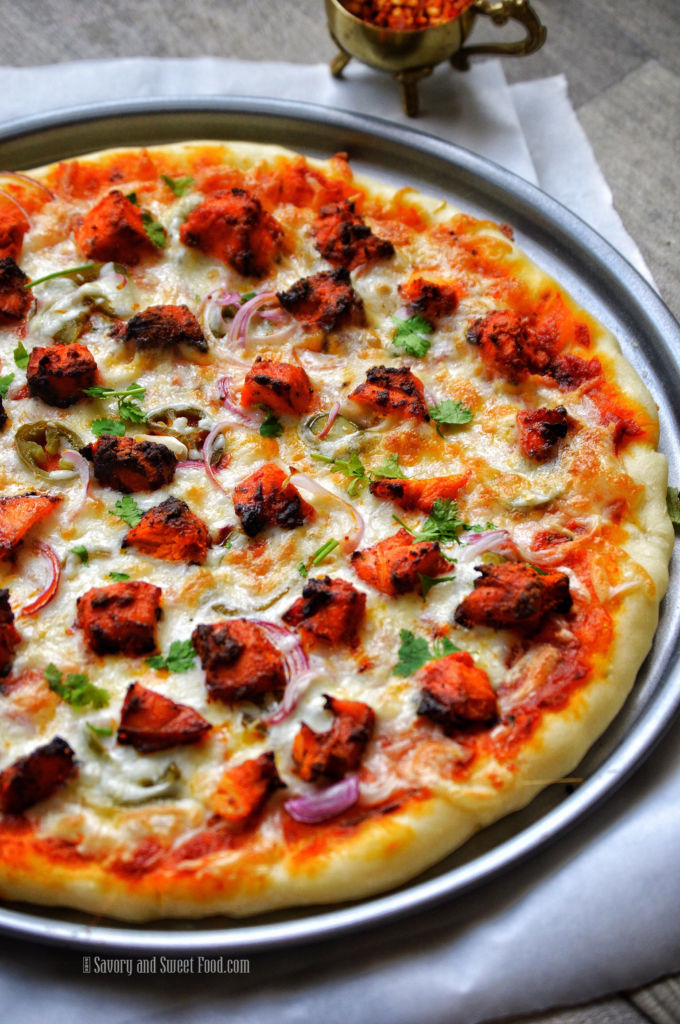 This is an amazing fusion dish. Fusion cooking is a delight! It creates magic and is fairly easy to do. When we combine a number of cuisines in one meal, we get a delicious combination of new tastes and flavors. Here is the recipe of an Indo-Italian Butter Chicken Pizza. It's been a while since I posted a recipe like this.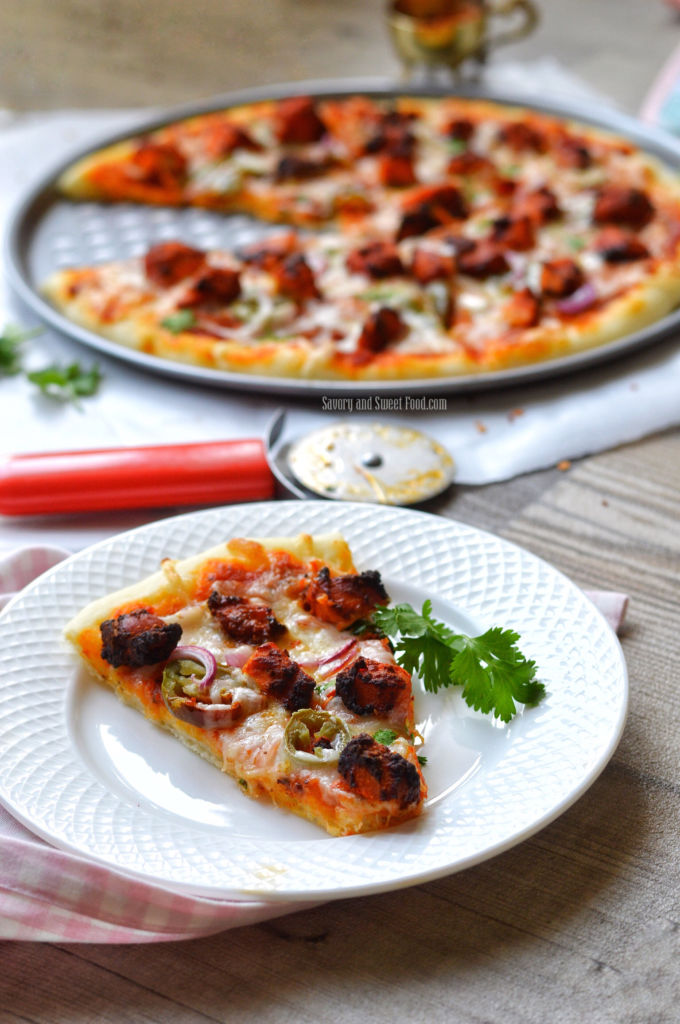 Such amalgamated recipes are a very common thing now. It's all about the butter chicken pasta, chicken tikka lasagna etc everywhere. So I purposely took a break from posting such recipes. But I still love that kind of fusion dishes. Maybe because of my intense love for Indian cuisine. I enjoy any food that has an Indian touch.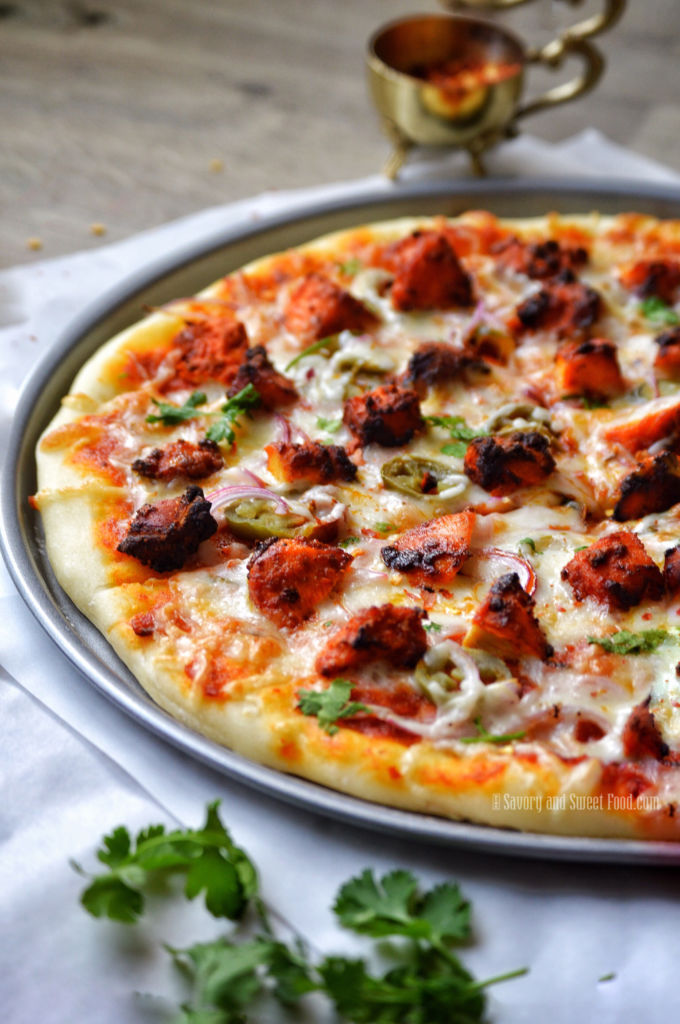 So, the other day, I randomly made this pizza and my husband was full of praise for it. So I had to post it here. Hope you all will give this recipe a try. Its drool worthy. 🙂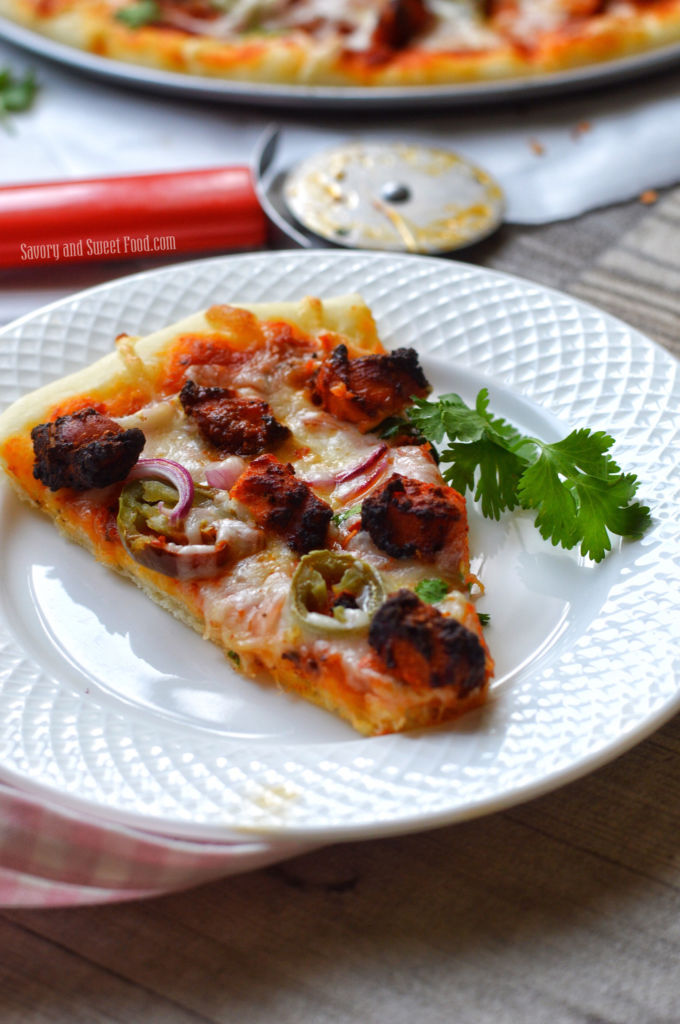 For the chicken:
250g boneless chicken cut in cubes
1 1/2 tsp red chilli powder
1/4 tsp garam masala
1/4 tsp turmeric powder
1/4 tsp cumin powder
2 tbsp yoghurt
1 tsp ginger garlic paste
Salt to taste
1 tbsp ghee
For the Pizza Sauce:
2 large tomatoes puréed
1/2 of large onion
4 garlic
4 tbsp tomato paste
1/2 tsp red chilli powder (or more)
1/4 tsp cumin powder
1 tsp sugar
1 cube chicken stock
1/2 tsp kasuri methi (dried fenugreek leaves)
Coriander leaves
50 g butter
For the Pizza Dough:
I followed the same recipe from
Divas Can Cook
, but didn't add parmesan cheese to dough. You can use your favorite dough recipe.
Extras:
jalapeños
olives
sliced onions
mozzarella cheese
chilli flakes
Notes:
If you want to store the extra pizza dough for future use, just oil the dough ball all around and put each ball into separate zippered freezer bag. You can freeze this way for about 3 months. The day before you plan on using them, just transfer the dough to the refrigerator. And on the day of usage, remove from fridge, place on a floured counter and gently press the ball into 1/2 inch thickness and let rise for 2 hours.
The crust cooks really fast (if you are making thin crust). Mine actually took just 10 minutes. Do not over cook or your crust will become hard. By the time the cheese melts, the crust will get cooked. Even then just check before taking out.
DIRECTIONS:
To make the chicken tikka:
Marinate chicken pieces with all the above mentioned ingredients.
Place in a preheated oven with its broiler turned on. Grill for 15-20 minutes till chicken is cooked and little charred on the outside.
The chicken can be shallow fried too.
To make the Pizza Sauce:
In a pan, sauté the onion and garlic till soft.
Pour in the tomatoes purée and paste. (be careful while adding salt as chicken stock will usually have salt in it)
Add in the chicken stock cube and mix well till combined. Let the sauce reduce a bit.
Add red chilli powder, sugar, and kasuri methi. Cook till thick.
Add in the butter and mix till combined.
Add coriander leaves. Keep aside.
To make the Pizza Dough:
Follow the above given link.
To Assemble:
Preheat oven to 400F. Dust your sheet pan or peel with cornmeal or semolina flour and a little flour.
Roll out your pizza dough. Place it on the pan. (you can just roll the dough on the pan itself with your fingers). Poke holes all over with a fork.
Add some melted butter or olive oil on top of your rolled out pizza.
Spread the pizza sauce (be generous).
Add Jalapeños and onions.
Sprinkle half the mozzarella cheese.
Add chicken tikka and olives. (or any topping of your choice)
Add remaining mozzarella cheese.
Bake for 8-10 minutes or until cheese has melted and crust has cooked. Sprinkle chopped coriander or mint leaves.
Serve hot.
[yumprint-recipe id='272′]