Homemade soft pita breads, cut into pockets and filled with boiled eggs, sautéed veggies, spicy coleslaw and a mediterranean inspired tahini sauce.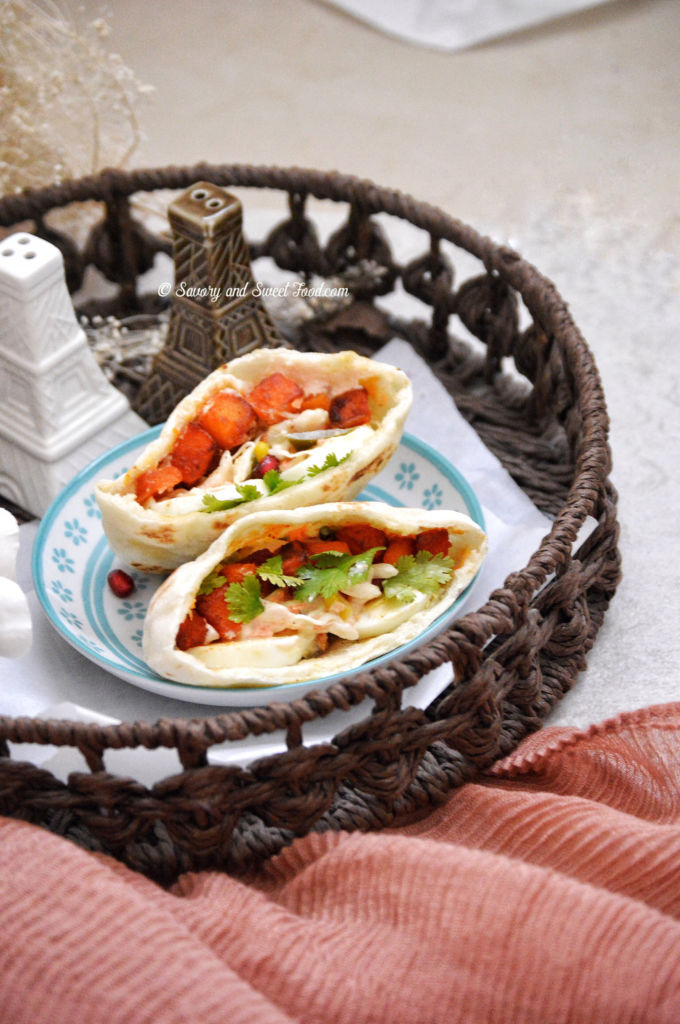 Today I am going to share one of the yummiest meatless dishes that I have made in a very long time. I rarely make pure vegetarian food at home, there has to be meat somewhere in all meals, because I have a strict meat lover at home.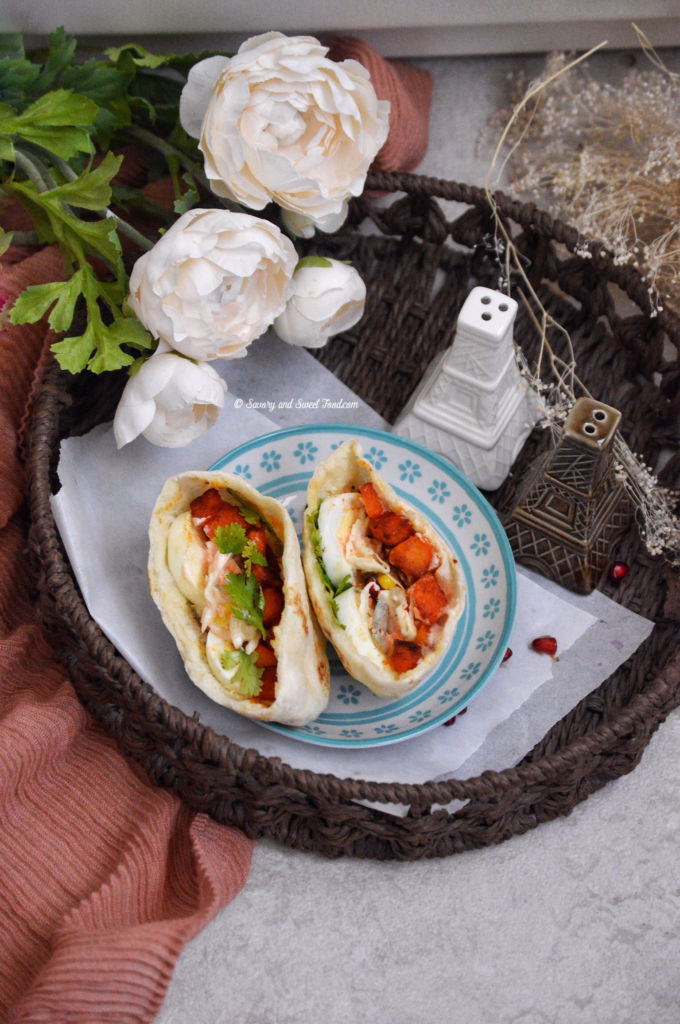 I personally love veggies in sandwiches, salads, pizzas and wraps. I was craving a good veggie meal and so decided to make these reasonably healthy pita pockets. To trick my husband into eating it, I added boiled eggs and his favorite coleslaw and lots of jalapeños. It tasted awesome. Fadal loved it so much and requested for the same sandwich the next day too. Yay!! Happy me! 😀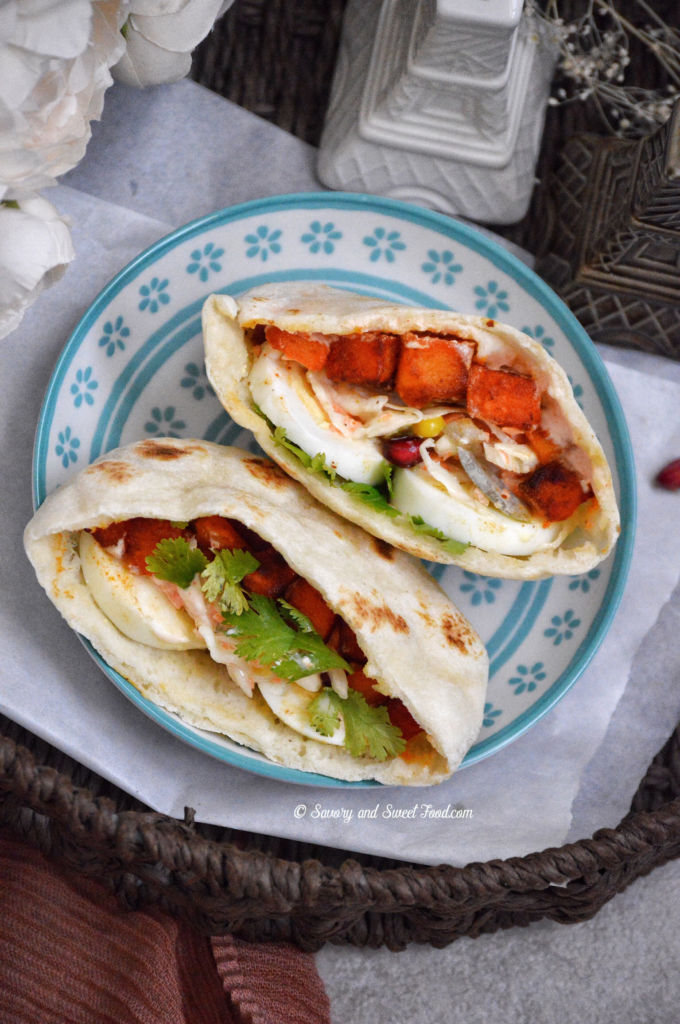 Hope you all will give this a try. If you are veggie fan or not, these pita pockets will definitely enter the list of your favorite foods.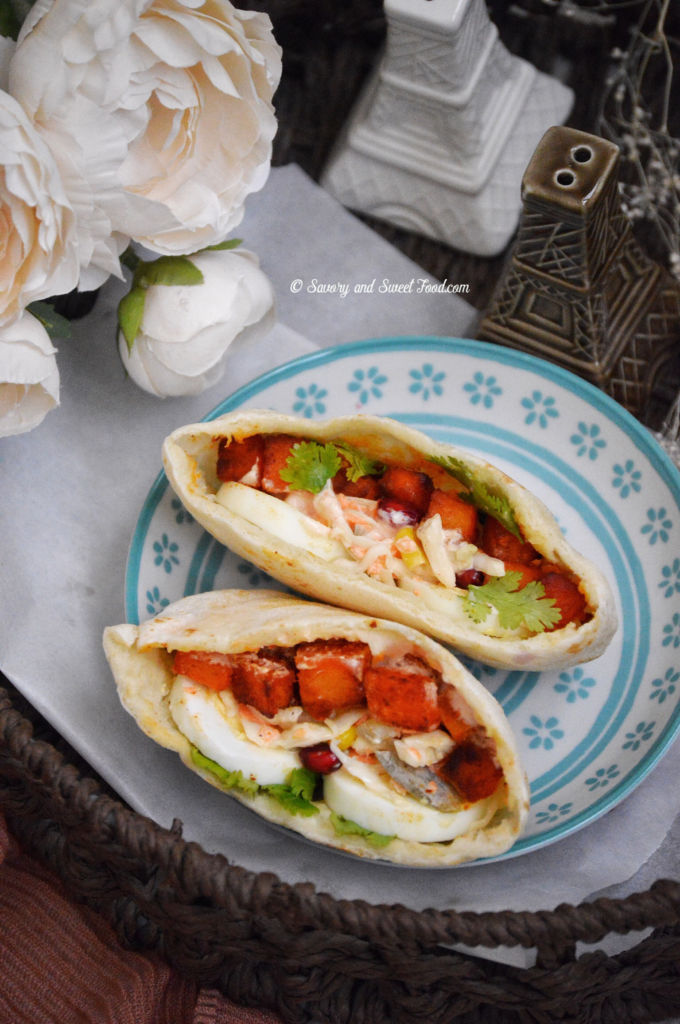 INGREDIENTS:
For the Pita: (makes 10)
2 1/4 tsp yeast
1 cup warm water
1 cup flour
Then..
1 1/2 tbsp olive oil
1 3/4 tsp salt
1 3/4-2 cups flour
For the Filling:
1 large potato cut in small cubes (marinated with 1 1/2 tsp red chilli powder, 1/4 tsp turmeric powder and salt)
1 small brinjal/ eggplant (marinated with 1/2 tsp red chilli powder and salt)
3 hard boiled eggs
pomegranate seeds
Pickled jalapeños/ mild green chillies
pickled cucumbers
onions sliced
For the coleslaw:
1 cup sliced cabbage
1/2 cup chopped carrot
1/4 cup sweet corn
1/4 cup pickled jalapeños chopped
1 1/2-2 tbsp mayonnaise
1 tbsp sugar
black pepper to taste
2 tbsp buttermilk
salt to taste
For the tahini sauce:
4 tbsp yoghurt
1 tbsp tahini
1 garlic clove crushed
red chilli powder/paprika to taste
salt to taste
NOTES:
You can add any veggie in this recipe. At the same time you can omit any if you want to.
Grilled chicken pieces can be added to his too to make it a non veg sandwich.
DIRECTIONS:
To make the pita pockets:
Place yeast into the work bowl of a stand mixer and add 1 cup warm water and 1 cup flour. Whisk together and let stand 15 to 20 minutes for mixture to rise and make a loose sponge. Mixture will bubble and foam.
Pour 1 1/2 tablespoons olive oil and salt into sponge; add 1 3/4 cup flour. Mix at low speed, using a dough hook attachment, until dough is soft, supple, and slightly sticky. If dough sticks to the sides of the bowl, add up to 1/4 cup more flour, a little at a time. ( If you don't have a mixer, just mix with a wooden spoon first and then knead with hand till dough is soft)
Knead dough with machine on low speed until slightly springy and still soft, 5 to 6 minutes. ( Or knead with hand for 5 minutes) Turn dough out onto a floured work surface and form into a ball.
Wipe inside of bowl with 1/4 teaspoon olive oil. Turn dough around in bowl to cover with a thin film of oil; cover bowl with foil and let sit until dough has doubled in size, about 2 hours.
Remove dough from bowl and place onto a floured work surface. Lightly pat into a flat shape about 1 inch thick. Use a knife to cut dough into 10 pieces.
Form each piece into a small round ball with a smooth top, pulling dough from the sides and tucking the ends underneath the bottom.
Cover the dough balls with a damp cloth and let it rest for 30 minutes.
Sprinkle a small amount of flour on a work surface and top of a dough ball; gently pat dough ball flat with your fingers, forming a flat, round bread about 1/4 inch thick. Let dough round rest for 5 minutes. Repeat with remaining dough balls.
Brush a cast-iron skillet with remaining 3/4 teaspoon olive oil and place over medium-high heat. Lay pita bread into hot skillet and cook until bread begins to puff up and bottom has brown spots and blisters, about 3 minutes. Flip, cook 2 more minutes, and flip back onto original side to cook for about 30 more seconds. Pita bread will begin to puff up and fill with hot air. Stack cooked breads on a plate; when cool enough to handle, break breads in half and open the pocket inside for stuffing.
To make the filling ready:
Shallow fry the potatoes in little oil till cooked and crisp. Keep aside.
Shallow fry the eggplant similarly. Keep aside.
To make the coleslaw:
Mix all the ingredients together and refrigerate.
Mix all the ingredients together.
Assembling the Pita Pockets:
Spread tahini sauce on one side of the pita.
Place the potatoes and eggplant in the pita pocket.
Place the sliced boiled egg.
Add a spoonful of coleslaw, the pickled cucumbers, jalapeños, onions, and green chillies.
Sprinkle pomegranate seeds.
Serve immediately.
[yumprint-recipe id='273′]