Soft buns topped with spicy chicken stuffing, chili sauce, a creamy white sauce and finished with gooey mozzarella cheese. Delicious it is!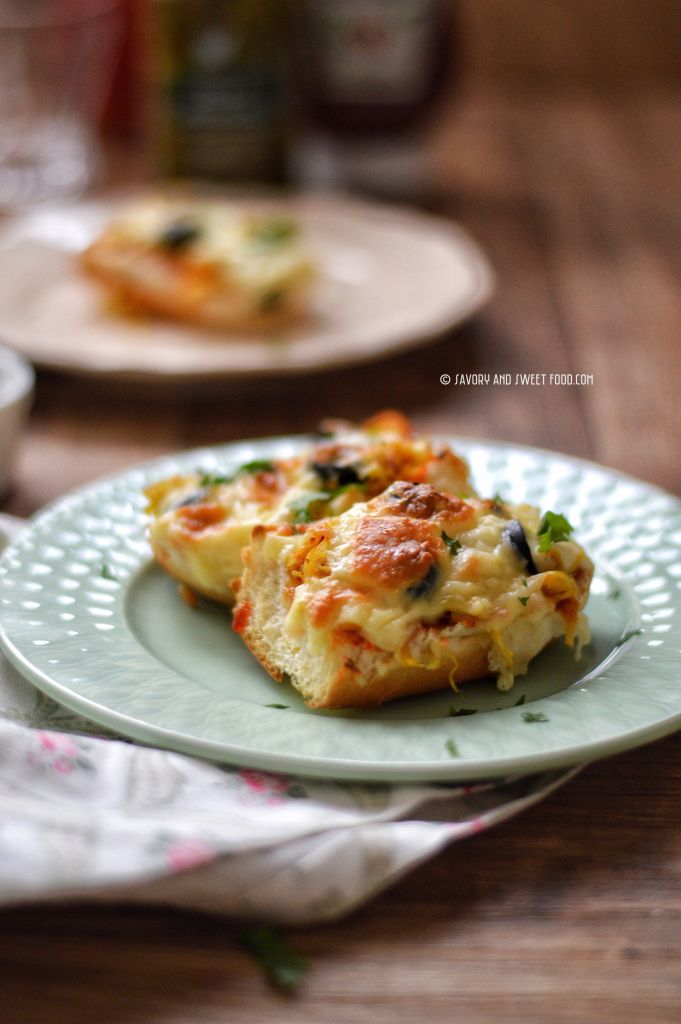 These Pizza on Bun is something I remember eating a lot as a child. I used to love this and I devour it even more now. I had completely forgotten about this dish until just few days back when my brother sent me a picture of the Iftar table spread set up by my mom for a party. As I was zooming on the pic to see what all my mom had prepared, I saw this beautifully presented pizza. I zoomed further and saw that the base is bun.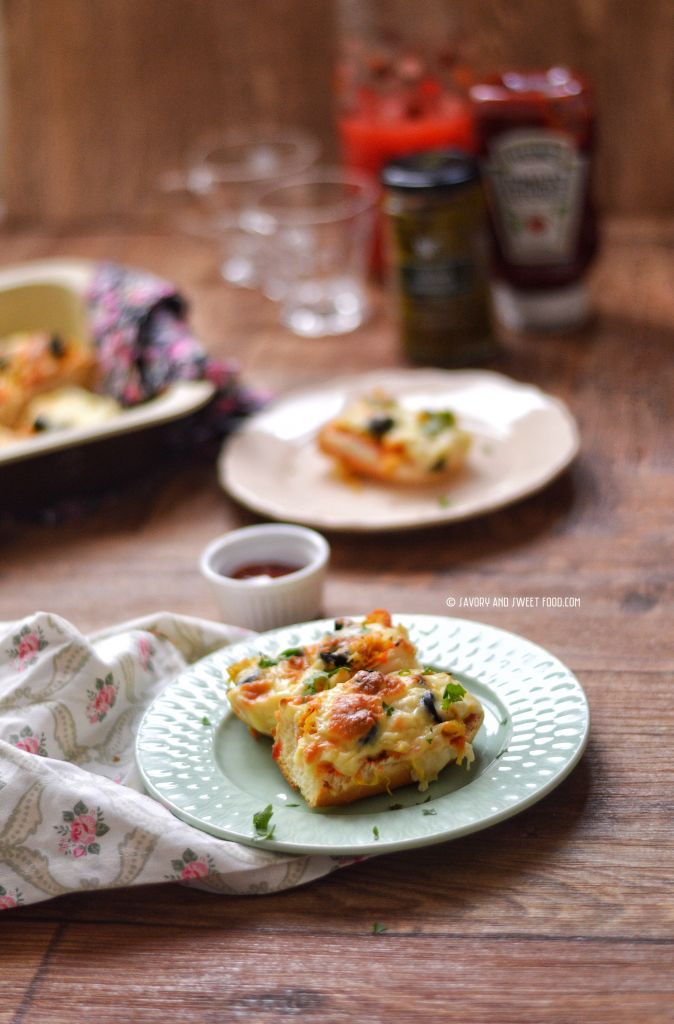 That's when I remembered about this dish, my sisters beautiful invention. 😀 But I just couldn't recall how we used to make it. I called my mom and asked her to refresh my memory on how to put this pizza together. I jotted down the recipe and made it the same day and it was for an Iftar party which I conducted here and the guests loved it. My husband also enjoyed it so much that he asked me to make it again the second day. I agreed happily because I could click pictures for the next post.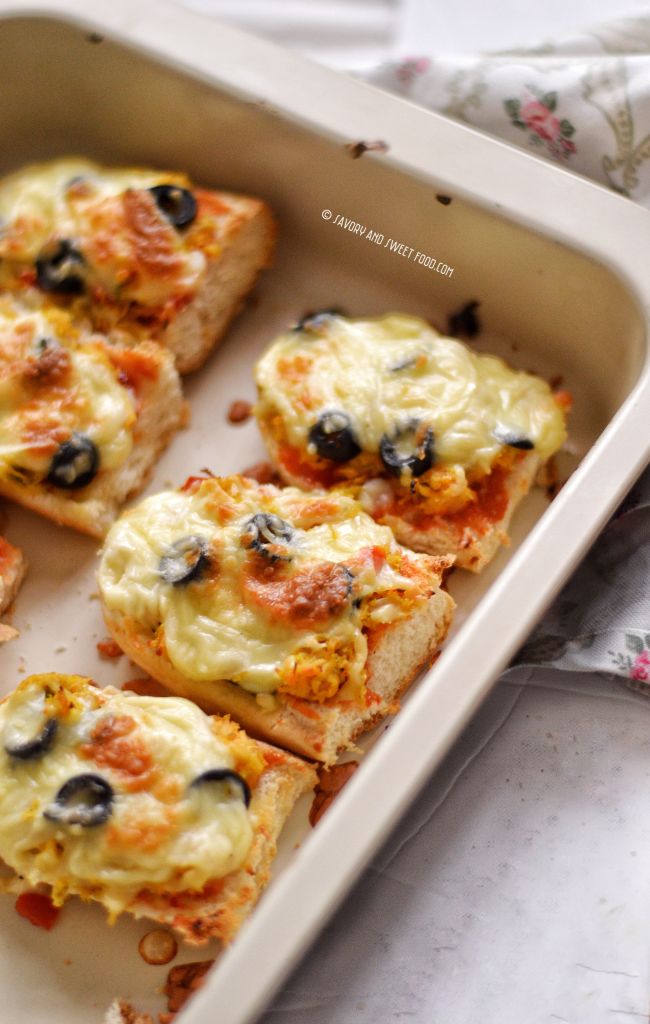 After seeing how much all enjoyed this dish, I was certain that I will put up the recipe of this very simple, slightly Indianized pizza on the blog next. So here it is for you guys, my long lost recipe of Pizza On Buns. Enjoy! 🙂
INGREDIENTS:
For the chicken filling:
200g Chicken ( boiled in 1/2 tsp of pepper pdr, 1/4 tsp of turmeric pdr and salt and shredded)
1 large onion chopped
3 green chillies chopped
2 cloves garlic chopped
1″ ginger chopped
1/4 tsp oregano
1 tsp Pepper powder
1 tsp soya sauce
1/2 tsp green chilly sauce (optional)
1-2 tsp hot chili sauce
1 tbsp coriander leaves chopped
Salt to taste
2 tbsp Oil
For the white sauce:
1 tbsp butter
1/2 tbsp all purpose flour
1/2 cup milk
1/4 tsp black pepper
Salt to taste
For assembling the pizza:
5 hot dog buns
Sliced black olives
Shredded mozzarella cheese
Few thin slices of butter
3 tbsp Sweet chilly sauce
2 tbsp Tomato ketchup
NOTES:
Make sure that the buns are fresh and soft.
When making the white sauce, do not thicken it too much when on the stove. Because it will thicken more by itself once you take it off the heat. If the sauce is too thick, whisk in a little milk to get the right creamy consistency.
You can add pickled green chillies or jalapeños too.
DIRECTIONS:
To make the filling:
In a frying pan add the oil and sauté the onions, ginger, garlic, and green chillies along with salt, till it turns soft. It doesn't have to get browned.
Add pepper powder, oregano and sauté for a minute. Add the shredded chicken to this. Mix well.
Add in the soya sauce, hot chili sauce and the green chilly sauce and mix well.
Finally top it with coriander leaves.
To make the white sauce:
In a pan melt the butter.
Add in the flour and whisk well for a min.
Pour in the milk and whisk really well to avoid formation of clumps.
Throw in the salt and pepper.
Whisk well until the sauce thickens a little bit and take them off the heat.
To assemble:
Cut the hot dog buns into halves. Then open each of the cut buns (so with one hot dog bun, you will get 4 pieces).
Place them on a lined baking tray.
In a small bowl, mix together the sweet chili sauce and ketchup.
Arrange thinly sliced butter on top of each bun.
Spread the sauce mix on top of each bun.
Place the chicken filling.
Add the olives.
Add in a dollop of white sauce on each.
Sprinkle the mozzarella.
Preheat the oven to 185 degrees. Push the assembled buns into the oven and grill till the cheese melts well. Serve immediately.
[yumprint-recipe id='246′]