Fatteh is a popular breakfast dish all over the Levant. It can be eaten for lunch or dinner too. It is made of crumbled fried or toasted pita bread, seasoned yoghurt with tahini, chickpeas plus other ingredients and finally garnished with toasted nuts. I added pomegranate seeds to it too.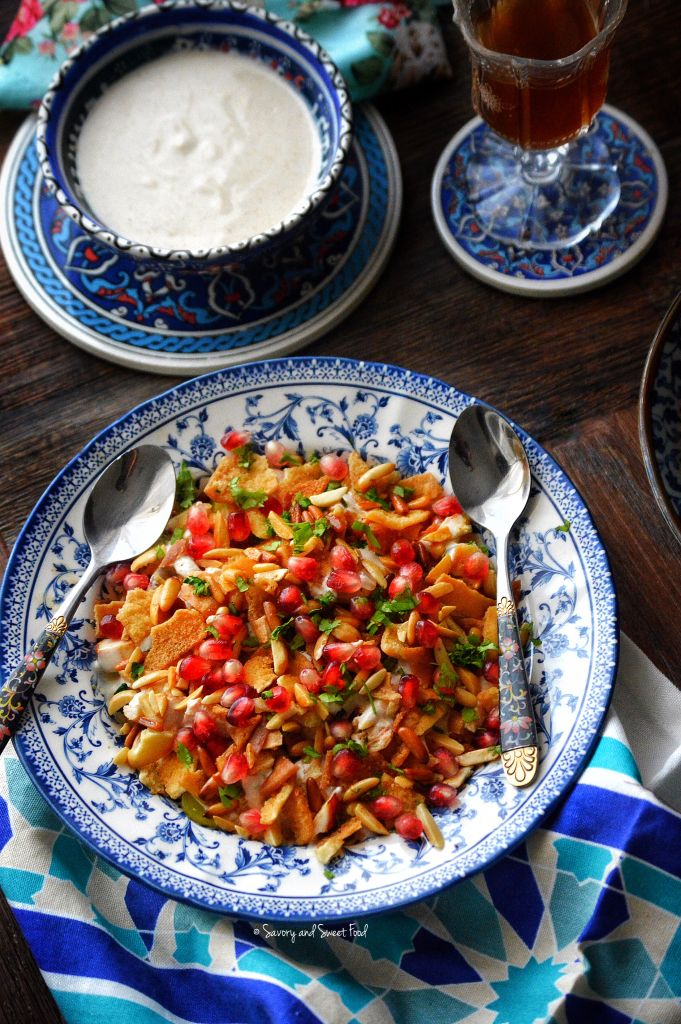 The name fatteh comes from the Arabic word Fattah, which means to break up. So the name would have come for this dish because we break up the fried pita bread into smaller pieces. There are many varieties of this dish. I saw that in the Egyptian version, they add rice and tomato paste too. This one which I am posting here, is a Lebanese version.
Actually I made a little change to the recipe as per my taste. Usually in the traditional Lebanese Fatteh, they don't add corn, cucumber or pomegranate.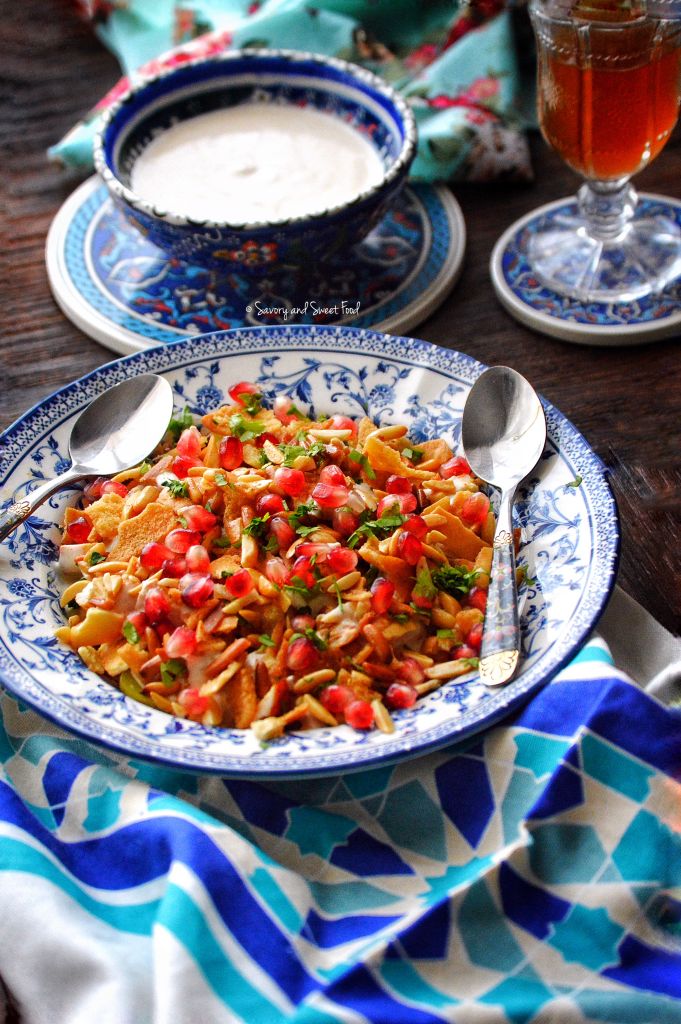 I came to know of this delicious, light and nutritious dish from my sweet Lebanese neighbor Loubna during Ramadan. We usually exchange food and she sent this dish for iftar one day. I had a spoon of it and I was very impressed with the taste. Then this dish became a regular one in my house. My husband loves it too. I am pretty sure you all will like it as well. Please do give this recipe a try. Serve it individually or in a large platter to share, Mezza style. 🙂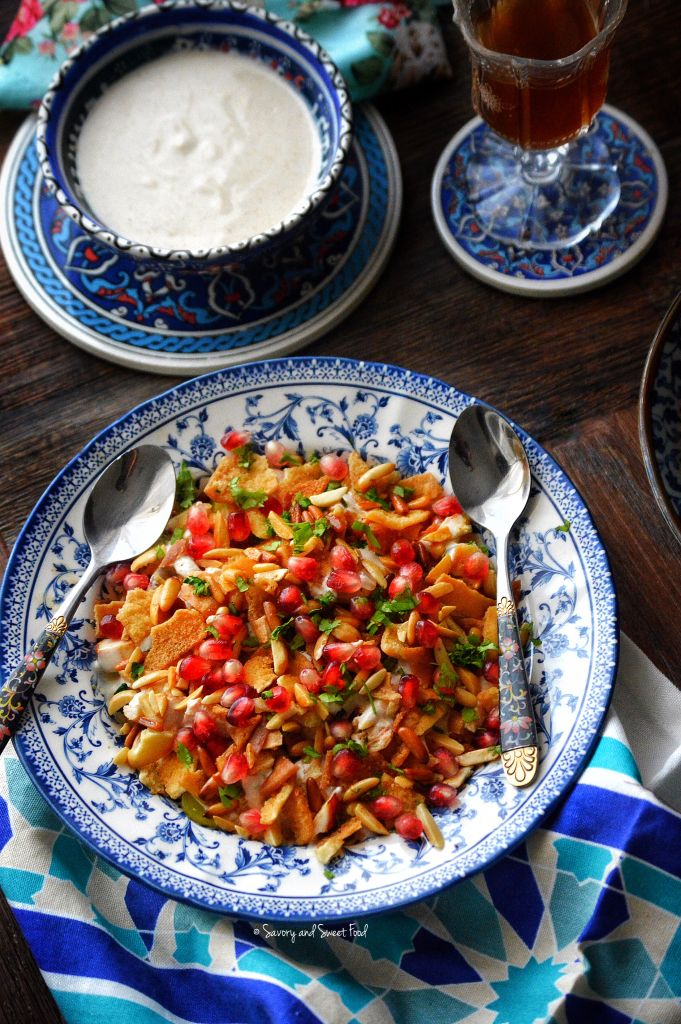 INGREDIENTS:
For the sauce:
1 cup yoghurt
2 tbsp tahini
1/4 tsp paprika
1/4 tsp garlic powder/ 1 clove garlic crushed
black pepper to taste
salt to taste
4-5 tbsp water
Other ingredients:
cooked chickpeas
sweet corn (optional)
cucumber
cooked chicken (optional)
fried kubus (fried pita bread)
pickled cucumber (optional)
nuts (sliced almond, pine nuts)
butter for frying nuts
parsley
pomegranate seeds
Chilli powder
sumac (optional)
NOTES:
You can add whatever you like in this.
I cooked the chicken by marinating it in little chilly powder, turmeric, cumin, cinnamon, lemon juice and salt and shallow fried the chicken. Then I cut it into smaller pieces.
If you don't get fried kubus, just tear left over kubus into smaller pieces and deep fry. You can also bake the kubus in an oven till crispy.
Pomegranate seeds adds a nice sweet flavor to the fatteh, do not omit it.
You won't need the whole sauce for 1 serving, with that much sauce you can make 3 servings.
But if you like you can add more sauce and make 2 servings.
DIRECTIONS:
Mix together all the ingredients for sauce and keep aside.
In a tbsp of butter, fry the nuts till golden brown in color.
Assembling:
In a plate add chickpeas.
Then add cooked chicken, cucumber and corn.
Drizzle the sauce all over (you won't need the whole sauce for 1 serving, with that much sauce you can make 3 servings). Sprinkle little red chili powder.
Crush the fried kubus and add that on top.
Then add in nuts and pomegranate seeds.
Serve immediately.
[yumprint-recipe id='200′]