This mouth watering one dish meal, Chicken Pasta Bake is perfect for the whole family. Chicken, macaroni in white sauce, beautifully flavored red sauce, melting mozzarella and finally crisp buttery bread crumbs on top is just amazing.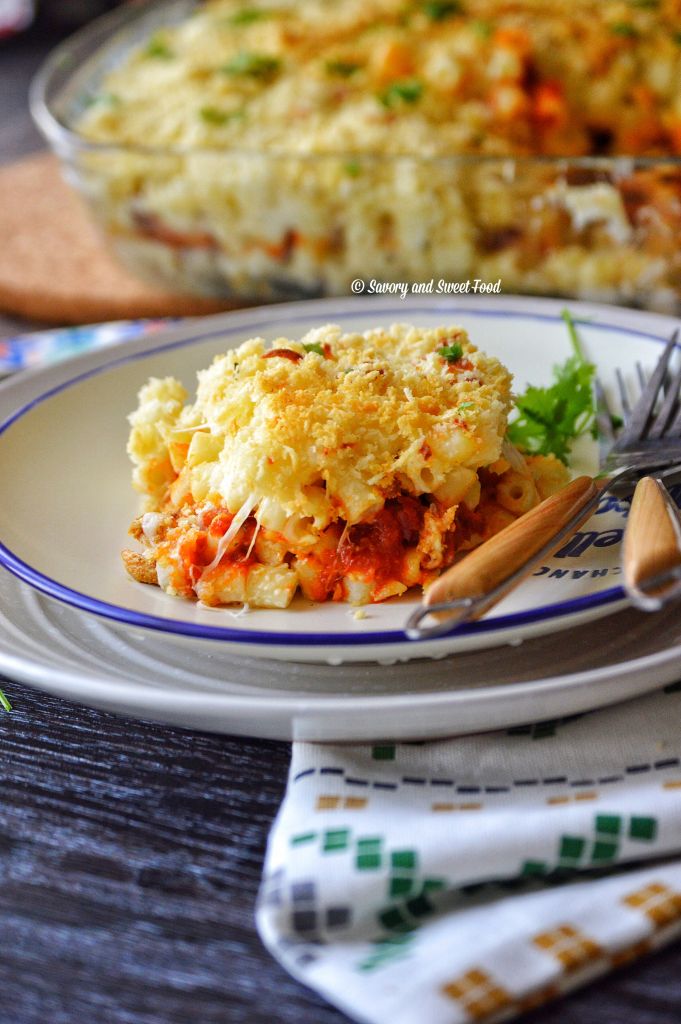 Pasta casseroles are usually a cheesy and luxurious affair for us. I make such dishes usually twice or thrice a month. I have so many "go to" pasta dishes that my family love, but I love to try out new ones because you just can't mess up with pasta and cheese, right?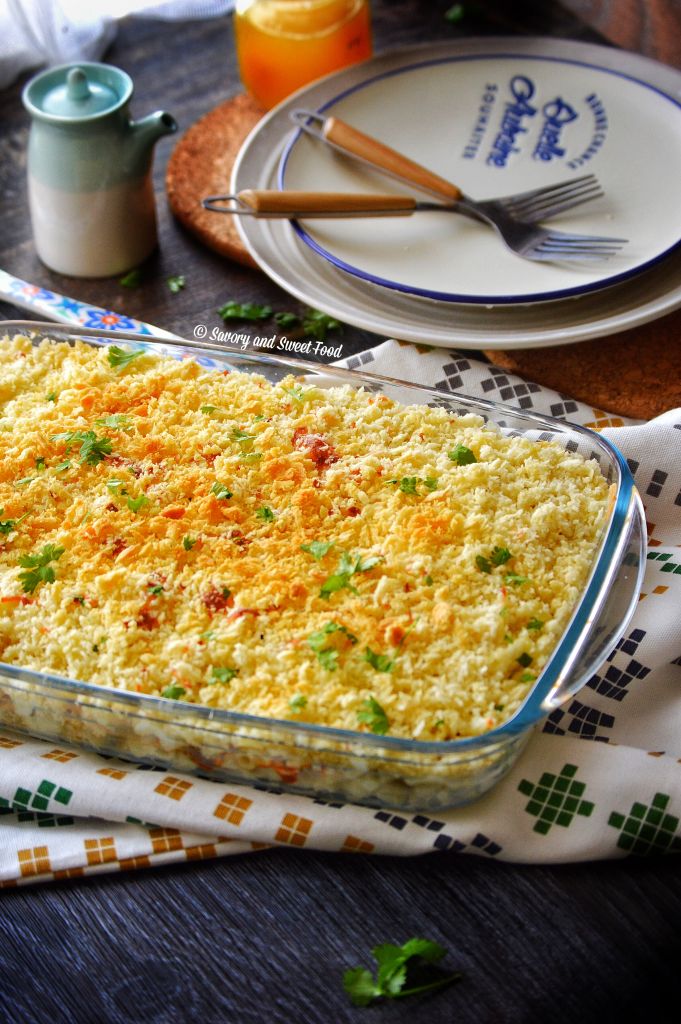 I had this pasta during my visit to Dubai last month. This is my sister, Sabeena's recipe. She makes ah-mazing pasta dishes. I still remember the first time I ever had pasta. It was of course made by my sister. Even she was in school that time I guess. She has amazing ideas to make different types of pasta sauces. She really is a great cook, truly my inspiration.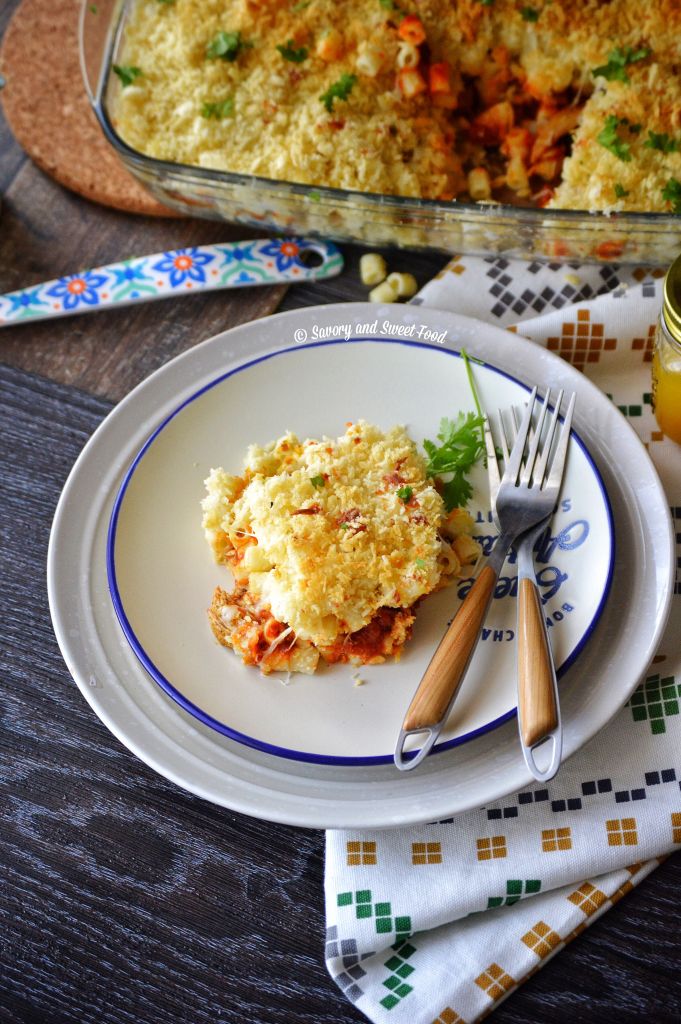 So yes, this pasta bake is loaded with chicken, pasta in white sauce, flavor packed red sauce, and lots of cheese. You should definitely try this for a full flavor experience.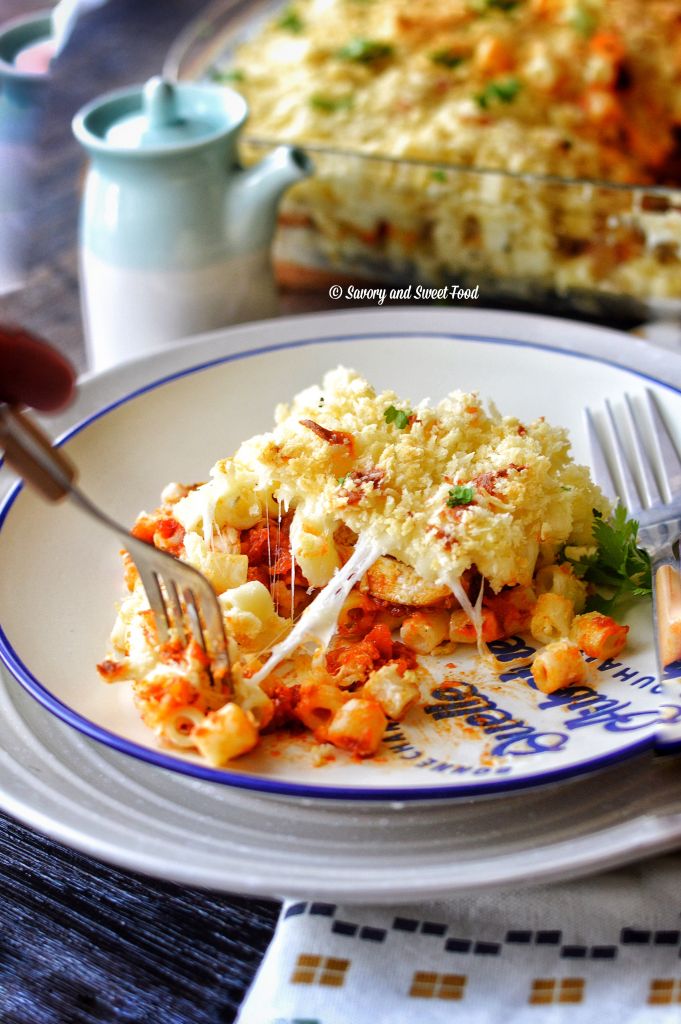 Now that the weather is getting cooler for many of you, it is time to pull out your favorite dish recipes, because you know, by eating best dishes it is meant to warm your soul as much as your body. This chicken pasta bake is definitely one of those dishes. Its warm, cheesy, flavorful, spicy and satisfying. All the flavors in this casserole compliment each other so well. Please do give this a try, you won't regret it. I promise. 😀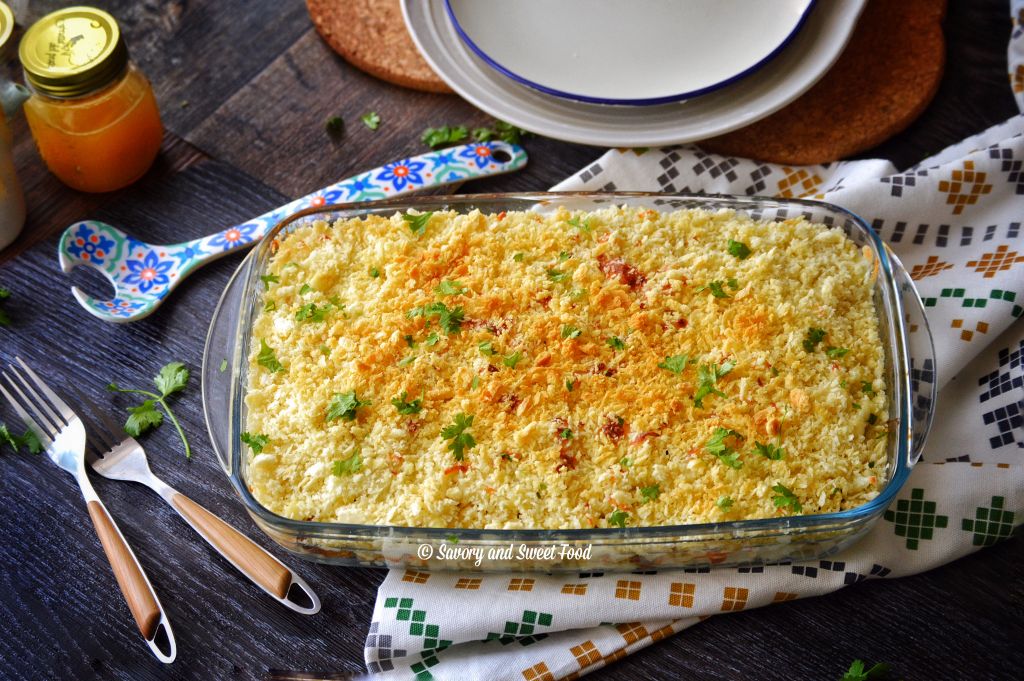 INGREDIENTS:
2 cups pasta
For the chicken:
300g chicken breast
1 tsp paprika
1 tsp garlic powder
1/2 tsp black pepper
1/4 tsp oregano
Salt to taste
For the white sauce:
2 tbsp butter
2 tbsp all purpose flour
1 cup milk
1 cup chicken stock
1/4 cup parmesan cheese
1/4 tsp oregano
1/4 tsp black pepper
2 cubes kiri cheese/ 2 tbsp cream cheese
Salt to taste
For the red sauce:
1 jar ragu sauce (680g) (I used spicy Italian flavor)
1 small onion chopped
2 cloves garlic crushed
A pinch of oregano
1/2 tsp sugar
Salt to taste
3 tablespoon oil
Mozzarella cheese
1 cup panko bread crumbs
50g butter melted
NOTES:
I used spicy style ragu sauce. If you don't get the spicy one, add in about 1/2 tsp of red chilli powder to the sauce.
If you don't get panko bread crumbs, use the regular one.
I used the stock cube to prepare the stock. I added a cup of boiling water to half of a stock cube and mixed it till it got dissolved.
I didn't add the entire red sauce to the pasta. You can add if you like.
If you can't find ragu sauce, use this: In a pan put 3 tbsp olive oil and sauté 3 cloves of garlic and diced onions till translucent . Roughly blend a tin of canned tomatoes after squeezing out excess liquid and add to the oil. Sauté till half of water evaporates and a thick sauce is formed . Add two tablespoon tomato ketchup , salt, 1/2 tsp sugar and oregano n cook for two minutes and the sauce is ready.
DIRECTIONS:
For Chicken:
Marinate the chicken with all the above mentioned ingredients and keep for half an hour.
Shallow fry till chicken is cooked through and charred on the outside.
Cut the chicken into smaller pieces.
Cook the pasta as per package directions. Drain and rinse with cold water. Keep aside.
To make white sauce:
In a pan heat butter, add flour. Sauté for a minute on low flame.
Pour in milk, whisking constantly to remove any lumps.
Pour the chicken stock. Let it come to a boil.
Once it gets a little thick add in cream cheese and parmesan cheese. Whisk really well. At first the cream cheese will look lumpy but keep on whisking till everything gets dissolved.
Add in oregano, pepper and salt.
Once the sauce gets thick, add in the cooked pasta. Mix well. Take off the flame.
To make the red sauce:
In a pan pour oil, add in chopped onion and garlic.
Sauté till onions get soft and browned.
Pour in the jar of ragu sauce. Cook on high flame till it is reduced to half and dry, the oil should start separating. Mine took about 20 minutes.
Add in oregano, salt and sugar. Switch off flame. Keep aside.
To assemble:
Combine melted butter and bread crumbs. Keep aside.
In a baking tray add in a layer of pasta.
Then spread the red sauce all over.
Add the chopped chicken pieces.
Add the remaining pasta.
Spread mozzarella cheese.
Finally on top spread the bread crumbs and butter mix evenly.
Sprinkle chopped parsley leaves on top.
Keep in oven and turn on the top flame. Let the bread crumbs get crispy and golden. Take out. Serve immediately.
[yumprint-recipe id='197′]