Chicken Tikka Masala, succulent pieces of roasted chicken tikka in thick and spicy tomato based gravy.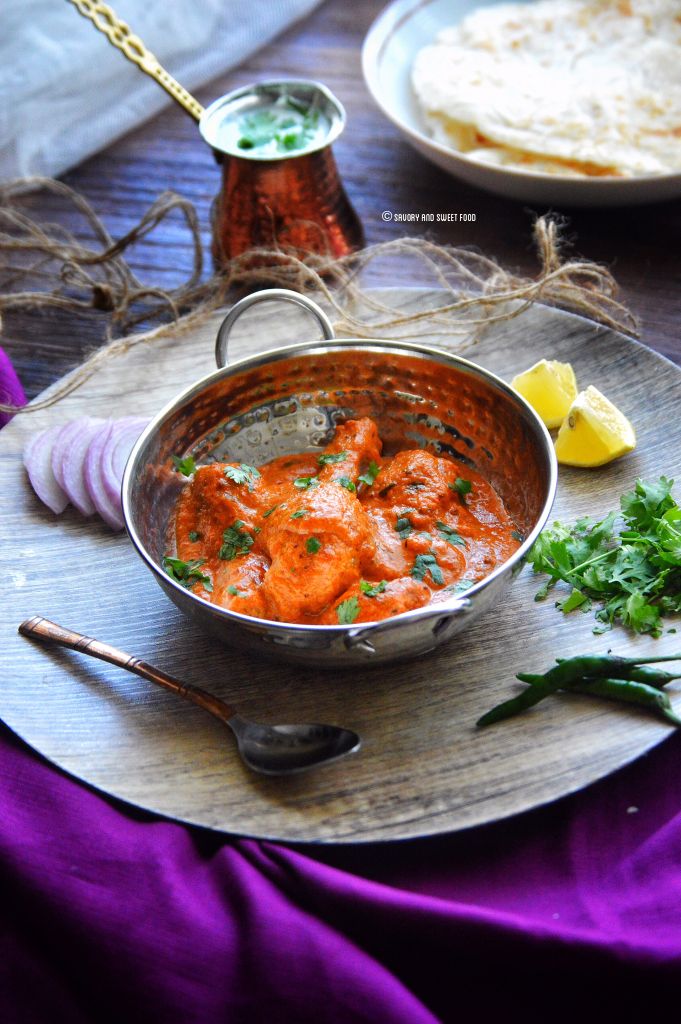 Chicken tikka masala is a very popular dish which you can find in almost all Indian restaurants. It is a close cousin to butter chicken. But I feel that the flavors are more intense in chicken tikka masala. As Indian as the name sounds, this dish is not very Indian.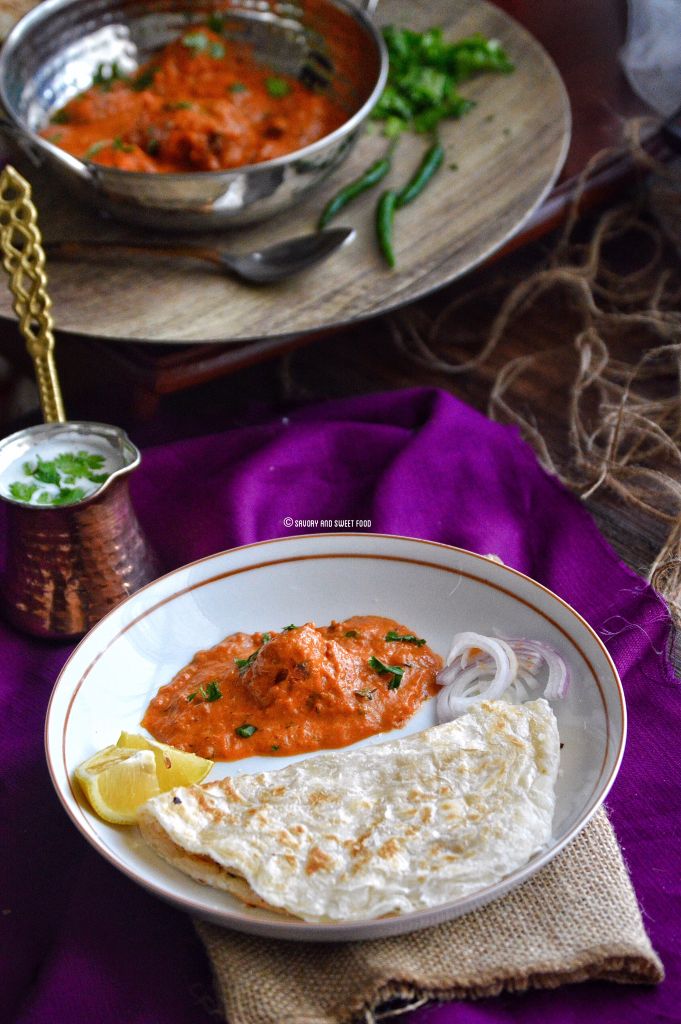 There are many explanations as in how and where this dish was originated. One of the explanations is that it originated in an Indian restaurant in Glasgow, Scotland. Rumor has it that a British gentleman ordered chicken tikka from an Indian restaurant and he returned his order saying that the chicken was undercooked. The annoyed chef at the restaurant, opened a can of tomato soup, added some spices to it and cooked the chicken tikka in it. He then finished off the curry by adding some cream. This dish then ironically became so popular in the UK that it was finally declared as the national dish of Britain in 2001.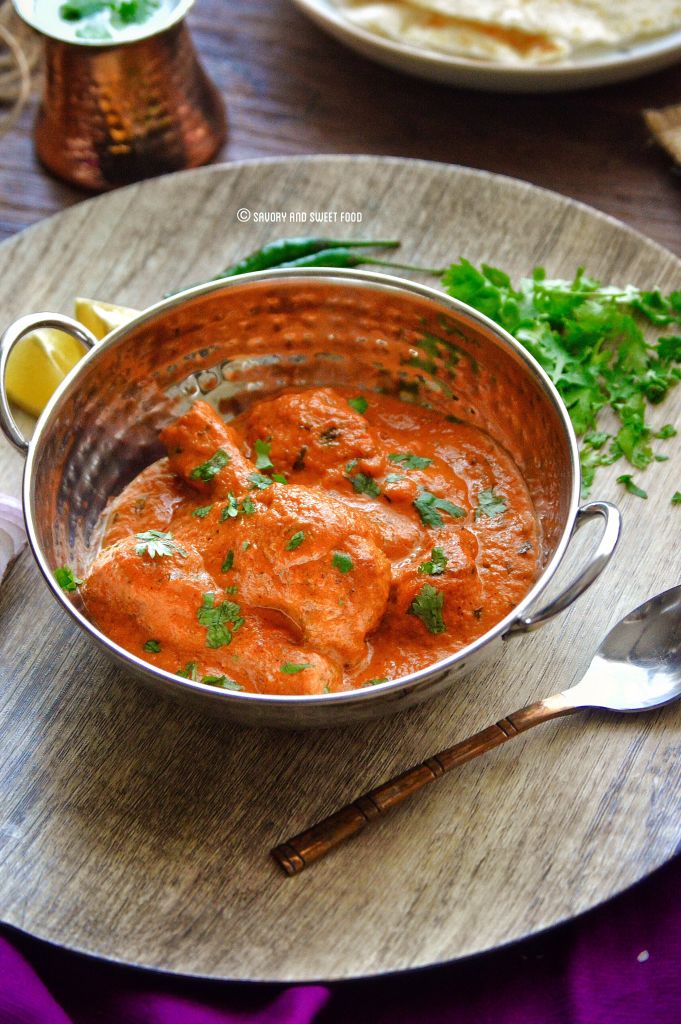 I also read that this curry was invented in a restaurant by chance as they had many left over dry chicken tikka. So to avoid wastage, they used up this chicken tikka and cooked them in a gravy made with a can of tomato puree and Indian spices.
Not sure which explanation is true. But we are very very grateful to whoever invented this rich and delicious curry.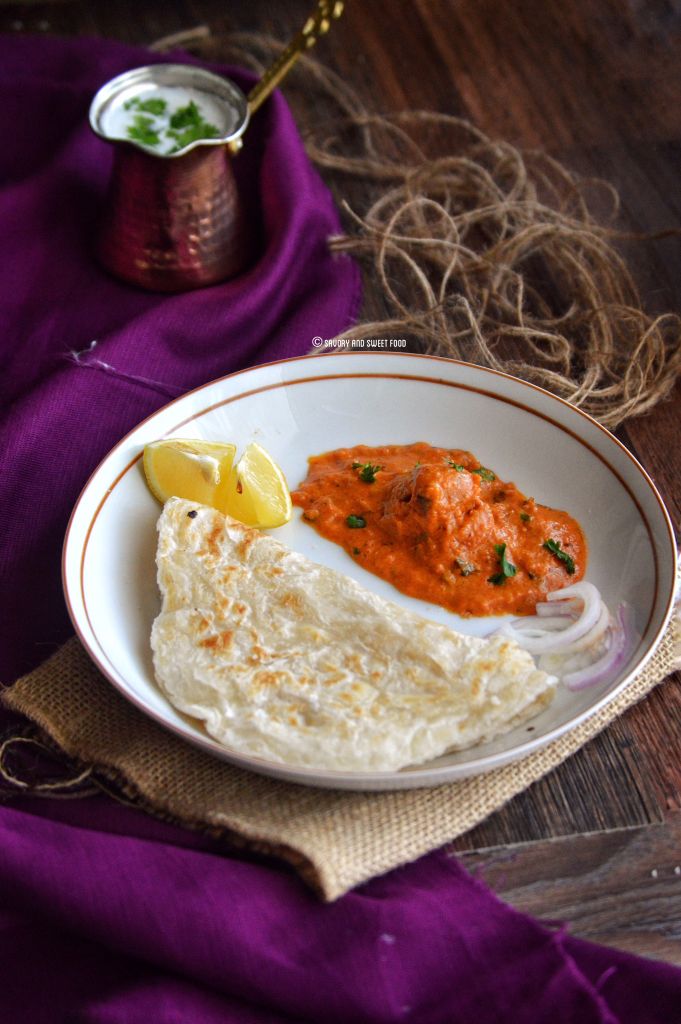 There are many different recipes and method of preparation for this particular curry as there is no standard recipe for this. According to Wikipedia, a survey found that of 48 different recipes, the only common ingredient was chicken.
This is how I prepare chicken tikka masala at home and it tastes really awesome. Please do give it a try. 🙂 Here is a video tutorial I made for you guys.
INGREDIENTS:
For Marination:
600 g chicken
1 tsp garlic paste
1 tsp ginger paste
3 tbsp yoghurt
1/4 tsp turmeric powder
1 tsp red chilli powder
2 tsp coriander powder
1/2 tsp cumin powder
1 tbsp lemon juice
salt to taste
For gravy:
2 tbsp ghee plus 1 tsp ghee
1 medium onion chopped
1 tsp garlic paste
1 tsp ginger paste
2 medium sized tomatoes pureed
2 tbsp tomato paste
1-2 tsp kashmiri red chilli powder ( as per your taste)
1 tsp coriander powder
1/4 tsp turmeric powder
1/4 tsp cumin powder
1/4 tsp garam masala powder
2 tsp sugar
1 tsp kasuri methi
1/4 cup cooking cream
salt to taste
chopped coriander leaves
NOTES:
You can grill the chicken in an oven by basting it with ghee. Then start making the gravy with 1-2 tbsp ghee.
Do add ghee at the end. It gives a beautiful aroma and taste to the curry.
DIRECTIONS:
Marinate the chicken in the above mentioned ingredients overnight, or for about 4 hours or a minimum of 1 hour.
Shallow fry in 2 tbsp ghee. Fry on high heat till browned on both sides.
In the same pan, sauté onion till soft and browned. Add in ginger and garlic pastes. Mix.
Add all the spices. Stir around on low heat for a minute. Pour 1/4 cup of water. Cook till water gets dry.
Add the tomato paste. Stir well for about 3-4 minutes.
Add in pureed tomatoes. Cook for 10-15 minutes.
Blend the masala till smooth. Pour it back to the pan.
Pour 1 cup of water. Mix.
Add in the fried chicken pieces. Add sugar and salt. Cover and cook for 15 minutes on low heat.
Add in crushed kasuri methi.
Pour in cream. Mix well.
Add in coriander leaves.
Finally add a tsp of ghee. Mix, let it come to a boil and switch off flame.
[yumprint-recipe id='196′]