White Chocolate & Mango Trifle is a very refreshing trifle pudding made with layers of white cake, mango cream mix, fresh chopped mangoes and white chocolate cream mix. Perfect to make during any sort of festival or party.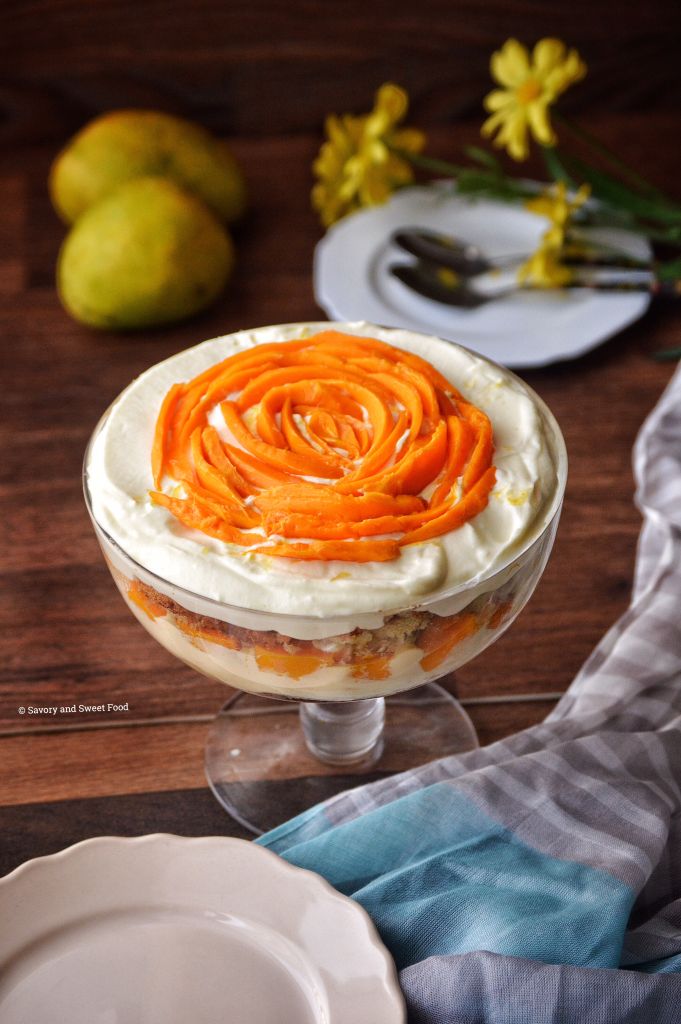 My fourth bloggaversary got over on April and yess I didn't post anything to celebrate that..sigh.. But I have an explanation for that. I wanted to post something very special for the anniversary and after a lot of thinking I decided to make a cake with frosting, something which I never made by myself before.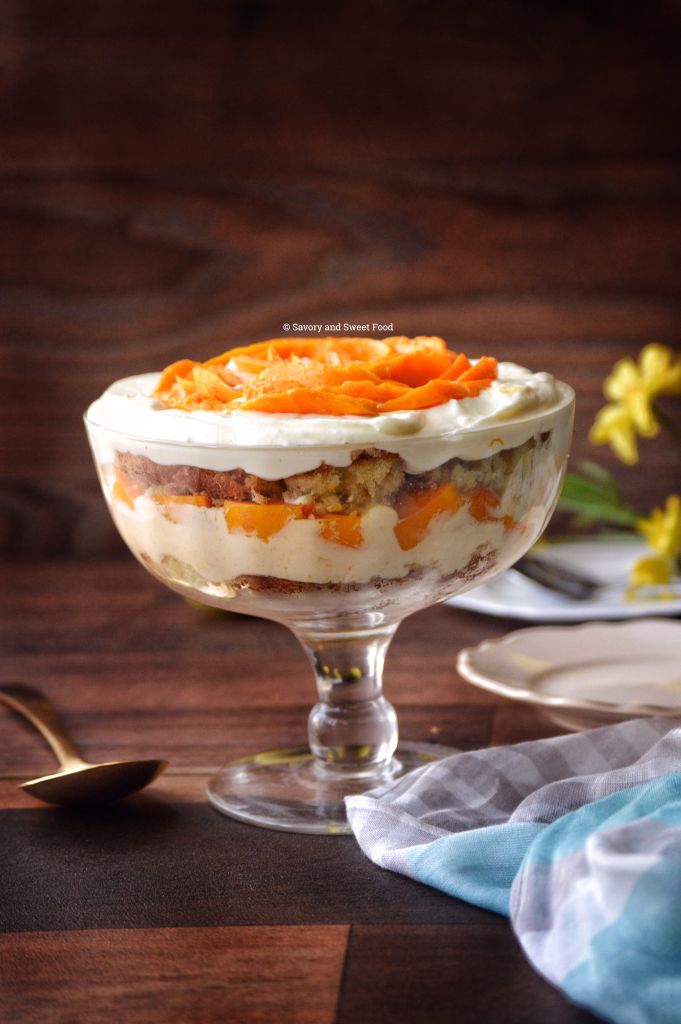 So just for that I made 2-3 visits to Wilton cake store and got all the tools for cake decorating. My husband was like, "are you going to start a cake business or something?" seeing the things I bought hahaha, and I was like "yeah maybe someday", you never know right. 😉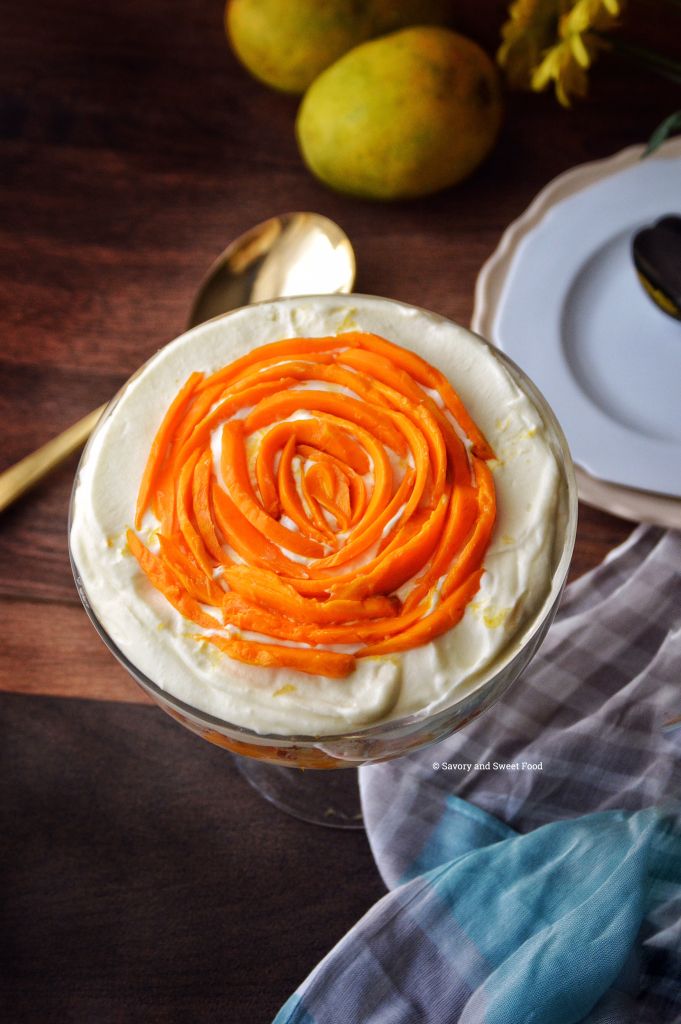 So I decided what cake to bake, made it once and it flopped big time. I made it again and it rocked. Yay! I made the buttercream frosting. The frosting was pretty good too. Then with the little knowledge about frosting cakes I got by seeing all the different YouTube videos, I put on my apron and started frosting the cake. I thought of doing a ruffled frosting. And the first line of frosting I piped came out good and I got over confident and started piping all the frosting at once without stopping. Finally the frosting started getting very loose because of the warmth of my hand and finally it looked like a big messy cake. 🙁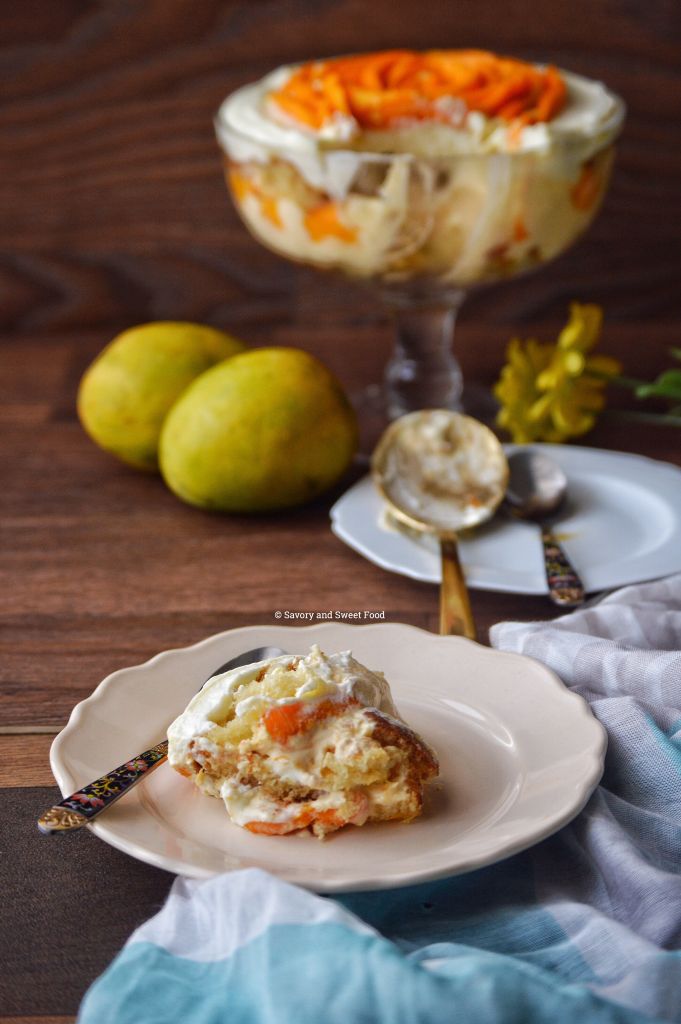 But the cake tasted really good. Fadal said the cake looks pretty too and forced me to click pictures of it. So I have the pictures ready with me, but feel so embarrassed to post it. But I think I will post it after few days. Please don't make fun of me, hehe.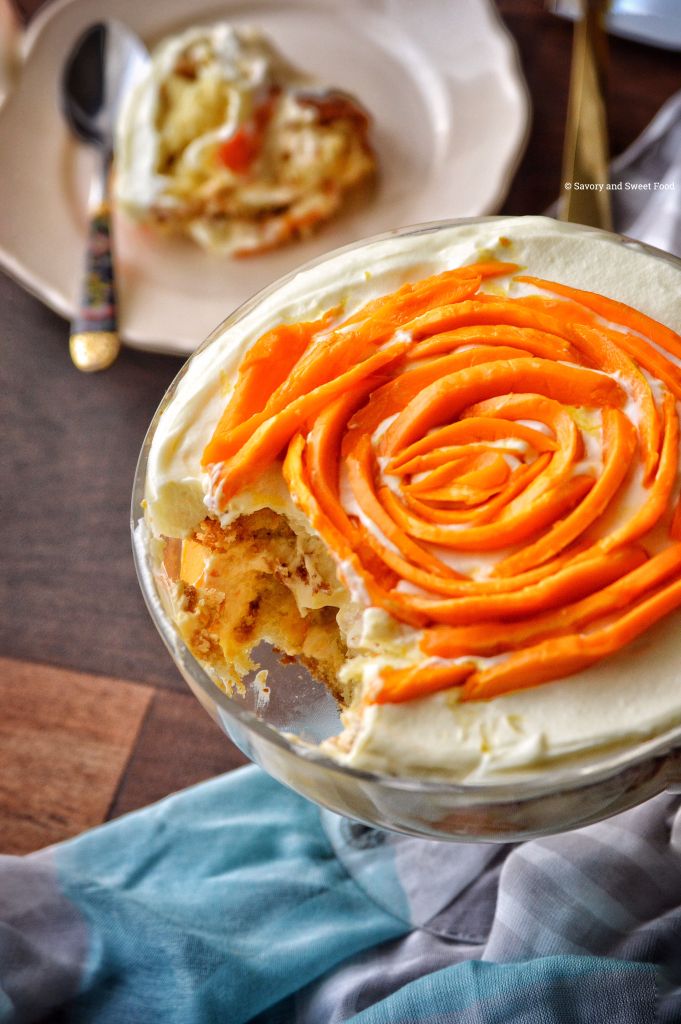 So I said this long story here because I decided to make this trifle because I made that cake. Didn't get it? hehe. Actually there were many left over pieces of the cake after the massive cake decorating and I didn't want to throw it away as it was a very good and moist cake. It stayed soft even after 3-4 days. So I came up with this recipe and this was a huge hit here. I made it again the same week with store bought pound cake and that tasted good too. I think this would be perfect to make during this coming Eid and its mango season now. This dessert is very refreshing, so perfect for the summer too.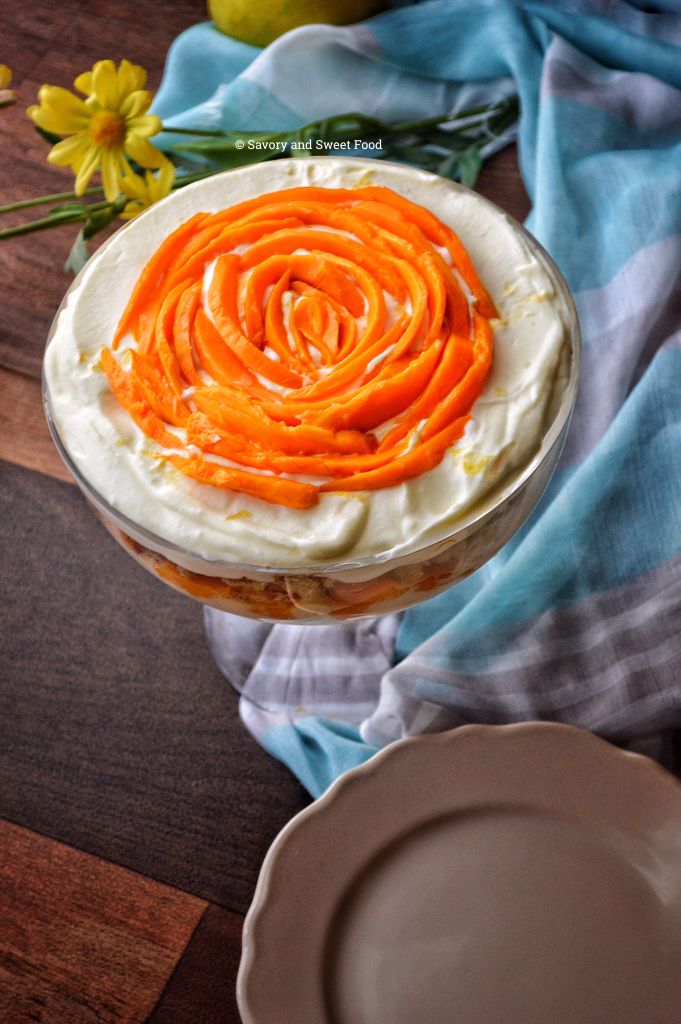 INGREDIENTS:
1 box cake ( vanilla/ white chocolate/ white)
250 ml whipping cream
114 grams white chocolate
150 ml thick cream/ nestle cream
3 medium sized sweet mangoes
2 tbsp condensed milk or more as per taste
NOTES:
Make sure that you get real ripe, sweet mangoes. I used Indian alphonso mangoes.
The white chocolate should be completely cooled before mixing it with the cream.
I just added 2 tbsp of condensed milk to the mango cream as my mango was really sweet. But you can add more condensed milk if you want your trifle to be more sweet.
You can assemble this in small individual serving dishes too.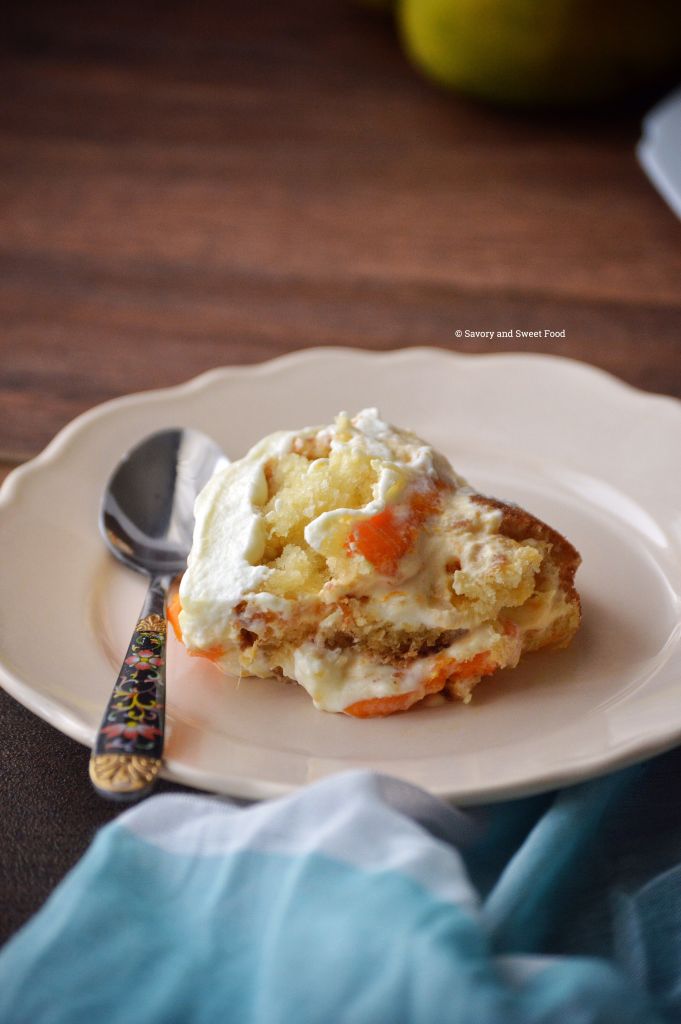 DIRECTIONS:
Puree one mango, cut the second mango into bite sized pieces and slice the third mango for garnish. Keep aside.
Whip 250 ml of whipping cream till firm.
Meanwhile melt white chocolate by double boiling. ( For double boiling place the white chocolate pieces in a glass bowl and keep it over a saucepan with boiling water on medium flame. Keep stirring the chocolate till it melts. The bowl shouldn't touch the water). Let it cool.
Divide the whipped cream into 2 parts.
In one part, add the melted chocolate and the cream. Mix lightly till everything is well incorporated.
In the other part, add in pureed mango and condensed milk. Mix lightly without knocking off the air from the whipped cream.
Cut the cake into small pieces. Keep aside.
Assembling:
Place a layer of cake in a trifle bowl.
Then pour in mango cream mix.
Place the mango on top.
Place another layer of cake
Pour the white chocolate cream.
Place the sliced mango on top to garnish.
Refrigerate for about 5-6 hours or overnight.
[yumprint-recipe id='184′]